Thinai (Foxtail Millet) is a recent addition to my kitchen for the last 2 years, although its been around for years. It can replace rice in most of the South Indian dishes, and bring down the Glycemic Index of the dish – something thats beneficial to diabetics and those who want to taste good South Indian food, yet cut down on Carbs / Rice. Thanks to food nutrionists' articles in print and digital media, and the food bloggers, there has been considerable revival of these millets to cater to healthy food : something that our ancestors swore by. 
After Thinai Dosa (Foxtail Millet Crepes) and Thinai Khara Pongal (Spicy Savoury Pudding with Foxtail Millet + Green gram), I made this rather simple n healthy Uttapam for Breakfast. 
My elder one loves Dosa for breakfast on most days, and the younger one is following in her sister's footsteps. Nowadays, I do have a batter of Idli / Dosa on most weekdays which comes very handy to make these in an instant.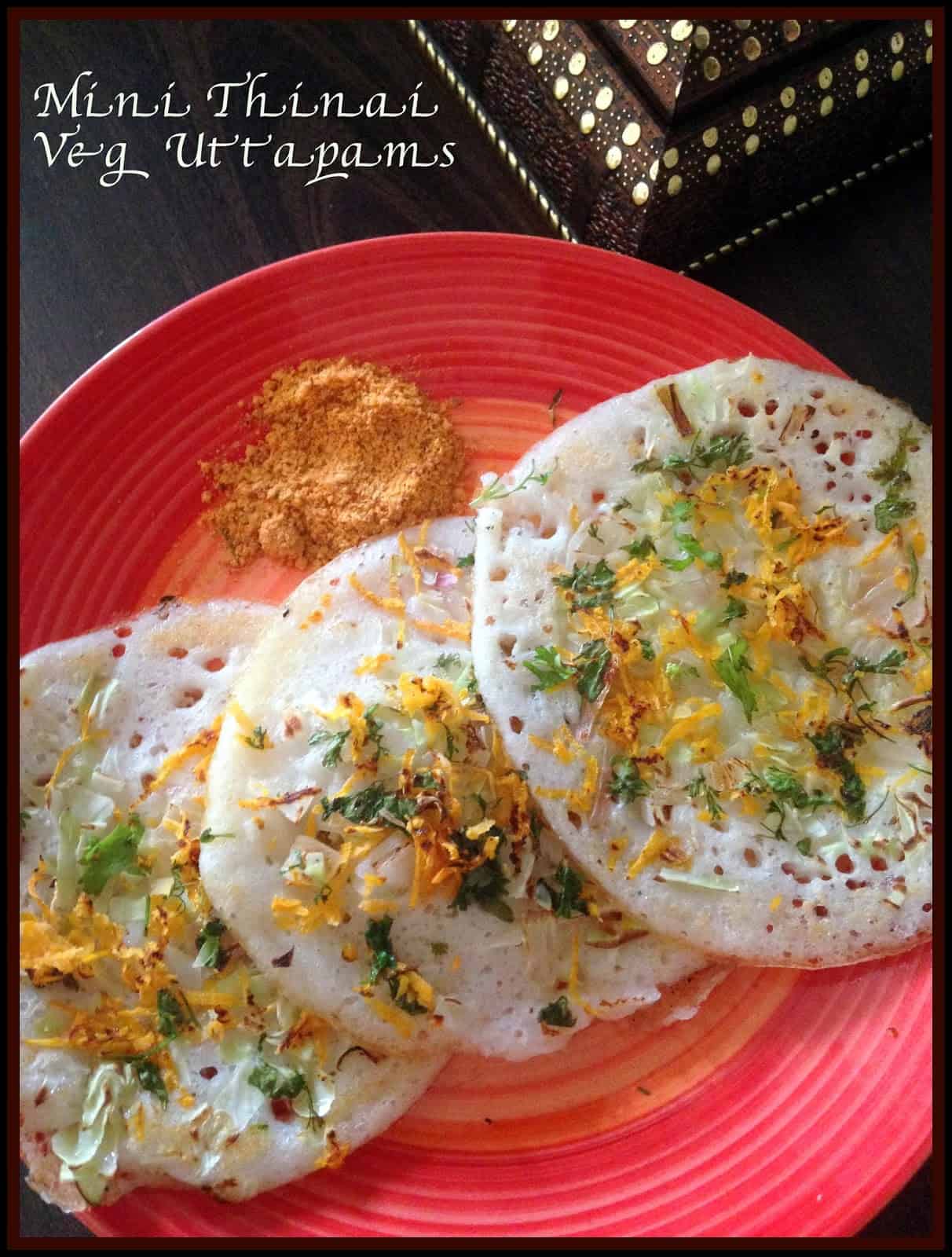 Pin

We are looking at kid-approved Breakfasts this week, and the first of these is Thinai Uttapam. I have made it fibre rich by adding some veggies to this, but you can skip these if you have a younger child or want to serve it plain. You can also make these along with some  Idli, Vada, Pongal etc  to serve as Mini Meal for breakfast as served in this Chettinad style Mini Breakfast.

Mini Thinai Uttapams – Mini Foxtail Millet Veg topped Crepes

Cuisine :South Indian

Course : Breakfast

Serving suggestions : Chutney / Molagapudi

{Its tasty as is, without any accompaniments, I guarantee 🙂 }  

Soak time : 4 hours, Grind time : 15 mins 

Fermentation time : 8-10 hours (depending on the climate)

Cook time : 1 min per Uttapam

Makes : 20 – 25 Mini Uttapams 

Ingredients:
Foxtail Millet / ನವಣೆ / தினை – 3 cups (1 cup = 120 ml)
Idli Rice – 1 cup
Urad Dal (Split / Whole) – 1 cup
Methi / Fenugreek seeds – 1 tsp 
Salt – to taste
Oil – to fry (approx 1/4 – 1/2 tsp per Uttapam)
Toppings: (optional)
Finely minced Onion – 1 cup 
Shredded Cabbage – 1/2 cup
Finely grated carrot – 1/4 cup
Minced green chilli – 1 tsp
Grated Ginger – 1/2 tsp
Finely cut coriander – 3 TBSP
Salt – a pinch
Crushed Black pepper powder – to taste
Oil – 1 TBSP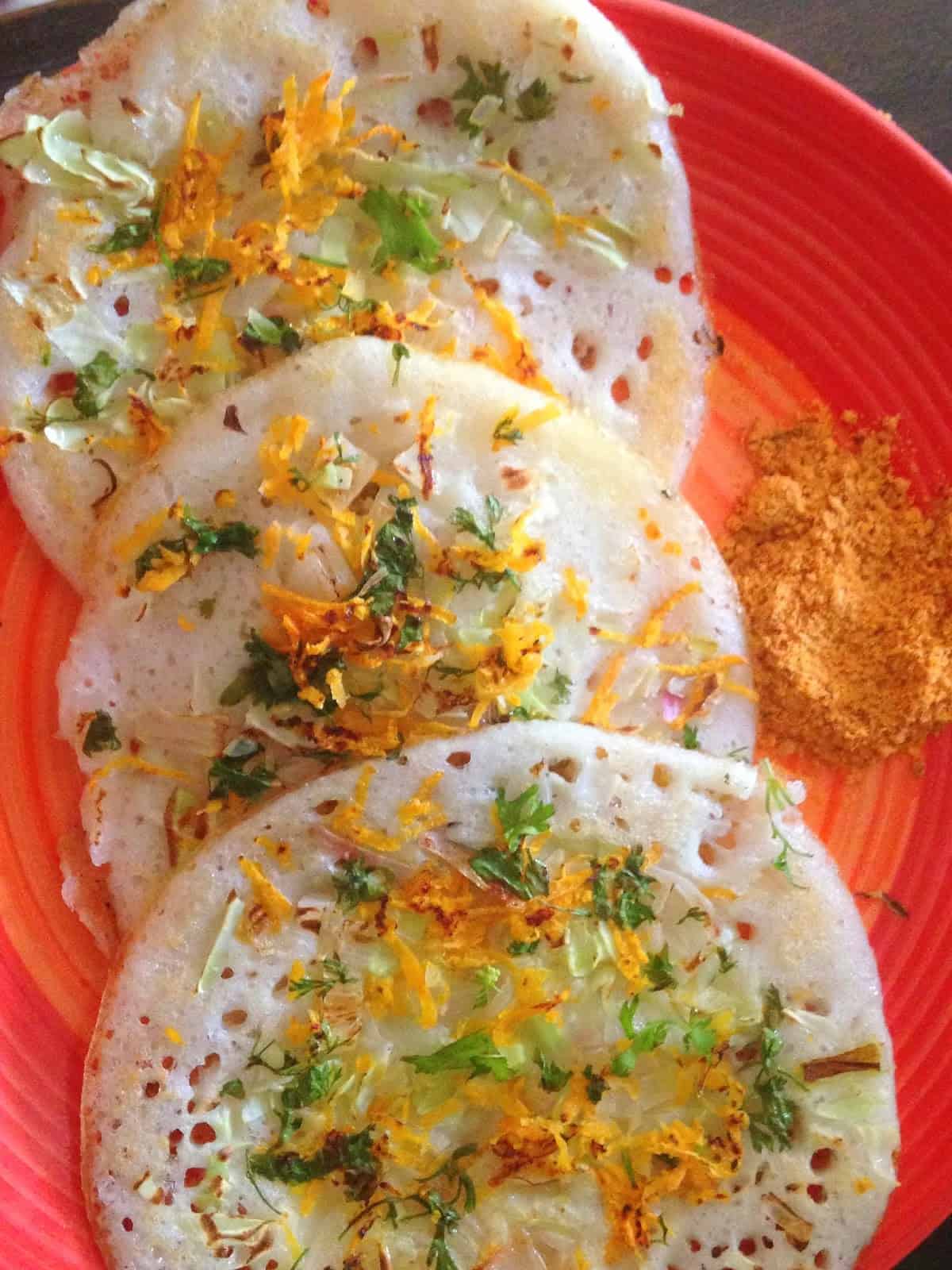 Pin
Method:
Wash & Soak the Millet, Dal, Rice and methi seeds together for 4 hours. Grind to a smooth paste as for Idli / Dosa. Add enough salt, beat well. Allow to ferment for 8-10 hours (or overnight)
In the morning, mix the batter well. Adjust consistency.
In a pan, add 1 TBSP oil, saute the cabbage, onions, carrots and other toppings for 2-3 mins till the raw smell disappears. Do not add salt at this stage.
Make small Uttapams on a hot Tava / Griddle. drizzle 1/4 tsp oil around the sides, top with the sauteed toppings and a sprinkling of salt and black pepper. Cook on medium-low flame for 1/2 min on each side, flip over and let the veggies slightly get crunchy. Serve immediately with Podi or any chutney
Lets check what other Marathoners are upto for this week of Blogging Marathon # 67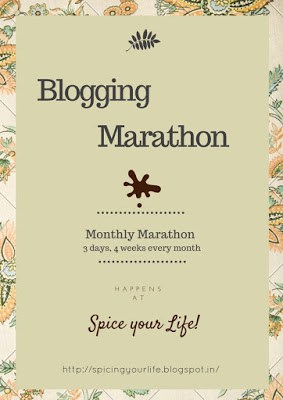 Pin