Paddu (Kannada) / Kuzhu Paniyaaram (Tamil) / Gundu Ponglu (Telugu)/ Appe (Kannada again)
Paddu or Paniyaram or Appe is a South Indian Dish that is made with this appliance. Refers to lentil+rice dumplings that pan fried. The batter for this dish is made exclusively for Paddu, but I use the Idli batter itself, and it turns out just superb !
How yummy are Paddu / Appe with some spicy coconut chutney or a super spicy -tangy Chettinad Khara Chutney.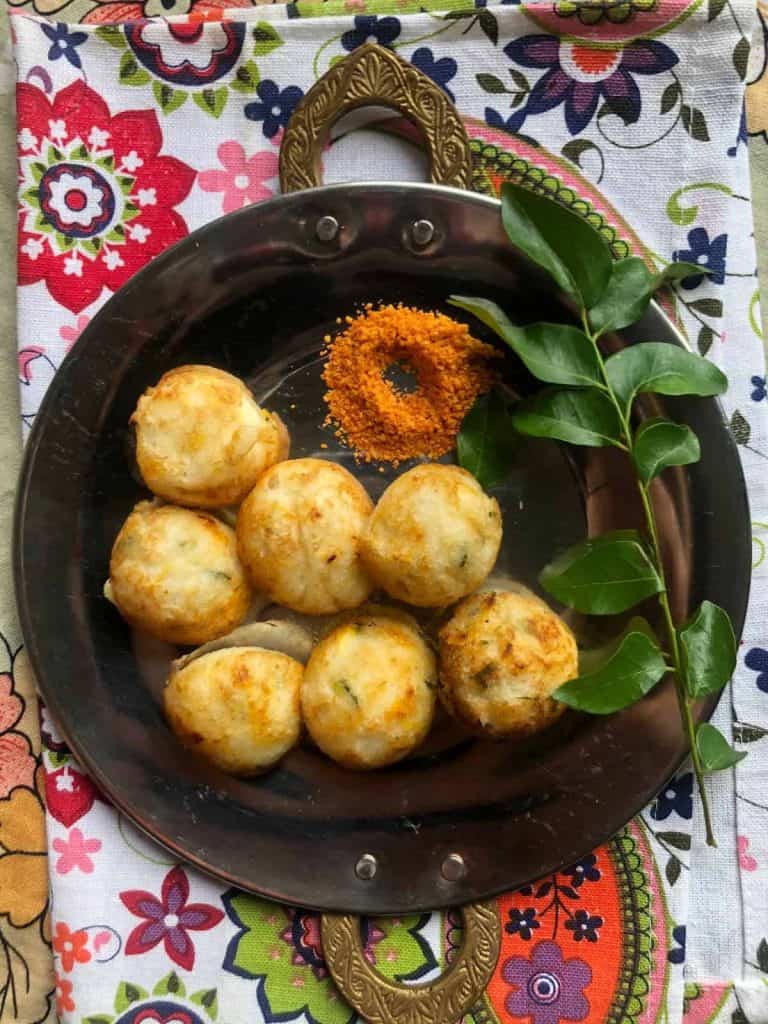 These crusty golden roundels are a treat to make and eat, and is a quick snack for kids and guests too and goes well with the fiery Chettinad Style Onion-Tomato Khara Chutney. I have given the recipe for Paddu here and Chutney here. My little one calls this "Crunchy Spicy / Special Idli" and loves this as an after-school snack. When my elder one was younger, she used to like it too, but now gives this a certain miss!
FAQs to make the tastiest Kuzhi Paniyaram / Paddu
Can I use brown or red rice to make this batter ? Yes you certainly can. The soak and grind times may vary slightly.
What else can I add in place of onions ? Onions are not mandatory. Finely shredded Cabbage and carrots can be added to make it more nutritious
Can this be made with Millet batter / Millet flours ? Certainly can be made with millets / millet flours. Flours needn't be soaked though whole millets need to be washed and soaked.
The paniyaram didn't turn crispy – Cook on a medium flame, drizzle oil as much needed and flip once the bottom of the paniyaram gets crispy. Do not increase or decrease the flame.
Preparation Time: 10 mins; Cooking time : 20 mins ; Makes 24 servings.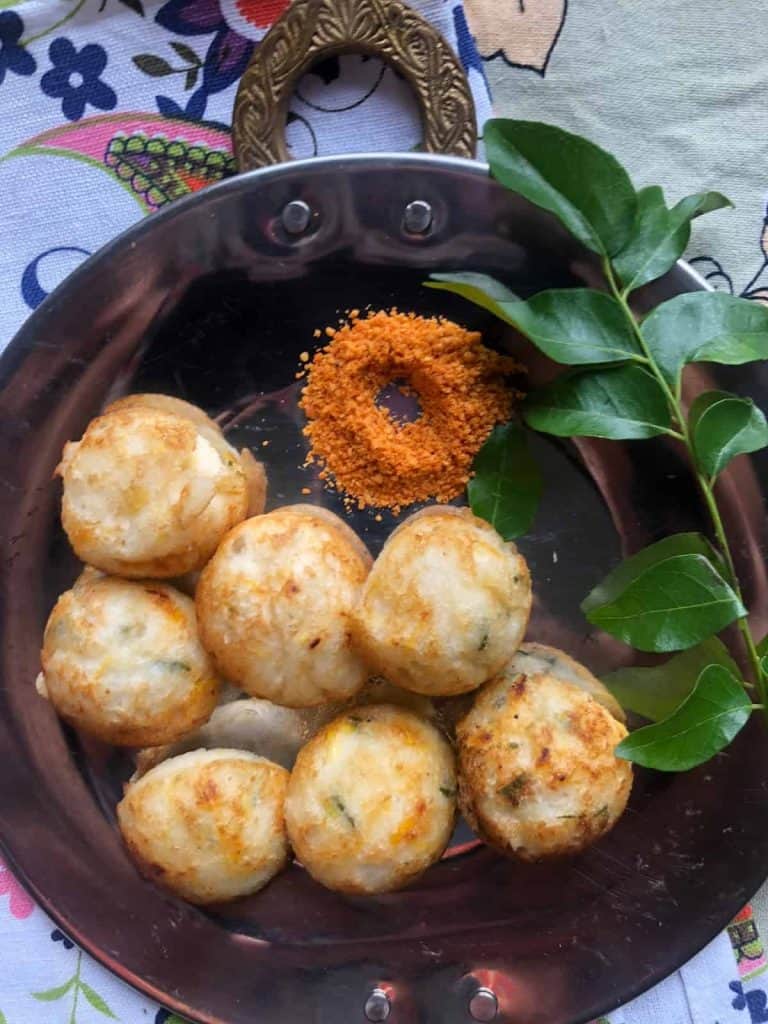 Ingredients to make Paddu / Kuzhi Paniyaaram:
2 cups Idli Batter (*UPDATE : If using Dosa batter, add 1-2 TBSP warmly roasted Idli Rawa to the dosa batter)**
1 TBSP Ginger (grated)
2 TBSP Onions (Minced fine)
1 TBSP Carrots (added this to lower the spice of the ginger and chillies for the little one)
2 Green Chillies (chopped fine)
1 tsp Cumin Seeds
1/2 tsp Black Pepper (Coarsely powdered)
1 tsp Curry Leaves (Chopped fine)
1 tsp Green coriander (Chopped fine)
If you don't have Idli Batter at home…
If you don't have Idli Batter at home, Soak 3 cups rice, 1 cup Urad for 6 hours. Grind to a smooth consistency, ferment for 8 hours or overnight. Mix in salt and use. This batter can be used for both Idli and Paniyaram. To get a detailed recipe to make Soft, porous Idli,check out these links – Idli , Thatte Idli.
Optional additions to batter:
Chopped onions / grated carrots / Finely minced veggies

(B) For Onion-Tomato Khara Chutney:
Refer this video to make a spicy-tangy Chettinad Khara Chutney
PIN FOR LATER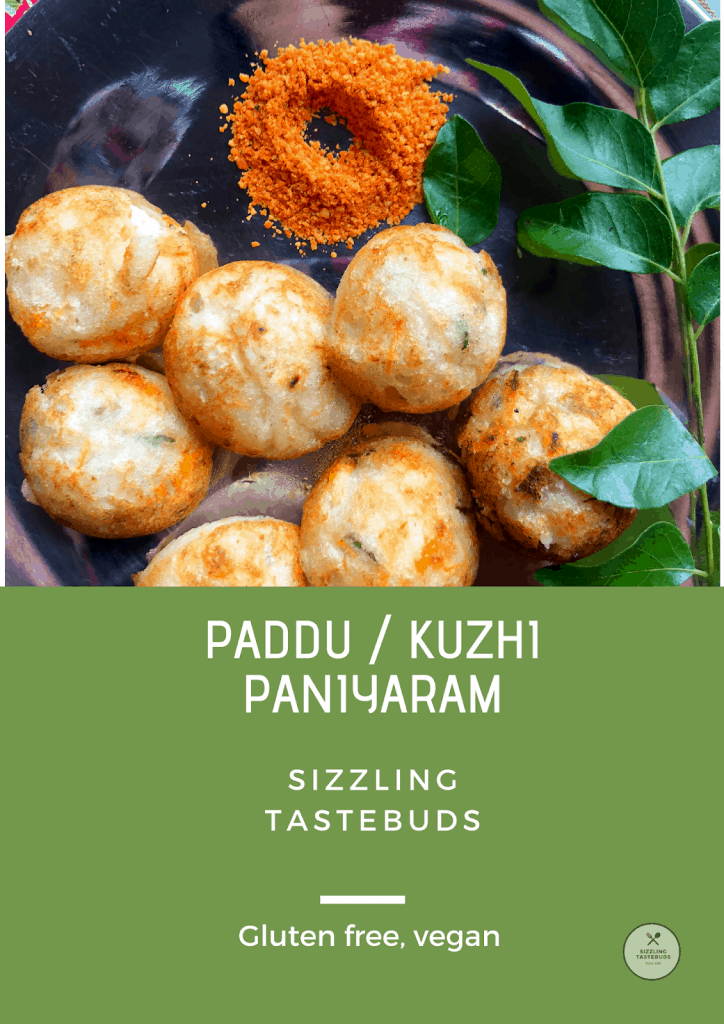 Method:
How to make Paddu:
Mix ingredients into the Idli batter mix well and check for salt /seasonings
Spoon into the greased moulds till 3/4 full.
Cover and cook till golden brown on a slow flame.
Flip slowly with a flat teaspoon and cook on the other side.
Serve hot with Tomato-Onion Chutney
For Tomato-Onion Khara Chutney:
In a pan, heat oil and saute Onions, Tomatoes till soft. Transfer to a plate & cool
In the same hot pan, add tamarind, turmeric, hing, red and green chillies. Saute
Grind these items in Steps 1 and 2 above with salt and little water till you get a thick chutney (salsa consistency)
This chutney can be served as it is or tempered too and goes well with Paddu, Dosa,Idli or even Akki or Ragi Rotti (rottis made of Rice / Ragi flour)
Tips:
1) If you are making this combo for kids, avoid chillies altogether. The ginger will provide enough punch.
2) Paddu is made sometimes with chopped onions. However I use it based on who I am serving it to. My little one and hubby love it with onions and mom doesn't. SO you can always add based on your choice.
3) In case you run short of this batter with unexpected guests, add 3 tbsp of dry roasted semolina / rava to increase the volume and adjust seasonings accordingly.
4) This Khara chutney can also be used as an Indian dip with raw veggie batons as a starter (I did and it was an instant hit !)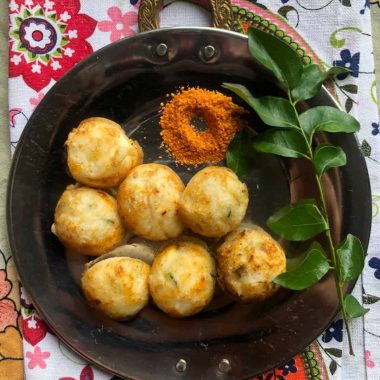 Kuzhi Paniyaram
Gluten Free and vegan Rice and lentil dumplings shallow fried. Served in South Indian cuisine as a breakfast or snack. Served with a spicy Coconut or Tomato Chutney
Ingredients
2

cups

Idli Batter

*UPDATE : If using Dosa batter, add 1-2 TBSP warmly roasted Idli Rawa to the dosa batter**

1

TBSP

Ginger

grated

2

TBSP

Onions

Minced fine

1

TBSP

Carrot

added this to lower the spice of the ginger and chillies for the little one

2

Green Chillies

chopped fine

1

tsp

Cumin seeds

1/2

tsp

Whole Black Pepper

Coarsely powdered

1

tsp

Curry Leaves

Chopped fine

1

tsp

Green coriander

Chopped fine
Instructions
Mix ingredients into the Idli batter mix well and check for salt /seasonings

Spoon into the greased moulds till 3/4 full.

Cover and cook till golden brown on a slow flame.

Flip slowly with a flat teaspoon and cook on the other side.

Serve hot with Tomato-Onion Chutney