Ragi Thinai Dosa is a Rice – Free , gluten Free, VeganDosa. This is a diabetic friendly dosa / crepe that is made often at home. Introducing Ragi (finger millet / nachni) to kids at an young age is imperative for the calcium content it boasts of, and dosas are the easiest way to sneak this in right ?
I have GF and vegan Ragi Choco chip pancake which my younger one loves for her Sunday breakfast and alsoinstant Cucumber Dosa(which is my preferred dosa any day). Other Ragi based Recipes include Mini Stuffed Ragi Masala Dosa.
If you are just venturing into millets, do check out various ways to use millets from One Pot Meals to Dosa, Idli  Upma, Pongal to Millet Cakes. Our favourite breakfast / snack with Ragi (Finger millet) is this Ragi Sevai
This is a similar pancake /dosa which doesn't require too much prep time.except for soaking the millets and grinding them. The dark colour of the dosas could be a little getting used to. But once you like the taste, it is totally yum. I have used Whole Ragi (whole millet) to make this. Served here is Chettinad style Khara Chutneywhich is the perfect foil to this dosa.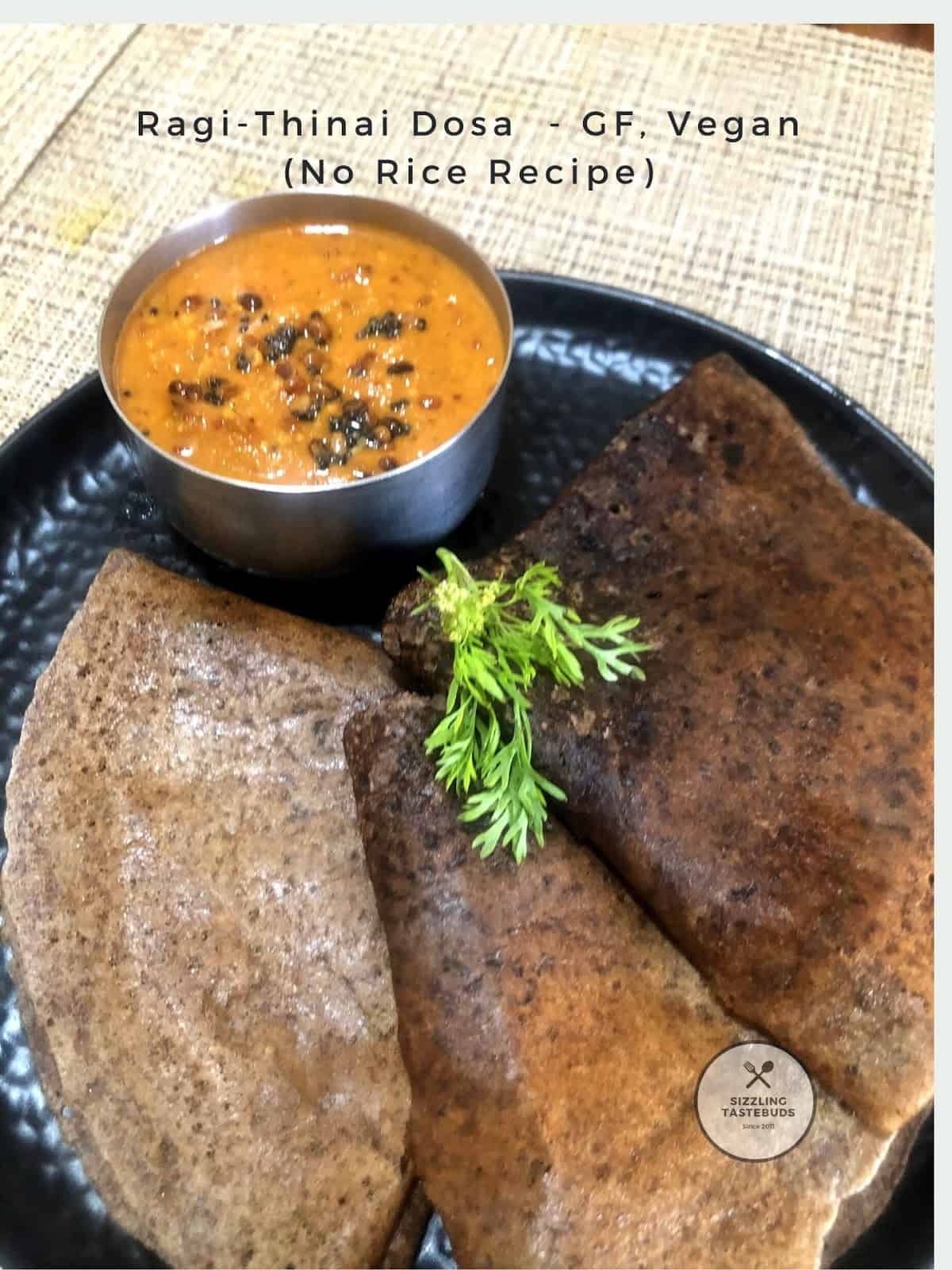 Pin

I have about 20+ varieties of Dosa on the blog, and Priya asked us to make any kid of Dosa for this week's edition of #DosaDen at FMBH. I am particularly in love with her Broccoli Masala Dosa – a delicious twist to the popular masala dosa. Let's get to see how to make this delicious dosa.

Prep time – 15 mins, Soaking time – 6 to 8 hours ;

Grinding time – 30 mins , Fermentation time – 10 to 12 hours

Makes ~ 15 to 20 Dosa

1 cup = 200 ml

PIN FOR LATER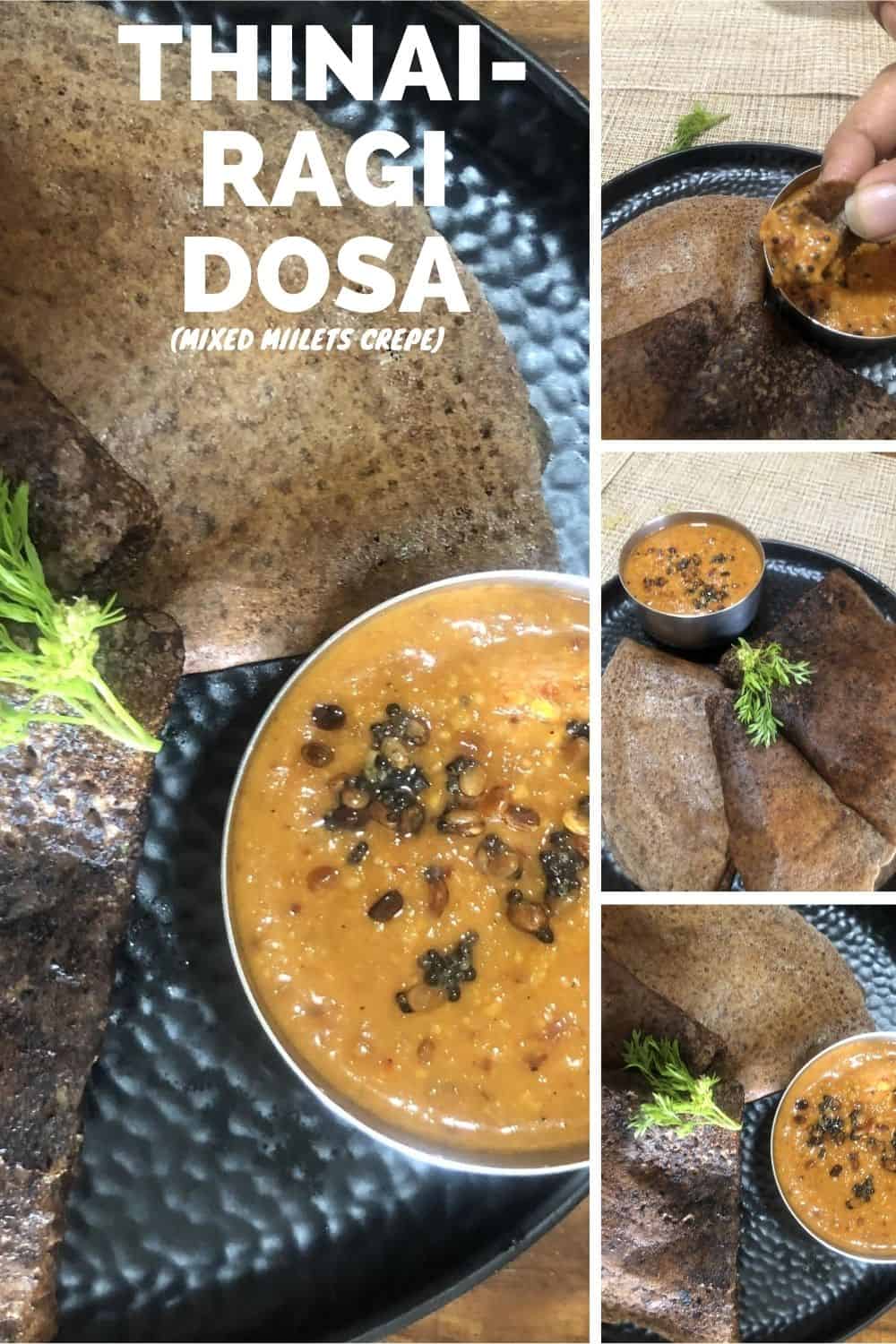 Pin
You need:
Whole ragi / nachni grains – 1 cup
Thinai / Foxtail millet – 1 cup
Urad dal – 3/4 cup
Methi seeds / fenugreek seeds – 1/2 tsp
Salt – 1 tsp
Red poha / brown poha – 2 TBSP (optional but recommended)
Oil – to make the dosa.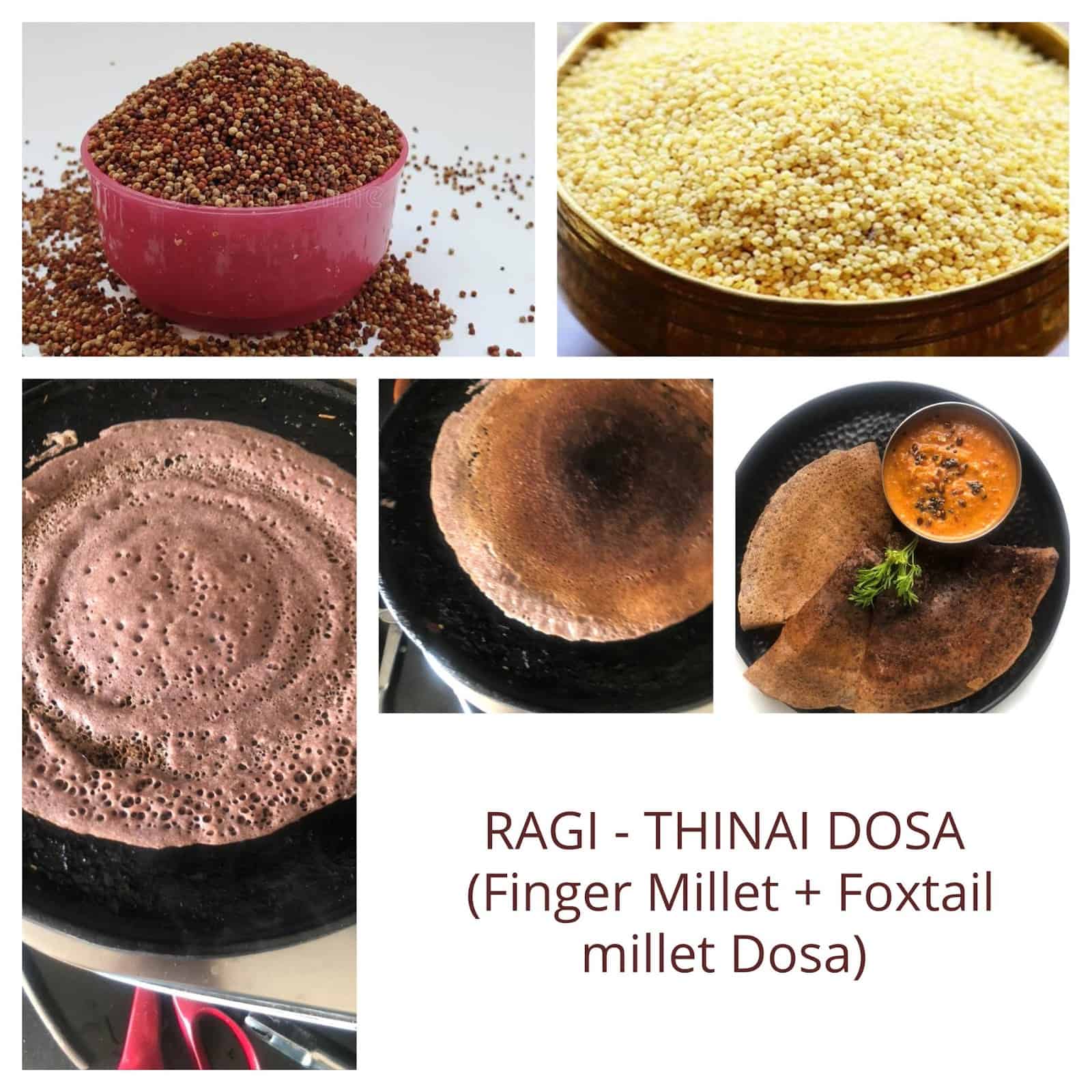 Pin
How to:
Wash the ragi well. Soak the ragi and the foxtail millet in separate containers for 6 hours. Soak urad dal with the poha and methi seeds separately for 4 hours.
Grind the Urad dal + methi + poha mixture well into a smooth paste. Transfer to a bowl.
Grind the ragi and foxtail millet separately into slightly coarse batters.
Mix all 3 batters and mix well with your hand or a whisk thoroughly. Add salt and mix again, ensuring the batters are well mixed in. Cover the container and ferment overnight.
Next morning, mix the fermented batter again. Add 1-2 tsp of water if its too thick (I didn't add). Adjust consistency to a pouring dosa batter texture.
Grease a cast iron tava (skillet) well. pour a ladle full of batter and spread to a dosa (don't make it too thin or thick). Drizzle little oil around the sides. Let it cook golden. Flip and cook for 10 more seconds.
Serve hot with any chutney. We had with Chettinad style Khara Chutney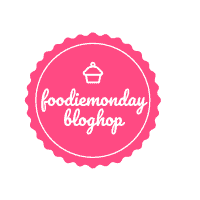 Pin