The family loves tea cakes and my mom in particular loves Xmas cakes. It takes us all to the Annual Nilgiris cake fest held at Bangalore where various huge themed cakes made their annual appearance much before they became trendy in the baking world ! 


With the holiday season upon us, it was natural to bake a xmas fruit cake which was not boozy ,sugar-heavy or with any fancy fittings- something that my family would enjoy. 
My husband believes that food can be as healthy as you want it to be , and this cake is a success in that direction. With no added sugar, and made from various millets, this is surely not your typical Xmas cake, but as a family we loved it a lot. 
Wishing all you readers a very happy X-Mas and a joyous year ahead.. ! 
Adapted from Various recipes, this is a no-sugar added bake and this cake made its way to our tummies as an early Xmas treat!  
Pin
Other Xmas treats that you could try :
Mini Spinach and Cottage Cheese Tarts
Vegan Dark Chocolate Crinkle Brownies
Let's get to see how to make this recipe…
PIN FOR LATER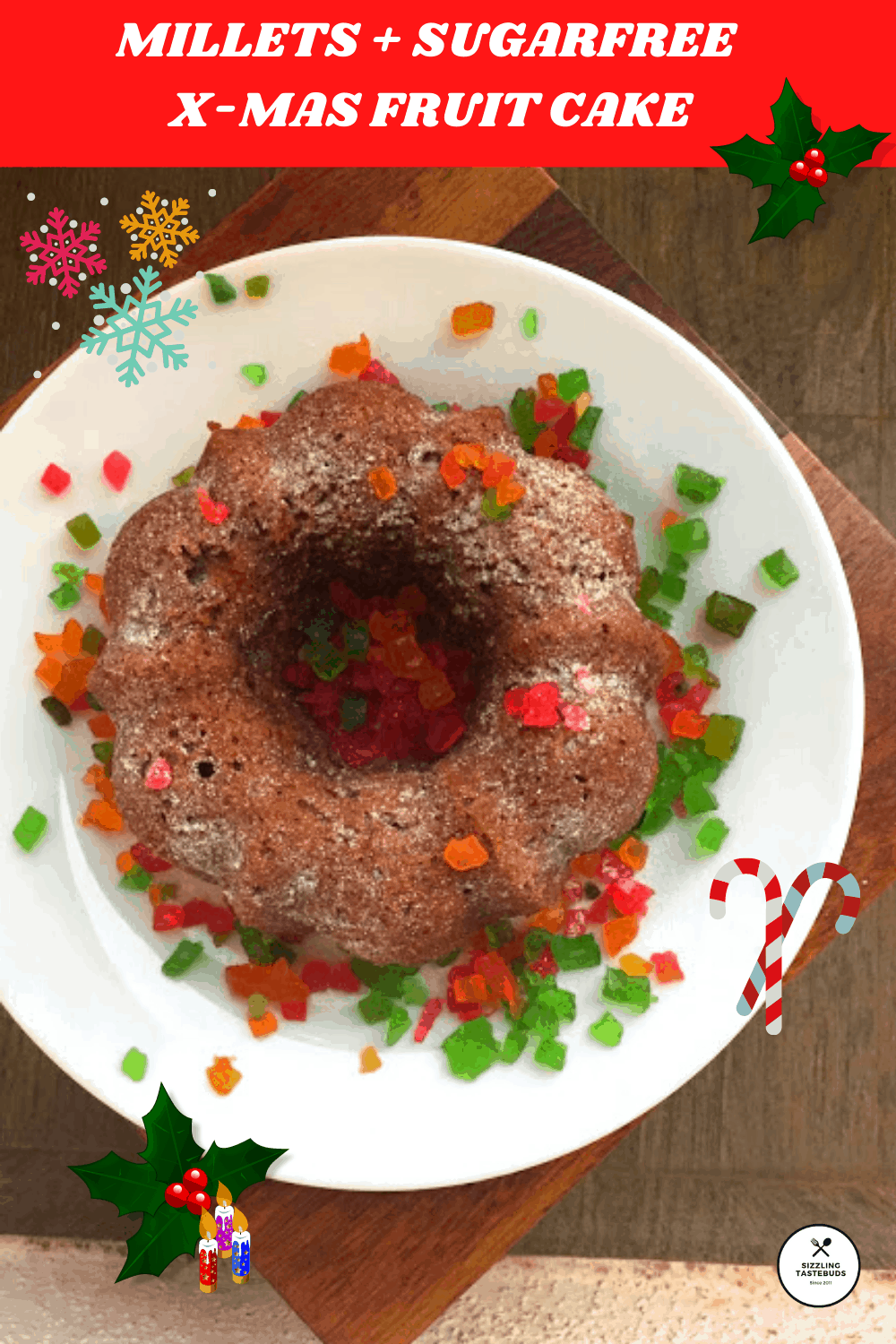 Pin
Vegan millet based xmas cake 
Prep time – 25 Mins, bake time -40 mins ; Makes – 8~10 medium slices 
Dry ingredients 
Finger millet(ragi) flour – 1/2 cup
Little millet flour – 1/4 cup
Foxtail millet flour – 1/4 cup
Wholewheat flour – 1 1/3 cup
Cornflour – 2/3 tsp
Baking powder – 1 tsp
Cinnamon powder – 1/2 tsp
Baking soda – 1/2 tsp
Salt – 1/8 tsp
Nutmeg powder – 1/2 tsp
Clove powder – 1/4 tsp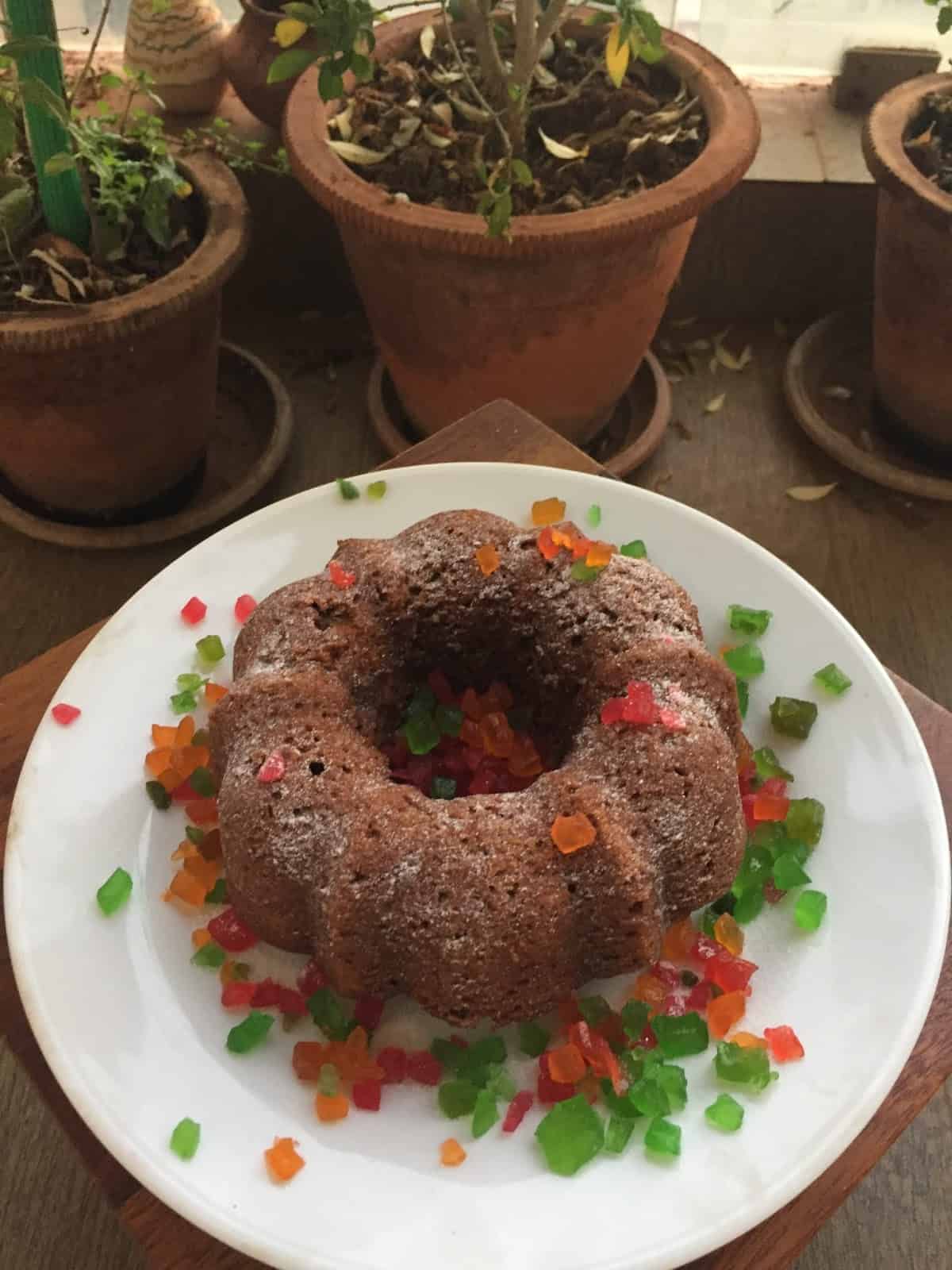 Pin
Wet ingredients – 
Mixed nuts chopped  – 2/3 cup (I used cashew, almonds, black raisins and pistachio)
Dates – 10-15 (I used Mejdool de-seeded dates)
Fresh orange juice – 1cup
Olive oil / any neutral oil – 1/2 cup
Hot water – 1/2 cup
Tutti fruiti – 1/4 cup (candied papaya) – optional.
Orange zest – 1 TBSP 
How to: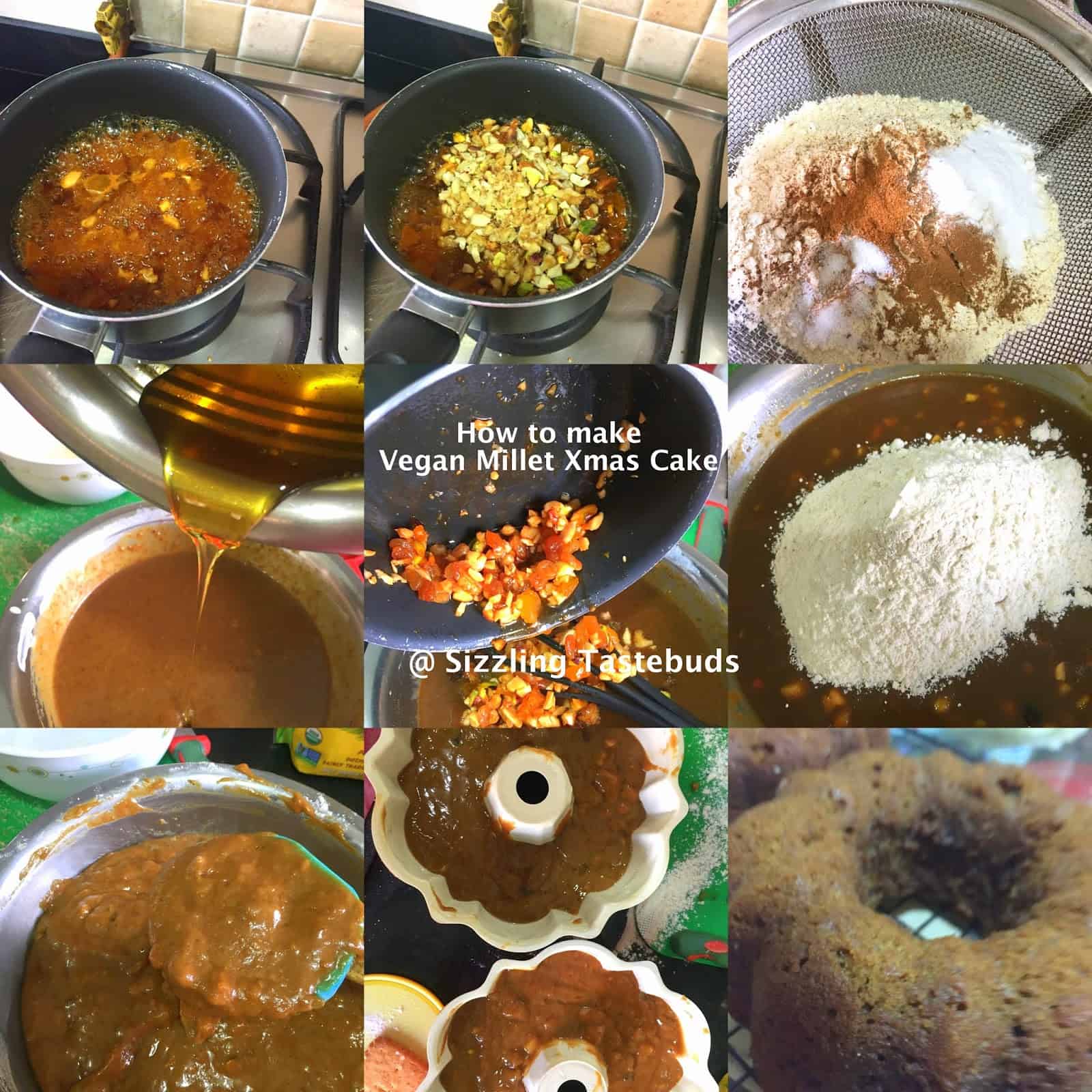 Pin
In a pan, bring the hot water to a rolling boil , add chopped dates and let it boil for 4-5 mins till dates are soft but not mushy. Cool slightly and Add the baking soda to this mixture and mix, it will froth a bit, but that's ok. Let it settle down

 

Meanwhile, In another bowl, soak the finely chopped dry fruits in room temperatures orange juice for 20 mins.
Sift the dry ingredients twice over in a large bowl.

 

Preheat oven to 170C and grease a baking dish (I used a Bundt pan)
In another large bowl, add all the soaked dates, oil, soaked dry fruits, Orange Zest + juice well. Add this wet mixture to the dry mix and slowly fold till no dry streaks appear. Add a little more hot water 1/2 tsp at a time or pure orange juice if the mixture appears too dry. Add in the tutti frutti if using .

 

Pour the cake batter to the prepared cake pan, bake for 30-35 mins or till a skewer comes clean.Tent the pan if you feel it's browning too quickly.

 

Cool on a wire rack and de-mould gently. Let it cool to room temperature and slice as required.