Ragi Sevai | Nachni Seviyan
So, what is Ragi ? Ragi is simply finger millet and has been an ancient millet. Apart from these health benefits, Ragi is also used extensively as a body coolant. Ragi flour is mixed with buttermilk and a pinch of salt, and had during summers both as a health drink as well as to cool the body.
Breakfast is something that's defacto in my family – even on Sundays – by 7 or am (unless we prefer Brunch on a lazy weekend). Having said that, while Idlis and Dosas do make their friendly appearance every week, today's dish is my personal favourite.
We like Ragi (finger millet) in most forms – Ragi Sankati (savouryflour based roundel), Ragi Rotti (flattened Indian bread) and even Ragi Besan Ladoo. Ragi Sevai (finger millet string hoppers) is the latest addition using this millet. Quite easy to make and loaded with calcium, its also completely gluten free. The Instant Ragi Oats Dosa is another family favourite where the Ragi is hidden for picky eaters :p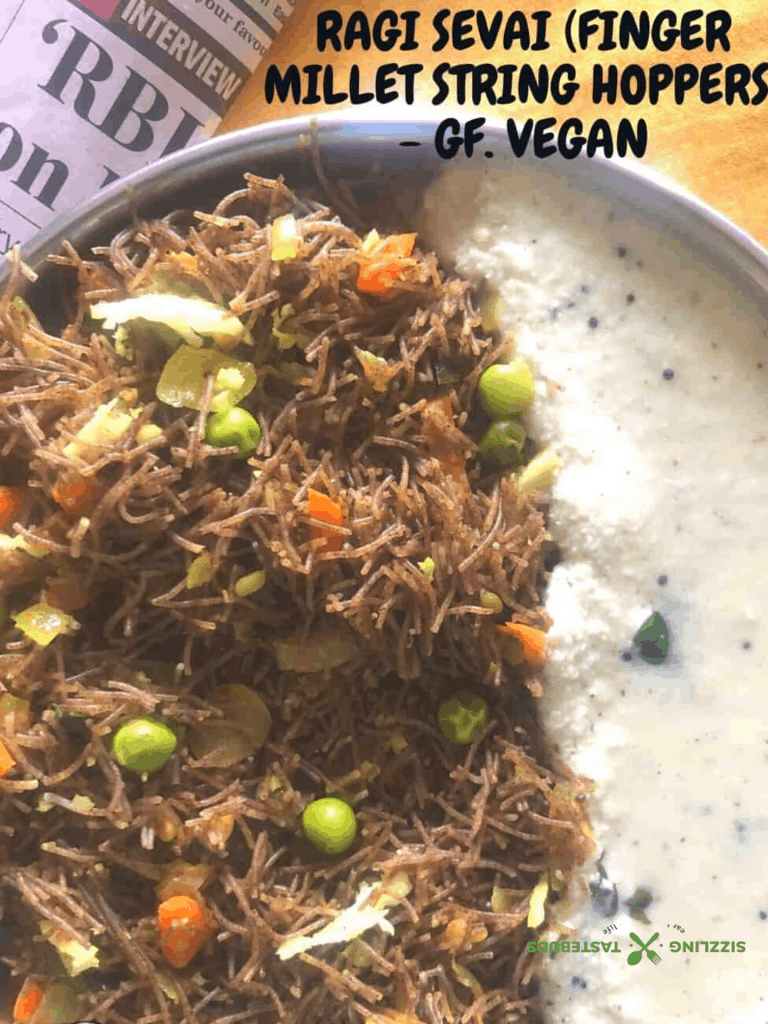 I couldn't post the step by step pictures as mornings are quite rushed to take any pictures, but surely will update the next time I make this. Meanwhile, let's hop over to the recipe. You can use store bought Ragi Sevai or make it from scratch. I have posted the recipe for the latter method.
Cuisine : South Indian Course: Breakfast or Tiffin (light snack)
Prep time – 15 mins : Cook time + steaming time – 20 mins ; Serves – 2
Let's make Ragi Sevai | Ragi Semiya Upma | Finger Millet String Hoppers
Ingredients to make Ragi Sevai | Ragi Semiya Upma | Finger Millet String Hoppers
1 cup Finger millet flour (Ragi flour)
1/4 cup Rice Flour (homemade or storebought)
1/2 tsp Salt
1.5 cup Boiling water (adjust according to the quality of flours)
Tempering:
1 TBSP Oil
1 Onions (1/2 cup)
1/4 cup Mixed Vegetables (I used Peas, carrots and cabbage)
1/4 tsp Salt
1/2 tsp Mustard seeds
1/2 tsp Split Black Gram (Urad dal)
1 sprig Curry leaves
3 Green chillies
3 tsp Freshly grated coconut
1 tsp Lemon juice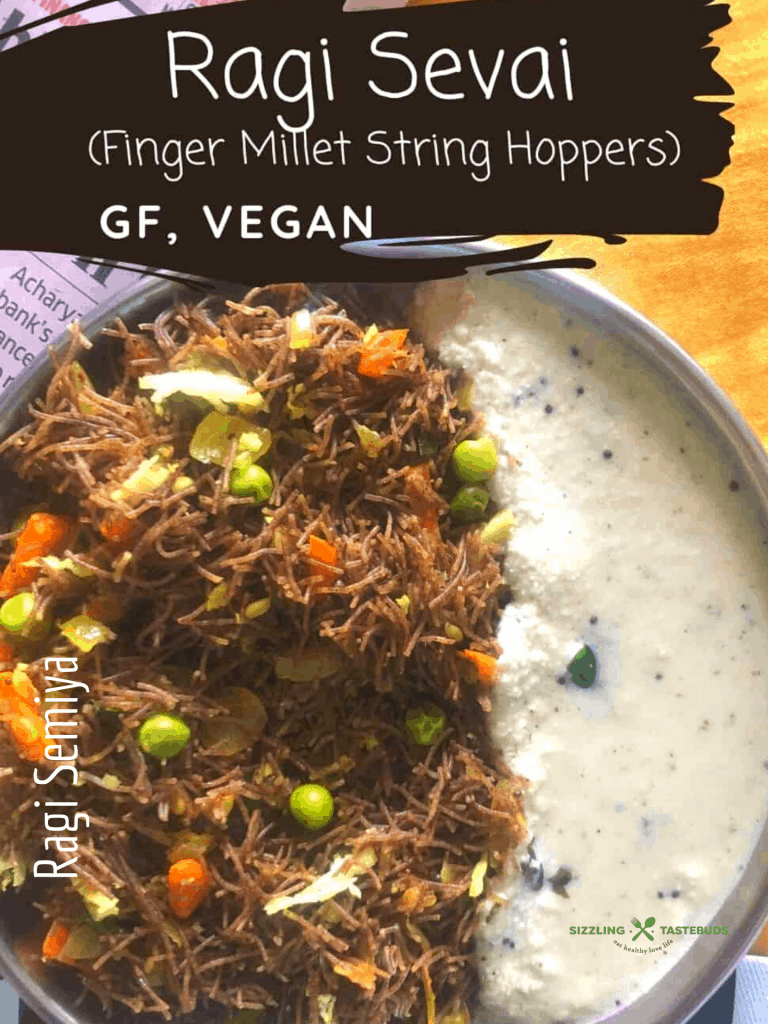 How to make Ragi Sevai | Ragi Semiya Upma | Finger Millet String Hoppers
Mix and sieve both the flours together in a large bowl along with salt. Add the boiling water little by little till it comes out to a glutinous mass. Mix slowly with a spoon as you pour water. Cover and rest for 3 -4 minutes till it has cooled. Then knead with oiled hands to a thickish dough. Make equal balls of this dough and cover with a wet cloth for 2 minutes
Slightly grease the idiyappam press / murukku press and take one portion of this and press the idiyappam mould into fine sevai. Place directly into an Idli mould.
Repeat with all the flour balls and steam for 10 – 14 minutes.
Cool and fluff them a bit
In another pan, heat oil. Temper mustard, curry leaves, chillies. Add chopped onions and blanched peas, salt and sautè well till onions turn pink. Now add the fluffed up idiyappam, grated coconut and lightly saute, taking care not to break the sevai (string hoppers).
Switch off the stove. Add lemon juice, coriander leaves and serve with chilled yoghurt or any Chutney! We had it with Coconut Chutney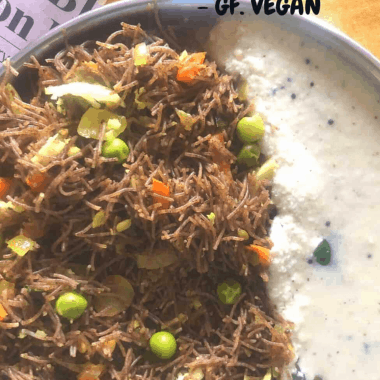 Ragi Sevai | Ragi Semiya Upma | Finger Millet String Hoppers
A sevai / Upma /savory pudding made with Ragi Sevai / Ragi Vermicelli or Finger Millet string hoppers. Served as a South Indian Breakfast or Snack. 
Ingredients
1

cup

Finger millet flour

Ragi flour

1/4

cup

Rice flour

homemade or storebought

1

tsp

salt

1.5

cup

Water

(Use Boiing water) – adjust according to the quality of flours
Tempering
2

TBSP

Oil

1

Onions

1/2 cup

1/4

cup

Mixed vegetables

I used Peas, carrots and cabbage

1/2

tsp

Mustard Seeds

1/2

tsp

split black gram

Urad dal

1

sprig

Curry Leaves

3

Green Chillies

3

tsp

Grated coconut

1

tsp

Lemon Juice