What is Kadamba Dosai
Kadambam in Tamil means a mixture. We have a dish called Kadambam itself offered to Lord Balaji at Tirupati, but that's made with Rice and Native Veggies (like Ashgourd, pumpkin, raw banana etc) and is sans onion garlic. That's a recipe that's sure to feature on another day as we love it a lot, but never get time to take pics, as its mainly made for Naivedyam (offering made to god, so in a smaller quantity).
Dosa on the other hand is made so regularly for breakfast at home. Unlike a lot of Tambrahm homes, we don't prefer it for dinner, but only for breakfast. Of course, ANY dosa can be served for dinner as a personal preference.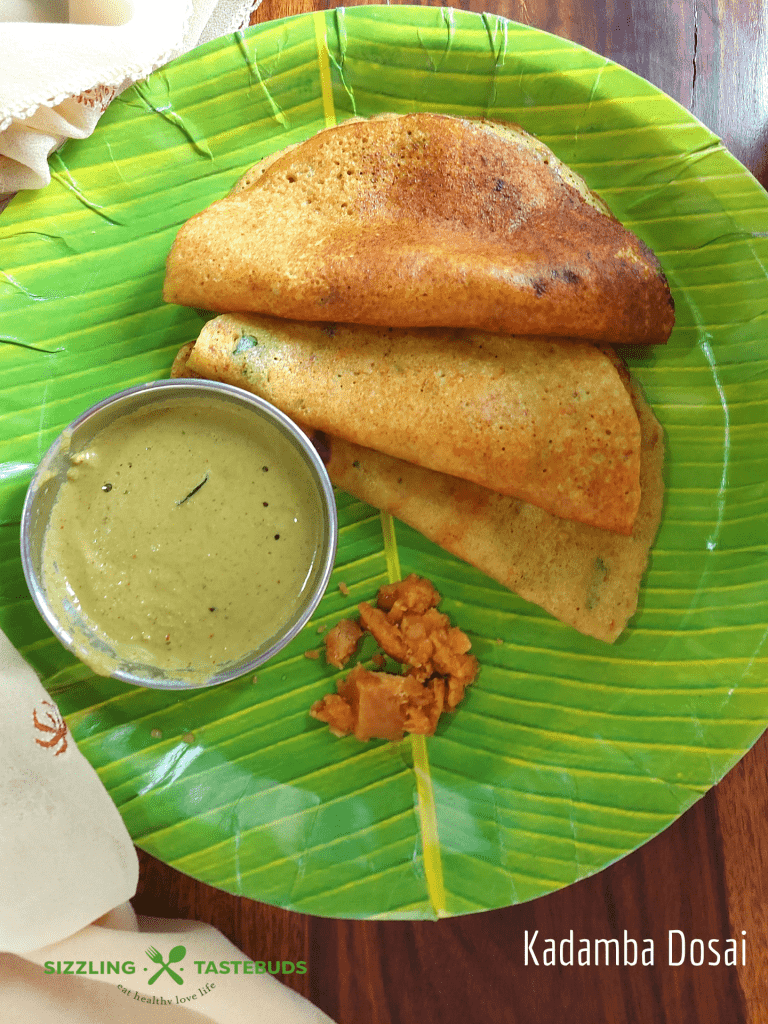 Today's Kadamba Dosai (mixed flour Indian pancake) comes from Chandra Padmanabhan's book. Like most foodies (or even food bloggers), I tend to buy a LOT of cookbooks on an impulse or a good sale (Amazon – you have truly spoiled us :p) . But some stay the way they are bought, some get used up quite a bit. True to my native cooking, Southern Flavours by Chandra Padmanabhan (pic below) is a treasure trove of some very unique recipes like Cabbage rasam, Morappam (which I have already blogged here), Vazhakkai milagu Kootu (raw banana curry in pepper sauce) etc.
I have made this Kadamba Dosai (original recipe pic from the book as below) with some minor modifications every time. Its our go-to dosa on Mondays mornings when I have no fresh Idli batter ground the previous week. And this dosa batter gets done in a jiffy (with some quick prep).  If you like Dosa varieties like us, why not try this Quinoa Dosa (without rice)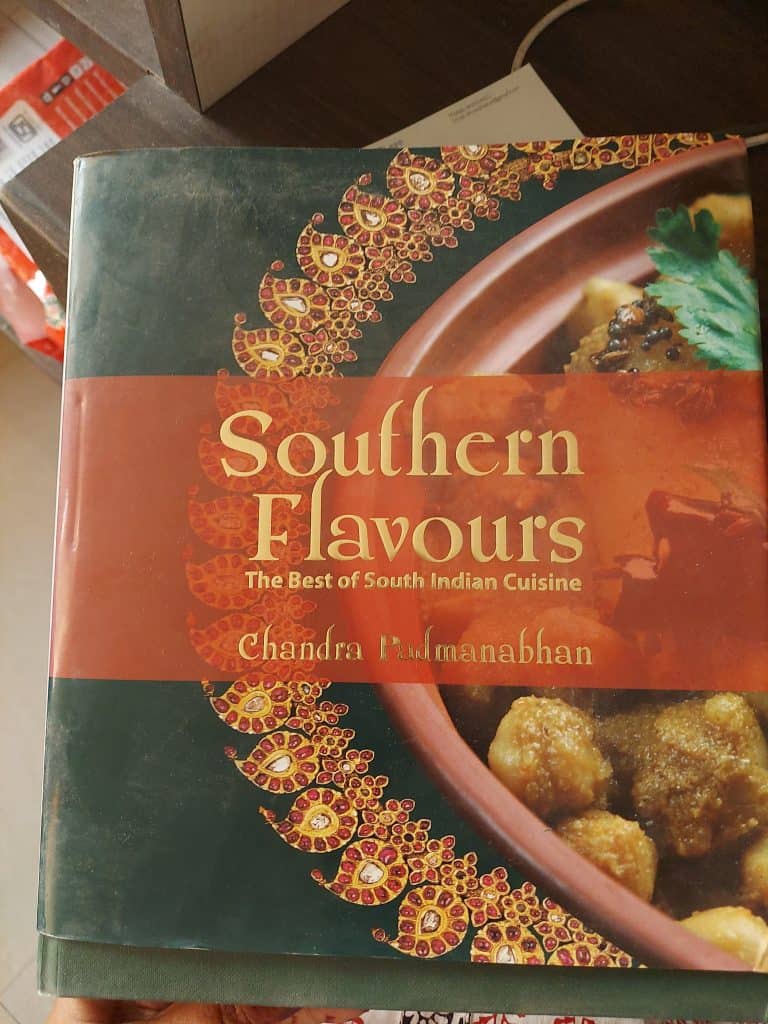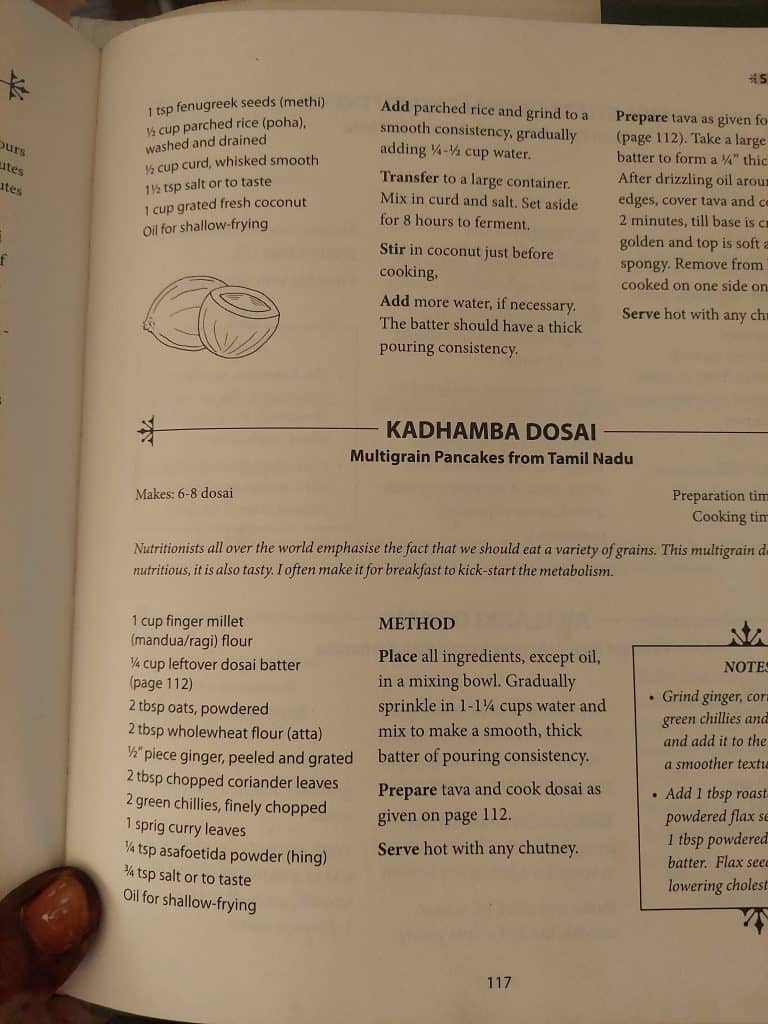 Other unique Dosa / Savoury Indian Pancakes you might like on the blog..
PIN ME !!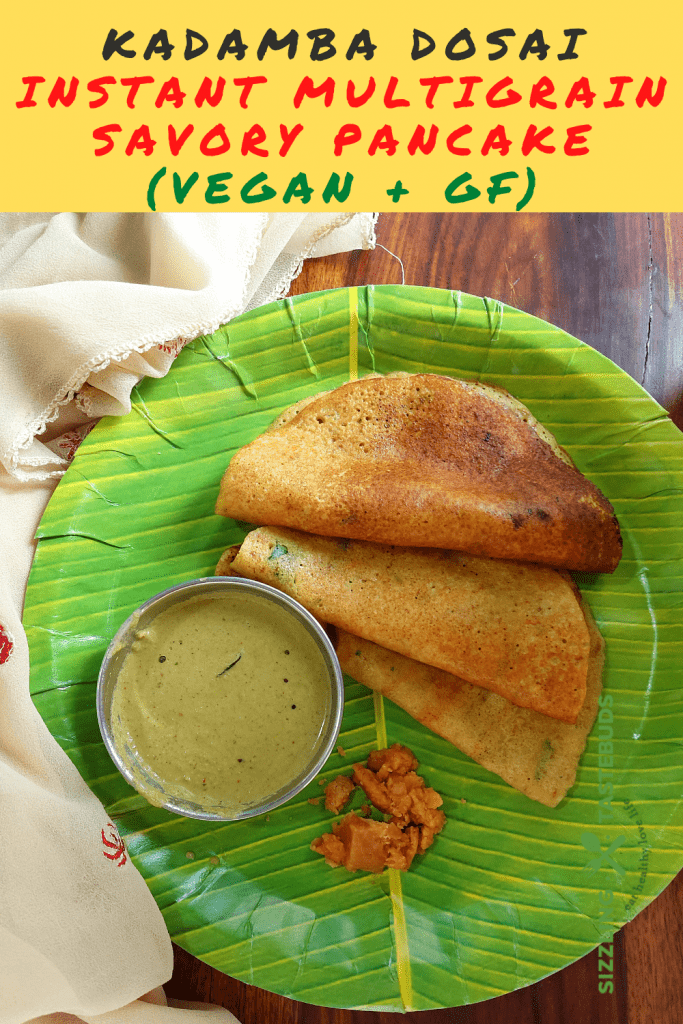 What are the main ingredients in Kadamba Dosai?
Left over Idli / Dosa batter (you can use fresh too)
Any millet flour (You can use finger millet / sorghum / Bajra)
Freshly grated veggies (opt. But I add it some time)
Oats powder- I ALWAYS add this to get some fibre going in
Basic spices like salt, pepper, ginger, onions etc.
Optional add ons – coriander/ curry leaves
What can I serve with this Kadamba Dosai?
Well, the best combo we love is with Molagapudi drenched in sesame oil.. But any tiffin sambhar or chutney (21 varieties of chutney here) will also work.
Let's get to make Kadamba Dosai / Kadamba Dosa
( Instant Multigrain, Gluten Free, vegan Indian Savory Pancake. Served for Breakfast or evening Tiffins)
Prep Time – 15 mins , Resting time – 30 mins ; cook time – 20 mins ; Makes – 10 servings
What you need to make Kadamba Dosai:
2 cups Dosa batter (leftover or fresh)
1/2 cup Oats flour
1/4 cup Sorghum flour (Jowari atta)
3 TBSP Gram flour (Besan)
1 tsp salt
1 tsp curry leaves
2 tsp coriander leaves
1 tsp cumin (jeera)
1 tsp ginger (grated)
1 tsp sesame oil (per dosa)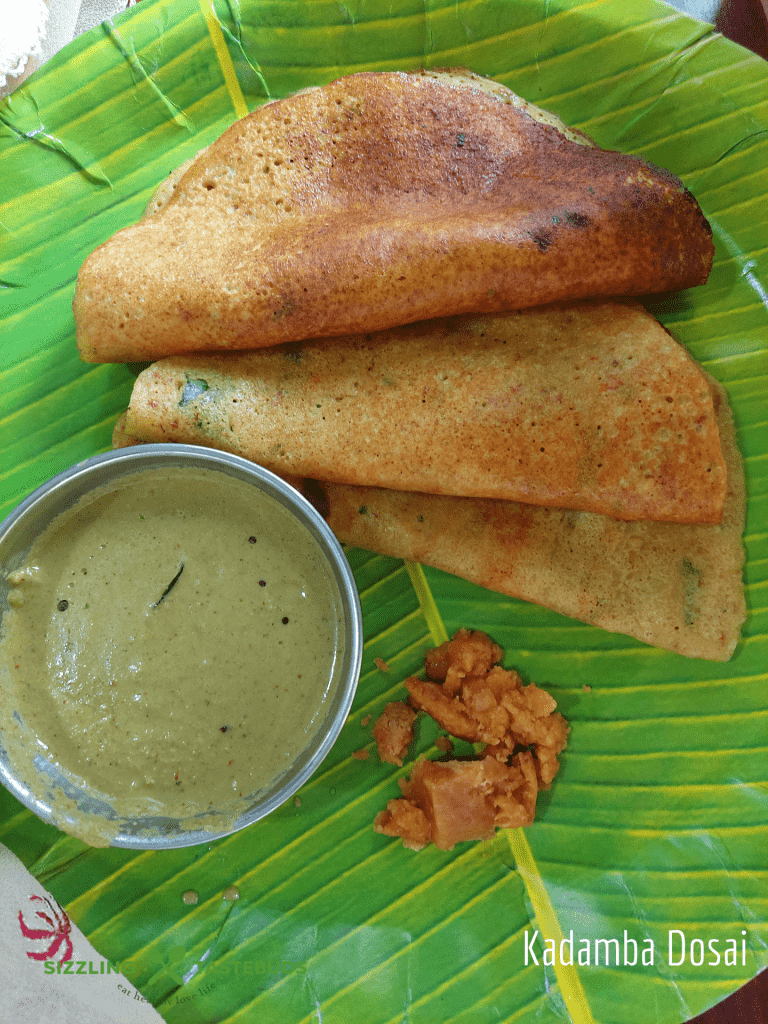 How to make Kadamba Dosai
Roast the oats on low flame for 4-5 mins till slightly warm. Transfer to a plate, Cool and powder fine.
In a large bowl, add the Dosa batter, Oats flour and the sorghum flour.
Whisk it well., add salt and all other ingredients, add water as necessary to make a slightly runny batter (to a spreadable consistency, but not like Rava Dosa batter)
Cover and rest it for 30 mins (this step is highly recommended , pl don't skip it)
After 30 mins, heat the tava (skillet) to medium heat, whisk the batter once more.
Check for salt and spice.
Take a ladle of two of the batter and spread it slightly thick on the tava. Drizzle sesame oil around the dosa.
Cook till golden brown on one side (takes 1-1.5 mins)
Flip and cook for 30 seconds.
You may also cook on one side only for 2 mins
Serve hot with molgapudi or chutney. Here it is served with chow chow chutney (Chayote Squash Chutney) and grated jaggery.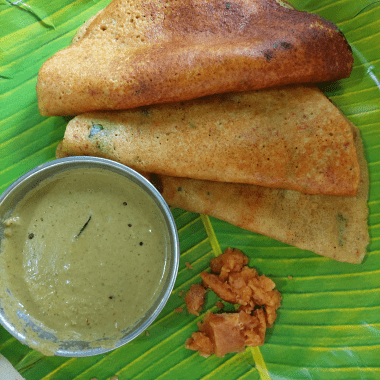 Kadamba Dosai | Instant Breakfast Dishes
Instant Multigrain, Gluten Free, vegan Indian Savory Pancake. Served for Breakfast or evening Tiffins.
Equipment
Tava / Skillet

Whisk

Ladle

Bowl
Ingredients
2

cups

Dosa batter

leftover or fresh

1/2

cup

Oats flour

1/4

cup

Sorghum Flour

Jowari atta

3

tbsp

Gramflour

Besan

1

tsp

salt

1

tsp

Curry Leaves

2

tsp

Green coriander leaves

1

tsp

Cumin seeds

jeera

1

tsp

Ginger

grated

1

tsp

Sesame oil

per dosa
Instructions
Roast the oats on low flame for 4-5 mins till slightly warm. Transfer to a plate, Cool and powder fine.

In a large bowl, add the Dosa batter, Oats flour and the sorghum flour.

Whisk it well., add salt and all other ingredients, add water as necessary to make a slightly runny batter (to a spreadable consistency, but not like Rava Dosa batter)

Cover and rest it for 30 mins (this step is highly recommended , pl don't skip it)

After 30 mins, heat the tava (skillet) to medium heat, whisk the batter once more.

Check for salt and spice.

Take a ladle of two of the batter and spread it slightly thick on the tava. Drizzle sesame oil around the dosa.

Cook till golden brown on one side (takes 1-1.5 mins)

Flip and cook for 30 seconds.

You may also cook on one side only for 2 mins

Serve hot with molgapudi or chutney. Here it is served with Chow chow chutney (Chayote Squash chutney)