Millets are a great replacement to rice especially for diabetics / weight watchers. In Indian Cuisine, Millets can easily replace rice for Idli, Dosa , Pongal . Today's dish is a play on the popular Onion Uttapam with a twist with millets. You could use the Millet Idli recipe to make the Uttapam, but I chose to make the Uttapam batter from scratch. If you are just venturing into millets, do check out various ways to use millets from One Pot Meals to Dosa, Idli Upma , Pongal to Millet Cakes
Onions and garlic belong to the family Allium which are basically sulphur compounds, which helps in treating cardio vascular ailments, nasal congestions (best done with steamed onions), lowering blood levels of cholesterol and triglycerides and lowering blood pressure.
PIN FOR LATER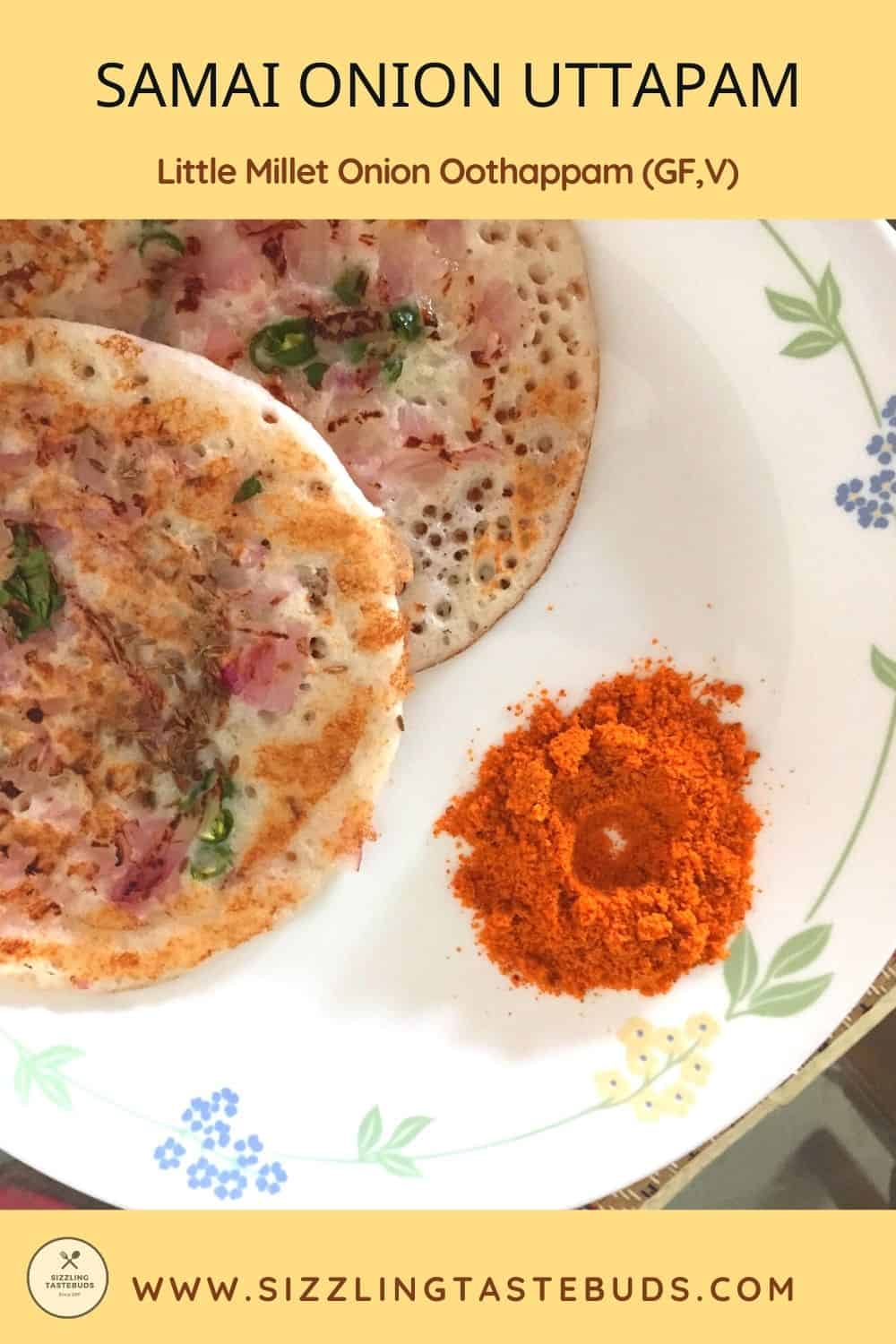 Uttapam / Utthappam / Oothappam is a South Indian Pancake made slightly thicker than Dosa on a skillet topped with veggies / sauces / chutneys / Podis. As mentioned, one can use Idli / Dosa batter to make Uttapam, but let's make the batter from scratch.
Other Uttapam recipes on the blog include:
 Mini Thinai (foxtail millet) Veg Uttapam
Andhra style Erra Karam Dosa
Let's get to the recipe now.
Prep time – 10 mins, Soaking + grinding time – 6 hours,
Fermentation – overnight / 8-10 hours.
Makes – 15~20 Uttapams
You would need:
Little Millet / Samai / Samo – 3 cups (1 cup = 120 ml)
Urad Dal (Split / Whole) – 1 cup
Methi / Fenugreek seeds – 1 tsp
Salt – to taste
Oil – to fry (approx. 1/4 – 1/2 tsp per Uttapam)
Topping:
Chopped Onions – 1 cup
Chopped  coriander – 2 TBSP
Chopped curry leaves – 1 tsp
Crushed black pepper – 1/2 tsp 
Minced ginger & green chillies – to taste
Idli Podi – 1/2 tsp per dosa (optional).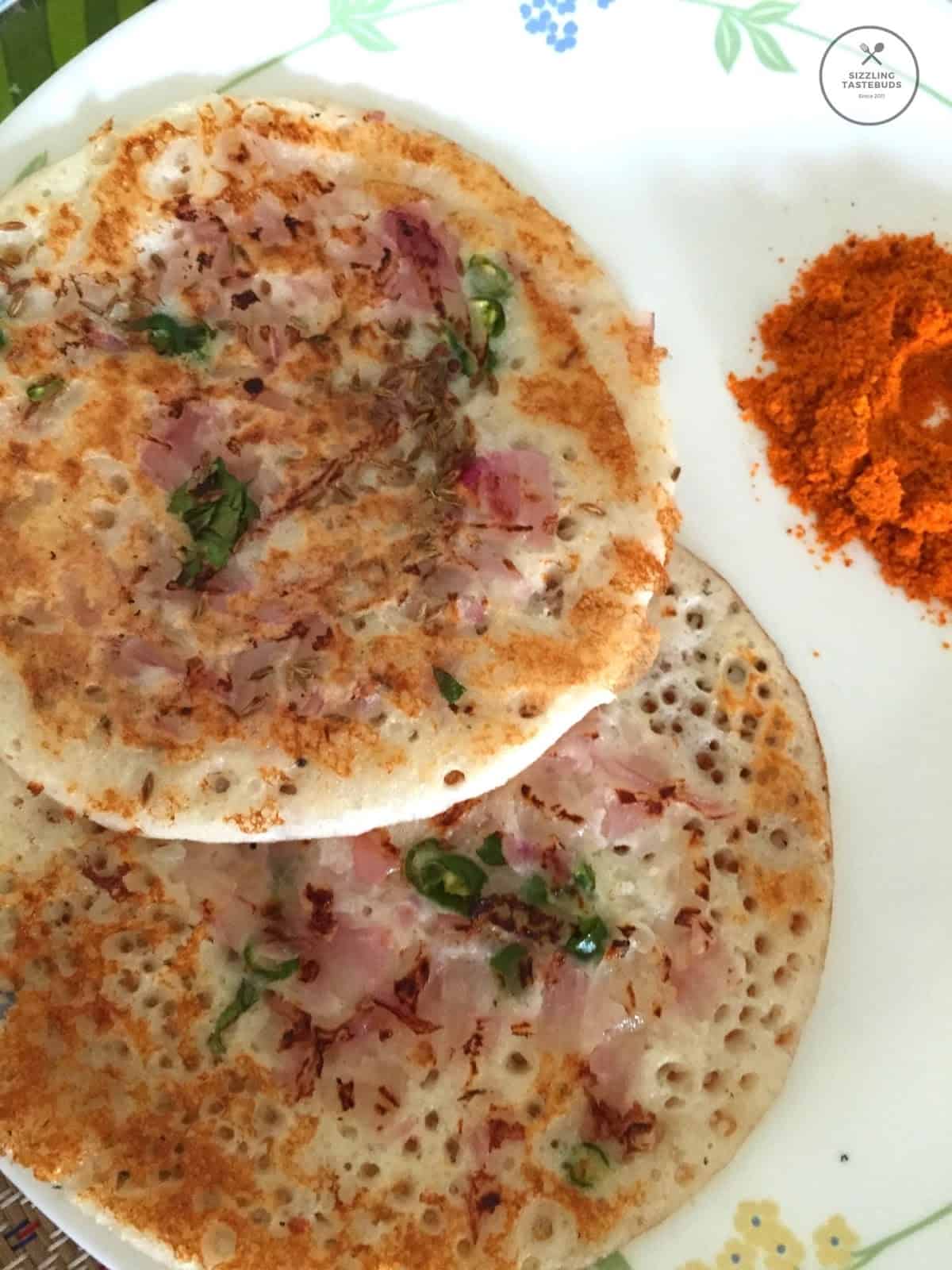 How to:
Day 1:
Wash and soak the millet + methi and Urad in minimal water separately for 4-6 hours.
Grind the Urad dal and methi first to a smooth fluffy batter. Grind the millet to a slightly coarse texture.
In a bowl, mix both the batters and add salt and fluff it up well. Close and ferment the batter for 8-10 hours or overnight.
NEXT DAY:
To make the topping:
Heat 1 TBSP oil, add the ginger, green chillies, curry leaves and minced onions and caramelise it well. Add black pepper and mix well. Add the chopped cilantro and mix well. Keep ready.
Once the batter has fermented well, mix well with a deep ladle. Heat the skillet to medium-hot. Pour 1-2 ladles of the batter to a thick dosa (uttapam consistency) and drizzle the oil around, while topping the dosa with the minced onion mixture and some idli molagapudi (opt,). Let it get golden brown on one side
Flip to the other side if required. Or serve the Millet Onion Uttapam immediately with more Idli Molagapodi / Chutney of any sort.