When I made Coriander
Walnut Garlic Pesto, my original plan was to use it in Sphagetti / pasta
alone. Till my bookmarks tumbled down one by one, and I had Nag's recipe
staring at me for the past few yearsL(yes,
years !!). The fear of dealing with yeast was daunting, and this was one of the
first breads I baked for this Marathon, and did a happy dance when it turned
out just right. Like I said in my inaugural post on Orange Almond Cake, this
Baking Marathon helped me conquer many of my fears of working with yeast.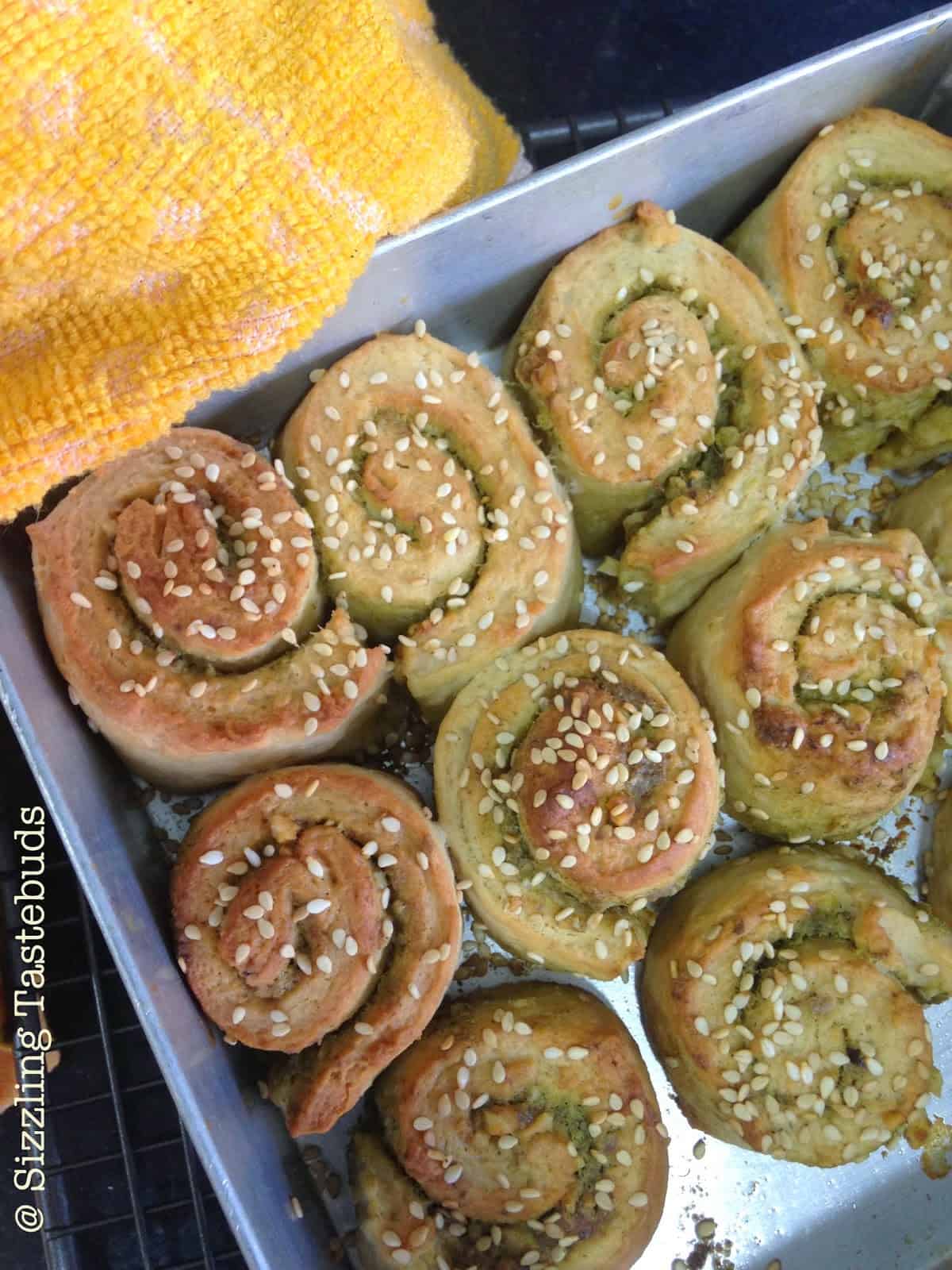 Pin
Adapting on the original recipe with pesto instead of garlic butter, this
was a breeze to make and yummy to taste. I also made another batch of mint
pesto which I used to make a similar roll last week. These rolls can be had as
a snack, or as an accompaniment to meat dishes / soups or even as an appetizer.
Either way, it's a crowd pleaser, and my kiddo is always hovering around the
oven when I am baking asking if am baking her favourite snack roll.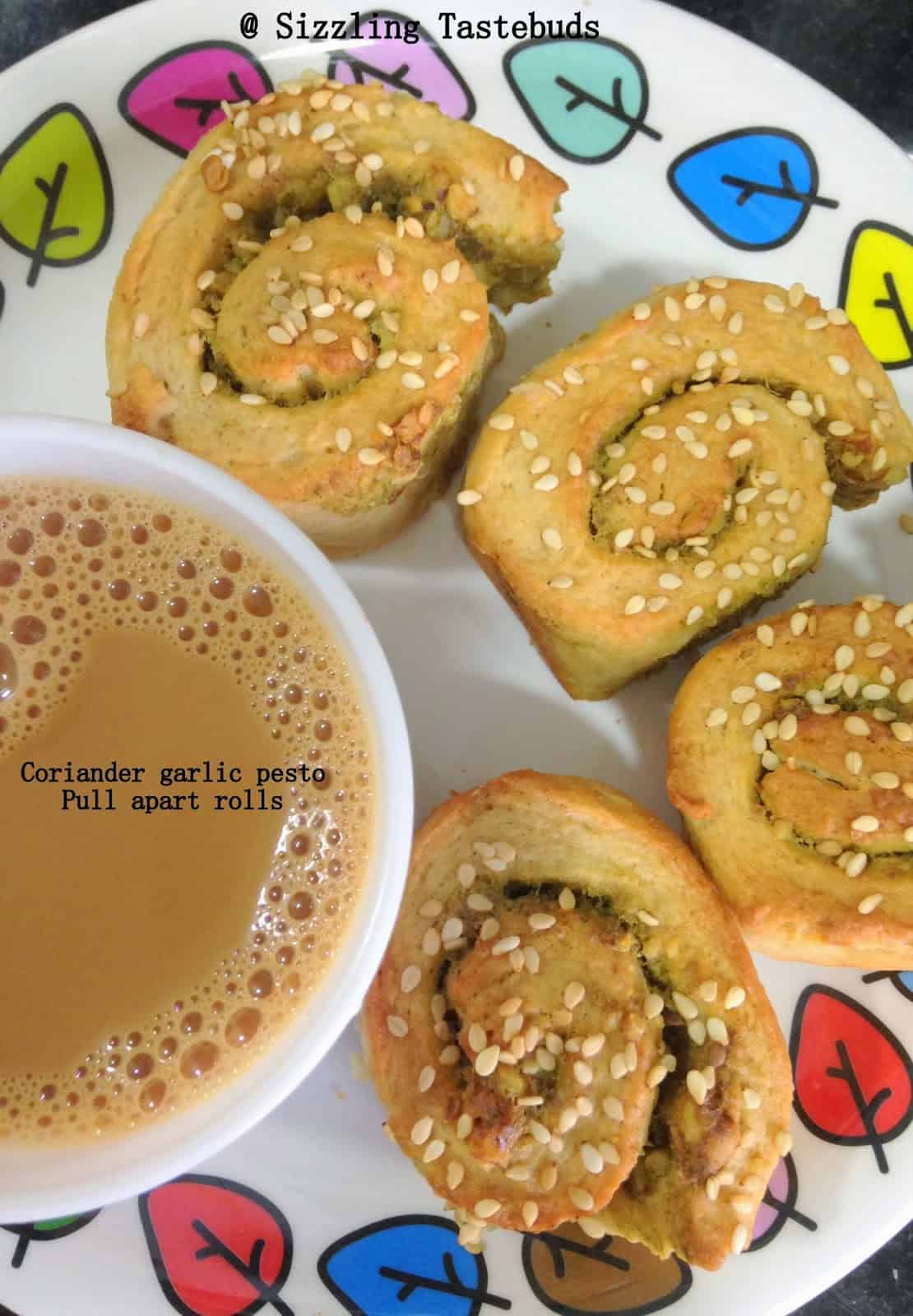 Pin
Baking Marathon Day 4 : Coriander
Garlic pesto Pull apart Rolls
Recipe type : Yeasted bread
Adapted from : Here
Course: Appetisers / Tea time snacks
Cuisine : American
Spice level : Medium. Makes :
15 medium sized rolls
Prep time: 15 mins | Bake time : 30
mins (varies from oven to oven)
Standing / resting time for
yeasted dough : 60-90 mins
What you need:
Wholewheat / Organic Bread flour –
2 cups
Warm water – about ¾ cups + 2 TBSP
Sugar – 1 tsp
Salt – ½ tsp
Instant yeast – 1 tbsp
Olive oil – ¼ cup (divided use)
Filling:
Chopped walnuts – a handful
Topping: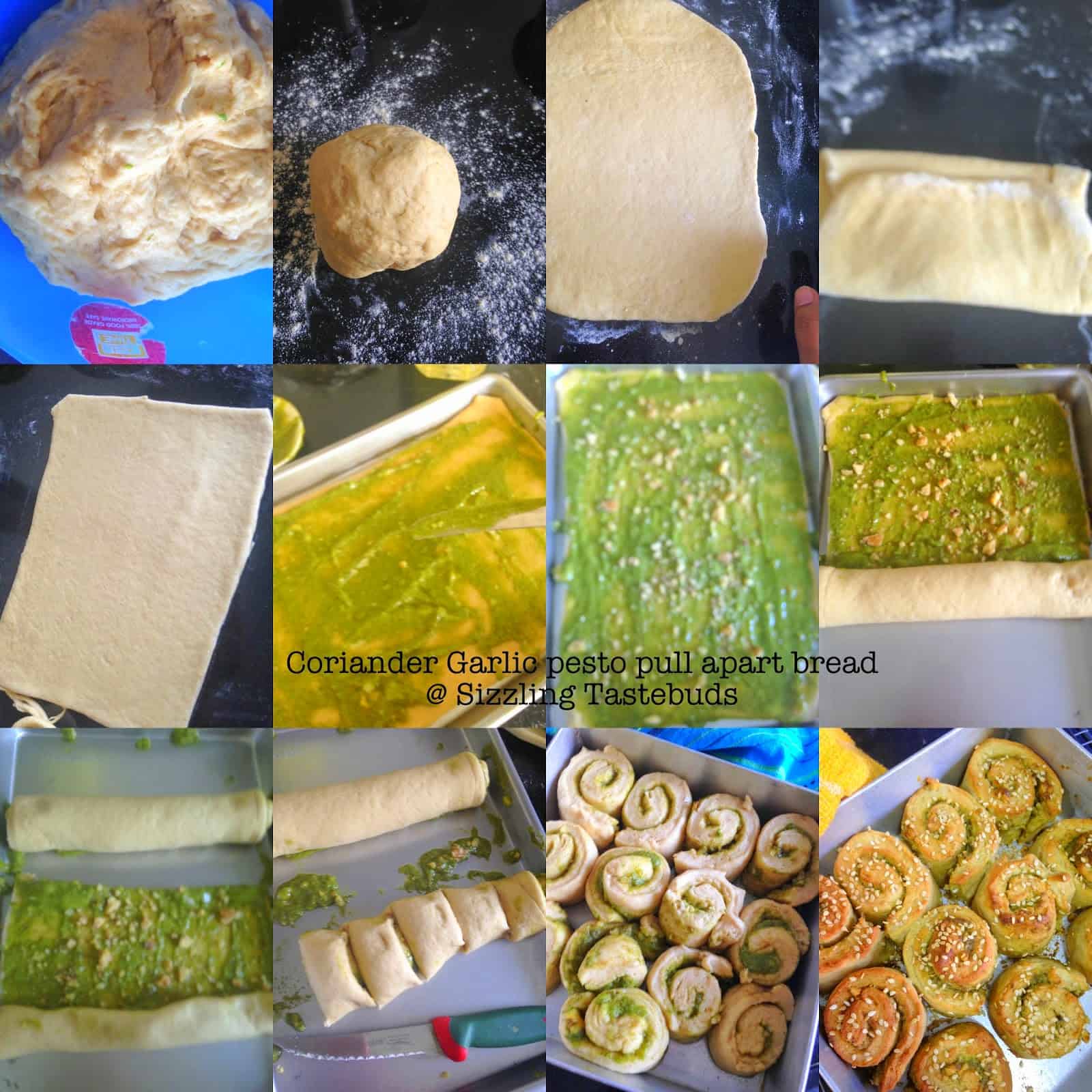 Pin
Method:
In a large bowl, sieve flour and
salt and keep aside. Make a well like indentation and keep ready
In a cup, add ¼ cup warm water,
sugar and yeast (I proof my yeast everytime even though I use instant). Once
done, add the proven yeast and mix well. Add in the rest of the warm water and
half of the olive oil, little by little till you get a slightly firm dough. On
a floured surface, knead well for 8-10 mins (or if using a stand mixer) till you
get a smooth dough.
Place in a well greased bowl,
covered till doubled. Mine took about 90 mins.
Once doubled, punch down and knead
again for 2-3 mins. Halve the dough and roll out into a roughly rectangular
sheet on a floured surface.
Place this surface on a greased /
lined baking sheet snugly, apply a coat of the oil, and spread the pesto
generously leaving out the sides. Sprinkle any nuts if you are using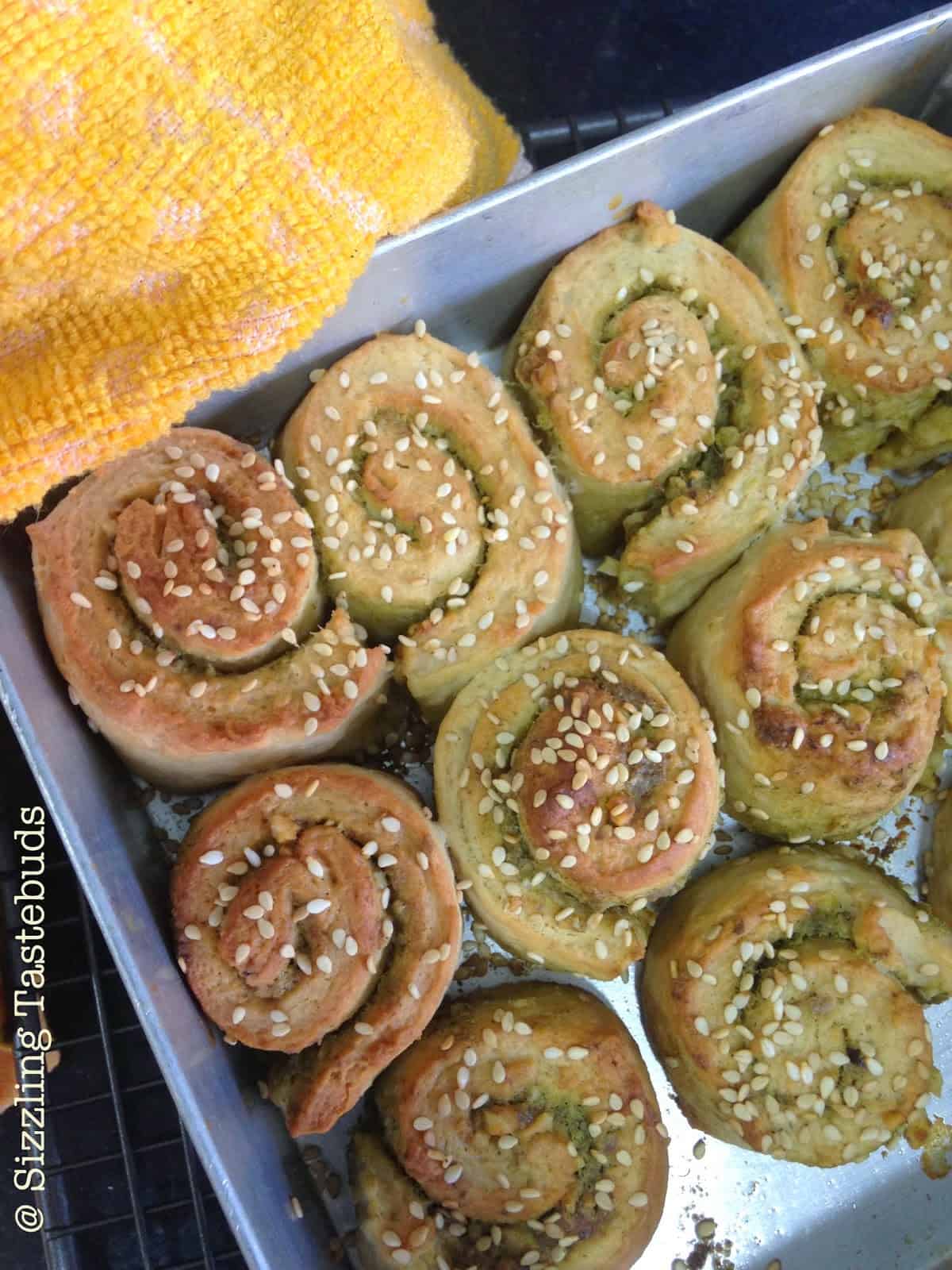 Pin
As shown in the picture, start
rolling in the pesto roll tightly from the longer side and when you reach the
end, pinch the seams in so you get a tight roll.
Wrap in cling wrap / foil and
refrigerate for 20 mins (very crucial, don't miss this step else you would end
with messy rolls).
Repeat with other part of the
dough. Place all these rolls on a lined baking sheet, cover and let them rise
again for 30-40 mins . Towards the end of the second rise preheat to 180 C /
375 F.
Sprinkle toasted sesame seeds on
these rolls before placing them in the oven, bake for 25-30 mins till you see
them crusty and baked. You may broil for last 2 mins if you need a deeper crust.
Cool on racks and serve warm. You
may also freeze excess rolls and warm the next day (microwave for 30 secs is
ideal)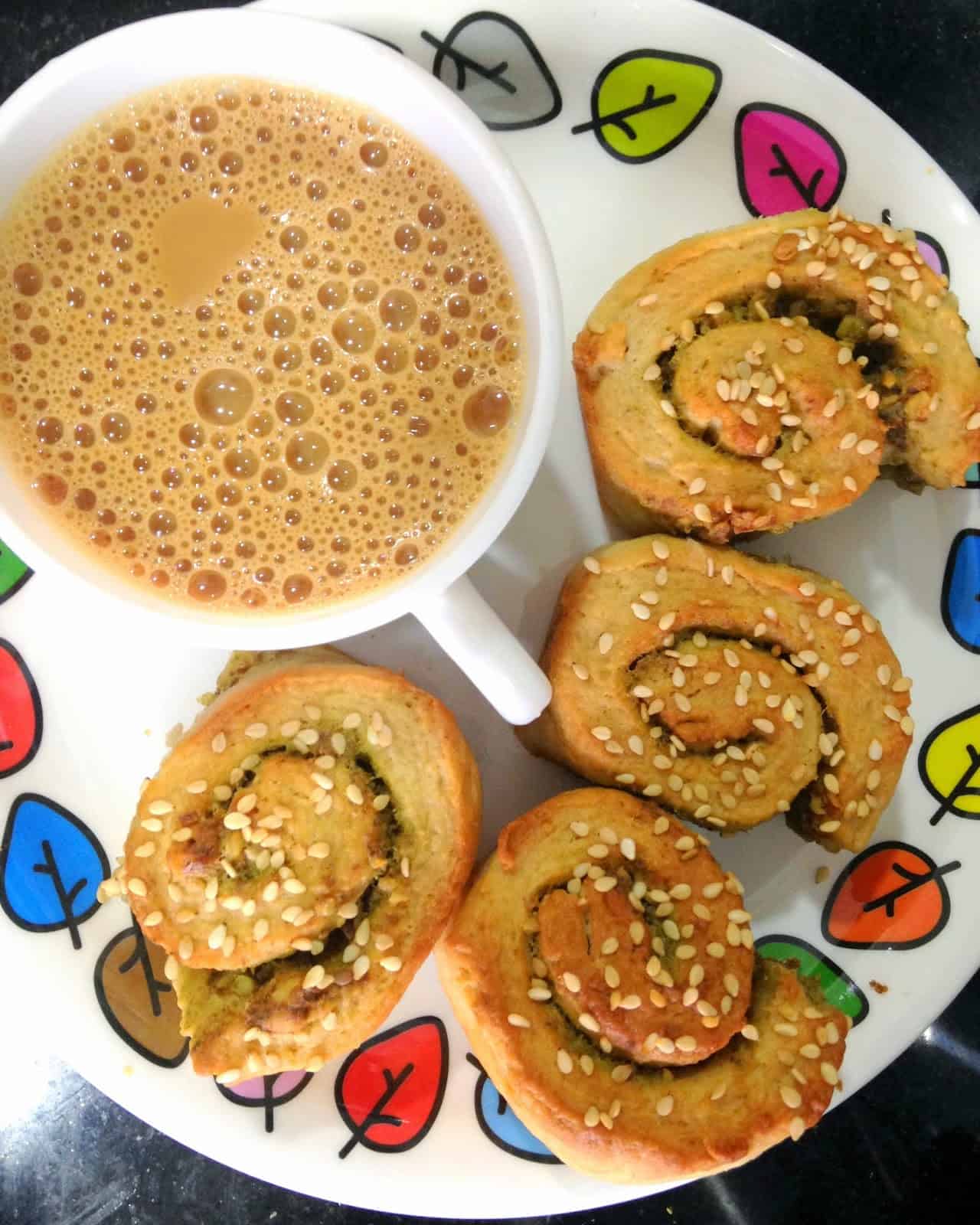 Pin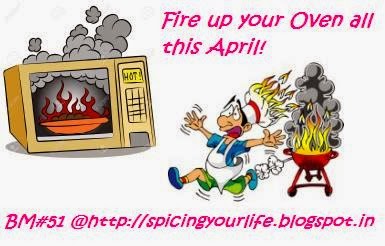 Pin
Check out the Blogging Marathon page for the other Blogging Marathoners doing BM# 51