Upma Kozhukottai is a rather new addition to my kitchen  – I didn't eat this during my growing up
years, and even after my marriage I had it just once, but was never kicked up
about the taste. But the deluge of Kozhukottai (steamed rice dumplings) in the
blogosphere got me excited enough since I am always on the lookout for steamed
and healthy snacks or eats, and this was one filling yet tasty and  almost oil-free snack that we made quite
frequently. Whats more, kiddo liked it and even asked for it to be made once as
an after-school snack : so there I was – happy to discover a new dishJ
Sending this to Alphabet U under A-Z Blogging Marathon. Its been a super
exciting journey and we are almost at the end of the culinary adventure.  It helps if you have homemade Rice Rava (broken rice) to make this as the texture of the upma from the readymade broken
rice and what is made exclusively for this dish varies a little, although both
methods yield the same taste. If you are a fan of kozhukattai, do try this Brown rice Kara Pidi Kozhukattai – a delicacy from Tamilnadu.
This dish is also apparently prepared for naivedyam (offering to God)
for Ganpati festival, which is what I also did when I made it for the first
time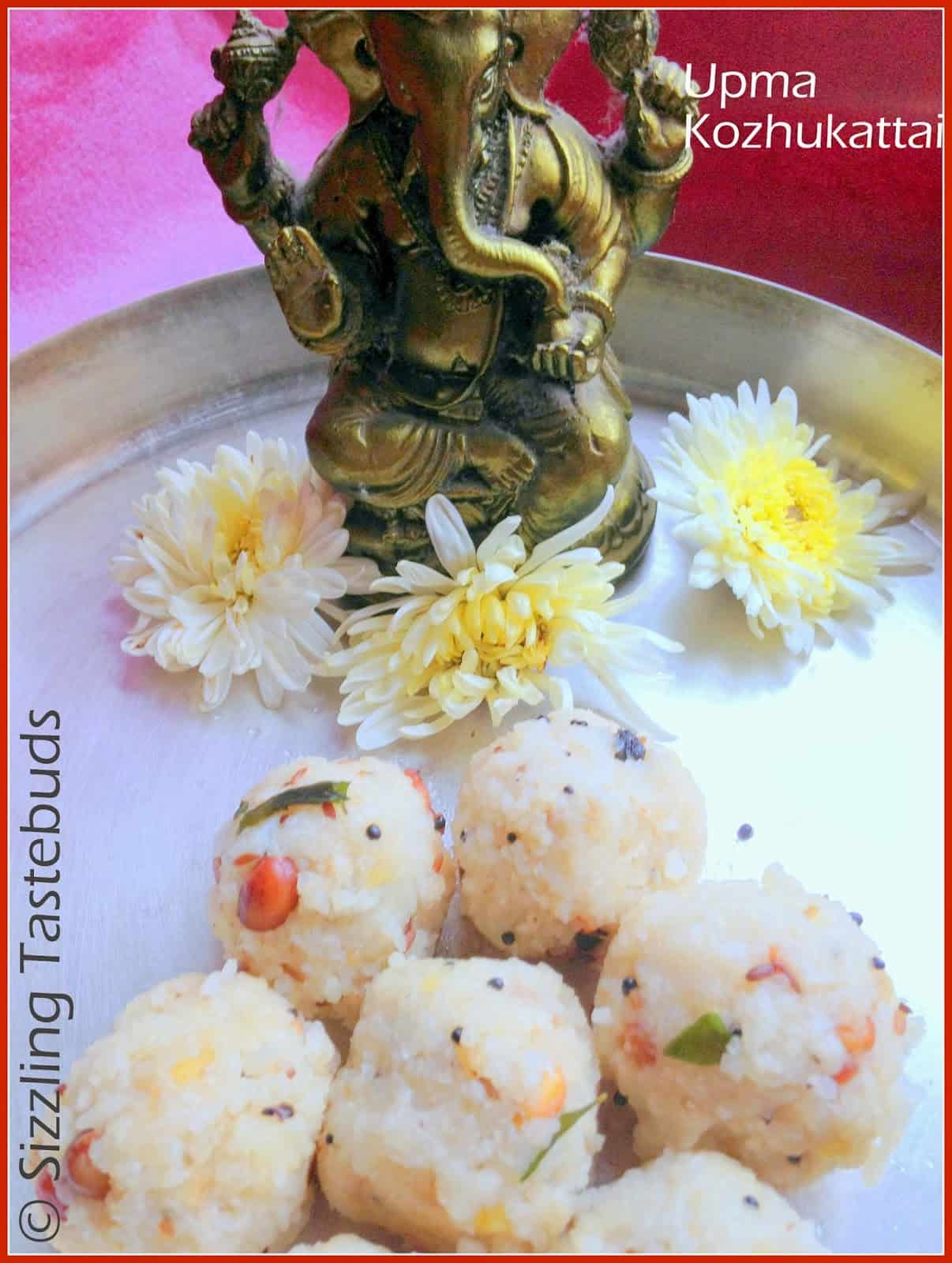 Pin




Prep time : 15 mins | Cook time : 10 mins | Serves : 2

Serving suggestions : Any Gojjuor Tamarind gravy or Coconut Chutney

Broken Rice and lentils savoury steamed dumplings

Ingredients :
Homemade Broken Rice Rava – 1 cup
Toor Dal – 3 handfuls
Dry Red chillies – 2 -3
Jeera / Cumin – 1 TBSP
Black pepper – 10 to 15 peppercorns (adjust spice)
Hing / Asafoetida – a generous pinch
Salt – to taste
Curry leaves – few
Oil – 2 TBSP
Grated coconut – 3 TBSP (optional but recommended)
Tempering : Mustard seeds, Urad Dal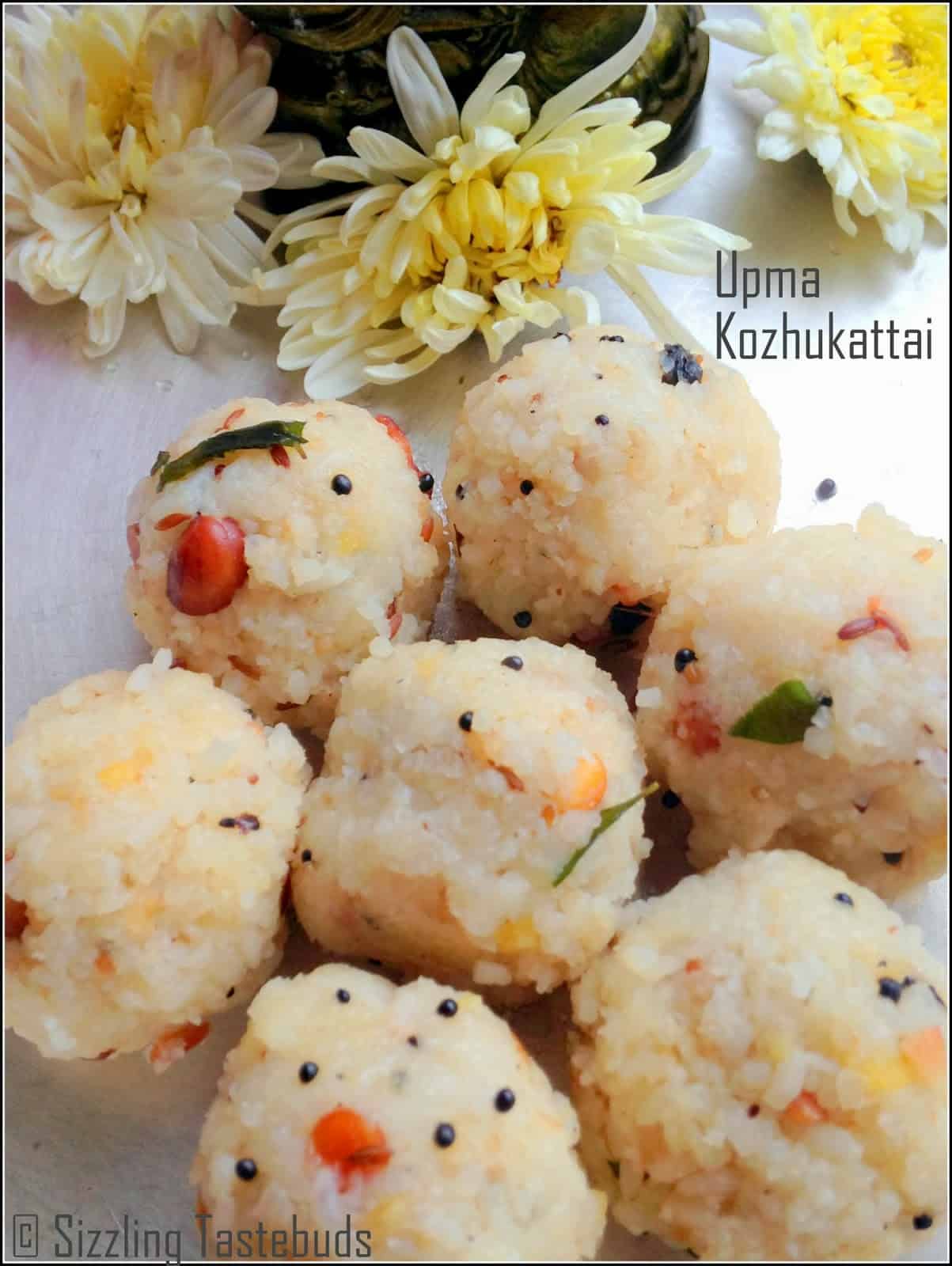 Pin
Method:
Blitz the dry lentil (Toor Dal) in a spice grinder to the same consistency
(size) as of the Broken Rice
(If using Raw rice, Blitz the rice and Dal together for a few seconds
each till you get medium sized grains)
Dry roast cumin and powder it along with black pepper and red chillies
once in a spice grinder  (Alternatively
you can also blitz this along with the Toor Dal)
Bring 2.5 cups of water to a rolling boil.
In a non stick pan (I used a handi kind of pot), heat the oil., Temper
the mustard, urad dal, curry leaves and asafoetida. Once the curry leaves wilt
a bit, add the ground rice and dal – spice mixture and roast for a few minutes.
Add salt and check for spices.
Now add the boiling water and mix well. Cook covered for 10-12 minutes
till the rice is cooked but not mushy (this cooking time will vary depending on
the quality of rice).
Add grated coconut and mix well.
Let the mixture cool a bit. Now grease your hands a bit with ghee / oil,
and make small dumplings when the mixture is warm, but not completely cooled. The
consistency of the cooked rice-dal-spice mixture must be good enough to make dumplings
without breaking (if required add a little more grated coconut for binding)
Steam in a Idli maker or on greased Idli plates for 7-8 minutes.  Check with a skewer or toothpick to see if
they come out clean
Cool a bit and serve immediately with coconut chuntey or any gojju.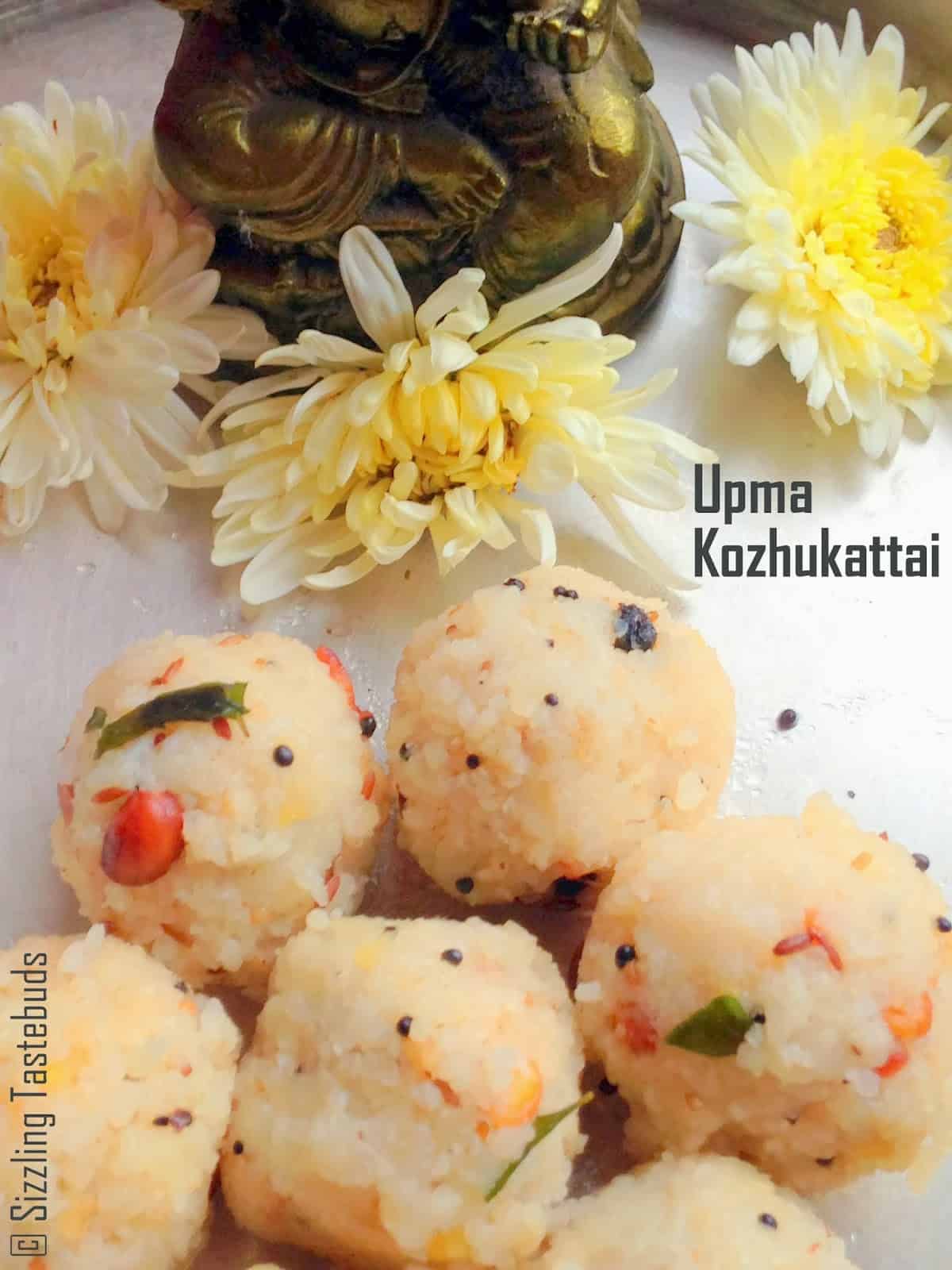 Pin
So far dished out in the A-z Blogging Marathon is as under —
A for Avarekaalu Akki Thari uppittu (Field Beans / hyacinth beans and
broken rice pudding)
B for Batata Saang (Potatoes in coconut tamarind
gravy)
C for Chinna Vengaya Khara Kuzhambu (Pearl onion tamarind Gravy)
D for Davangere Benne Dose (Karnataka special Dosa)
E for Eerulli Gojju (onion-tamarind Gravy for rice)
F for Filter Coffee (South Indian beverage)
G for Godhi Chutneypudi (Wholewheat spice powder)
H for Hagalakayi Upkari (bitter gourd coconut curry)
I for Iyengar Thayirvadai (South Indian Dahi Wada)
J for Jolada Rotti (Sorghum bread)
K for Kadappa (potato – Chinna Vengaya Khara Kuzhambu garlic
– coconut gravy)
L for Lemon Sevai (Lemony Stringhoppers)
M for Mandakki Oggarane (Puffed rice snack)
P for Poondu Podi (Garlic flavoured Spice powder)
R for Rasayana
(Banana – Jaggery Salad)
S for Sabbakki
Payasa (Sago Kheer)
T for Tomato
Slice Chaat (Oil free tangy tomato street food)