Tava Pulav is one of Mumbai's famous street food. For under Rs.100 ($2), you get a fabulous meal (of course, the oil and grease notwithstanding!!). Today, I have made this Tava Pulav in a quick-to-make version, which hardly takes 10 mins if you have the cooked rice on hand and the veggies chopped. Now, that's quick right ? The choice of vegetables is totally upto you. I usually add most of the seasonal veggies,taking care not to add tomatoes or any other water-based vegetables, lest it turns soggy.
Let's get to the recipe then… Check out the fellow marathoners here
Sending this to :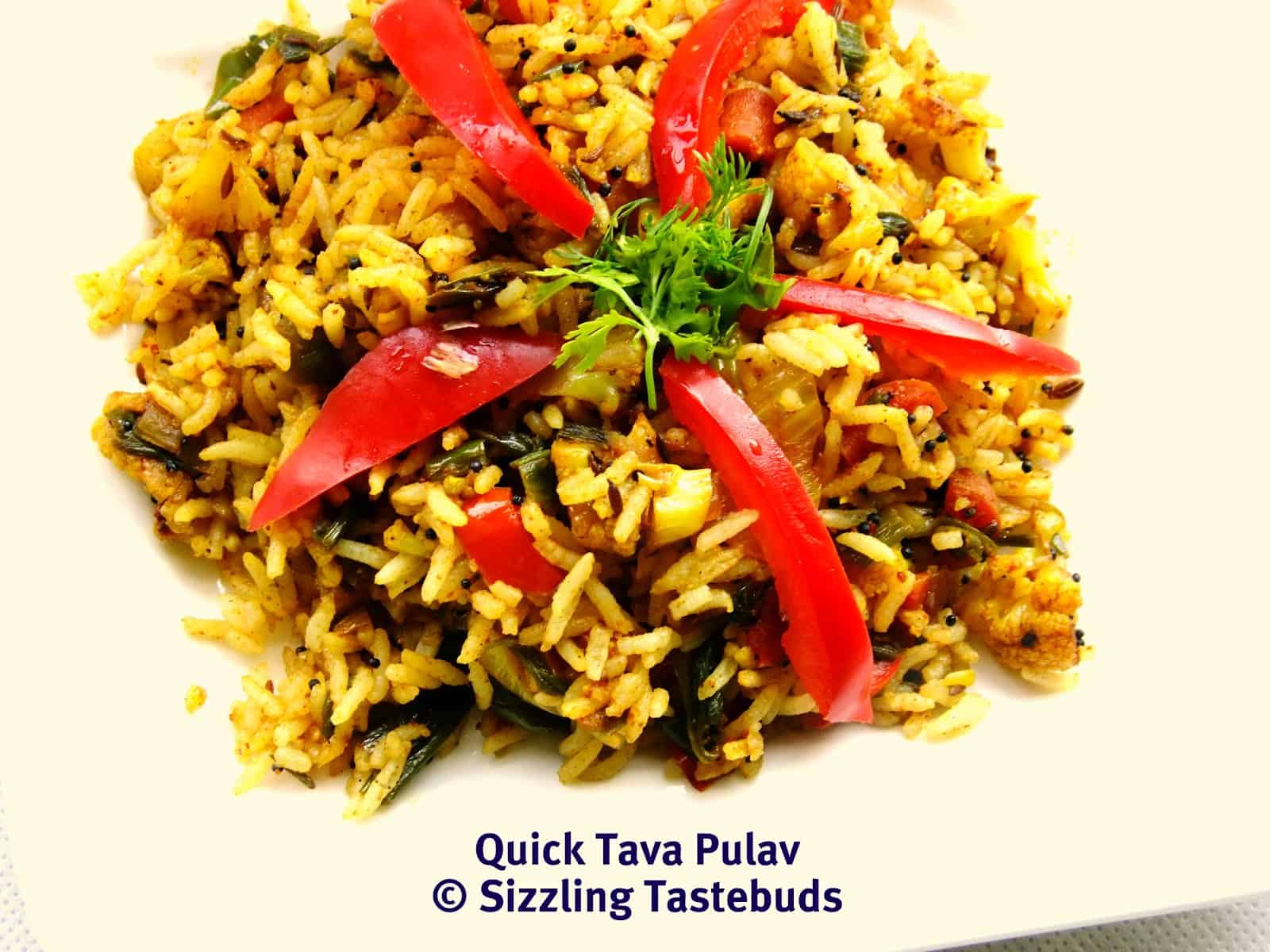 Pin
Prep time : 10 mins. Cooking time : 10 mins. Serves : 2
Ingredients:
Long grained rice – 1/2 cup

Oil – 2 TBSP

Onions – chopped – 1/2 cup

Mixed Veggies – 1 cup ( I used cauliflower / beans / carrots / spring onions)

Salt – to taste

Jeera / Cumin seeds – 1/2 tsp

Dhaniya powder (Coriander powder) – 1/2 TBSP

Pav bhaji Masala – 2 TBSP

Red chilli powder – 1/2 TBSP (optional – i did not add this for kiddo's lunchbox)

Turmeric powder – 1/2 tsp

Amchur powder – 1/2 tsp

Garam Masala powder – 1/2 tsp

Lemon juice & Coriander leaves – to garnish
Method:
1) Soak and cook rice till done. Fluff up the grains in a large plate and cool slightly.
2) In a large skillet (or tava), heat oil. Splutter cumin seeds.
3) Fry onions till they slightly brown.
4) Add the chopped veggies and saute.
5) When they cook 3/4 (about 5 mins – you can also slightly sprinkle water and cook them), add salt, pav bhaji masala, red chilli powder, turrmeric, dhaniya powder , amchur and saute quickly. Take care that the veggies dont turn mushy
6) Now add the cooked rice and toss them twice or thrice till the rice mixes with the veggies
7) Turn off the stove. Finish with Lemon juice and coriander
8) Serve with baked chips or raitha. Even simple curd (yoghurt) works wonderfully well 🙂
Pin