I am yet to hear of any kid (or adult) who can say no to French
Fries or Potato Wedges – be it a birthday or a get together, these wedges (or
fries) get the conversation going… Made at home, and baked too, with just a dash of spice and herb, these
are healthy munches one cannot say no to.. Try it out, and enjoy ! Sending this
to 
PJ who's hosting Baked Treats – Kids Delight.    Use mature potatoes (preferably Russet potatoes with a deep
brown skin with no green spots) for best results. I have used Olive oil for
this, but you may substitute with whatever oil you choose from or even use
flavoured oil like chilly oil etc 
Prep time : 15 mins | Bake time : 12 – 14 mins | 
Serves : As many
people can manage to get their hands on this first ;-))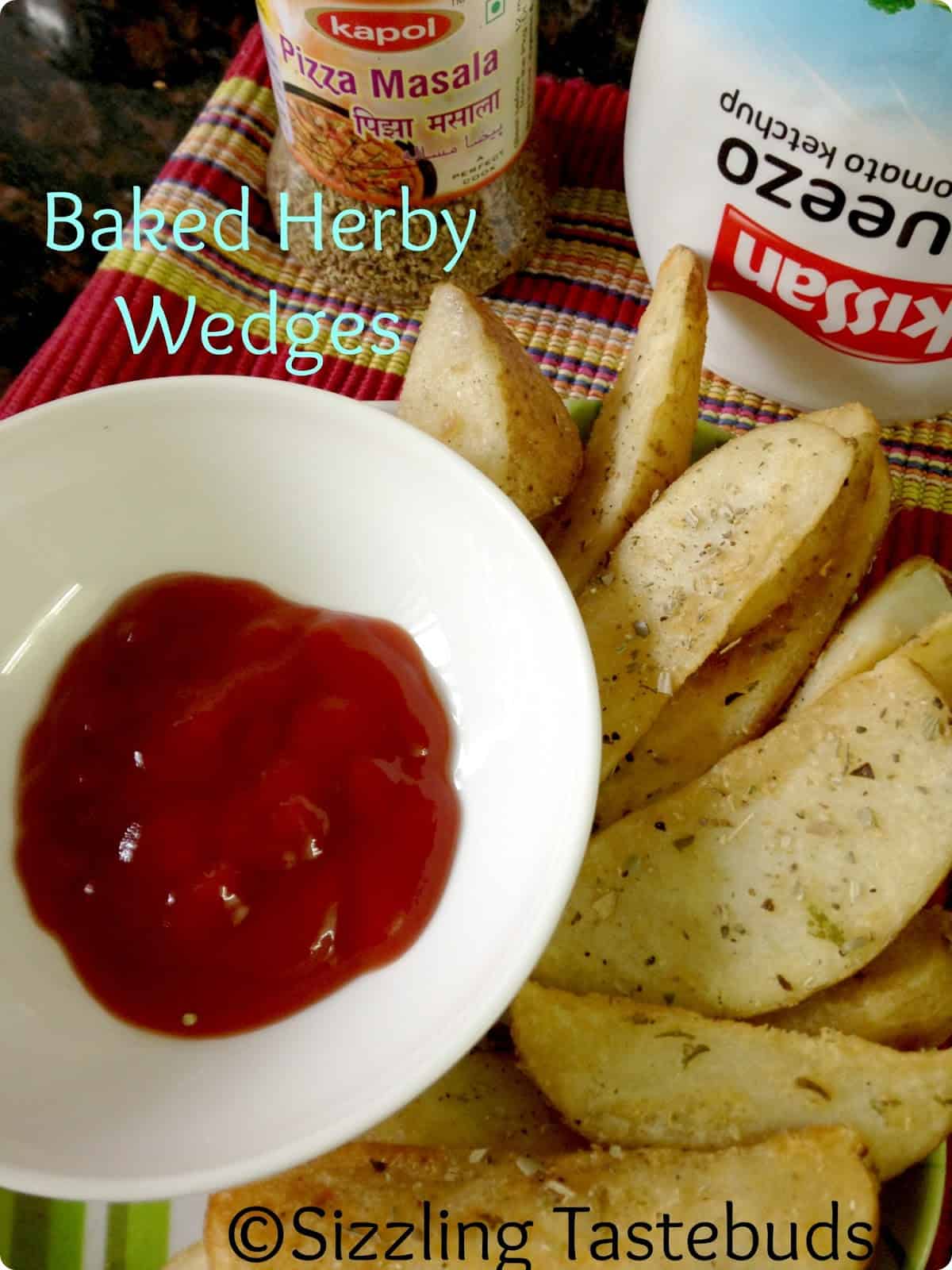 Pin

Ingredients:
Potatoes – approx 3/4 kg (about 3 – 4 large ones)
Salt – to taste
Dry herb mix – 1/2 tsp each of paprika, basil, Oregano, rosemary
Dry Chilli flakes – 1/2 TBSP (adjust spice)
Olive Oil – 3 TBSP + for greasing the baking tray
Crushed black pepper-  1/2 tsp
Method:
Wash and scrub the potatoes to remove all the dirt. 
Make pin pricks all over the skin and boil in slightly salted
water for 3-5 mins. Drain.
Wipe with a clean n dry kitchen towel.
With the skin on, cut out thickish, even sized wedges with a sharp
knife.
In a large bowl, add 3 TBSP of Olive oil, salt and dry herbs
Preheat oven to 160 deg C. Line a baking tray and slightly grease
it.
Toss the potatoes into the oil-herb-salt mixture and give it a
vigorous shake. Leave for 5-6 mins
Arrange the wedges without overlapping each other on a greased
tray. Sprinkle dry chilli flakes and crushed black pepper on it
Bake for 12- 14 mins, turning them once over, till the skin turns
golden brown and crisp.
Serve hot with ketchup.