Indian festivals are incomplete without kheer or payasam. Call it payasam or payesh or kheer or pudding, it signifies a joyous beginning to most celebrations – birth of a child, new beginnings, marriage, festivals etc.
Kheer holds great significance in Indian festivals and cultural celebrations
It is a traditional Indian dessert made from rice, milk, sugar, and often flavored with cardamom, saffron, and garnished with nuts like almonds and pistachios. The importance of kheer in Indian festivals can be understood through several aspects:
Symbol of Celebration: Kheer is associated with joy, happiness, and celebration. It is often prepared during special occasions and festivals, signifying the festive spirit and the coming together of family and friends.
Offering to Deities: Kheer is frequently offered as prasad (a sacred offering) to Hindu deities during religious ceremonies and festivals like Diwali, Navratri, and Janmashtami. It is considered a symbol of devotion and gratitude.
Cultural Tradition: Kheer has a long-standing tradition in Indian culture and has been prepared for generations during various festivals. Its preparation and consumption have become an integral part of these celebrations.
Sweetness and Unity: The sweet and creamy nature of kheer symbolizes the sweetness of life and the unity of people during festivals. Sharing kheer with family and friends reinforces bonds and fosters a sense of togetherness.
Versatility: Kheer recipes can vary from region to region, incorporating local ingredients and flavors. This diversity reflects the rich cultural tapestry of India and adds to the uniqueness of each festival.
Nutritional Value: Kheer is a nutritious dessert, as it contains rice, milk, and nuts, which provide essential nutrients like carbohydrates, protein, calcium, and vitamins. This makes it a fitting dish for festive occasions when people seek energy and sustenance for extended celebrations.
Seasonal Relevance: Some festivals coincide with specific seasons or harvests. For example, Makar Sankranti is celebrated during the winter harvest season, and kheer made from freshly harvested rice is a common delicacy during this time.
Tradition of Sharing: Festivals in India often involve the exchange of sweets and treats as a gesture of goodwill and celebration. Kheer is a popular choice for gifting and sharing with neighbors, friends, and relatives during festivals.
In summary, kheer plays a central role in Indian festivals due to its cultural significance, religious importance, and the sense of joy and togetherness it represents. It embodies the spirit of celebration, gratitude, and unity that characterizes these festive occasions in India.
PIN FOR LATER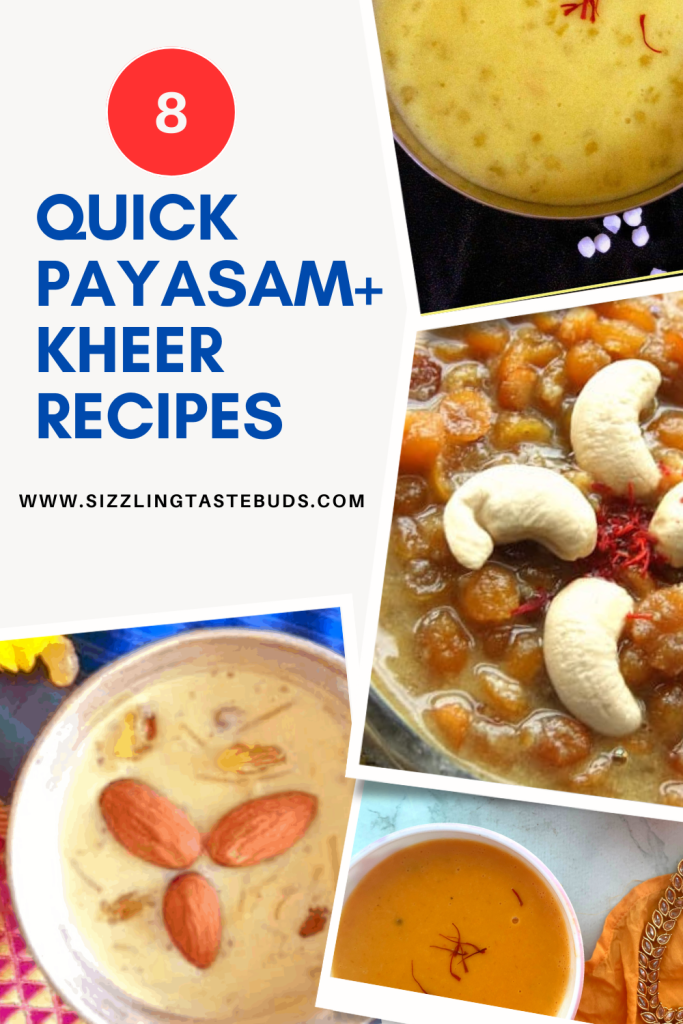 Here is a collection of quick payasam recipes you can whip up for any celebration or festivals.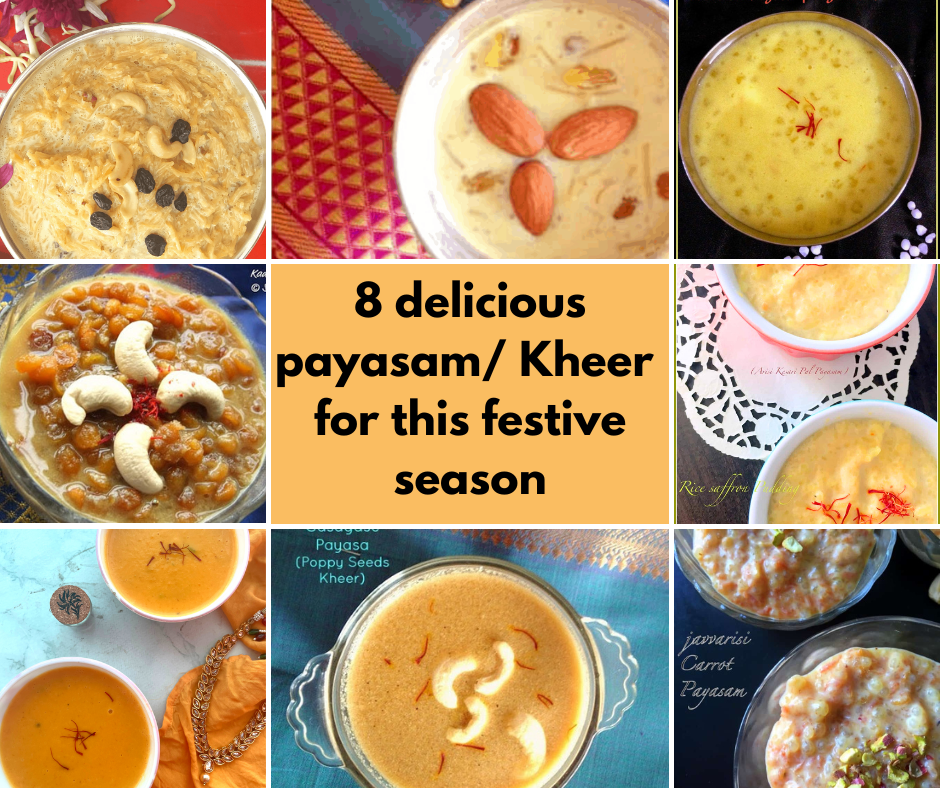 From top row left to right, we have
Instant Pot Vermicelli Kheer
A creamy payasam or kheer made in the Instant Pot with roasted vermicelli, milk and nuts. Served at festivals or special occasions. 
Check out this recipe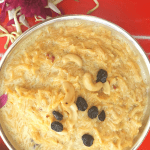 Badam Semiya Payasam
 Badam Semiya Payasam is a sweet kheer or pudding made with roasted vermicelli, made with Durum Wheat and simmered in a thick flavoured almond rich milk, topped with nuts.
Check out this recipe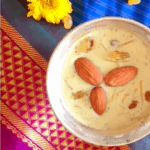 Arisi Kesari Paal Payasam | Saffron based milk pudding
A saffron-milk-rice pudding, Arisi Kesari Paal Payasam is a delicious kheer or payasam that can be put together quickly for festivals or celebrations.
Check out this recipe
Instant Pot Creamy Carrot Payasam | Instant Pot Carrot Kheer
Carrot Kheer is a delicious, creamy kheer or payasam made in the Instant Pot. Perfect for festivals or any celebrations. 
Check out this recipe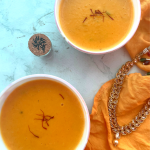 Gasagase Payasa | Poppy Seeds Kheer | Khus Khus Kheer | Navratri special
Gasgase Payasa or Poppy seeds kheer is a special kheer made with poppy seeds, jaggery simmered in coconut based milk. It is a special kheer made in Karnataka for festivals and celebrations.
Check out this recipe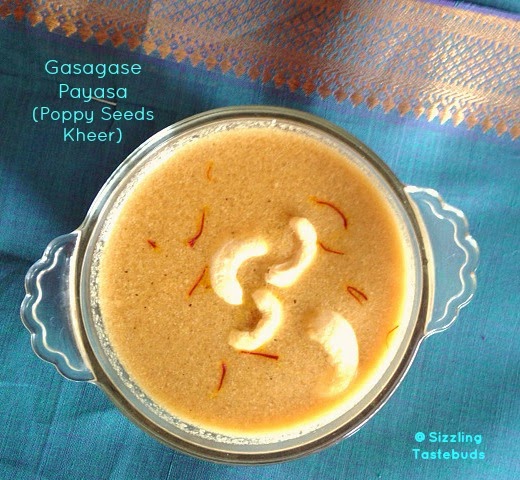 Javvarisi Carrot Payasam | Sago-Carrot Pudding | Quick Indian Sweets
Carrot Sago Kheer or Javvarisi Carrot Pasayam is a quick deiicious kheer or pudding that  can be put together for festivals or celebrations.
Check out this recipe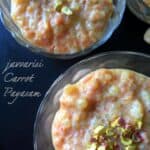 Liked this recipe? SIGN UP FOR THE Sizzling Tastebuds Newsletter (No Spam, Promise!) for fresh, healthy and tasty recipes right into your inbox. Please consider leaving a star 🌟 rating on this recipe to encourage us . Do FOLLOW Sizzling Tastebuds ON Facebook, Twitter, Pinterest AND  Instagram for fresh content, latest recipes and much more!