If someone were to ask me the quintessential comfort food that childhood memories brings forth, it ought to be today's dish – Bendekayi Gojju (or Vendekayi Gothsu). Simply put, these are a medley of Lady's finger / Okra in a tangy spicy sauce. Like the Orange Peel Gojju or the Pineapple Gojju, this is much thicker than Kuzhambu / Sambhar, and does not contain either coconut or dal (lentils). It also keeps for 4- 5 days under refrigeration. What's more, you can also serve this as a side dish for Rava pongal or Ven Pongal or even Oats Pongal
And what better time to have it than in the summer with uber cool Curd Rice (Yoghurt rice). It also tastes great with hot Phulkas / Chapati (indian bread). This is a classic dish from the Mysore section of Karnataka, and can be prepared in less than 15 minutes if you have the veggies chopped. You could also substitute Okra / Ladies Finger with Yam or Brinjal (eggplant) for similar results. 
Without much delay, lets get to the recipe. Also sending this to Vardhini's healthy side dishes, event by Priya.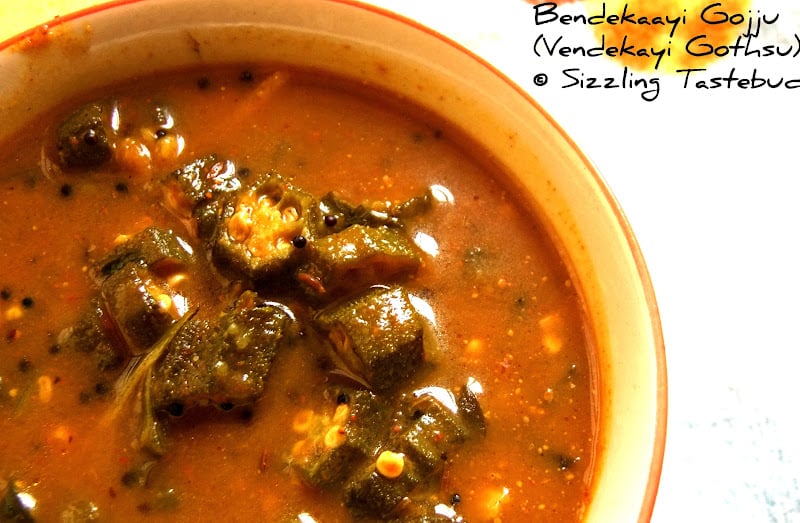 Pin

Prep time – 5 mins

Cook time – 10 mins

Serves – 3

Ingredients:
Okra (Lady's Finger / Bendekayi) – 100 gms
Oil – 1.5 TBSP
Tamarind pulp – 3 TBSP (adjust tanginess)
Rasam Powder– 1 TBSP (if you dont have, substitute with Red Chilli powder, but the former yields better results)
Jaggery – a small lime sized (or about 2 tsp grated)
Turmeric – 1/2 tsp
Salt – to taste
Tempering : Mustard seeds, Curry leaves
Method:
1) Wash and pat dry the ladies finger. Trim the edges and cut off the crown. With careful inspection, cut the vegetable into 1/2 inch thick roundels. For 100 gm of veggies, you would end up with approx 3/4 cup of chopped stuff. Tip : Dont cut too thin, else the veggies would dissolve into a gooey mass.
2) In a deep bottomed pan, heat oil. Splutter mustard seeds and curry leaves. Add turmeric and the chopped lady's finger. Saute a bit till the veggies are coated with oil. Sprinkle salt and cook and cover for 8- 10 mins. 
3) Meanwhile soak tamarind in warm water (about 1 cup) and extract the pulp. Alternatively, if you are using readymade tamarind pulp, dissolve in a cup of warm water. 
4) Once the veggies are cooked (but not mushy), add the Rasam powder, jaggery and tamarind pulp (with the water). Cover and cook for another 2 – 3 mins till it thickens. If you have added more water by oversight, mix about 1 tsp of rice flour in 2 tsp of water and add to the simmering liquid. 
5) Remove from fire once it reaches a thickish mass (you dont want the gravy drying up too much). Serve with hot rice or even curd rice for a yummy meal 🙂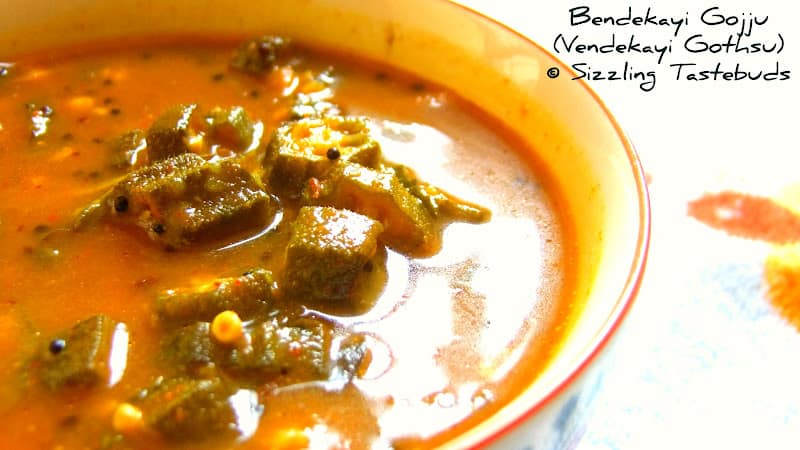 Pin