Continuing with flourless bakes as a major Sub Theme this #Bakeathon, we have baked Vazhakkai Varuval (baked raw plantain crisps). Perfect for munching as is or as a side for sambhar Sadam / Bisi Bele bhath or any other flavoured rice.
The original deep fried version along with karnai Fry (yam fry) are both husband's favourites. In fact, left to him he would have raw plantains as a side dish in different forms every day.
Today's crisp is easily doable and can be doubled / tripled / quadrupled and all you need is 20-22 mins of undisturbed time. (Based on quantity).
The crisps can go from raw to under to burnt in a matter of seconds so keep a watch. Also the baking time mentioned on various recipes may not suit your oven (as it did with me), as these are flourless bakes and the time varies greatly. So do bake a couple of batches and see what works for you. These could easily be your next IPL / super bowl favourite.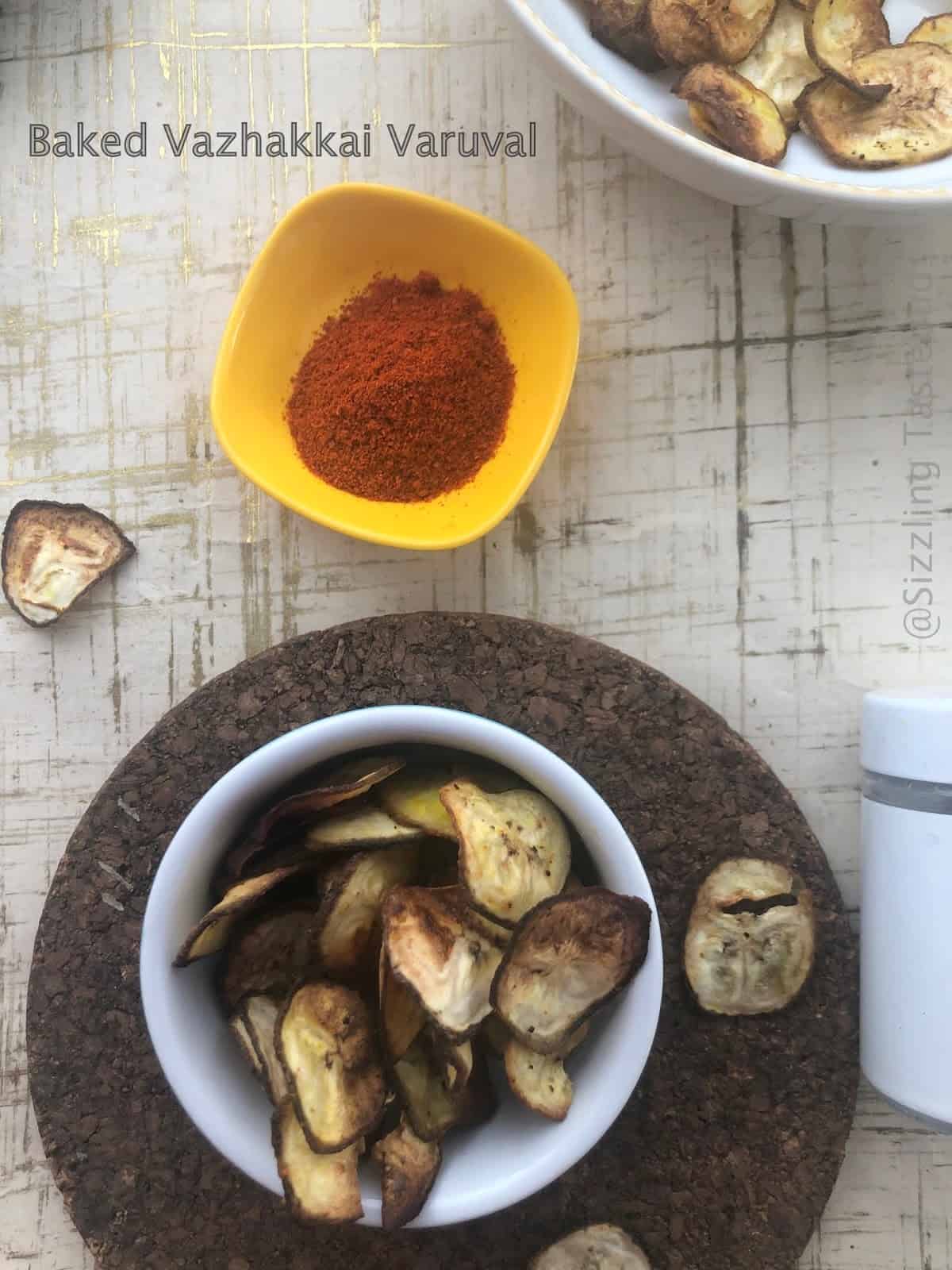 Pin

So presenting Baked Vazhakkai crisps – plant based , vegan, and GF plantain crisps.

Other dishes with Raw Plantain on this blog:
Pin




Prep time – 5 Mins ,Bake time– 18 to 22 mins ;

Makes: Approx. 75-100 grams of crisps

Ingredients:

Raw banana (medium) – 2

Oil – 1 tbsp (I used sesame oil, you can go with anything you have unless it's too overpowering)

Salt – 1/2 tsp or to taste

Paprika / chilly powder – 1/2 tsp

Crushed black pepper – to taste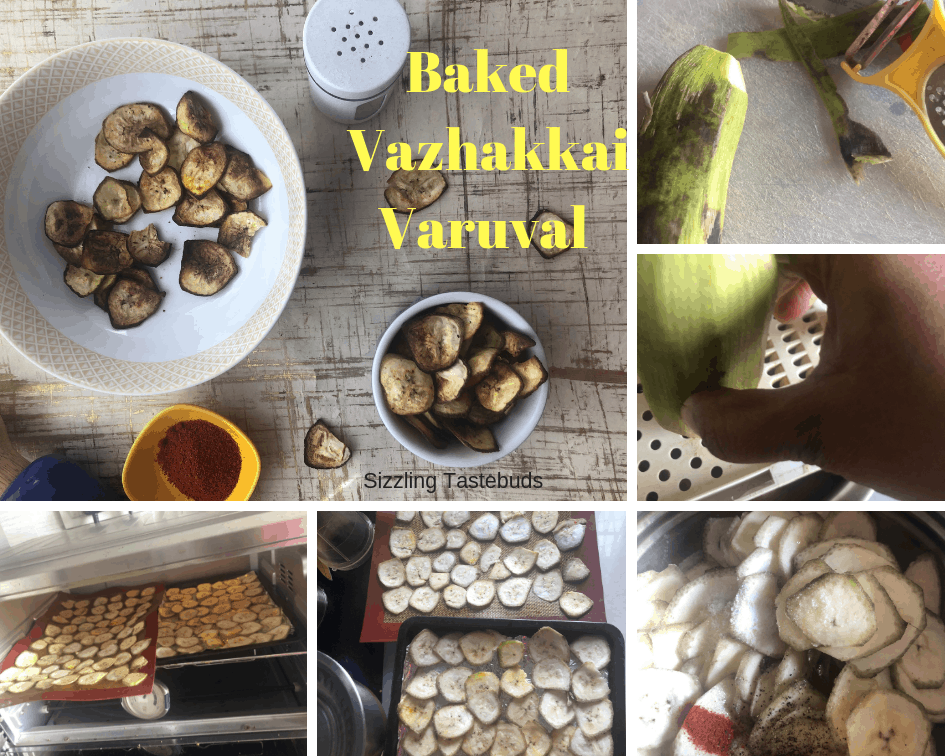 Pin
How to:
Preheat oven to 180C.
Prepare baking trays with parchment / silpat / foil. Grease them with your finger tips lightly.
Peel the raw bananas and slice them
Into thin crisps directly into a bowl using a mandolin.
Add oil, salt and spices. Gently toss the sliced bananas with the salt and spices to coat evenly.
Arrange on the baking trays without overlapping each other .
Bake for 18-22 mins (watching it after 70% of the time) or until they crisp up.
Adjust salt / seasonings and serve immediately or store in an airtight container and watch it disappear in a jiffy !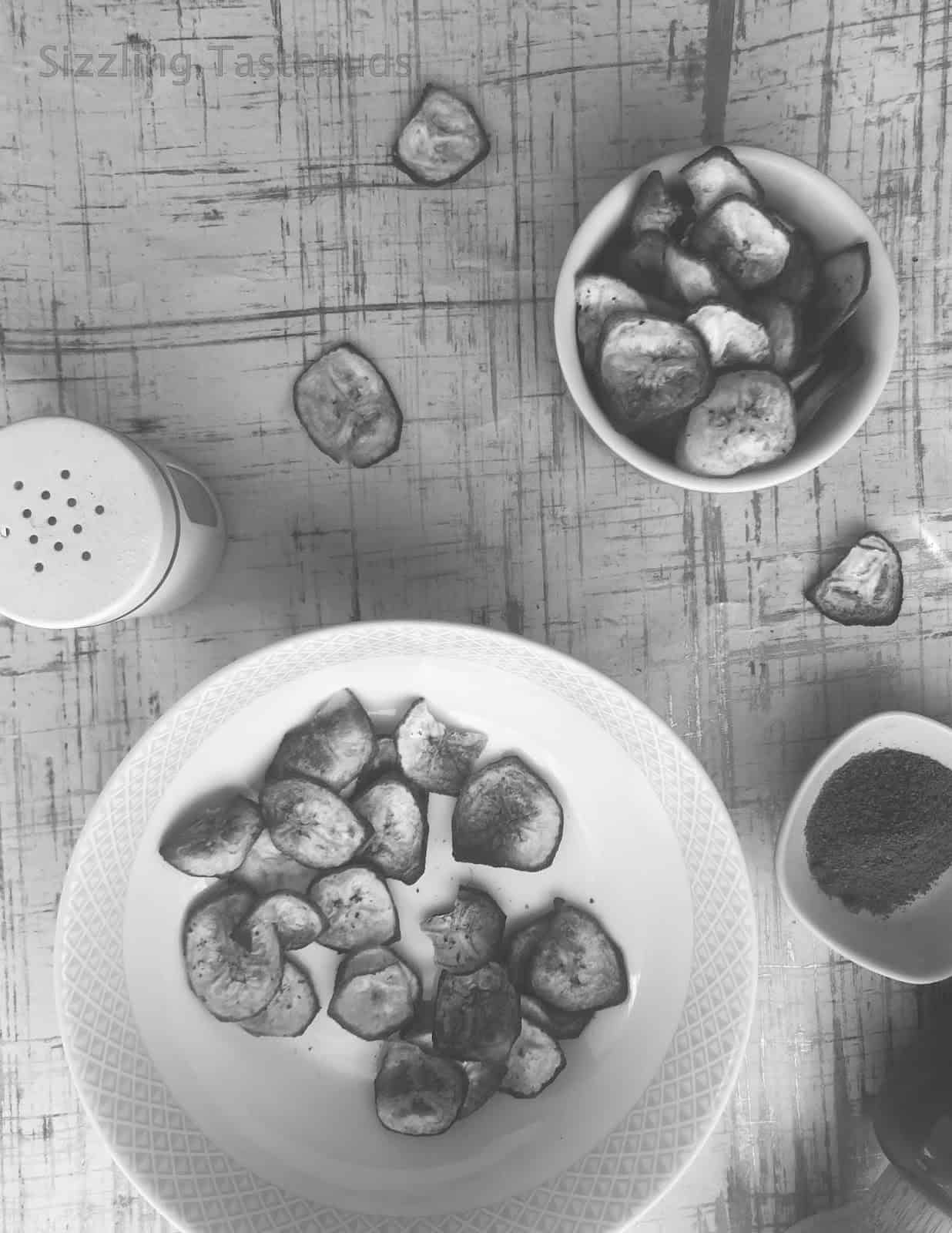 Pin
Pin
Check out the other bloggers doing this Bake-a-thon