Sabbakki Idli or Sago Idli is a no grind, easy to make Idli using Tapioca / sago pearls. Tastes delicious with any spicy chutney or Sambar.
Sabbakki Idli or Sago Idli is one of the current "hot selling dishes" at Bangalore's Darshini hotels these days. Darshini hotels refers to self help restaurants sprinkled across the city, where there may be just buy-stand-eat-on the go faciilities .. On my last visit to the city, I was quite intrigued (should I say, rather shocked) that this new 'trending idli' along with "Sabbakki Dose (Sago dosa) had replaced the classic Thatte Idli , Idli-Vada 'dippu" or Masala Dosa at most outlets.
Sago / Sabudana / Tapioca pearls are usually reserved for farali food / fasts during Sankashti / Ekadasi / Navratri in the Hindu Customs, like Sabudana Khichdi, Sabudana Thalipeeth, kheer, Sabudana Tikki, Priya's no fry Sabudana Vada and their ilk.  This Idli can be made both instant as well as fermented methods and we are glad we chose the latter as it doesn't require soda / any leavening agent.   Another No Grind Idli we love at home is this Instant Cucumber Idli (yes, you heard that right :-))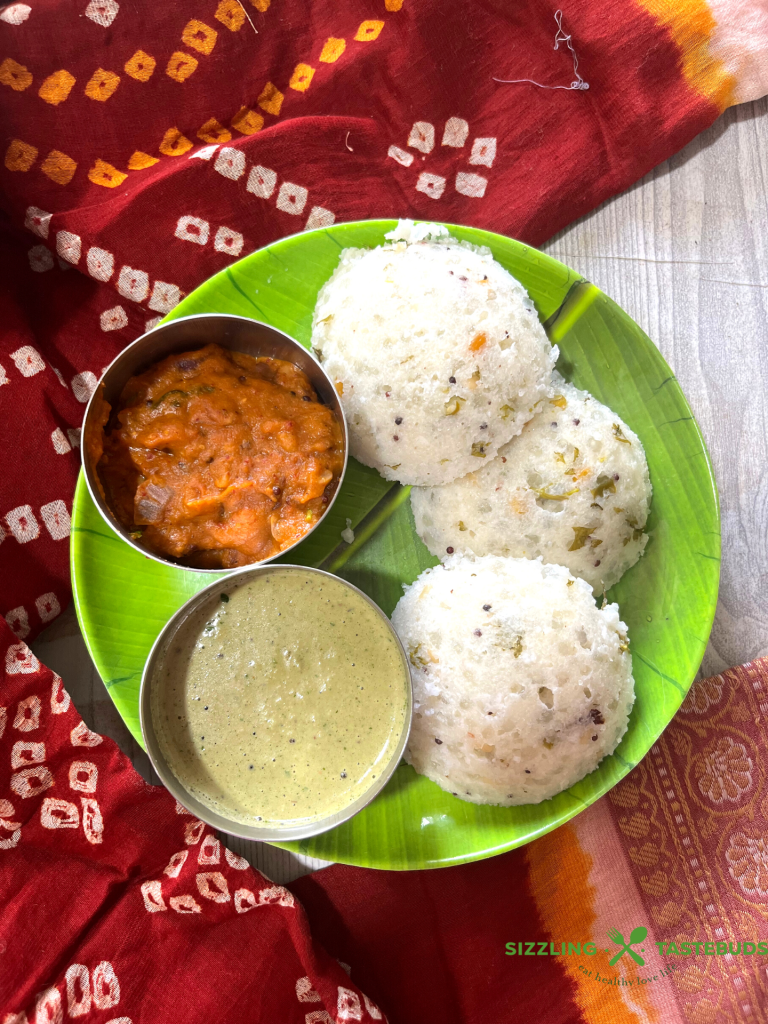 Other Idli varieties you may like on the blog:
Jowar Idli | Sorghum Idli ~ How to make Jonna Idly
Jowar Idli | Sorghum Idli is a Gluten Free, Vegan no-Rice Idli (steamed savoury cake) made with Cracked Sorghum and Lentils. Served for Breakfast or a light dinner. 
Check out this recipe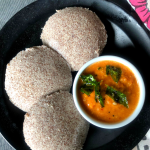 Basic Idli recipe | South Indian Idli| How to make Soft Idli
Idli is a steamed rice-lentil dish ((sometimes millets) made in South India and is oil free, gluten free and vegan too. Served for breakfast with sambar or chutney
Check out this recipe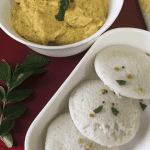 Bidadi Thatte Idli
Steamed, Fluffy Idli (Rice pancakes) – specialty of Karnataka Cuisine
Check out this recipe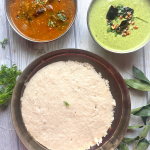 Ragi Idli | Finger Millet Idli using Whole ragi grains
Ragi Idli is a fermented Idli (steamed savoury breakfast) made with Finger Millet and Lentils. Served with Sambhar & chutney as Breakfast / Snack
Check out this recipe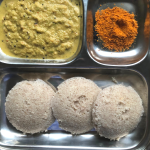 Red Rice Idli | GF and Vegan | Diabetic friendly recipes
Red Rice Idli are steamed idlis made with unpolished red rice, whole black gram and salt. Low in GI and high in , these are perfect for diabetics and weight watchers
Check out this recipe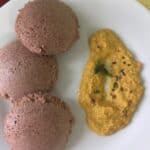 Pepper Idli | Milagu Idly
Pepper Idli or Milagu Idly is an Idli variant with whole peppercorns and spices added to the batter and steamed. Served with chutney or sambar
Check out this recipe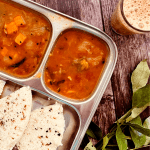 Tips and tricks to make the best Sabbakki Idli / Sago Idli
Soak for minimum 8-12 hours or overnight
Do not over mix while making the batter.
Idli Rava is used here, not Sooji (cracked durum wheat / Semolina). You can use Homemade or store bought Idli Rava (cracked Rice semolina) . Click here to learn how to make Homemade Idli Rava
Lightly sour curds is best used. Use thick curds or slightly beaten, not buttermilk as the batter becomes watery.
If making this Idli for vrat, skip mustard seeds or anything else you don't use for vrat recipes. This list of restricted foods varies from family to family
Usage of soda is optional, but as the batter was naturally fermented, I didn't use it at all
Tempering is also optional, but it added to the taste greatly
Skip the chillies if making for the kids
Coconut adds softeness to the idli, make sure not to skip it.
Once the idlis are steamed, run a dry spoon / knife to de mould after it cools for 3-4 mins else the idlis turn soggy and mushy.
How to make homemade Idli Rava | Homemade Idli Rava | Cream of Rice
This Rava is different from Sooji / Semolina and is used to make soft Idlis / Koxhukattai / Pongal etc..
Check out this recipe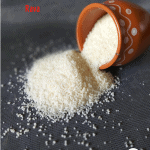 Let's get to the sabbakki Idli / Sago Idli recipe.
Prep time – 10 mins, Soak time – 8 hours (or overnight) , Cook time – 12 mins ;
Cuisine – South Indian ; Course – Breakfast / Brunch / Light Dinner ; Makes – 12 Idli (medium sized)
Serving suggestions : Any chutney / Sambhar / Molagapudi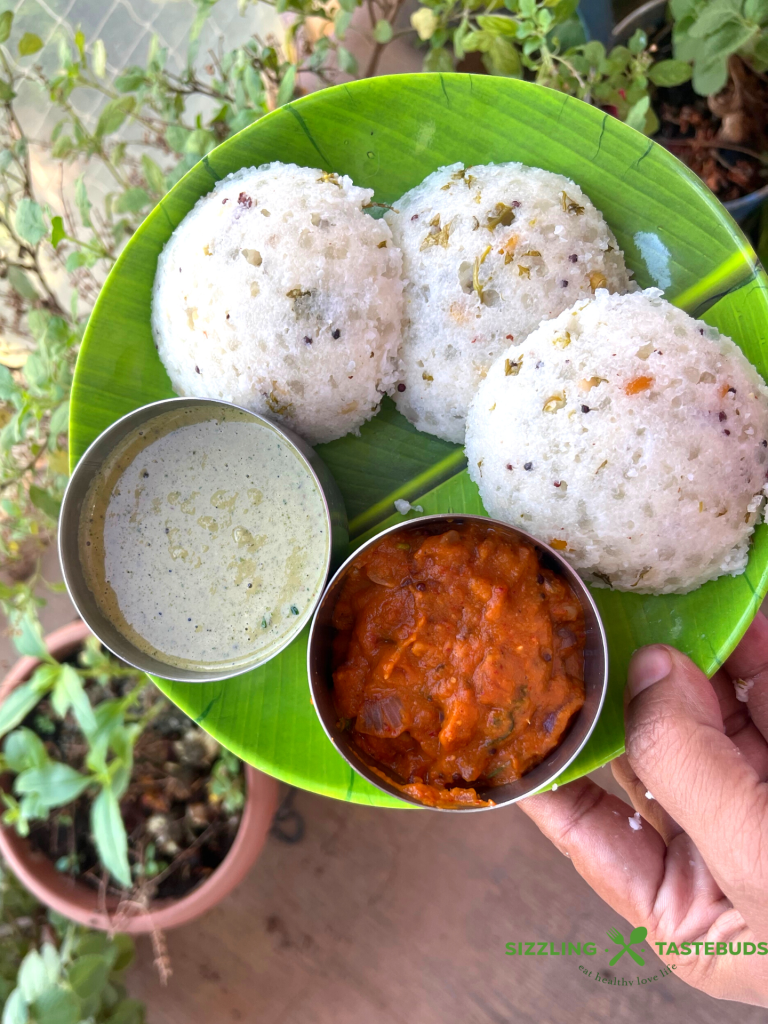 Ingredients to make Sabudana Idli
1 cup Tapioca (Sago / Sabudana)
2 cups Idli rava (I used Homemade)
2 cups Sour curds (use plant based curd for Vegan)
1 tsp salt
3 TBSP coconut (fresh / frozen)
1 tsp oil (to grease)
1 tsp Coriander leaves (chopped)
1 tsp Green chillies (chopped, optional)
PIN FOR LATER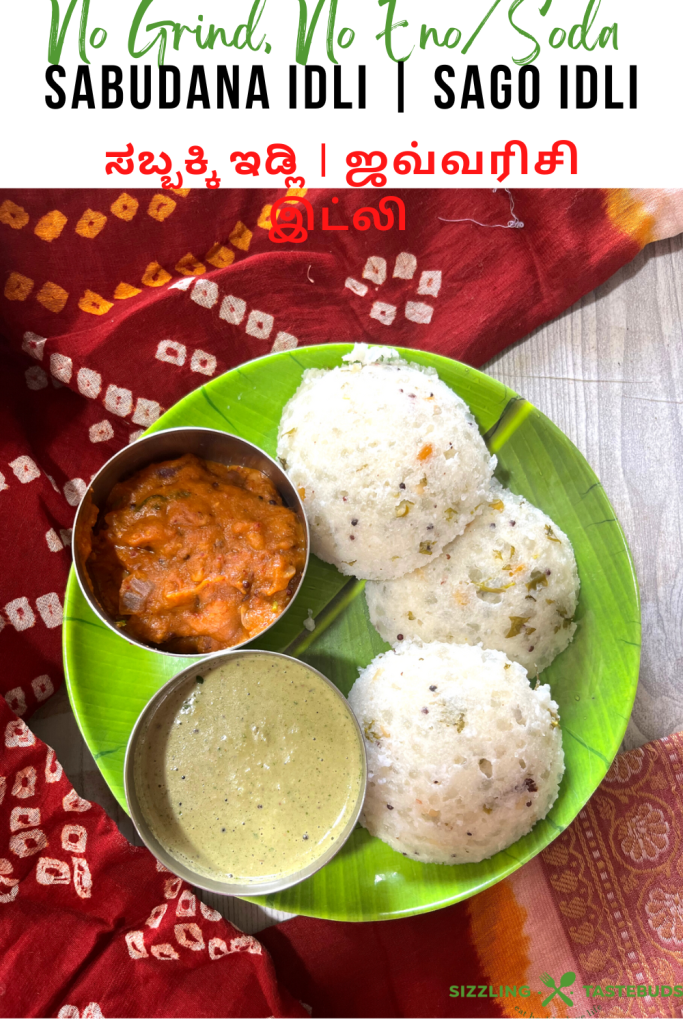 Tempering:
1 tsp oil
1/2 tsp mustard seeds (rai)
1 tsp Bengal gram (channa dal)
1 tsp split black gram (Urad dal)
1/2 tsp Asafoetida (hing, skip for GF)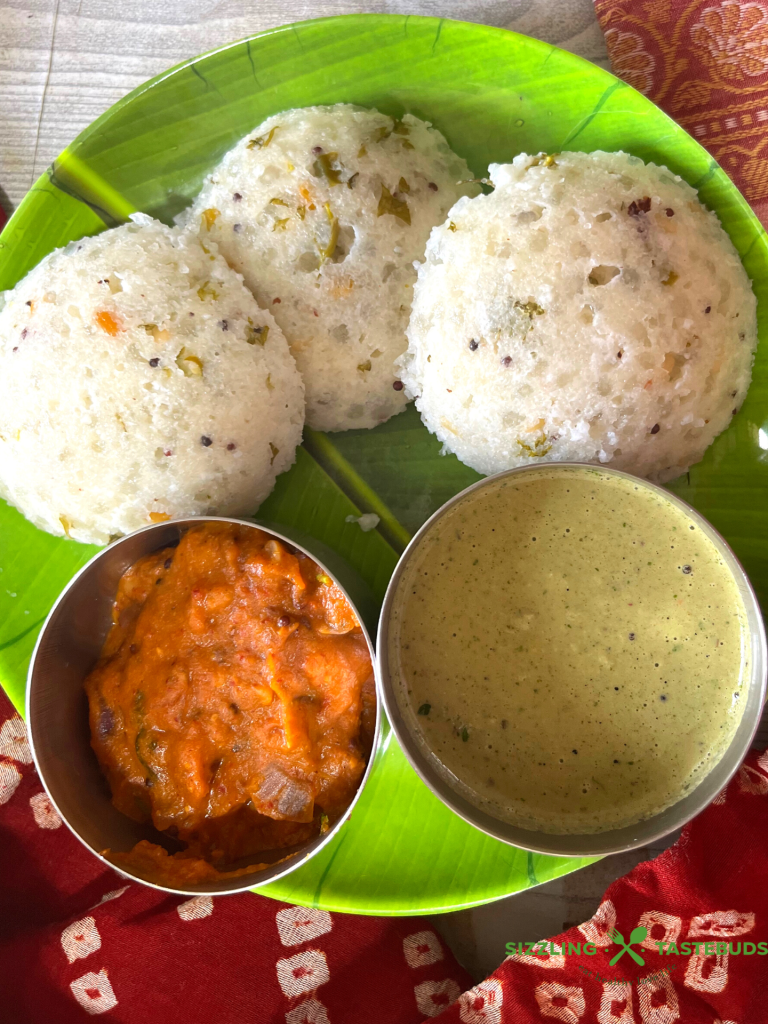 How to make Sabudana Idli
In a large bowl, mix the tapioca, idli rava and 1.5 cups of curd and mix well.
Once all the ingredients are mixed well, cover and soak for 8 hours or overnight.
In the morning, slightly mash up the batter, adding the rest of the 1/2 cup curd with 2-3 tsp water
Make the tempering with the oil. Mustard seeds and dal till the dals turn golden brown
Add this tempering to the batter and mix lightly
Then add the chopped green chillies, coconut, coriander and mix lightly
The batter should be thick at the same time with a dropping consistency (see video for the right texture)
Spoon the batter into greased idli moulds, filling them 90% (as they expand a bit upon steaming).
Steam them for 10-12 mins or until a skewer comes clean (or use wet hands to check the Idli – if they dont stick, the idlis are done)
Turn off the flame now, wait for 4-5 mins to de-mould
Serve warm with any spicy chutney / sambhar
Liked this recipe? SIGN UP FOR THE Sizzling Tastebuds Newsletter (No Spam, Promise!) for fresh, healthy and tasty recipes right into your inbox . Please consider leaving a star ???? rating on this recipe for us to get you the best recipes out there.   FOLLOW Sizzling Tastebuds ON Facebook, Twitter, Pinterest AND  Instsgram for fresh content, latest recipes and much more!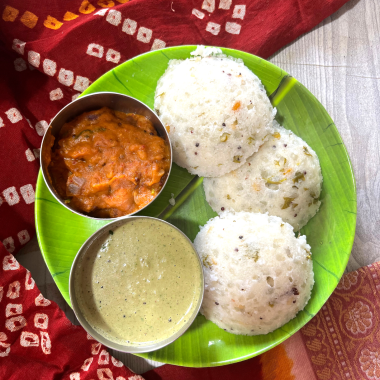 Sabbakki Idli | Sago Idli | Sabudana Idli
Sabbakki Idli or Sago Idli is a no grind, easy to make Idli using Tapioca / sago pearls. Tastes delicious with any spicy chutney or Sambar.
Ingredients
1

cup

Tapioca

Sago / Sabudana

2

cups

Idli rava

I used Homemade

2

cups

Sour curds

use plant based curd for Vegan

1

tsp

salt

3

TBSP

coconut

1

tsp

oil

to grease

1

tsp

Coriander leaves

chopped

1

tsp

Green chillies

chopped, optional
Tempering:
1

tsp

oil

any neutral oil

1/2

tsp

mustard seeds

rai

1

tsp

Bengal gram

channa dal

1

tsp

split black gram

Urad dal

1/2

tsp

Asafoetida

hing, skip for GF
Instructions
In a large bowl, mix the tapioca, idli rava and 1.5 cups of curd and mix well.

Once all the ingredients are mixed well, cover and soak for 8 hours or overnight.

In the morning, slightly mash up the batter, adding the rest of the 1/2 cup curd with 2-3 tsp water

Make the tempering with the oil. Mustard seeds and dal till the dals turn golden brown

Add this tempering to the batter and mix lightly

Then add the chopped green chillies, coconut, coriander and mix lightly

The batter should be thick at the same time with a dropping consistency (see video for the right texture)

Spoon the batter into greased idli moulds, filling them 90% (as they expand a bit upon steaming)

Steam them for 10-12 mins or until a skewer comes clean (or use wet hands to check the Idli – if they dont stick, the idlis are done)

Turn off the flame now, wait for 4-5 mins to de-mould

Serve warm with any spicy chutney / sambhar
Notes
Tips and tricks to make the best Sabbakki Idli / Sago Idli
Soak for minimum 8-12 hours or overnight

 

Do not over mix while making the batter.

 

Lightly sour curds is best used. Use thick curds or slightly beaten, not buttermilk as the batter becomes watery.

 

If making this Idli for vrat, skip mustard seeds or anything else you don't use for vrat recipes. This list of restricted foods varies from family to family, so proceed accordingly.
Usage of soda is optional, but as the batter was naturally fermented, I didn't use it at all
Tempering is also optional, but it added to the taste greatly
Skip the chillies if making for the kids
Coconut adds softeness to the idli, make sure not to skip it.

 

Once the idlis are steamed, run a dry spoon / knife to demould after it cools for 3-4 mins else the idlis turn soggy and mushy