I learnt of Hotel style Sambhar or Tiffin Sambhar as its popularly known only when I started blogging. While growing up in Bangalore, it only seemed that the sambhar served at restaurants were a little runny type and also lighter compared to the Sambhar served at Tamilnadu restaurant.
Pin
A little more reading, and I tripped upon this interesting anecdote as to how both the word and the dish Sambhar was born "
The story goes that the original recipe for sambar a dish which is so intrinsic to Tamil Nadu cuisine can actually be traced to Maratha ruler Shivaji's son. Legend has it that Shivaji's son Sambhaji, who was one of the Maratha rulers, attempted to make dal for himself when his head chef was away. "He added a little tamarind to the dal that he made and the royal kitchen dared to correct him on the fact that tamarind was not used in dal, but Sambhaji loved his own concoction, which was then referred to as sambar. Although Sambhaji's sambhar is more lore than recipe, and there are more than 50 varieties of sambar today, chefs do admit that the Tanjore sambar is still something to be savoured. "While the Sambhaji influenced sambhar was more a tamarind soup, the Thanjavur brahmin sambar recipe is mostly followed today where there is no onion and garlic, and the dish is not heavy on spice, But even today, the sambar of Tamil Nadu is very different from you find in the state's neighbour Karnataka,In TN, dry powders are used, while in Karnataka they use wet pastes. In Tamil Nadu, in a traditional vegetarian meal, sambar is served first and then rasam, but it is the opposite in Karnataka," (Source : Here)
For food afficionados, there is a detailed very interesting story – the Story of Sambhar by Padmini Natarajan – here..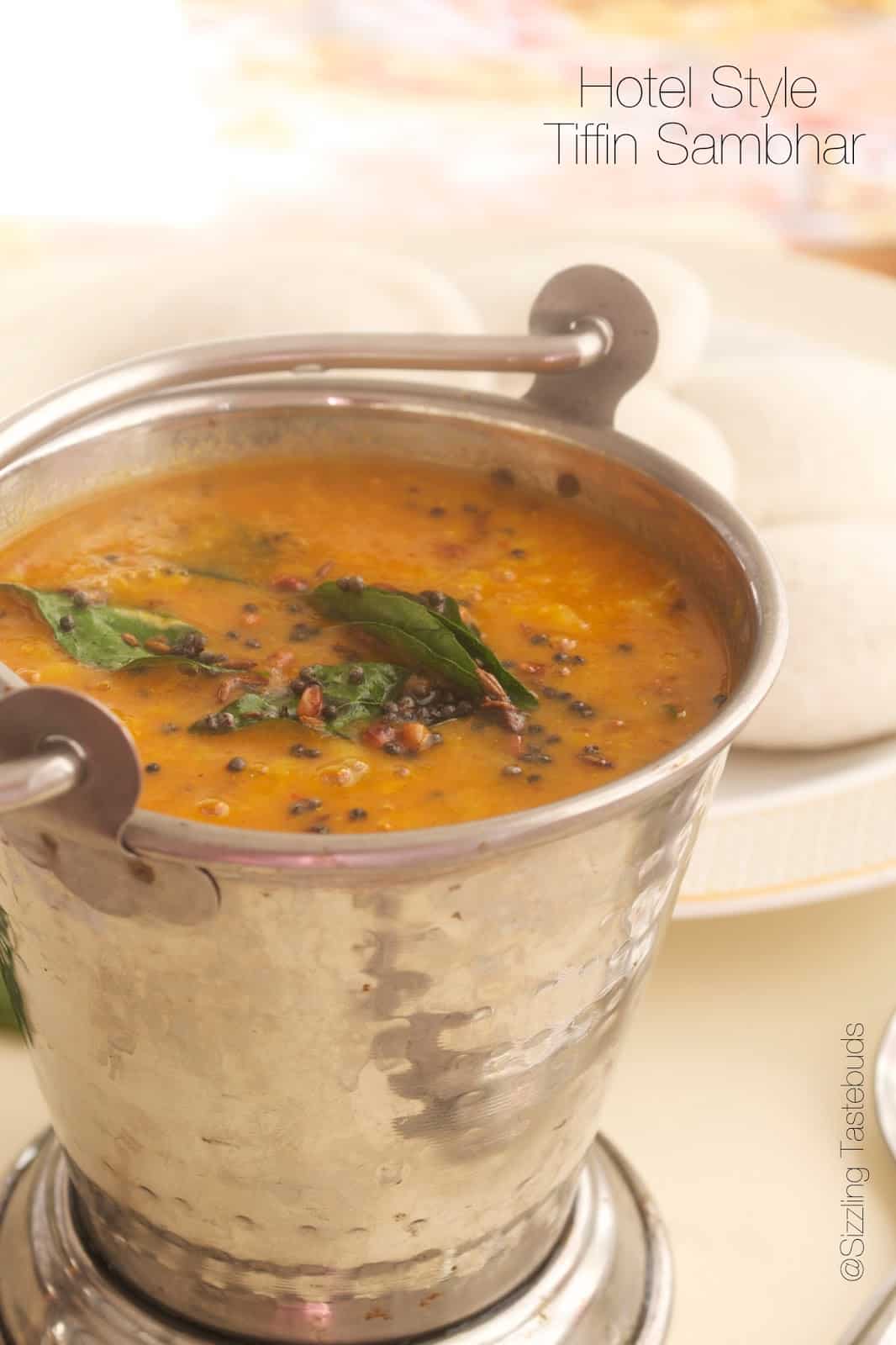 Pin
Whether the anecdote is real or not, today's dish : Hotel Tiffin Sambhar is served with Idli / Dosa Or Uttapams / Pongal / Vadai) in all Tamilnadu restaurants. Its way thicker than its counterpart in Karnataka or Kerala. Addition of onions is optional (especially for strictly brahminical satvic homes in Tamilnadu who dont eat onion or garlic) , but lends a subtle flavour. I have served the Sambhar with Soft Idlis.
Lets get to see how to make this. we like it generally without onions and garlic, however, you can add it as per preference.
Prep time : 15 mins, Cook time : 20 mins | Serves : 4
Hotel Tiffin Sambhar : Vegan and Gluten Free Side dish
served with most South Indian Breakfasts ( Idli / Dosa Or Uttapams / Pongal / Vadai)
Ingredients:
Red Pumpkin / Parangikai / Kaddu / Squash – 250 gms
Toor dal / Split pigeon pea – 1/2 cup
Salt – to taste
Tamarind – a large roundel (large lemon sized)
Jaggery – 1 TBSP (opt.)
Oil – 2 TBSP
Coriander leaves – for garnish (opt.)
To grind *
Channa dal – 1 TBSP
Cumin seeds – 1/2 TBSP
Coriander seeds – 2 tsp
Red chillies – 3 to 4 (adjust spice)
Methi seeds – 1/2 tsp
(* If using tomatoes, onions and garlic for sambhar, saute and add before adding pumpkin. Also, you may saute shallots and grind them with the above spice masala)
Tempering:
Oil – 1 TBSP
Curry leaves – few
Asafoetida – a generous pinch (omit if GF dish is preferred)
Mustard seeds – 1/2 tsp
Pin
Method:
Soak dal in warm water and pressure cook with turmeric and a drop of oil till soft and mushy. Keep aside. Similarly chop and pressure cook red pumpkin / kaddu till soft (1 whistle) and keep aside.
Meanwhile Soak tamarind in 1 cup of water for 15 mins and extract the thick juice.
In a pan, add 2 TBSP oil and fry the ingredients under "To grind" till golden brown, powder in a spice grinder till smooth.
In a pan, add the tamarind paste, 2 cups of water, mashed dal and cooked pumpkin and let it come to a rolling boil. Mash the pumpkin with the back of a spoon till soft.
Now add salt, ground spice powder and let it get thickish. Check for salt and spice. Add jaggery if using.
Prepare tempering with the tempering ingredients. Pour on sambhar and finish with chopped coriander leaves.
Serve hot with any South Indian Breakfast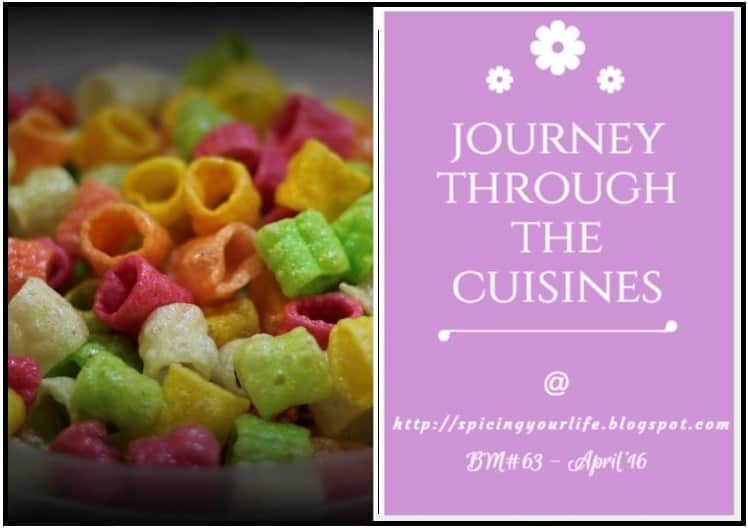 Pin
Check out the Blogging Marathon page for the other Blogging Marathoners doing BM# 63