Think Bangalore. Think Rasam Vada (aka Bonda Rasam). I think that pretty much sums up the experience you would have at most Darshinis (self help restauarants sprinkled liberally all over Bangalore). This is one yummy appetiser / snack that you wouldnt want to miss out on most chilly evenings (not that there is any semblance of chill here, where I live). But sometimes, you need to live out your memories once in a while, and this sprang to my mind while I was busy thinking what to make for a quick snack one evening. In fact, we had this for supper, and it was hearty and filling all at the same time 🙂
So, if you need any excuse to deep fry these beauties and indulge them with a cup of steaming coffee at tea time, you may do so. Its soo versatile, some restaurants there also serve it for breakfast. You can make this immediately after grinding the batter, but I feel its most appropriate to ferment the batter a bit for 1 hour to get best results.
Sending this to Day 2 of Fermented Foods for Blogging Marathon and check out the fellow marathoners here. Lets get to the recipe now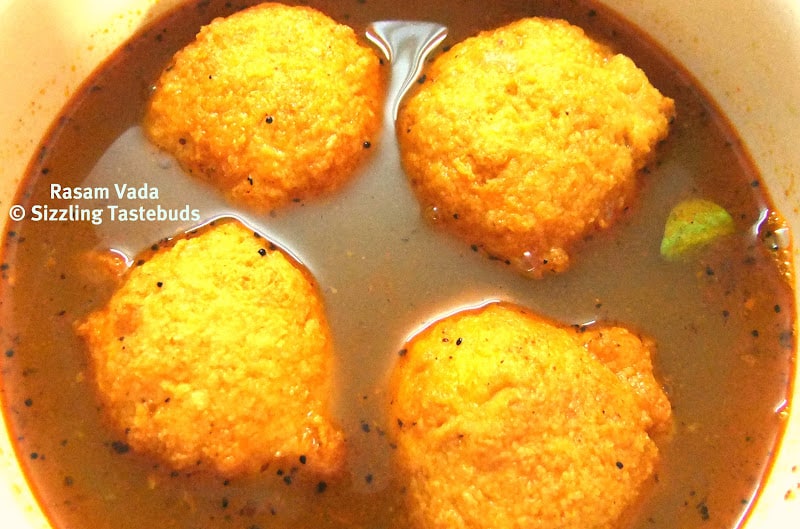 Pin
———————————————————————————————————-
Prep time – 30 mins
Fry time – 20 mins
Makes – 6 – 8 Bondas / Vadas
Fermentation time – 1 hour
Soaking time – 1 hour
Serving Suggestions : Hot spicy rasam (recipe below)
Difficulty level : Medium
———————————————————————————————————-
Ingredients:
For the vada / Bonda:
Urad Dal – 1 cup (deskinned black gram)
Salt – 1/2 tsp
Oil – to fry
Pepper – 1/4 tsp
Grated Ginger – 1/4 tsp (optional)
Curry leaves – few
Cumin / Jeera- 1/2 tsp
Asafoetida – a generous pinch
For the Rasam:
Toor Dal / Tur dal – 2 handfuls
Garlic pods – 2 nos
Ripe Tomato – 1 no
Tamarind Pulp – 1/2 tsp
Rasam powder – 1 tsp
Salt – to taste
Ghee – 1 tsp
Tempering : Mustard seeds, curry leaves & coriander leaves
Notes :
1) Although the method for Vada is given first here, make the Rasam before you make the vada. That way it can be served almost immediately after frying the vadas/ Bondas.
2) Also, any rasam that gets left over can be slurped up as a nice spicy broth.
3) If you are out of Rasam powder, dry roast 3 red chillies, 1 tsp of coriander seeds, 1/2 tsp of cumin seeds, 2 pepper corns. Roast, cool and powder. Then use this whole quantity for the indicated rasam proportion
Method:
(1) For the Vada:
Soak Urad Dal for 1 hour. Drain and grind to a smooth paste without adding too much water. Add the rest of the ingredients except salt and cover and keep for 1 hour. After 1 hour, add salt and mix well.
Heat oil for frying on medium heat. Drop a small droplet of the batter to see if it sizzles up to the top immediately without getting too browned. This is the perfect temperature.
Wet your fingers slightly and take a handful of this thick batter in your hands. Roll it in your palms up and down till you get a ball like shape.
Roll this gently into the heated oil and fry evenly on all sides till you get an evenly golden ball.
Drain on paper towels.
Repeat for rest of the dough and reserve on paper napkins.
(2) For the Rasam:
Soak and cook Toor dal with 2 cups of water for 3 whistles.
Blanch the tomatoes for 3 mins. Deskin, deseed and puree them. Keep aside.
In a large kadai, add the cooked toor Dal, tamarind pulp, tomato puree, rasam powder, salt and bring to a boil.
Chop and fry garlic pods in half a tsp of ghee till golden brown and add to the simmering rasam.
Check for spices and salt.
Now make tempering with ghee, mustard seeds, curry leaves and coriander leaves and pour to the simmering rasam.
To serve:
Dip the fried Bondas / Vadas in a bowl of rasam. Let them steep in for 3 – 4 mins.
Serve hot.