My tryst with Andhra recipes is a continuous love affair. Although I could understand a smattering of Telugu in my childhood, my maternal grandpa and dad spoke excellent Telugu. And dad had a long list of Telugu friends and on my frequent visits to their homes was acquainted with some snatches of Andhra cuisine, what with pachadis and Keera Pappu liberally pepped with garlic and onion. Later on, Bangalore being a foodies city, we had no dearth of Andhra restaurants. I can't count the number of times we used to frequent these restaurants for parties at college and also during my early work days. Oh ! how I miss my dad and our outings together – all the more today, coz its his birthday, and I wish him peace and happiness where he is up there in heaven guiding us 🙂 
Somehow, the comfort that one seeds early on while eating Andhra (or for that matter any traditional recipes) is unbeatable. Be it the Pappu or koora or Garlic rasam or Gonghura Chutneys, it sends me into a culinary tizzy !! Am waiting (hope not in vain) when the first Andhra (and authentic at that) restaurant would open in my city. Till then, my sojourns remain of memories of dunking uber soft idlis and dosas in Podi / Allam Chutney at Chutneys (another popular restaurant in hyderabad which used to be a favourite haunt) or dream of ghee-rich and heavenly Sunnundalu (Urad Dal Ladoos) that I packed once from Vijayawada…. I did warn you I would get carried away. Love for the food, isnt it ? 🙂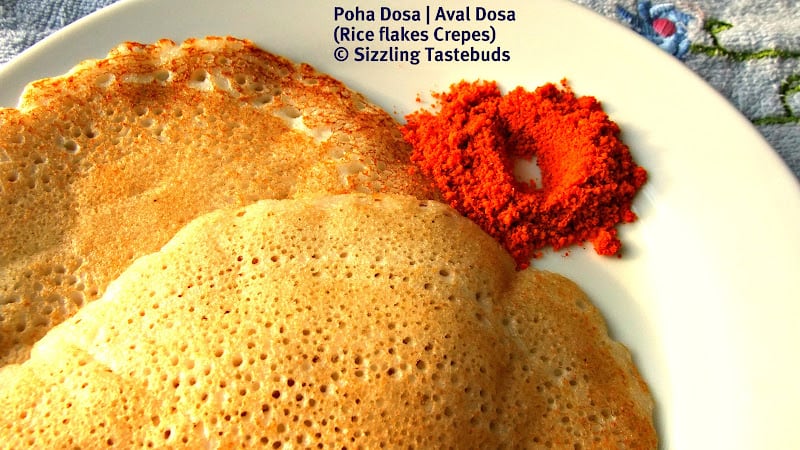 Pin

And, let me finally come to today's post : Poha Dosa or the super soft Attukula Attu or Dosa made with rice flakes. My initiation to this too, happened at a Telugu speaking friend's place while in high school. Served with Tomato Chutney, it was simply out of this world. And after a decade or so, chanced to eat this again at a Hyderabad eatery last year. Since then, this has been on my to-do list, and although this is similar to the Set Dosa of Karnataka, I find the former a tad lighter and softer. And what better way to use up the Poha (flattened rice) at home while at the same time have a yummy light breakfast. For a non-dosa lover like me, this sure has some magic up its sleeve.   

Sending this to BM # 14 under Dosa Varieties, Rasya's I am the star and Rosh's Comfort Food.  Check out the fellow Marathoners here.

Prep time : 4 – 6 hours soaking + 1 hour grinding + 12 – 14 fermenting

Cook time : Approx 1 min / Dosa

Makes :  About 30 dosas

Note: The original recipe called for soaking the ingredients in slightly sour and thick buttermilk. But I skipped that part. Also, as I had ran out of Sabudana (sago pearls), I substituted with dried fenugreek (methi seeds). The results were marvellous, though 🙂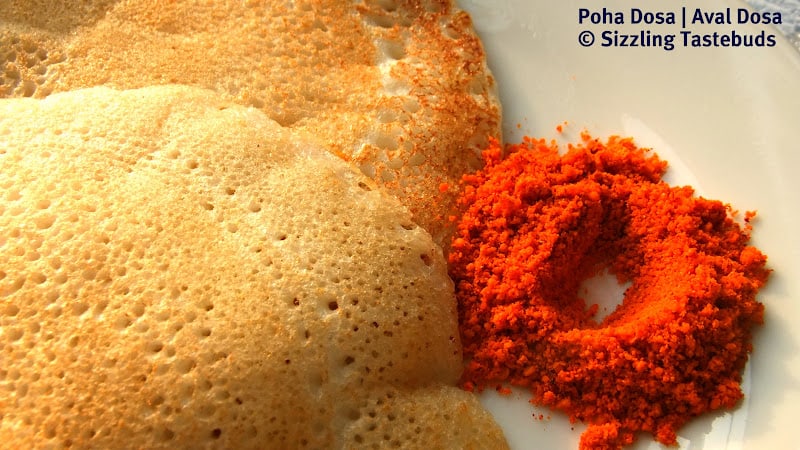 Pin

Ingredients: 
Rice – 3 cups ( I used normal short grained rice)
Poha / flattened rice – 3/4 cup (thick variety poha only)
Urad Dal – 1/3 cup
Methi seeds – 1 tsp (substitute with same quantity sabudana if you have)
Salt – to taste
Oil – to fry the dosas (this dosa requires very minimal oil. I even tried steaming some of them without any oil at all, and we didnt notice any difference in taste)
Method:
1) Wash rice in several changes of water and soak for 4 -6 hours
2) Combine Urad dal, poha and methi seeds and soak for same time.
3) First grind the dal mixture to a fine paste in a wet grinder (about 20 mins). Transfer to a large bowl
4) Then grind the rice with minimal water and keep adding water as and when required. When rice is completely ground (About 30 mins)  add the Urad dal mixture, salt and grind for further 10 mins till finely incorporated. Then transfer to a large bowl / steel container and mix well with your bare hands (the heat from your body is crucial for the batter to ferment better.
5) Close the lid tightly and let it ferment for 12 – 14 hours (or overnight)
6) Next morning, mix the batter well. 
7) Heat a tava (skillet) to high and sprinkle some water. If it sizzles, then the tava is ready.
8) Now turn the heat to medium. Take one ladle of the batter and spread it in a thickish dish (do not spread it thin like the normal masala dosa / sada dosa). Drizzle little oil around the edges. Cover and cook for 1/2 minute. Uncover and cook again for less than 1/2 minute ( Tip : you should be able to see lots of pores on the surface of the dosa to indicate the batter is fermented well)
9) Flip off the tava and serve hot with any Chutneyand Sambhar. We loved it with Molagapudi(fiery lentil powder).