Railway Style Aloo Bhaji is a no-onion and no-garlic quick curry served with any flatbread like Roti, Poori , Kachori or Paratha. It is a delicious meal that works well on long train journeys too.
Railway journeys and memories
Railway journeys are / were all about making memories. The destination didn't matter as long as we had loads of food, talk, fun and cousins / aunts / uncles or friends to pass the time. The journey was in fact, more often than not, more important than the designation and we looked to these journeys – short or long during the summer vacations or the Dusherra break from school.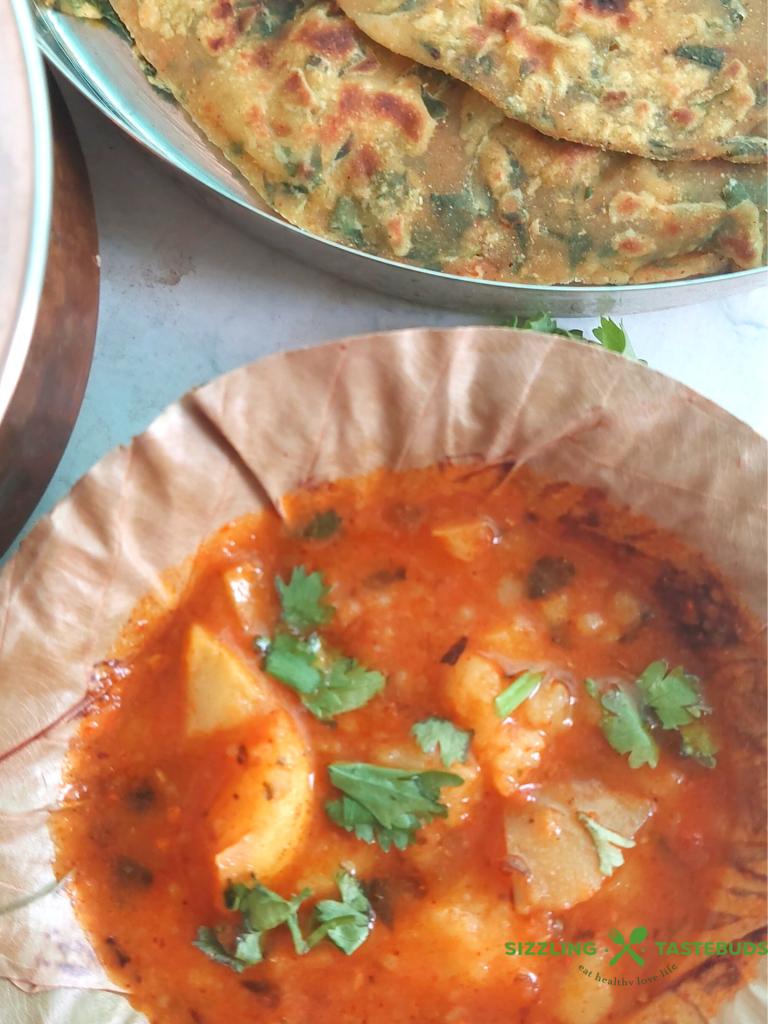 History of meals on Indian Railways
The history of meals on Indian railways dates back to the late 19th century, when the first railway line was built in India. The early trains did not offer any food, and passengers were required to bring their own meals or purchase food at stations along the way. This included Poori – Aloo Bhaji , Khakras, Kachoris or Theplas in the North , East and the west. In the South, mostly it was rice based food like Idli–Podi (idlis smothered with Gunpowder and gingerly oil) , Puliyodharai (tamarind rice), the evergreen Curd rice (mixed with milk and a tsp of curd added to ferment slowly) or Mosaru Avalakki (poha mixed with curd),Lemon rice ,Biryani or their ilk.
However, as train travel became more popular, the demand for food on trains increased. The first official railway catering service was started in 1901 on the East Indian Railway. Initially, this service was limited to first-class passengers, who were served meals in the dining car.
In 1928, the catering service was extended to second-class passengers as well, and the menu was expanded to include Indian and continental dishes. During this time, the dining car became a popular place for socializing, and passengers would often dress up for dinner on the train.
In the 1950s, the catering service was further expanded, and the Indian Railways Catering and Tourism Corporation (IRCTC) was established in 1986 to manage catering and hospitality services on trains and at railway stations.
Today, passengers on Indian railways can choose from a wide range of meals, including vegetarian and non-vegetarian options, as well as snacks and beverages. Some long-distance trains also offer pantry car services, where meals are prepared fresh on the train.
Now over past 80-100 years, many railway stations / junctions are popular for the food that they offer, Including some rare delicacies
Chhatrapati Shivaji Terminus, Mumbai: This station is famous for its vada pav, a popular Mumbai street food consisting of a deep-fried potato fritter sandwiched between two slices of bread.
Howrah Junction, Kolkata: This station is known for its rosogolla, a soft and spongy Bengali sweet made from cottage cheese soaked in sugar syrup.
New Delhi Railway Station, Delhi: This station offers a variety of street foods, such as chole bhature (spicy chickpea curry served with deep-fried bread), kachori (deep-fried savory pastry filled with spiced lentils or peas), and paratha (flatbread stuffed with vegetables or meat).
Kozhikode Railway Station, Kerala: This station is known for its Malabar biriyani, a spiced rice dish cooked with meat, spices, and coconut milk, as well as its banana chips and halwa.
Kharagpur Junction, West Bengal: This station is known for its jhal muri, a spicy snack made with puffed rice, onions, tomatoes, spices, and chutney.
Mawa Kachori at Mathura Junction: Mawa kachori is a sweet dish made of deep-fried pastry stuffed with sweetened mawa (reduced milk) and dry fruits. It is a popular dessert in Rajasthan and Mathura Junction is one of the few places where you can try this delicious sweet.
Dhuska at Hatia Railway Station: Dhuska is a savory pancake made from rice and lentil batter and is a popular breakfast dish in Jharkhand. Hatia Railway Station is known for serving delicious dhuska with a side of spicy potato curry.
Peda at Bikaner Railway Station: Peda is a soft, creamy, and mildly sweet milk-based dessert that is popular in North India. Bikaner Railway Station is known for its famous peda shop, which has been serving delicious pedas for over 100 years.
Tunday Kebab at Lucknow Railway Station: Tunday Kebab is a famous Awadhi dish made from minced meat, spices, and papaya, which makes the meat soft and juicy. The Lucknow Railway Station is famous for its Tunday Kebabs, which are served with roomali roti (thin bread)..
Uppu Kozhukattai at Erode Junction: Uppu Kozhukattai is a savory steamed rice dumpling filled with spiced lentils and coconut. It is a popular snack in Tamil Nadu, and Erode Junction is known for its delicious Uppu Kozhukattai.
Bafauri at Gorakhpur Railway Station: Bafauri is a popular snack in Eastern Uttar Pradesh, made with soaked and ground chana dal, spices, and coriander leaves, then fried. Gorakhpur Railway Station is known for its delicious bafauri, which is often served with chutney.
Coming to today's dish, Railway Style Aloo Bhaji holds many memories for us as we travelled to Jaipur and onward to Delhi by long distance train. Having bred on a staple of Rice based dishes, this was something we looked forward to on North bound trains.
The simplicity of the dish along with the ghee used in this dish elevated the experience of eating flattened puris with this eagerly off leaf bowls and newspapers. Let's see how to make Railway style Aloo Bhaji – a quick to make curry that is best served with ghee-laden rotis / puris / kachoris / Theplas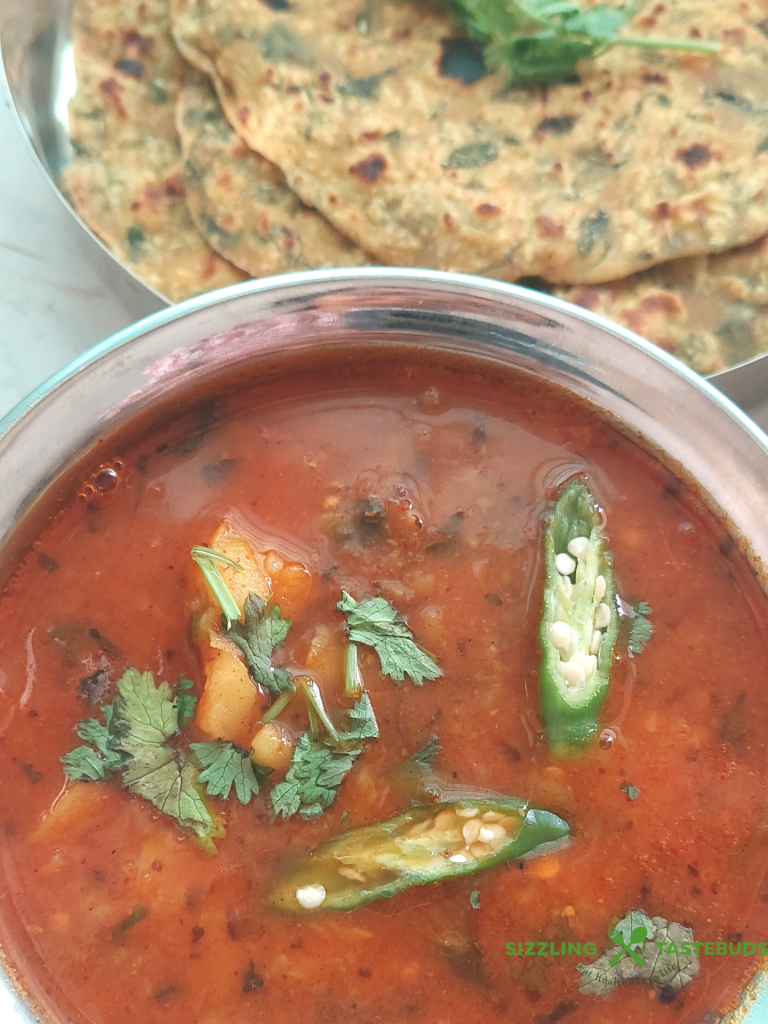 Prep time – 15 mins , Cook time – 15 mins, Serves -4
Cuisine – Indian ; Course – Side Dish / Accompaniment ; Spice level – Medium
Other curries that you can serve with Roti / Poori / Chapati / Paratha:
Haath Maaluwa | SriLankan Vegan Curry
Haath Maaluwa is a SriLankan Gluten Free and Vegan Curry with a medley of veggies, Usually made for the Srilankan New Year feast, it is served with Roti / Rice.
Check out this recipe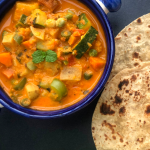 Lauki Methi Kofta Curry
Lauki Methi Kofta Curry is a Low-fat Indian Curry (Gluten Free+vegan) made with bottlegourd and fenugreek leaves dumplings that are simmered in a spicy tomato base. Served with flatbreads and rice. 
Check out this recipe
Low Fat Punjabi Style Dum Aloo Recipe
A Delectable No-Dairy Gluten Free and Vegan Punjabi style gravy with Baby Potatoes
Check out this recipe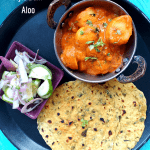 Mixed Veg Kurma | Side Dish for Chapati , Poori, Rice, Idly etc
A Gluten Free, Vegan Gravy made with poppy seeds , coconut and spices. Served with Indian Breakfast or Flatbreads like Roti/ Chapati
Check out this recipe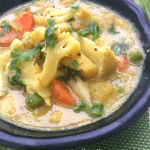 Ingredients to make Railway Style Aloo Bhaji
400 grams potato
3 tomatoes (pureed)
2 tsp Oil
1 tsp Ghee (skip for Vegan and sub with 1 tsp Oil)
1 black cardamom
2 bay leaves
4 whole black pepper
1 tsp whole coriander seeds (Dhanya)
1 tsp fennel seeds (saunf)
1 tsp Cumin seeds (jeera)
1 tsp salt
1 tsp Chilli powder
1.5 tsp Kashmiri Chilli Powder
1 TBSP Coriander powder
1 tsp Amchur (Dry Mango Powder)
1 TBSP Garam Masala
1 tsp Green chillies (finely chopped)
1 tsp Ginger (finely minced)
1 tsp Kasuri Methi (dried fenugreek leaves)
1/2 tsp turmeric
1 tbsp Coriander leaves (finely chopped)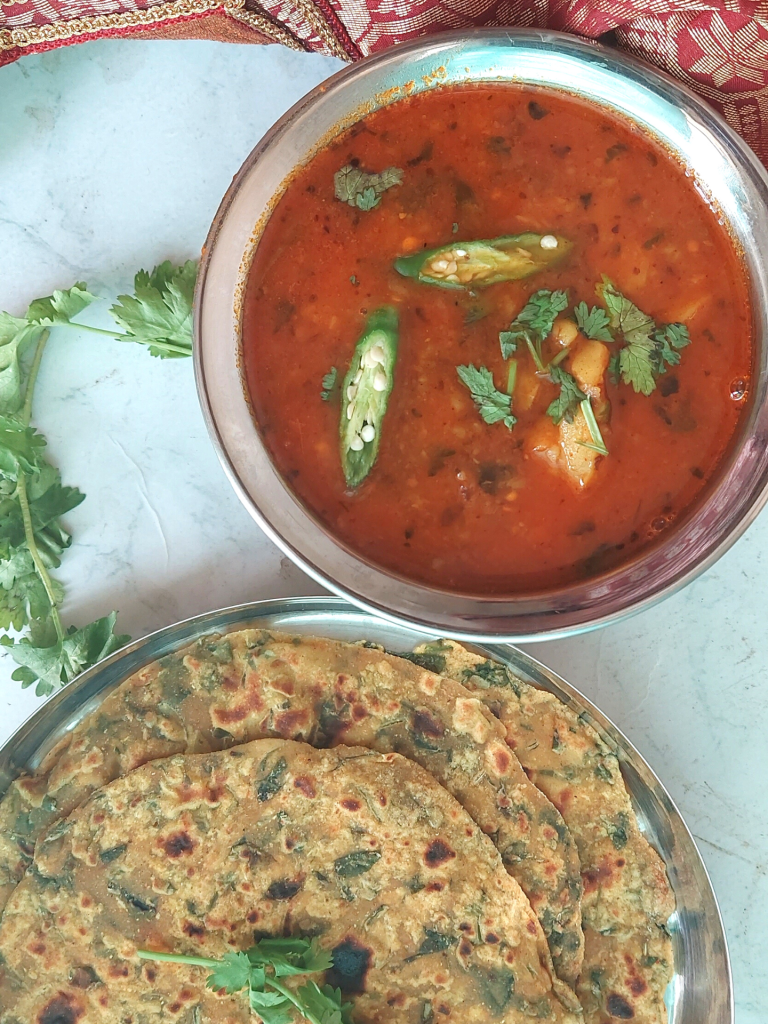 How to make Railway Style Aloo Bhaji
Pressure cook Potatoes or cook them in an open pot till they are fork tender.
Peel, lightly smash them with a fork and keep aside.
Lightly crush the coriander seeds , saunf and half the jeera in a pestle mortar and keep aside
In a pan, heat the oil.
Splutter the whole spices, bay leaf and the crushed spice mix
Add the ginger and chopped green chillies
Now add the pureed tomato and saute it for 3 mins or till leaves the sides
For the next steps, check out the video embedded below
Let me know how you liked this recipe
PIN FOR LATER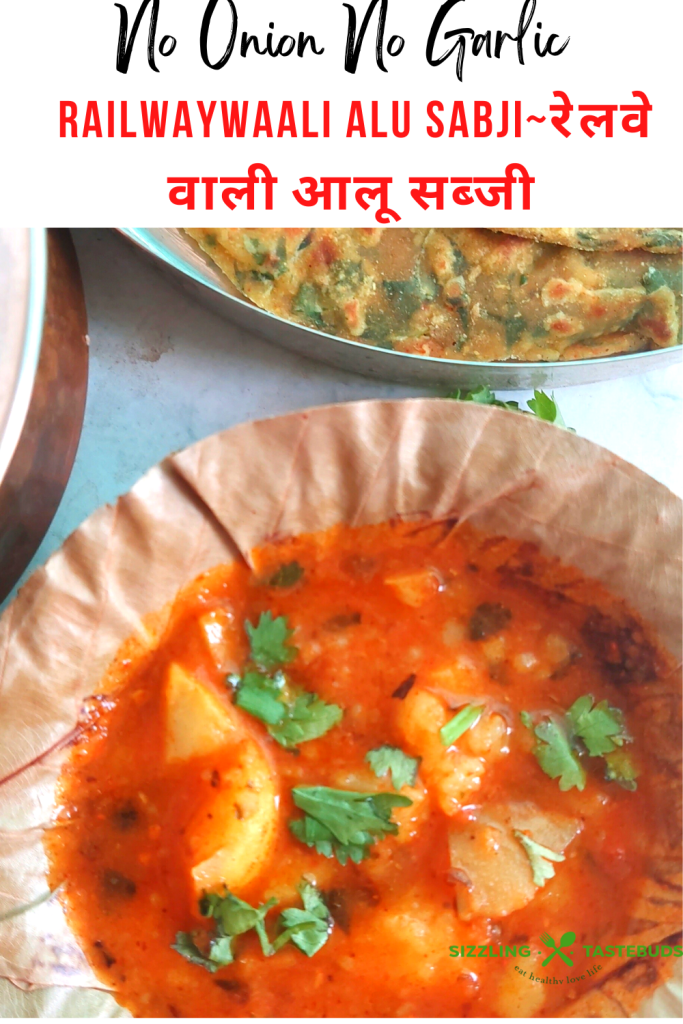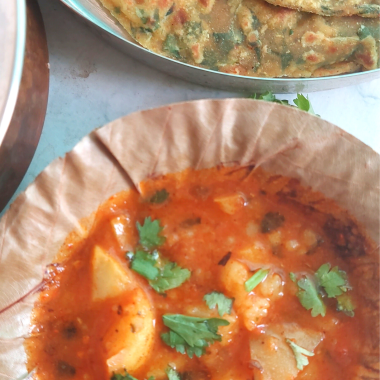 Railway Style Aloo Bhaji | Train waali Alu ki Sabji
Railway Style Aloo Bhaji is a no-onion and no-garlic quick curry served with any flatbread like Poori , Kachori or Paratha. It is a delicious meal that works well on long train journeys too.
Equipment
Pressure Cooker

Can sub with Open pot / Instant Pot

Thick Bottomed Pan

Pots and Pans

Spatula
Ingredients
400

grams

Potato

3

Tomatoes

pureed

2

tsp

Oil

1

tsp

Ghee

skip for Vegan and sub with 1 tsp Oil

1

Black Cardamom

2

Bay leaf

4

Whole Black Pepper

1

tsp

Coriander seeds

Dhaniya

1

tsp

Fennel Seeds

saunf

1

tsp

Cumin seeds

jeera

1

tsp

salt

1

tsp

Red Chilli Powder

1.5

tsp

Kashmiri Chilli Powder

1

TBSP

Coriander Powder

1

tsp

Amchur

Dry Mango Powder

1

TBSP

Garam Masala

1

tsp

Green Chillies

finely chopped

1

tsp

Ginger

finely minced

1

tsp

Kasuri Methi

dried fenugreek leaves

1/2

tsp

Turmeric

1

tbsp

Green coriander leaves

finely chopped
Instructions
Pressure cook Potatoes or cook them in an open pot till they are fork tender.

Peel, lightly smash them with a fork and keep aside.

Lightly crush the coriander seeds , saunf and half the jeera in a pestle mortar and keep aside

In a pan, heat the oil.

Splutter the whole spices, bay leaf and the crushed spice mix

Add the ginger and chopped green chillies

Now add the pureed tomato and saute it for 3 mins or till leaves the sides

For the next steps, check out the video embedded below

Let me know how you liked this recipe