One of the best ways to use bread is to make Croutons at home. Although I do make Croutons at home, i never made it as a snack, and in bulk. Vardhini'srecipe showed me how to do so, and even kiddo took some croutons as a munch-on for her snack break at school. Thanks Vardhini for this recipe -it surely showed me a way to use up those final slices of a bread loaf, which seem to be left unused everytime we buy a loaf , all the while making a perfectly crunchy snack for those 4 pm types, when hunger (read temptation to indulge) strikes the tummy ! Also, pep up any soup and the kids would love it…
Pin
Without much ado, lets get to the recipe now – Homemade Baked Croutons ! This goes to Week 2 of BM # 11 under "Preps and Preserves" category. This entire week will see me present a mix-n-match theme under different themes ! Check out the other Marathoners here. Also, linking this to : Radhika's Winter Carnival , Valli'sSnacks Mela, Radhika'sBaked Goodies & Sangee'sBakeFest,event byVardhini.
Prep time : 5 mins. Bake time : 10-12 mins
Source : Here
Ingredients:
Pin
Bread slices – 8 slices (I used ordinary sandwich bread although French bread is recommended)
Olive Oil – 1 TBSP
Italian Seasoning – 1 TBSP (+ 1/2 tsp of Red Chilli Flakes)
White Pepper Powder – 1/2 tsp (opt.)
Salt – to taste (take care as the bread would also contain some)
Method:
1) Using a serrated knife, cut the bread into small chunks. Do not trim the edges.
2) In a large bowl,add the bread chunks, oil, seasoning, salt, pepper powder. Give it a nice mix. Rest for 3 mins
3) Preheat the oven to 175C for 8- 10 mins.
4) Line a flat baking tray with foil (helps clean up) and spread the chunks evenly on the lined plate taking care not to overlap them.
5) Bake for 10-15 mins till they brown. I checked at 12 minutes, and they were done.
6) Cool completely. Store in an airtight container and serve with any soup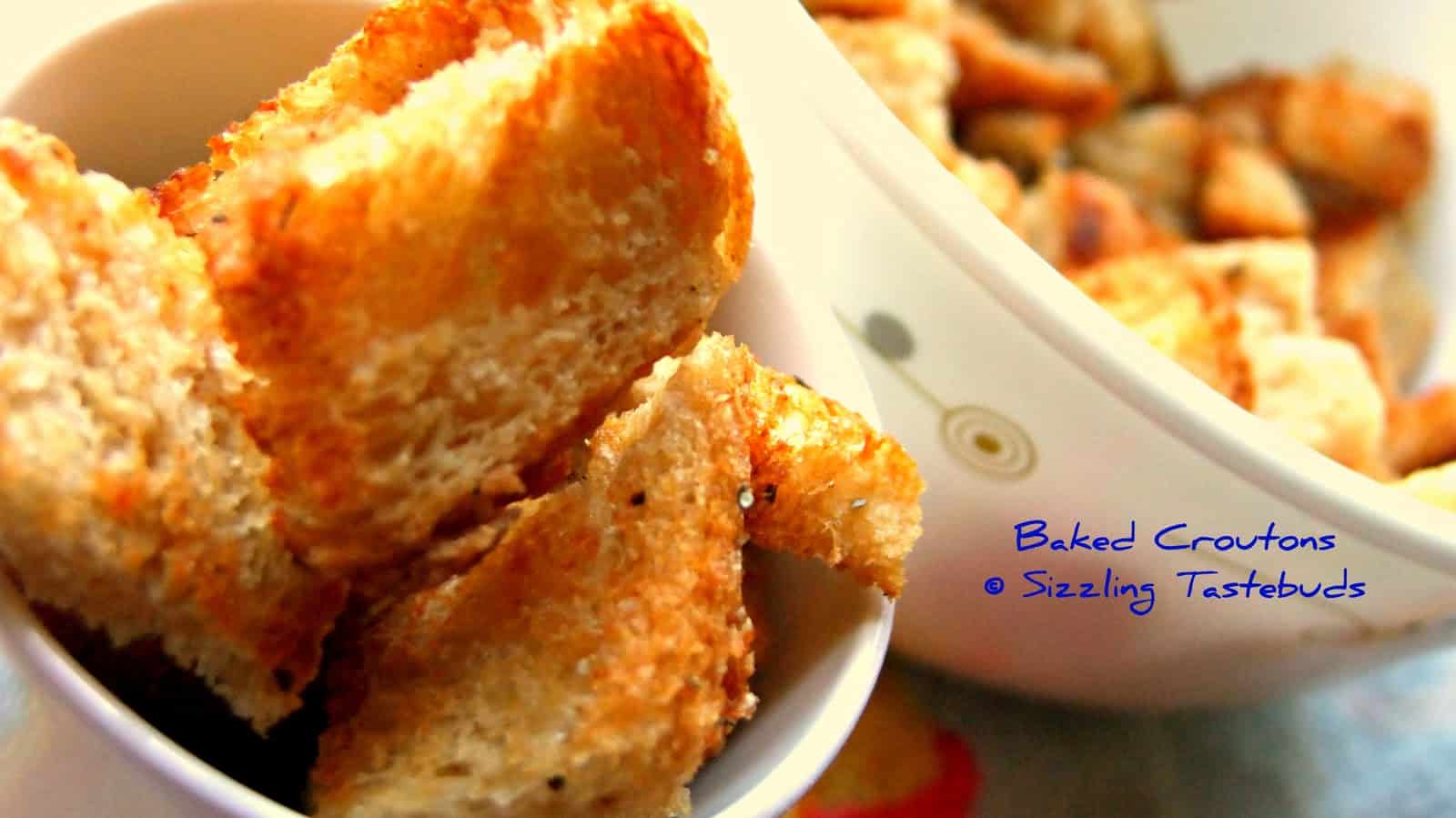 Pin