Ok.. lets see – just the way Vangibhath is not brinjal rice, Puliyodarai (or Puliyogarai) is not Tamarind Rice. Period. Umpteen references to today's dish as Tamarind dish is just that – a translation. But for those fed (like me)
on authentic Puliogarai since childhood, this is manna come to earth.
Of course, there is the Tamilnadu version and the Andhra Version of Pulihora which are as different from this
dish as chalk and cheese. In my own house, there is this debate bet'n me and the husband whether the one
made is the authentic version (Tamilnadu version) or not.
But I have stuck to my guns and prepare the Mysore Iyengar version everytime . And considering the dish is wiped clean everytime, the debate is more of a smokescreen than anything else . More on the Tamilnadu version in a later post..
Today's recipe is an elaborate preparation of the recipe (which takes upto 2 hours of prep and cooking and extensive detailing). But the wait is totally worth it, I can assure you.
Till I gather all step by step pics (or even better a video) , will take you through this version through text. Dont scrimp on the oil, or the spices.
Served at an Ugadi or Navratri Meal as part of the Obbattu and Thayirvadai, this is one feast you should not
miss if you visit a Tam brahm's house in South Karnataka region. Some South Indian temples are also known to make this dish as a prasadam / naivedyam (offering).. Another popuar Prasasadam made in Tambrahm households is this delicious quick to make Thengai Saadam (Coconut Rice)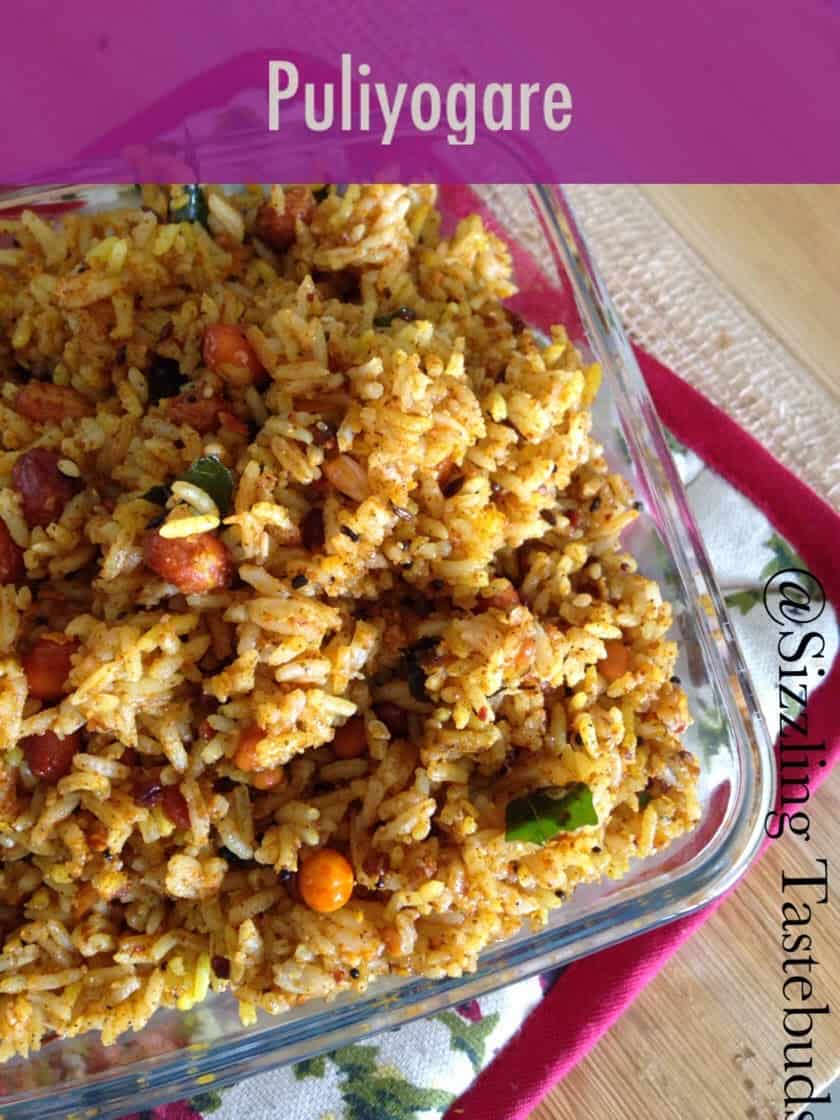 Prep time : 30 mins | Cook time : 45 mins | Serves: 4
Ingredients:
Raw rice – 1 cup
Tamarind – a large gooseberry sized (

soak and extract a pulp of about 1 cup)

Oil – 1/2 cup (divided use)
Rasam powder – 5 TBSP
Jaggery – almost the same quantity as the tamarind
Urad Dal – 2 TBSP
Mustard seeds – 1 1/2 tsp
Channa Dal – 1 TBSP
Peanuts – 3 tsp
Curry leaves – 2 sprigs
Asafeotida – 3/4 tsp (yes!!)
Til / sesame seeds (black or white) – 1 TBSP
Dry copra – 3 tsp (grated)
Turmeric – 1/2 TBSP (split use)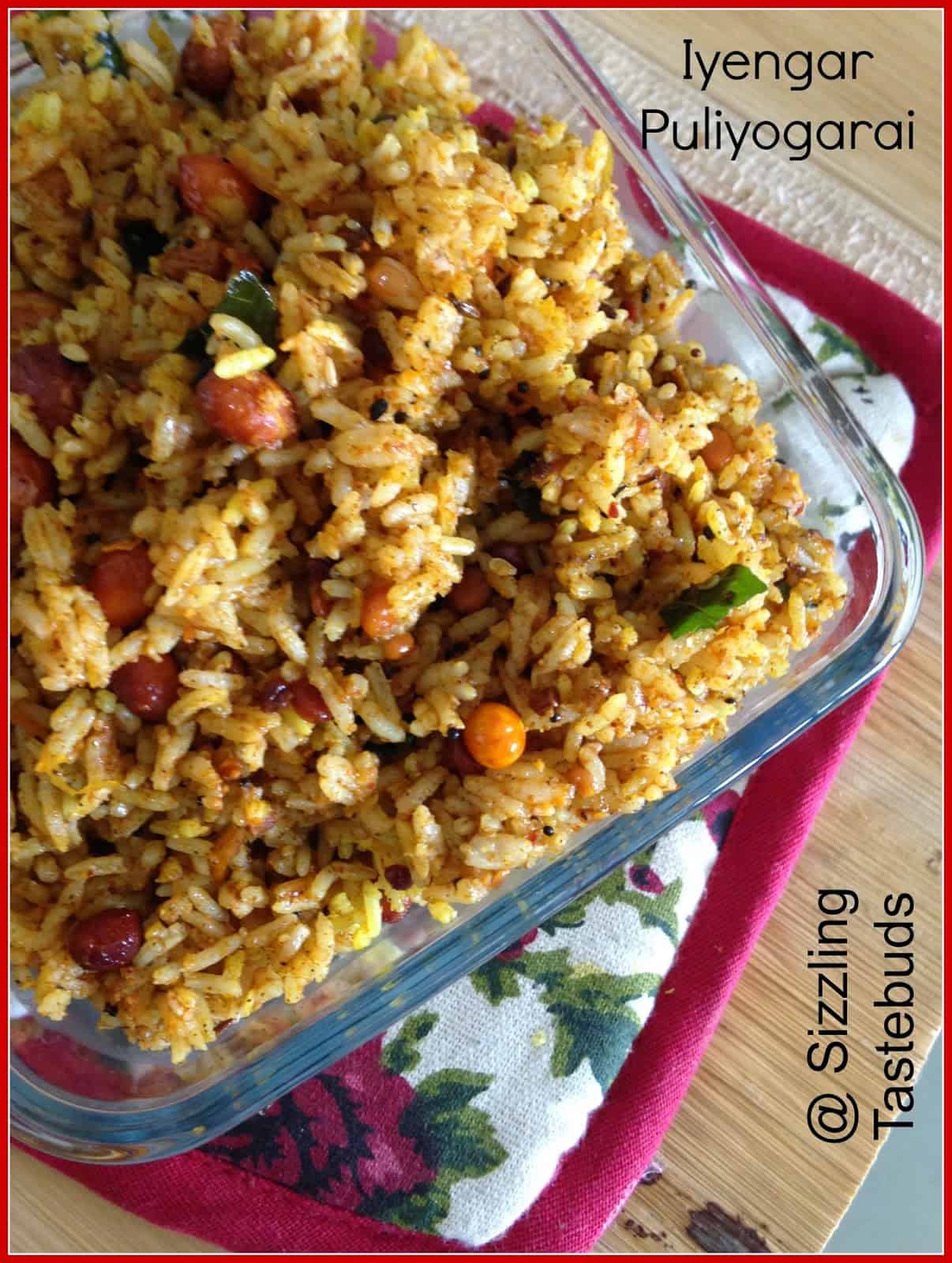 Method:
(A) Step 1 : Make the rice and cool it –
Soak and cook raw rice in 2 cups of water (or as desired). Make sure the rice is not mushy. Use a fork to fluff it up. Add 4 TBSP of oil over it and sprinkle some turmeric powder. Let it cool in a large plate.
(B) Step 2 : How to make the puliyogarai gojju (or the spice
paste)-
Wipe the sesame seeds on a clean white cloth for a couple of minutes to remove any dust. Dry roast for 1 min (till they splutter) and remove to a plate. Similarly dry roast copra for 1/2 min (just until warm) and
In a pan, heat remaining oil. splutter mustard seeds, asafoetida, turmeric, curry leaves and the dals. Once the dals brown a bit, lower the flame and fry the peanuts. Once peanuts is golden brown colour, add the tamarind pulp and slowly increase the flame. DO NOT ADD WATER AT ANY STAGE.
Once the raw smell of the pulp decreases, add the jaggery and rasam powder and on a slow flame, allow the mixture to thicken. Once the rasam powder is fully cooked through, add salt. At this stage, the check is oil
should start leaving the sides (you may also see that the mixture may spurt out – so close lid partially if needed). At this stage, turn off the stove and let it cool a bit. This is called the Puliyogarai Gojju
Please note that the above gojju (as the spice paste is now called) is more than enough to make two batches of puliyogarai. So we would be using a little more of the paste and you can preserve the rest of the paste in an airtight glass jar for about 15-20 days.
(C) How to make the Pulioyogarai with the cooked rice-
Once the rice is cooled, add half of the paste in batches and very gently spread it with the rice taking care you dont break the grains.
Traditionally, hands are never used to mix as the heat may cause the rice to spoil easily. Rather the backside of a wooden / steel ladle is used to mix it. Once the rice is mixed with the paste, add the roasted sesame seeds and
coconut. Adjust salt and spices. Serve immediately (best served at room temperature)