I had bookmarked this flavoursome Biryani as soon as this BM was announced. When I read further, I learnt that Thalapakatti is a family in Dingidul (a district southern Tamilnadu) and they were the pioneers of this Biryani where meat is the mainstay of this dish. But can be suitably subbed by soya chunks (TVP), which we did and liked it. In case one is keen to read more about the history of this biryani, do head here…
PinPin

The Thalappakatti Biriyani Hotel's roots can be traced all the way back to 1957. Founded by Mr. Nagasamy Naidu under the name Anandha Vilas Biriyani Hotel in Dindigul. He always wore a turban called THALAPA (a traditional head dress), which over the years became synonymous with his brand and cooking styles, leading him to earn the nick name "Thalappakatti Naidu"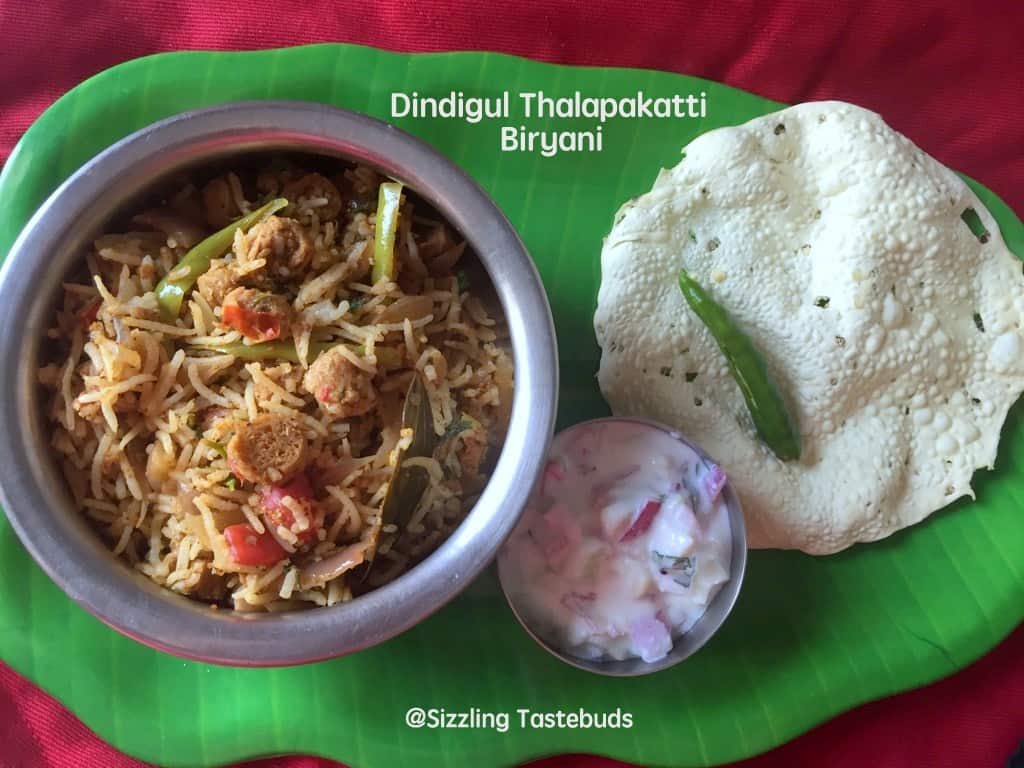 Pin

Although made with short grained Jeera Samba Rice (of which I have no access here), I made it with long grained Basmati rice and there was no compromise in taste. Although vegetables are added aplenty in other biryanis, here the emphasis is on the flavours, and the meat – mostly chicken and mutton (substituted here with Soya Chunks).

I am not a fan of TVP although the husband brings in pack after pack, but after this biryani I must say its made me a convert. We are sure to make this in larger quantities on our next house party or with guests over, and its sure to be a hit with Biryani lovers.

Lets head to the recipe. Adapted from here, I left out the mushrooms as I dont have many fans here (incl me) and just made it with Soya Chunks. Do make it and let me know how you liked it all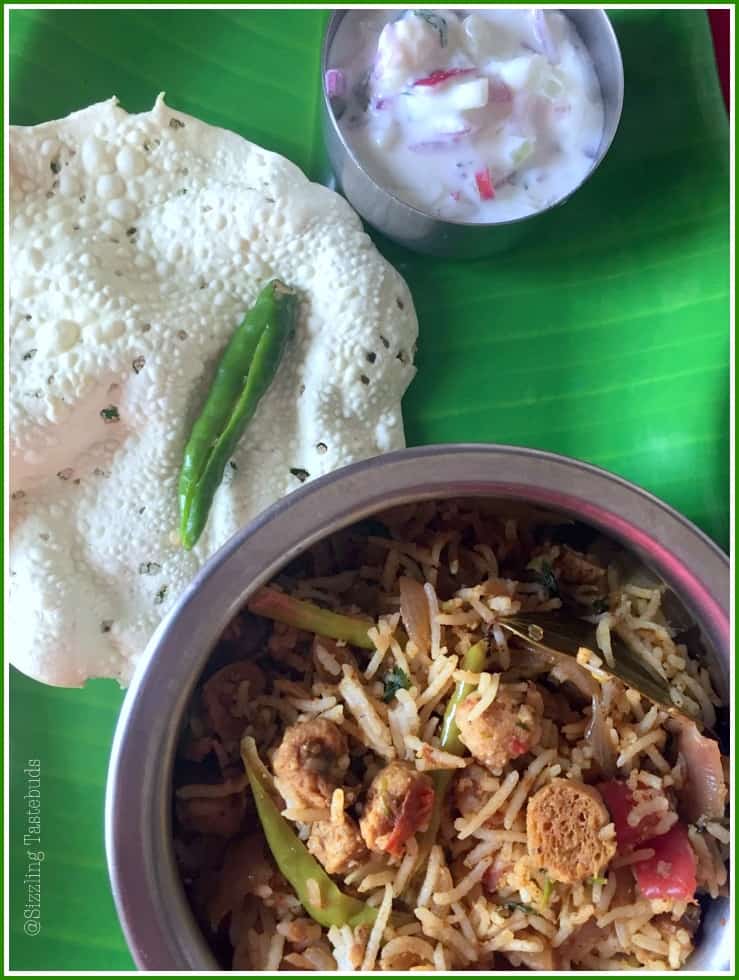 Pin
Day 4 of JTTC mega BM, D for Dindigul Thalapakatti Veg Biryani
Main course, Tamilnadu cuisine
Serving suggestions : Papad, Onion Raita (or pachadi)
Spice level : Medium to high, difficulty level : Moderate
Prep time : 20 mins, Cook time : 20 mins, Serves : 3
Ingredients:
Jeeraga Samba Rice – 1 cup**
Water – as required to cook the rice (I like it fluffy and separate, but you can increase the water if you need softer rice)
Soya Chunks – 1/4 cup
Onion – 1 no (Big)
Tomato – 1 no (medium & ripe)
Oil – 3 TBSP
Green chillies – 2 or 3
Red chilli powder – 1/2 tsp (opt.)
Ginger Garlic Paste – 1 tsp
Bay leaf – 2 nos.
Coriander powder – 1 tsp
Curd – 2 TBSP
Salt – to taste
Chopped mint and coriander leaves – 4 TBSP
** I used 1.25 cups basmati rice
Spice powder:
Cinnamon – 2 inch piece
Coriander seeds – 1 tsp
Black stone flower / Dagad Phool – 1 no (recommended!)
Saunf / Fennel seeds – 1/2 TBSP
Cardamom – 2 nos
Cloves – 3 nos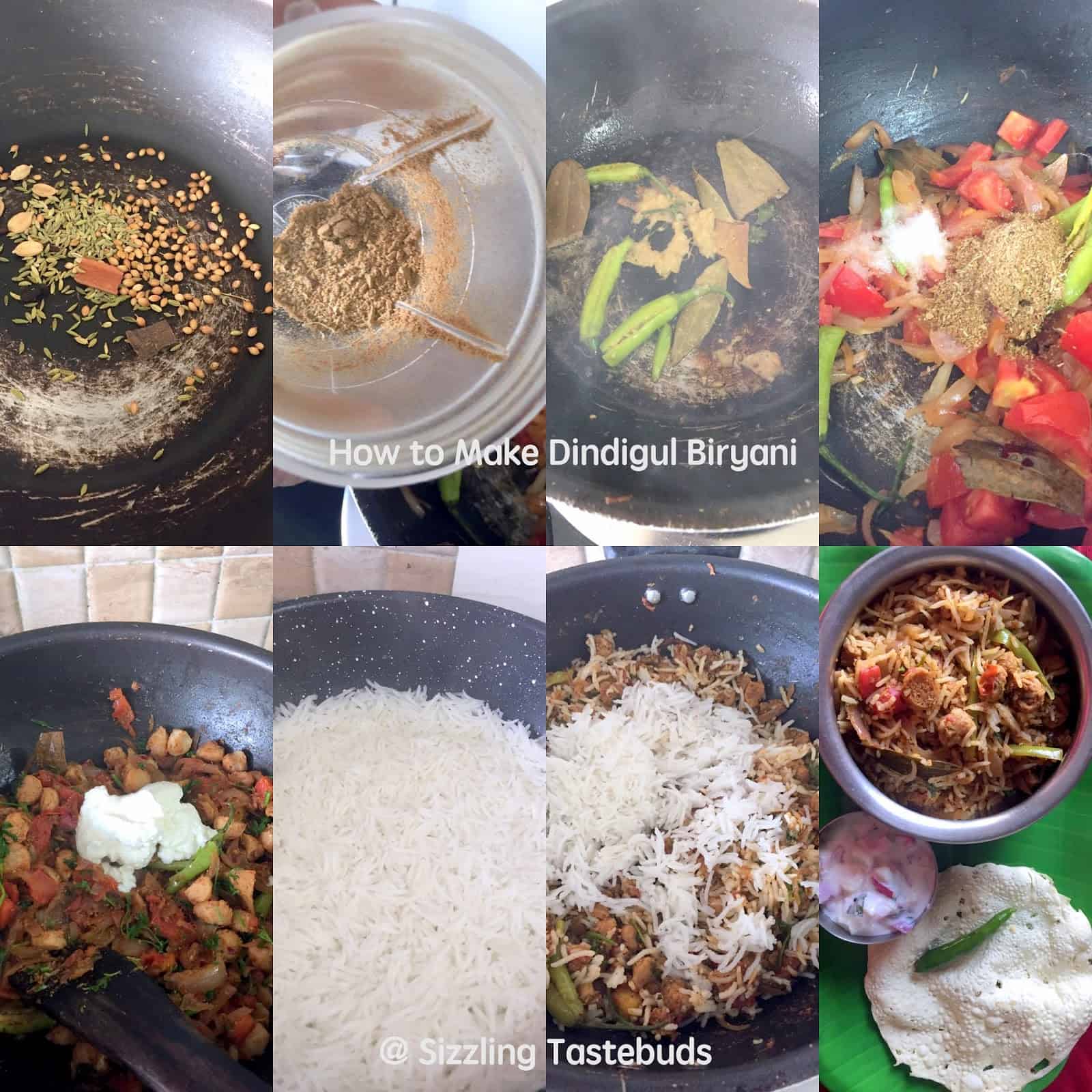 Pin
Method:
Wash and soak rice for 15 mins (This is optional but I do soak the basmati rice for all rice dishes, if using Jeera samba rice no need to soak. Water to cook the rice will vary accordingly)
dry roast & Powder all the spices under "Spice Powder" smoothly – this is an important step : dont skip
Meanwhile soak the Soya chunks in hot water for 20 mins. Squeeze and cut into desired size, If using mini chunks no need to chop.
*In a pan, heat oil and add bay leaf. Add onions , ginger garlic paste and green chillies and saute well. Once done, add the tomatoes and the ground spice powder.
Once the tomatoes turn mushy, add salt, coriander powder, red chilli powder, mint and coriander leaves. Mix well. add the soya chunks , curd and fry for a few mins till the masala is well coated.
Now add the soaked and drained rice and fry for 1 min.
Add required water and cook till rice is done.
Serve hot with raita and papad.
* you may use pressure cooker or rice cooker also for this dish, water willl vary accordingly. I also cooked the rice separately and added to the masala and mixed them.
PinPin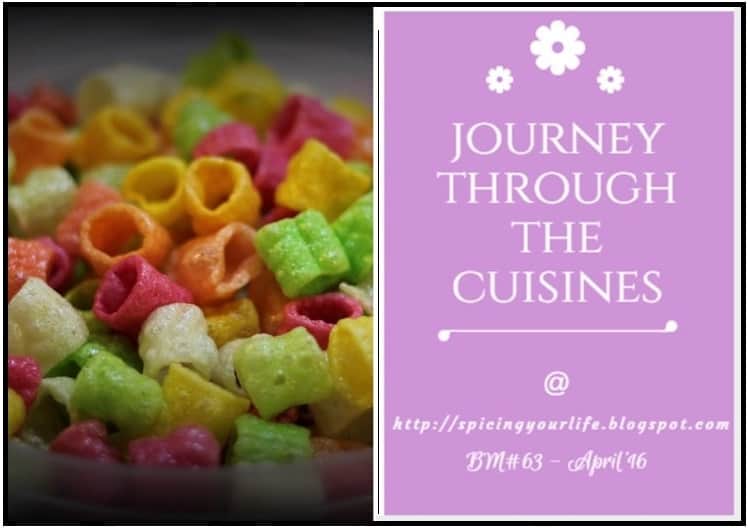 Pin
Check out the Blogging Marathon page for the other Blogging Marathoners doing BM# 63