Methi Muthia – Low calorie version
Muthias are basically savoury dumplings, steamed and pan-fried. They can be eaten as snacks and also serve as toppings for pulao too. Extremely healthy as they are steamed, you may also slightly shallow fry them to get a crispy snack. The ingredients for muthias remain the same, but the addition of veggies can be quite interesting. Today I made it with fenugreek (although this is also made with lauki / bottle gourd too) and also added blanched baby spinach for extra punch.
The name "muthia" apparently comes from the Gujarathi word "Muthi" which means fist and these dumplings are made into cylindrical rolls using the fist. Generally muthias are deep fried, but I have steamed them and sautéed them here for an equally tasty snack. Gujarati cuisine has so many varieties of snacks to choose from, not limited to: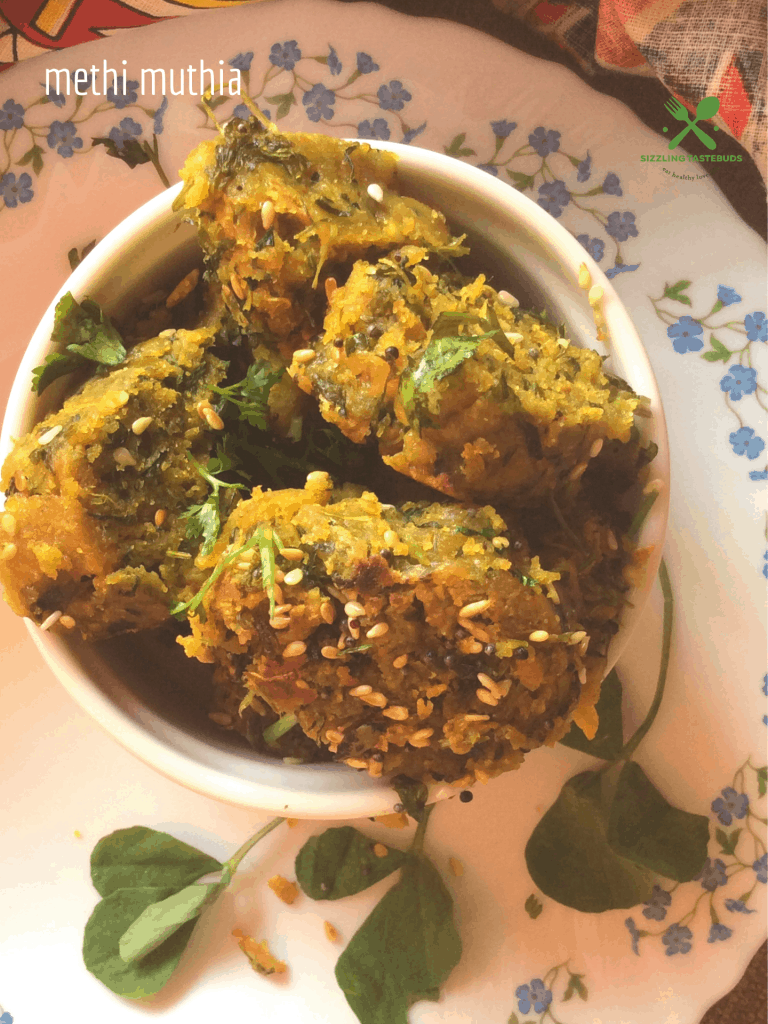 What are the variations to making Methi Muthia
It can be deep fried too and eaten as a snack or topped on Undhiyos
You can use a mix of Jowar (Sorghum) and Besan (gramflour) for a Gluten free version (steaming / cook times may vary)
You can use Lauki / Carrots too in place of the methi leaves.
Benefits of Methi leaves
Low calorie : 1 cup of fenugreek leaves is only 13 calories 🙂
Beneficial for diabetes management
Strong antioxidant and useful as a medicine too for many ailments.
Rich in B12 vitamins like Riboflavin and folate
Extremely good for enriching bone density due to high content of Vit K
Kasuri methi (sun dried methi leaves) are used as a delectable spice in parathas, curries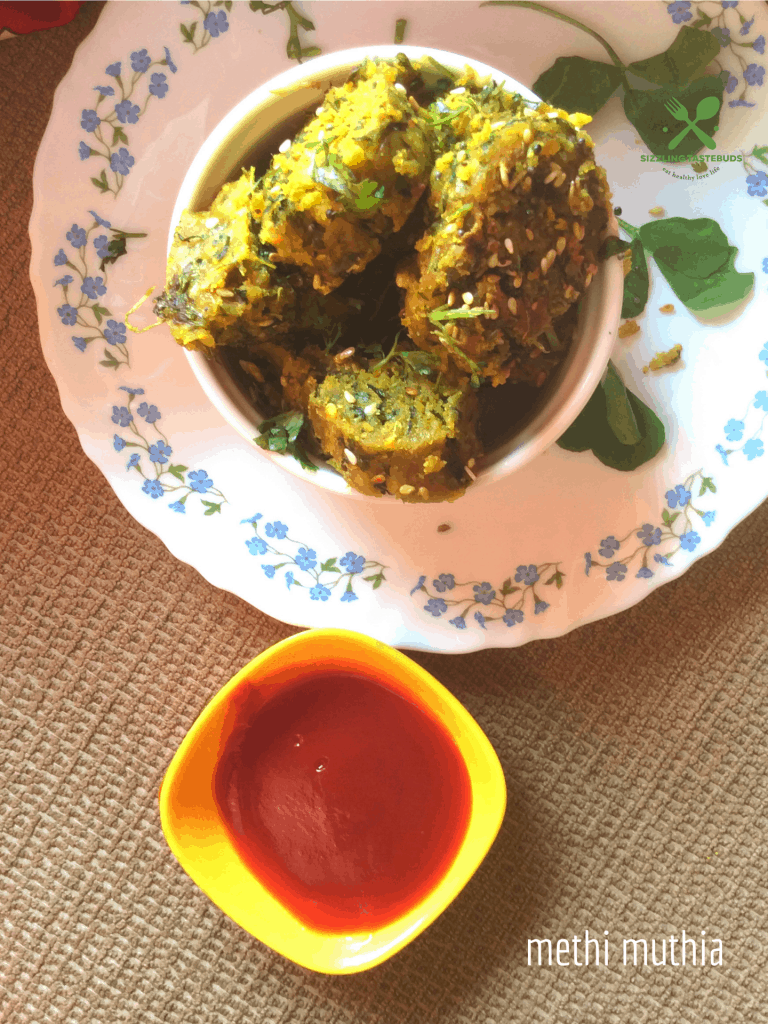 Significance of eating bitter foods
Indian cuisine is replete with foods that are bitter tasting – bitter gourd, fenugreek seeds (and fenugreek leaves too) , brinjal etc. I bet you won't taste the bitter taste in this Methi seeds pickle. But why bitter ? Just as sour, sweet, salt, astringent , Umami are flavours , bitter is also a vital flavour to pep the liver and help in bile production. As this article says, bitter is a digestive tonic. The benefits of eating bitter foods is to revamp the gut flora and restore a sense of balance.Yay.. more reason to include bitter foods in our diet.
Seema has asked us to do JUST that this month She's hosting this month's edition of Shh secretly cookign challenge with the theme #FearNotTheBitter , which has given us an opportunity to make dishes using bitter ingredients – be it Coffee / cacao / methi / karela (bittergourd) etc.. She has a wonderful repository of World Cuisine including some very healthy ones like this Methi Millet Flakes Upma. Am paired with Priya this month where I gave her Coconut and urad dal for her delicious and traditional Pavakkai Pitlai (Bittergourd in a spicy, tamarind sauce) and she gave me Wholewheat flour and ginger brought out this Methi Muthia.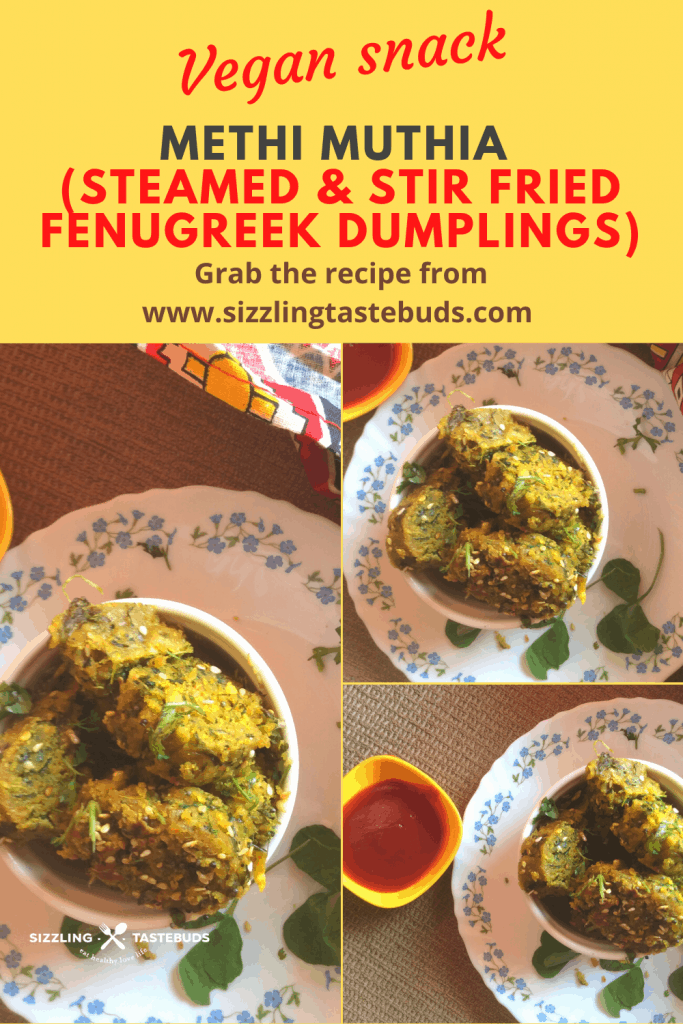 If you are a fan of bitter foods too, why dont you try these dishes :
Ultra delish Methi Sprouts pickle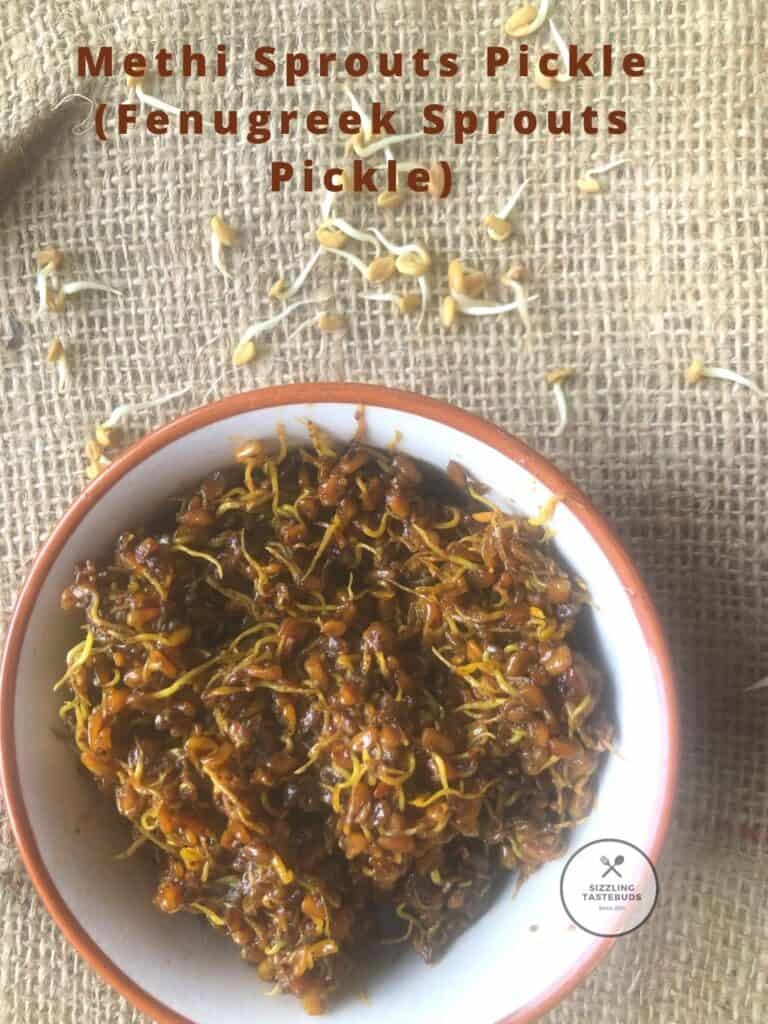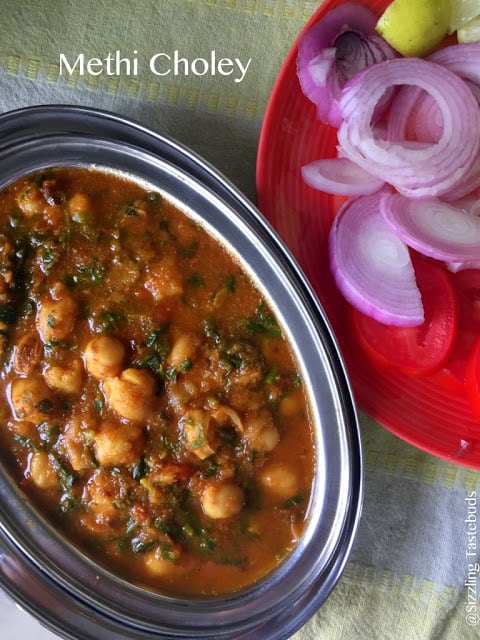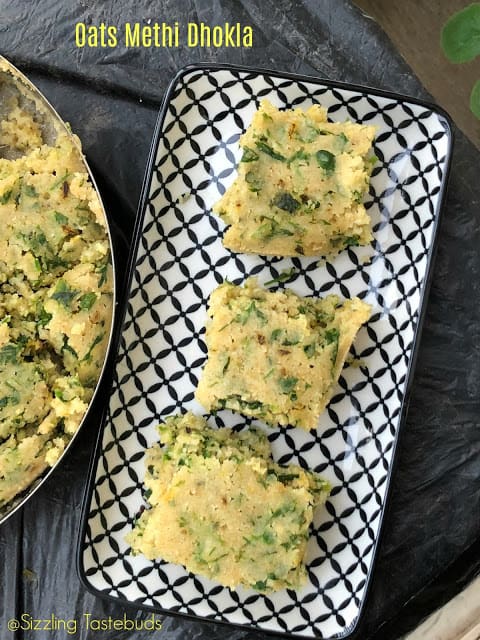 Let's get to making this Methi Muthia.
Prep time – 15 mins, Steaming time – 15 mins, Cook time – 10 mins
Serves – 3 ; Cuisine – Indian, Course – Appetiser / Snack
What you need to make Methi Muthia
1 cup Fenugreek leaves (Methi leaves)
1 cup Wholewheat flour (atta)
1/2 cup Gramflour
1 tsp salt
1/2 tsp Turmeric
1 tsp Sugar (opt.)
1/8 tsp Asafoetida (Hing) – opt.
2 TBSP Oil
1/2 tsp Carrom seeds (Ajwain)
1 tsp Sesame seeds (til)
1/2 tsp Mustard Seeds
1/4 tsp Cumin Seeds (Jeera) – opt.
1 inch Ginger (grated)
3 green chillies (adjust spice)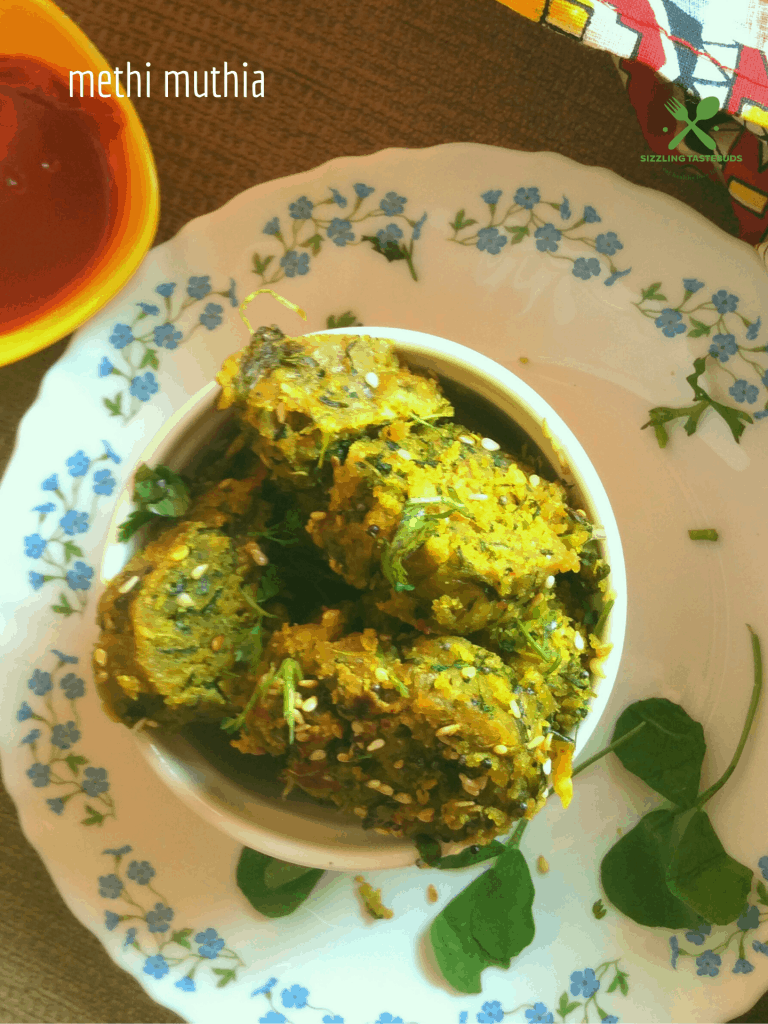 How to make Methi Muthia
Refer the Video below for a detailed recipe and step by step instructions. If you are visiting our channel for the first time, please don't forget to hit like ???? and subscribe to our channel ❤️. We appreciate your love and would eagerly wait to hear from from you on how we can bring your favourite dishes to our channel too ! Thanks a ton ????????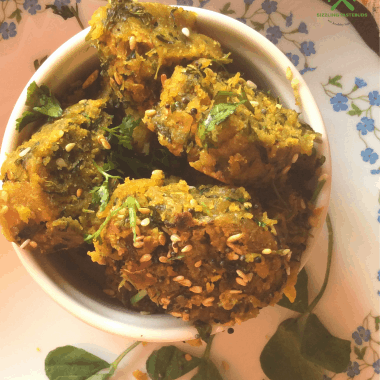 Methi Muthia
A low calorie steamed and stir fried snack with fenugreek (methi) leaves and basic kitchen spices. Vegan too.
Equipment
Steamer

Knife

Shallow Fry Pan
Ingredients
1

cup

Fenugreek leaves

Methi leaves

1

cup

Wholewheat flour

atta

1/2

cup

Gramflour

1

tsp

salt

1/2

tsp

Turmeric

1

tsp

Sugar

opt.

1/8

tsp

Asafoetida

Hing – opt.

2

TBSP

Oil

1/2

tsp

Carrom seeds

Ajwain

1

tsp

Sesame seeds

til

1/2

tsp

Mustard Seeds

1/4

tsp

Cumin seeds

Jeera – opt.

1

inch

Ginger

grated

3

Green Chillies

adjust spice
Instructions
Refer the video embedded below to know the detailed steps. If you are visiting the channel for the first time, take a moment to like, share and subscribe to the channel.  ❤️ Do leave any comments below and/or on the channel on how you liked it or what changes you would like to make for you / your family
Linking this to #FearNotTheBitter -a theme under SSshh Cooking Secret Challenge