Life has a curious way or presenting twists and turns..While I was paired with Priya of the famous blog – Now Serving for this week's bloghop, I had chosen Thai Green curry first. I even did my grocery shopping and was ready with all the veggies, but I didnt realise I would be inundated with daughter's school project. And while S is travelling and unable to pitch in, most of my waking time last week seemed to be lost on this.. I am writing this post with bleary eyes, hoping that the project would end today 🙂 Whew ! So in what seemed a ready challenge (I love thai Green Curry a lot, and was looking forward to making it too !), I chanced upon an old post from Priya – Lemon Rice. 
I am a fan of lemon rice in my family like nobody's business  : give it to me anytime, anywhere, anyday.. Mom says she used to cook extra rice over night so she could make this as a quick item for my school dabba, and after coming back home I used to ask her to make it again for evening:such is my tryst with this flavoured rice, and although some new Pulavs like the Soya Chunks Pulav does interest me, nothing pleases me as punch as does Lemon Rice. This isnt too much of a recipe, but as Priya says in her post, and also what I believe, Lemon rice is NOT lemon+rice.. Its a lot more than that – loads of love and some finely cooked rice. 
I served this with potato wafers and Katrikkai Pachadi (Eggplant raitha) and we all enjoyed it immensely. Actually,I was truly surprised that inspite of making this dish almost every week, I hadn't posted it yet. Like most family favourites, it comes with different variations. This is a quick lunchbox option for kids too – it tastes better if the rice is cooked and cooled..Of course,I have promised myself that I would make that Thai Curry soon 🙂 If only wishes were horses. Anyways, loved reading your posts Priya – its truly a gourmet-food-brought-home-kind-of-collection that you have, and here's to many more of them 🙂 Sending this to Bloghop wednesdays and Kavi's HCC – event by Smitha .
Meanwhile, if you have any Chinese dishes made during Nov 2011, do link them up to Flavours of China event @ my blog – event ends today. Don't also forget to visit my blog for a wonderful giveaway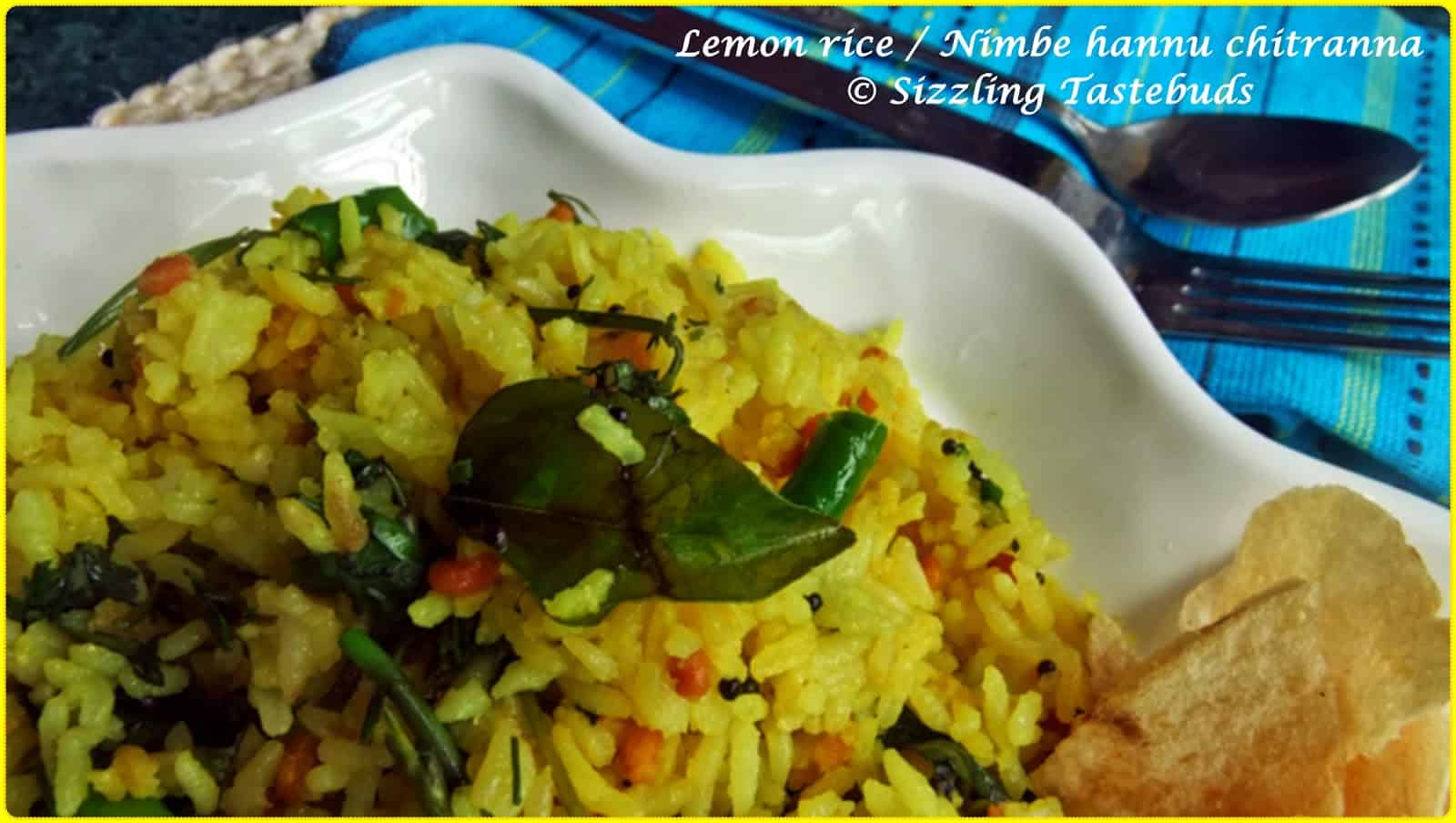 Pin

Prep time : 10 mins.Cooking time : 10 mins.Serves : 2

Ingredients:
Pre cooked rice – 1 cup (cooked and cooled)
Lemon juice – 2 TBSP (adjust to taste)
Oil -2 TBSP
Raw peanuts – a handful (opt.)
Onions – sliced – 1 no.
Salt – to taste
Tempering:
Green chillies, curry leaves, mustard, urad dal, channa dal
Turmeric : 1/4 tsp
Salt – to taste
Garnish : Coriander, grated coconut, roasted cashew.
Optional addons to this rice : blanched green peas, sauteed capsicum.
Method:
1) Spread the cooked rice in a large plate and fluff it up a bit. You may use normal household rice, the basmati is generally not suitable for this.
2) In a pan, heat oil and prepare the tempering. Once mustard stops spluttering and the dals brown a bit, add the salt, turmeric, peanuts and onions. Saute till onions brown slightly. 
3) Now add the rice and give it a quick stir while on low flame.
4) Take it off the flame and add in the lemon juice and switch off the flame. Add coriander, coconut and serve hot with wafers and any raitha. For me though, just plain lemon rice will do 🙂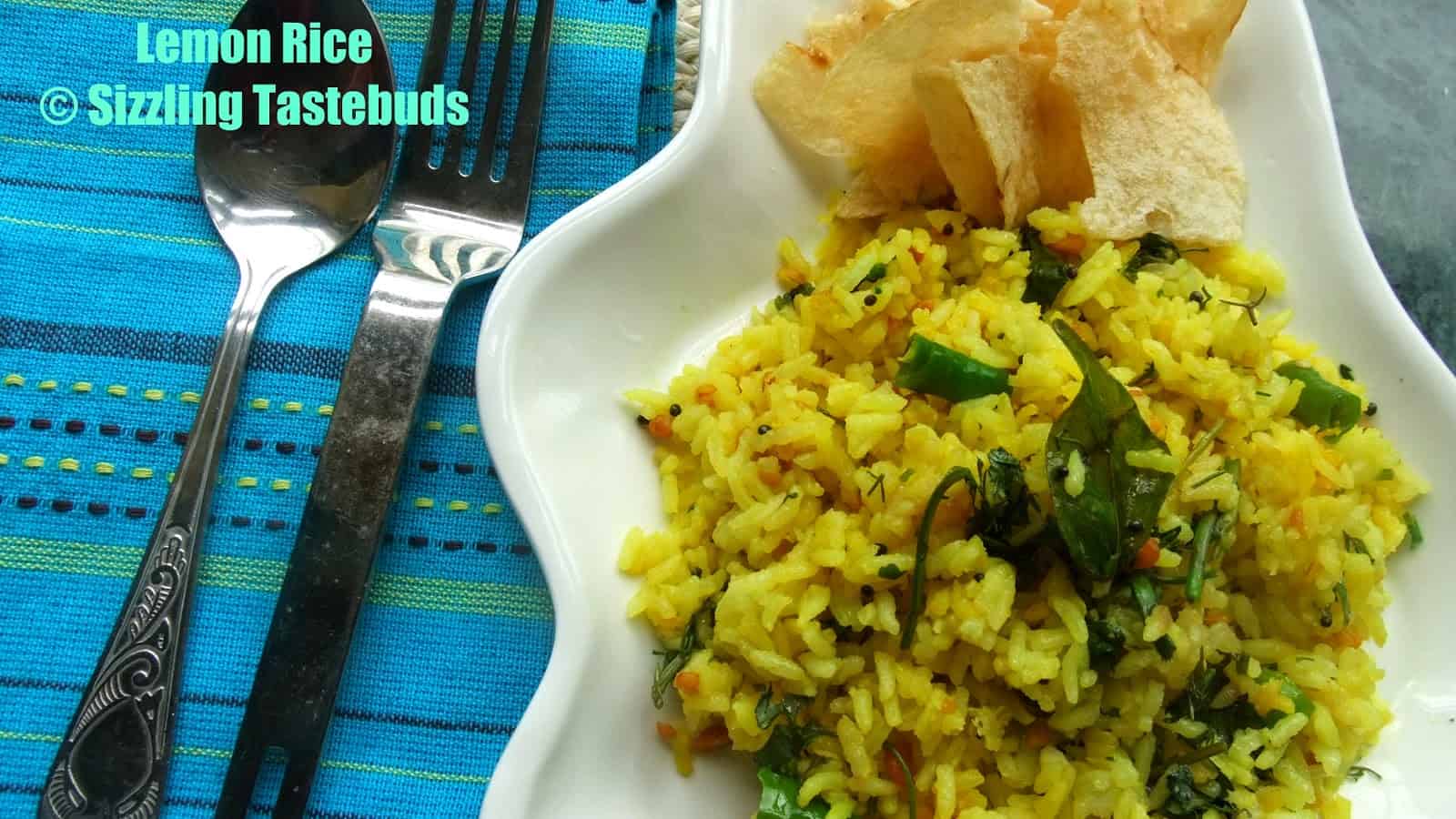 PinPin