What is Kurma?
Kurma is simply a GF, Vegan gravy , a medley of vegetables in a spicy coconut sauce. It is totally customisable based on the vegetables available on hand. Stand alone potato / cauliflower Kurma is also very popular. Be sure to read the notes and quick tips ???? given at the end of this post. Another Winter-special Kurma we make during the brief duration of chilly days is the Mochai Chow Chow Kurma (Chayote-Squash + field beans curry). My personal favourite with CHapati is of course this Tangy Spicy Kadag Puli (Squash in an umami-Tangy-Spice sauce)
Kurma / Korma /Kuruma/Qurma – where did it originate?
Its is said that Korma has its roots in the Mughlai cuisine of the Indian subcontinent. A characteristic Mughal dish, it can be traced back to the 16th century and to the Mughal incursions into the region. A bit of the nomenclature : In North India, the dish is referred to as Korma while South of the Vindhyas, it's known as Kurma. While the Mughals travelled to the South of India majorly to Thanjavur (or the Tanjore region) , some special ingredients like poppy seeds, coconut also is said to have altered the dish a bit to suit regional produce.
Today's dish is a trademark from my mother's repertoire. She makes this so well, that chapatis / puris / flatbreads – absolutely everything just flies off the tava /pan with this lip smacking kurma. Poppy seeds is one of the major (nay, crucial) ingredient in this Kurma. You can add a handful of coriander leaves to the paste to make it more appealing. Else, the rest of the ingredients are the same.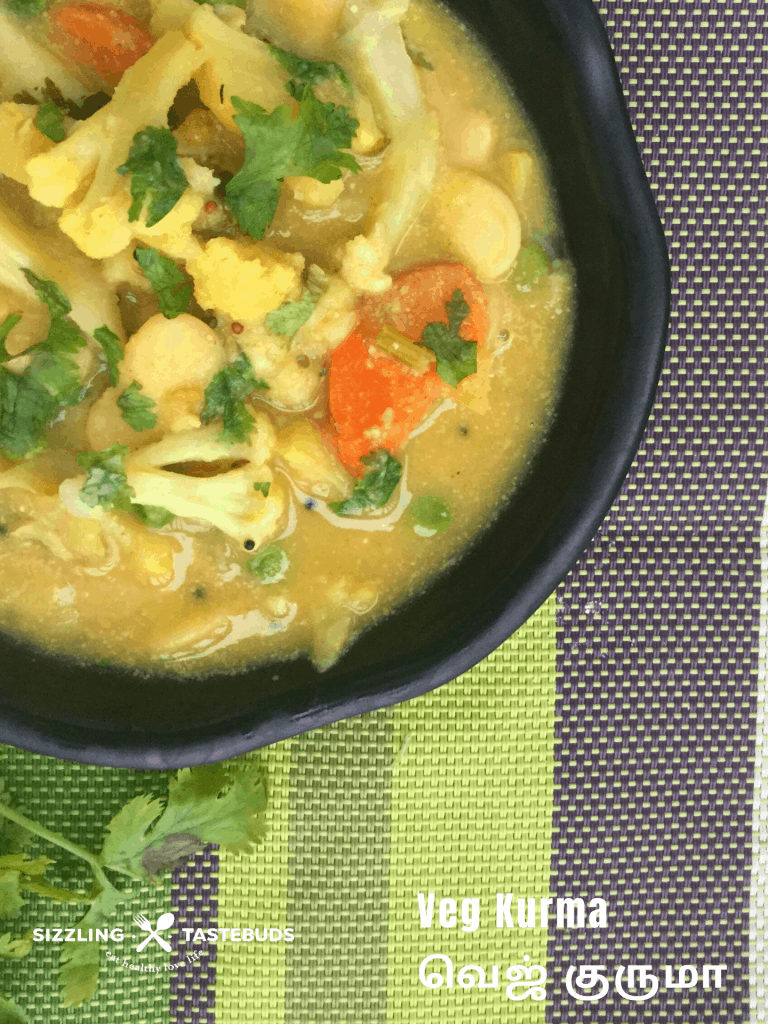 What are the major ingredients that go into this Kurma?
Mixed Vegetables – You can use a mix of cauliflower / peas / potato / green beans / carrots in any proportion)
Coconut – fresh of frozen will work. It adds to the nuttiness while giving the thickness too
Poppy seeds – again adds nuttiness and thickness
Fried Gram / Pottukadalai – rounds off the spices and flavours to a smooth gravy taste
Did you know? ????
Benefits of Poppy Seeds – Apart from poppy seeds being a source of fiber, magnesium, calcium, and healthy fats, these seeds can be a good addition to a healthy diet. Poppy seeds are also low in cholesterol and sodium. They promote digestion, boost skin and hair health , help treat headaches, coughs, and asthma. 
What are the other dishes with Poppy seeds?
Poppy seeds payasam (a lip smacking kheer, again from my mother's kitchen)
Poppy seeds pulao (I am told this is a must-make-dish – trying this soon)
Rose Thandai – a popular Summer Drink made with poppy seeds, dried nuts, rose petals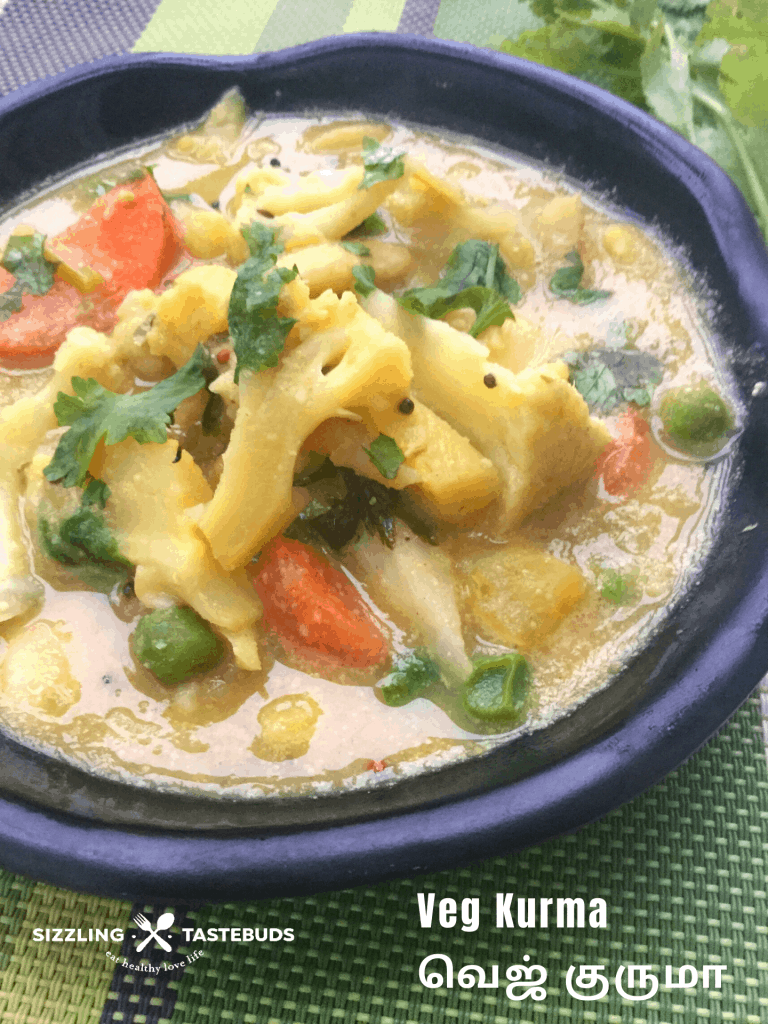 What are the other variations in Kurma made in South India?
What can I serve with this Kurma?
Let's get to making this.
Serves – 4 generously
Prep time – 20 mins. Cook time – 20 mins ;
Cuisine : South Indian, Course : Side Dish
Pin for later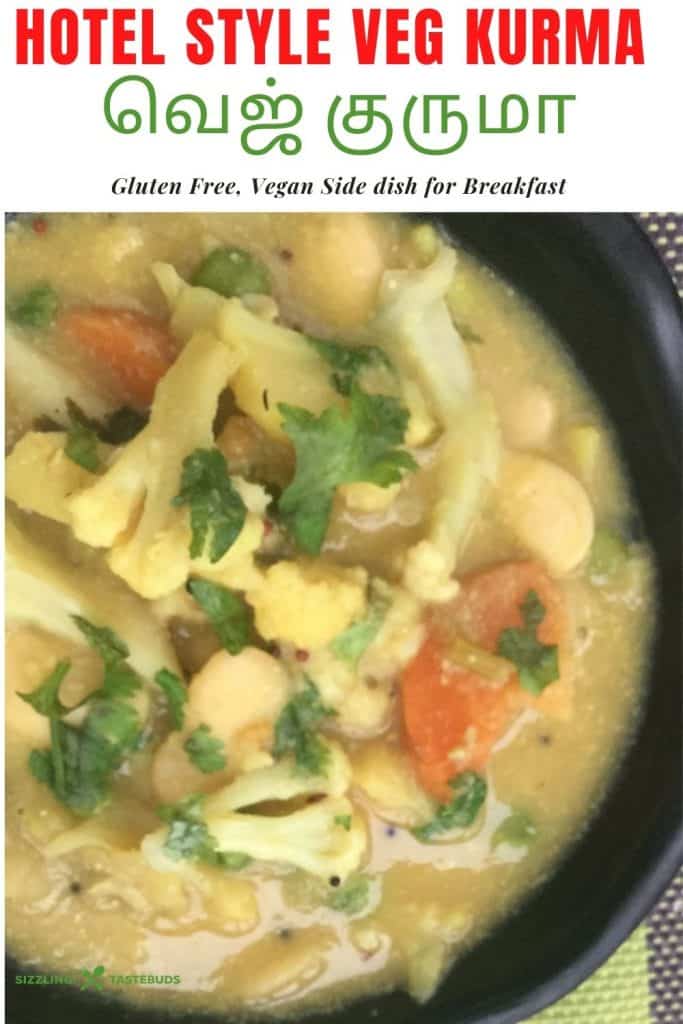 You need:
1.5 cups Mixed Vegetables – parboiled
1/4 cup sauteed cauliflower with a pinch of salt and turmeric.
1 tsp salt
2 tsp oil
For the spice paste
1/2 cup freshly grated coconut (thaw if using frozen)
3 green chillies
1 tbsp Poppy seeds
1 onion
2 tbsp pottukadalai / fried gram
1 tbsp fennel seeds / saunf
2 garlic pods
1 tsp fennel
How to:
Refer the video embedded below to know the detailed steps. If you are visiting the channel for the first time, take a moment to like, share and subscribe to the channel. ❤️ Do leave any comments below or on the channel on how you liked it or what changes you would like to make for you / your family.
Be sure to read the notes / Tips given at the end of the post too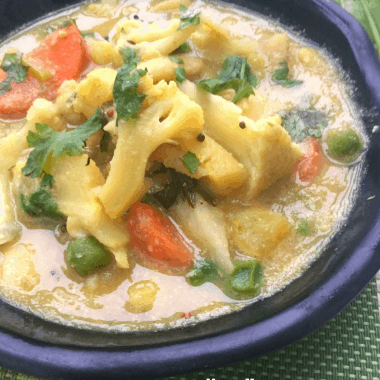 Mixed Veg Kurma | Side Dish for Chapati , Poori, Rice, Idly etc
A Gluten Free, Vegan Gravy made with poppy seeds , coconut and spices. Served with Indian Breakfast or Flatbreads like Roti/ Chapati
Equipment
Bowl

Ladle

Wet Blender

Kadai

Knife
Ingredients
1.5

cups

Mixed vegetables

I used Potato,french beans, carrots and peas

¼

cup

Cauliflower

sauteed with a pinch of salt and turmeric

⅓

cup

White Beans

Boiled tender

1

tsp

salt

2

tsp

Oil

½

cup

Grated coconut

3

Green Chillies

1

tbsp

Poppy Seeds

1

onion

2

tbsp

Fried Gram

1

tbsp

Fennel Seeds

2

Garlic pods
Instructions
Refer the video embedded below to know the detailed steps. If you are visiting the channel for the first time, take a moment to like, share and subscribe to the channel.  ❤️ Do leave any comments below or on the channel on how you liked it or what changes you would like to make for you / your family
Notes
I used a microwave to par boil vegetables so they retain the crunch and colour. Boiling or adding the veggies raw and cooking them in the gravy will alter the taste considerably.
One can make this gravy / Kurma completely oil free too. Just skip the oil while saueeting or making the tempering
Any combo of vegetables mentioned above will work, Additionally, potato / knol khol / Chow Chow (Chayote squash) will also work 
Same masala paste can be used to make a standalone cauliflower or potato kurma.
Addition of the sauteed cauliflower is totally optional. We love the extra crunch and colour in this gravy