Morkali
takes me back to grandmom when she used to dish this out for an evening snack n
it really didn't need any accompaniment . But I must admit it's an art of making the right consistency of morkali. Mor in Tamil means buttermilk and Kali means a
gooey porridge kind of semi solid food.

It was, and remains, my sister's most hated dish. I really didn't know
what the fuss was then , for she could eat pretty much everything including my
dreaded bitter gourd . To each his own I guess .. Anyway, this dish got revived at my house once mom moved in with us
sometime ago n the husband also seemed to like it.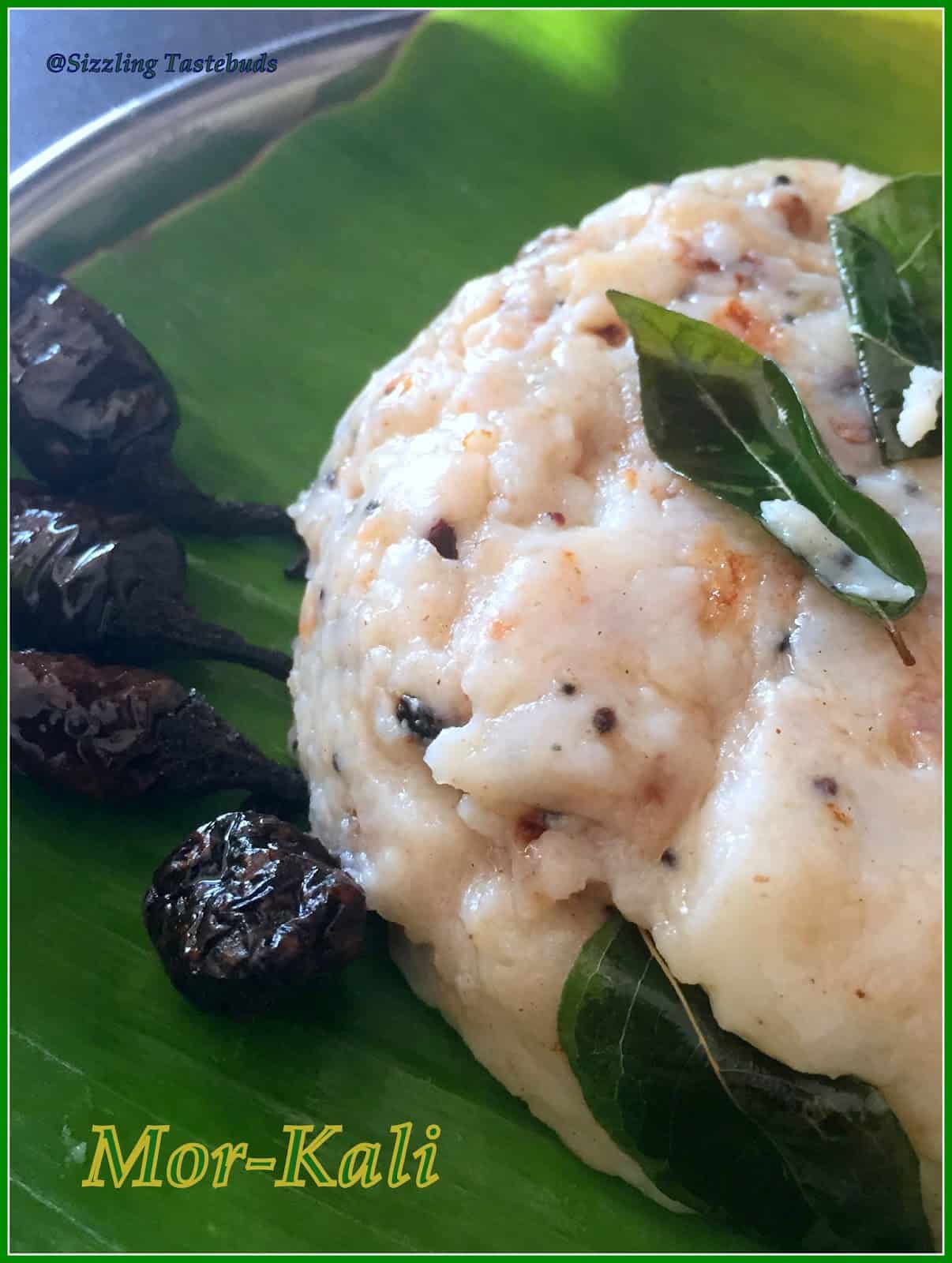 Pin
So like the theme goes for BM this week, just
3 ingredients excluding the salt, sugar and oil. Once you get the proportion right, you are pretty much on track (See Tips below to get the perfect Morkali). I use non
stick pan to use very less oil but some people use a deep bottomed iron
pan and once the morkali is done,they love to eat the slightly crispy but lil
burnt portions of the morkali too 🙂 Like I said, to each his own 😀

Made in so many different ways, this is how mom makes it and I love it too 🙂
Prep time : 5 mins, cook time : 15 to 20 mins,
Spice level : medium, served with Mor Milagai (sun dried chillies, fried in oil)

To make
Rice flour – 1 cup
Sour buttermilk – 1.25 cups (depends on the quality of the rice flour)
Salt – to taste
Oil – 3 tbsp
Methi seeds + mustard – 1/3 tsp
Asafoetida – a generous pinch

How to make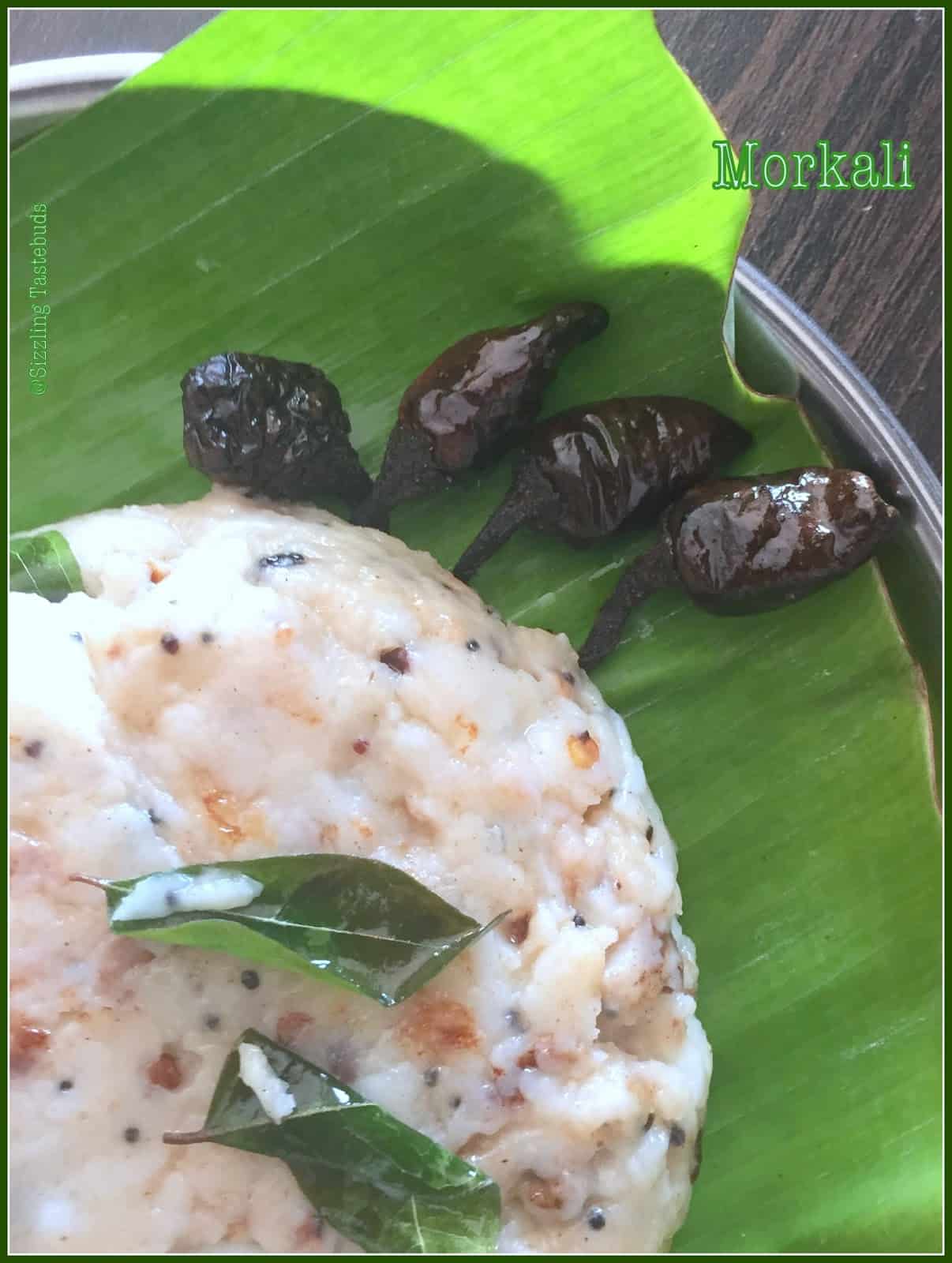 Pin
Sieve flour. In a large bowl, add flour and slowly add sour buttermilk and make
a pouring consistency. Rest for 3-4 mins …Add salt to taste.
In a non stick pan, splutter mustard-methi seeds, add asafoetida and this
batter & slowly keep whisking it till it comes together. Sprinkle a lil
water and cook covered for 8-10 mins on a low flame.
To check if it's cooked , wet your palms and touch the surface of the dish – if it sticks to
your hand it needs to cook more. If not, stir it a bit and cook for 1 min more.
Make equal portions and serve hot with mor milagai as an accompaniment .

Tips :
Dont play with the proportion of flour : buttermilk. More watery buttermilk
will need more oil and cooking time will increase.
Buttermilk should be neither too watery or thick. Should be like a pouring
consistency.
Slightly sour buttermilk works best to get a tangy taste. If you are using
sweet curds to make buttermilk for this dish, squeeze in half a lime juice or a
dash of tamarind extract to make it tangy.
Make sure you use fresh rice flour for best results. Sieving is important to
get some air into the flour.