Soups are great to have during chilly / windy days especially during Monsoon / Rainy days. As readers of this blog would know by now, we are huge fans of soups – with over 25+ varieties of vegetarian soups (mostly vegan). Today's Carrot Red Lentil Soup is a quick soup that's made in under 15 mins, if you have homemade vegetable stock (that's made with leftovers / peels / discarded parts of veggies etc).
Adding dal (lentils) to soups adds not just body but also nutrition. I often find that it thickens the soup without the need for any cornflour (or artificial thickening agents). Do try it out and let me know how you like it. Another soup we absolutely have come to love is this 100% Oil Free Cabbage Curry Soup, and if you are a soup lover like us, I bet you would love this a lot . If you like Corn, then this Cream of Corn Soup with Bell Peppers is just the thing for you. If you like another variant of Carrot soup, try this Carrot + Celery Soup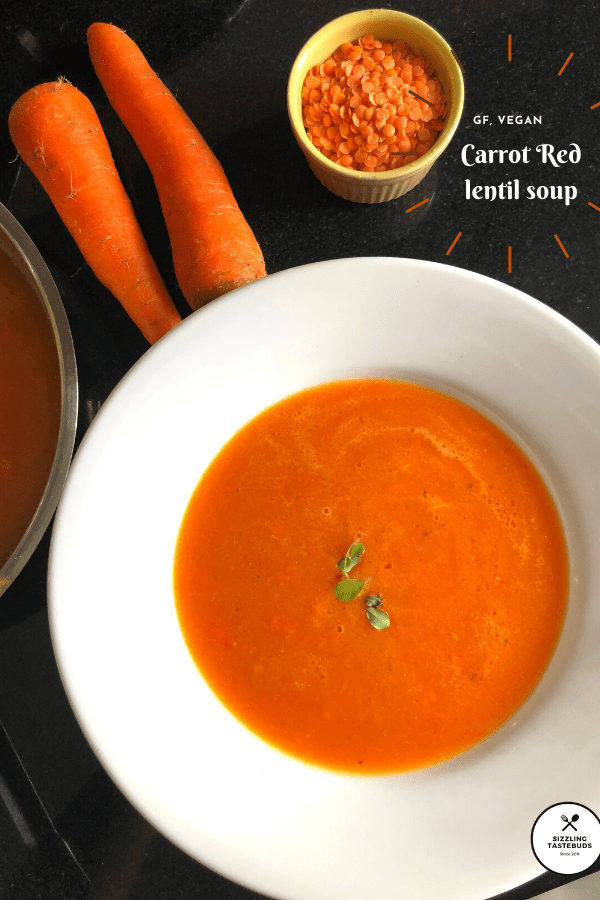 Some other soup varieties on this blog you may like (almost all of them are both Vegan and GF).
PIN THIS 21 soup link collection for your ready reference.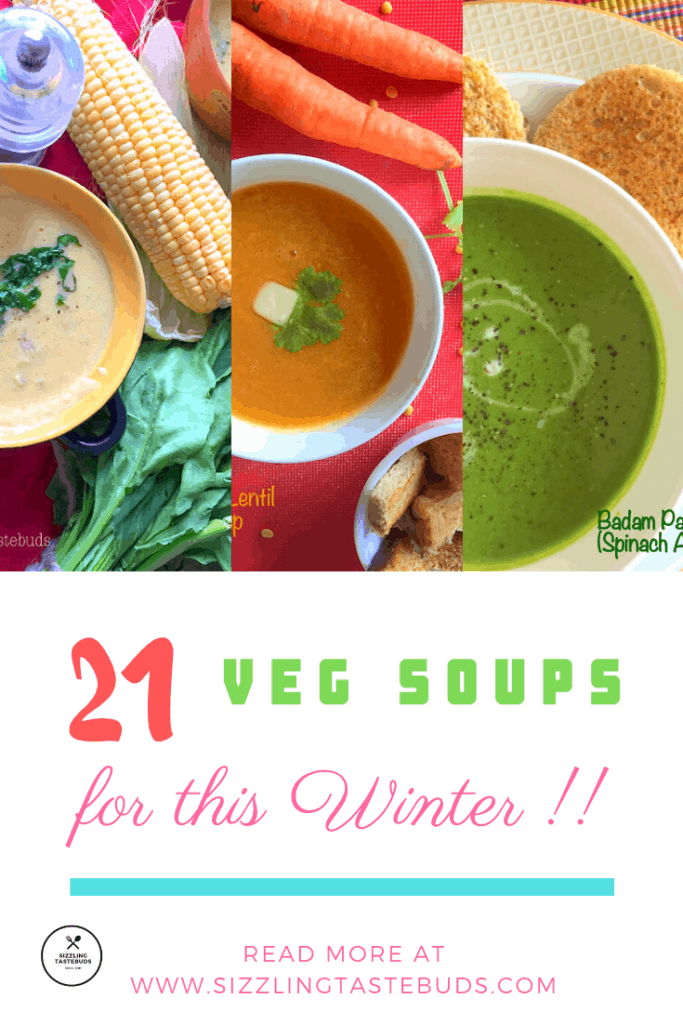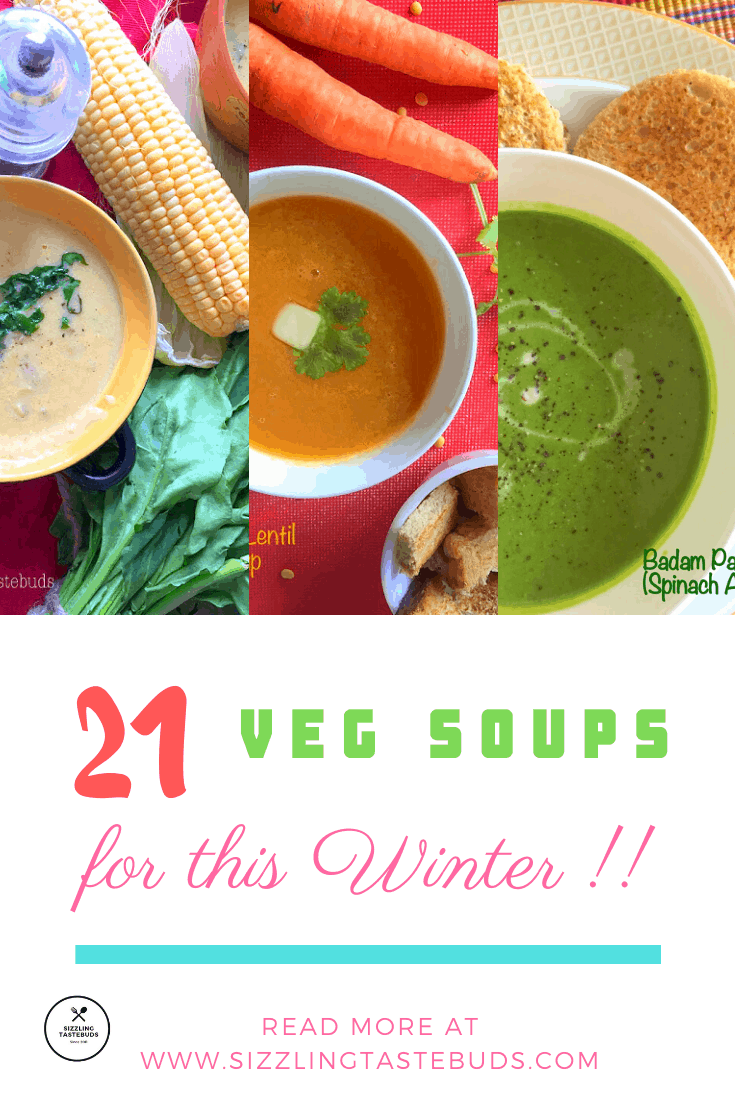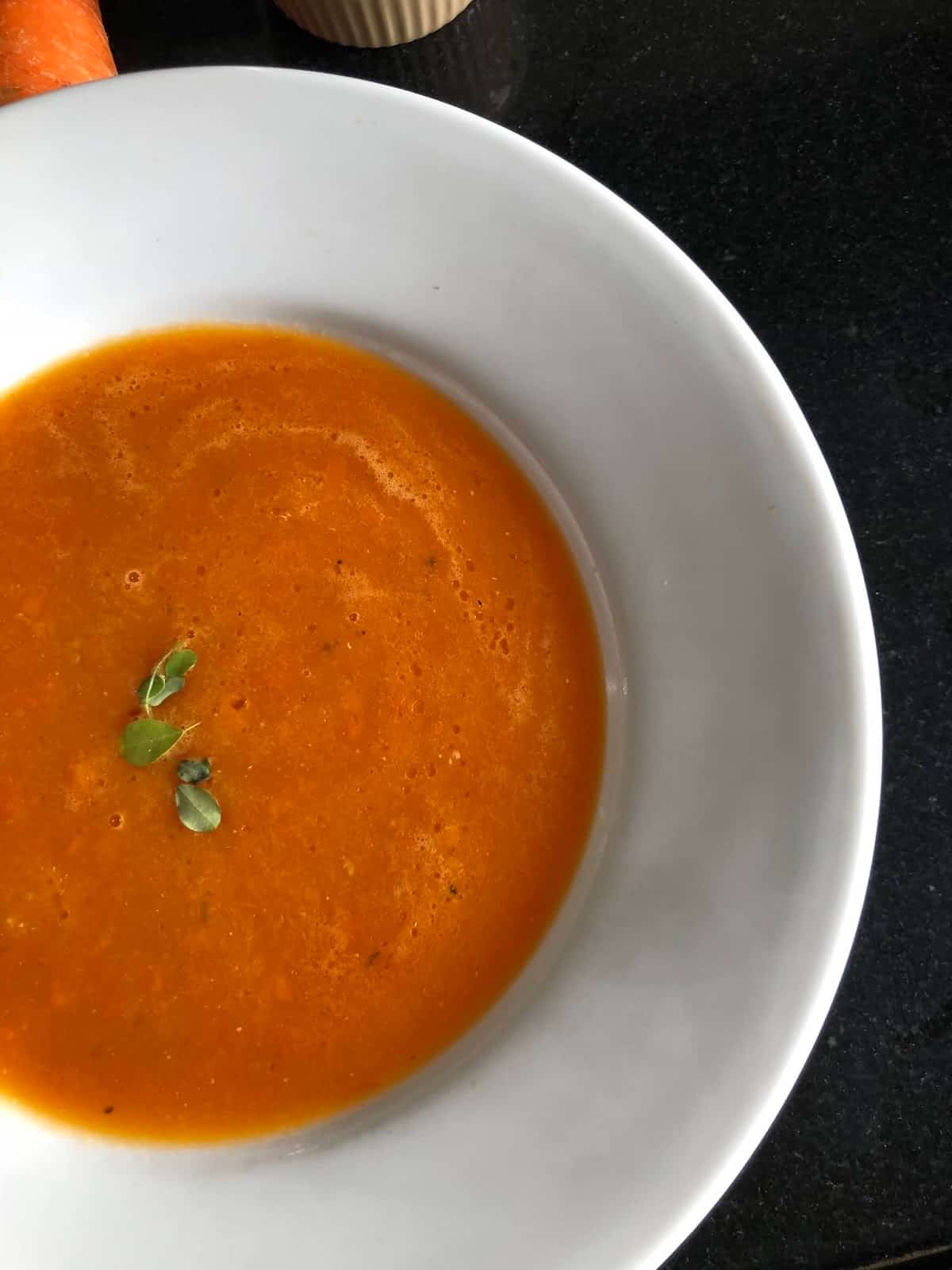 Prep time – 15 mins, Cook time – 15-20 mins , serves – 2


What you need:
Oil – 1 TBSP
Carrots – 1 medium – cubed small
masoor dal / red lentils – 3 heaped TBSP
bay leaf – 1
homemade vegetable stock – 300 ml
Onion – 1 small – minced fine
Garlic – 2 small pods – minced
tomato – 1 medium – finely chopped
Salt and pepper – to taste
Potato – 1 small (peeled and cubed)
PIN FOR LATER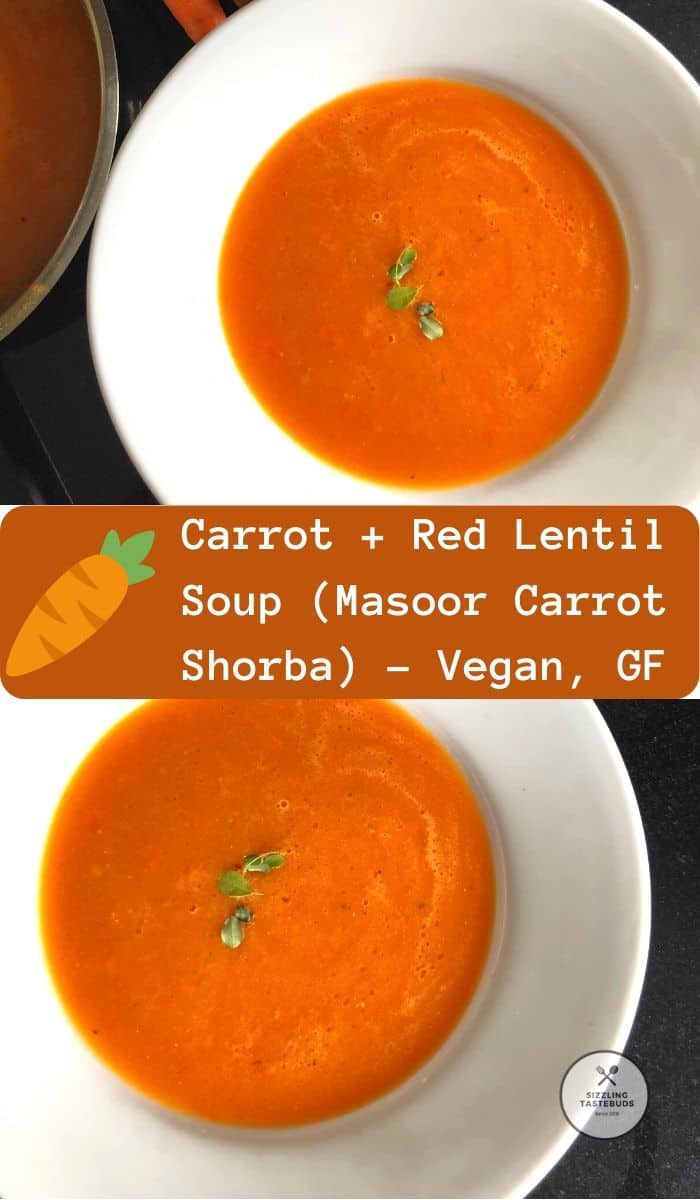 How to:
Soak masoor dal for 5-10 mins. Meanwhile, chop the veggies and keep aside. in a soup pot / pressure cooker, add 1 tbsp oil. Add the bay leaf and sautè the onion and garlic till slightly golden brown. Add the tomato, potatoes and carrots and sautè for 2-3 mins.
Now add the soaked masoor dal (along with the water) and the stock (you may use water too instead of stock, but the taste would definitely vary).
Add salt and pepper, and Pressure cook for 3-4 whistles
Once the pressure comes down, take out the bay leaf and puree the rest of the soup. Don't strain (or sieve).
Let it come to a gentle simmer for 30-45 seconds
Adjust salt and spices and serve hot