a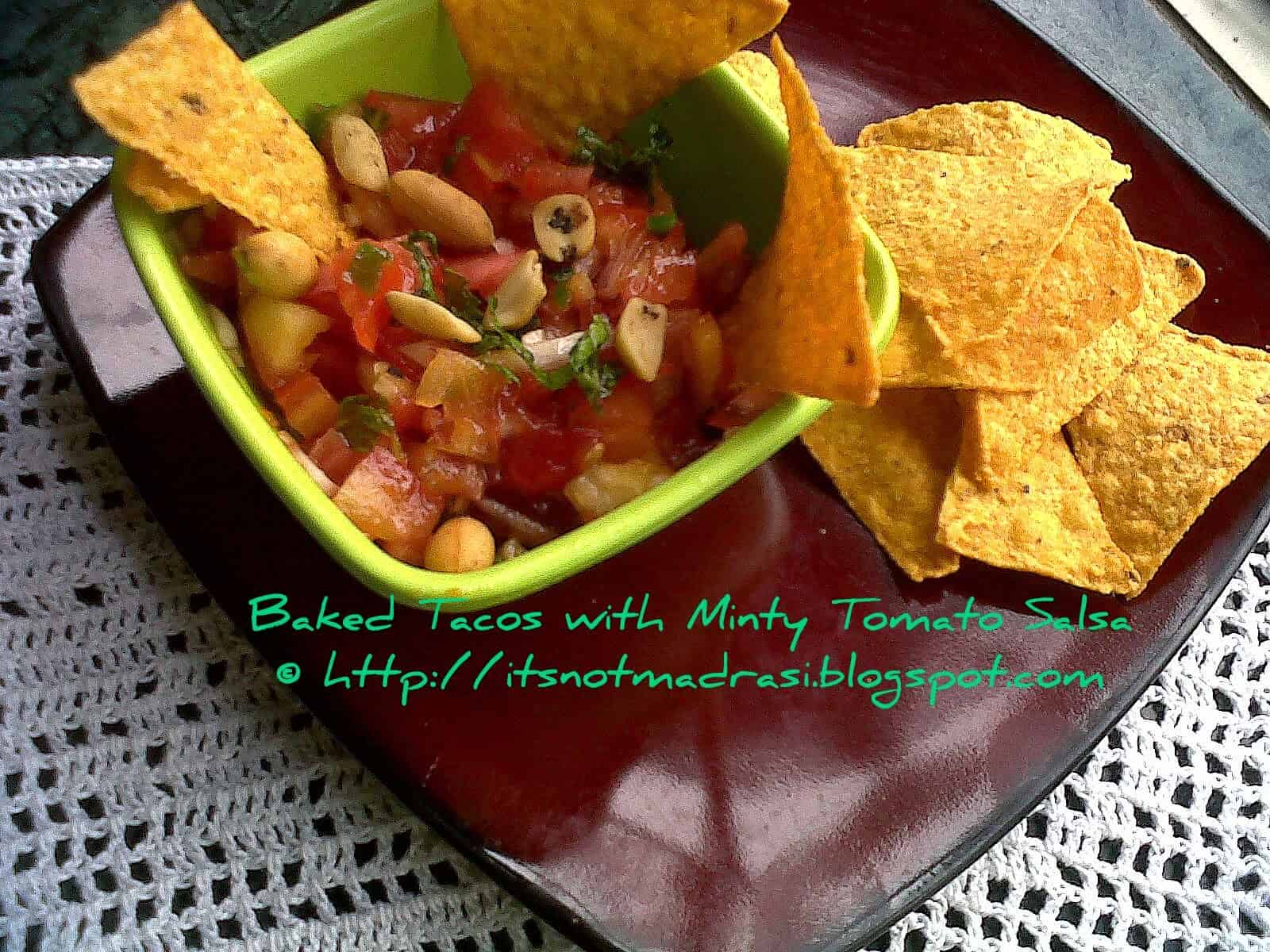 Pin

Today's the last day ofBlogging Marathonunder Combo Meals category before I move on to another exciting theme starting tomorrow. The seemingly never ending rains had us indoors for most of this week, and wanted to prepare something to pep up our spirits (not literally though 🙂 LOL !!) .. So, this evening, quickly rustled up this exciting Baked Tacos with Minty Tomato Salsa which excited kiddo to no end as a super duper combo meal (or snack if your please)

Of course, kiddo wanted cheesy dip to go with this, but I guess I had run out of patience by then.. You can of course refer to the very cheesy andmelt-in-your-mouth dip here that I had earlier served with Baked and roasted Baby Potatoes. .Ummmmm… I had used store bought tortillas which I baked in an oven here, but you can make your own tortillas any time ! Spanish Cuisine I think is very close to Indian cuisine in terms of spice and tomatoes, and I guess I should endeavour more of this often 🙂 This dish today is a superb appetiser that you can serve at any party too !

Sending this to Day 7 of Blogging Marathon –Take a lot at what my friends from BM are dishing out here and also toKid's Delight hosted by Gayatri , started by Srivalli. Also to Vardhini'sFast food, not fat food started byPriya and Harini'sOnly Baked started byPari.

Prep time : 10 mins . Baking time : 10 mins. Serves : 2

For the Tacos :

Store bought chips

Olive Oil – 2 TBSP

Salt – to taste

Salsa dip:

Large Tomato – 1 no

Onion – 1 no

Green chillies – 1/2

Green pepper – 1/4 diced minutely

Tomato Sauce – / Ketchup – 1 TBSP

Minced garlic – 1/4 tsp

Mint leaves chopped – 1/2 tsp

Sugar – 1/2 tsp (optional, but this cuts out the acidity of the tomatoes)

Toasted peanuts – optional, but adds to the crunch !!

1) Preheat Oven to 180 C. Spray cooking oil over a large baking tray and arrange chips 1/2 cm apart. Bake for 8-9 mins (or as per packet instructions). Once done, remove from oven, sprinkle salt and toss well.

2) Deseed tomatoes. Dice very finely. Dice Onions too. In a large bowl, add tomatoes, onions, minced garlic. Stir. Add tomato ketchup, green pepper (diced fine), chillies, sugar , mint leaves and mix again.

3) Transfer to serving bowl and serve topped with toasted peanuts along with baked Tacos . Yumm !