Krishna Jayanthi. Sri
Jayanthi. Gokulashtami – call it by whatever name. Its one of my favourite
festivals, both on the food aspect as well as the nostalgia it brings forth.
For it brings forth my grandmom and mom dishing out close to 21 special dishes,
all particular to this occassion. 
If not 21, I thought I would present atleast three
of them this BM for special festival theme. Pardon me if this is a longish post
: I have distinct memories of this particular festival being celebrated in all
glory for so many years, its impossible not to document them somewhere for
posterity 🙂 Nowadays, most of this stuff is available in the nearest store,
but there is no substitute for home made stuff right, even though we may be
making just a handful of thesee goodies every year…
Krishna is decked up with lots of finery, and the
puja for the Lord begins late evening. Birthdays being birthdays, why not go
all out for the Lord ? Navaneetham (Sugared white butter), Kodubale (rice – gram glour rings),Seedai, Mosaru Avalakki (Poha in curd), Murukku (Chakli), Jaggery Poha, Karjikai /Karigadubu (somas), Thenkuzhal, Nipattu (Thattai), Therattipaal, Rava Ladoo,
Maa Ladoo, Porulungai Urundai (all
tongue twisters) and so many many more bhakshanams (dry snacks
basically) are made as offering to the Lord (aka Naivedyam). If you are keen to know the significance of this festival a little more, head here
Decked up Krishna at home from yester year's celebrations 
The process during my grandmom's time was so long,
it used to last days and days with pesky kids like us shooed away from the
kitchen, and mom and grandmom locking themselves away in the rather dark
kitchen. Rice flour and other flours could not be store bought, so was made
from scratch. The aroma wafting from the kitchen was enough to keep us guessing
the item being made that day. 
Late in the evening on the Ashtami (the 8th day of
the Aavani (or sharvan) month) and on the Rohini , the puja would be an elaborate
affair. I still remember to this day my grandpa and dad reciting the hymns
while we kids eyed the boxes of goodies that made their appearance from some
mysterious hiding place :-))
Puja over, we would wait like wolves wantin got
feast on the prey (devilish isnt it ? :-)) LoL ! my grandmom would distribute
the stuff amongst us kids , and while we feasted, the rest of the snacks would
go back to the mysterious hiding place (she made sure the place was shifted
frequently to keep us away from devouring them right away)
Such memories…. hopefully I can recreate some of
those for my girls this year (the festival falls on 15th Sep this year). Till
then enjoy the series for Krishna Jayanthi goodies 🙂
Coming to today's recipe, its one of my favourites
too – Thenkuzhal (literally translated as honey – flutes). but strange coz
there is neither honey nor can you play the flute 😀 .. be it as it may, its a
wonderful snack to have it during the festival, but can also be made anytime
for a perfect tea time snack.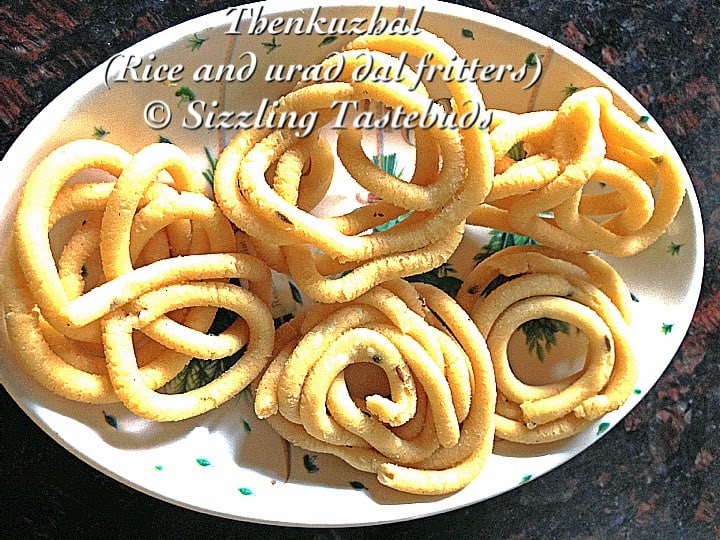 Pin

The recipes / proportions for most of these
bhakshanams vary from household to household, sometime even between
generations. This is how mom makes it – I shall update the post with step by
step pics the next time I make it. For now enjoy , while it makes its way to BM
# 42 and Gayatri's event Down Memory Lane

Prep time : 15 mins | Frying time : 15 mins | Makes
: Approx 300 grams. 

Keeps well for 10-12 days without refrigeration

Ingredients:
Rice flour – 4 cups
Urad dal flour – 1 cup
Salt – to taste
White unsalted butter – 3 to 4 TBSP
Cumin Seeds / Jeera – 1 tsp
Hing / Asafoetida – a generous pinch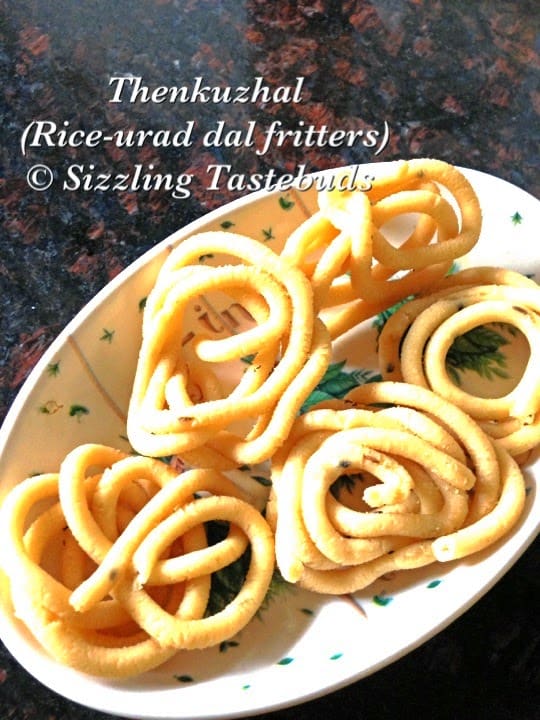 Pin
Method:
Dry roast both the flours. If you are making urad
dal flour at home, dry roast the dal on a low flame, cool and powder. You can
use store bought or homemade rice flour. 
In a large bowl, sieve both the flours together.
Add butter and rub into the flour to resemble bread crumbs. Now add salt, hing,
jeera and mix again. Add water little by little to make a soft dough. Rest for
5 mins (it should be a semi soft dough)
Heat oil for frying (about 3 cups), to check if its
good enough, pinch a small dough and roll it into the oil, if the dough comes
up moderately fast to the surface its ready, too fast and the oil is hot, and
too slow and its not right (yes yes, like most bhakshanams, this too comes with
a whole lot of practice, says mom :-))
Now divide the dough into equal portions, Press a
portion into the thenkuzhal dough (with the right nozzle) and press it gently
into the hot oil. If you cant press directly into the oil, press it first on a
oiled flat ladle and gently immerse it into the oil. 
Fry on medium flame on both sides till the hissing
sounds reduce- the dish would be ivory white, but dont let it get too red (it
means it has burnt)
Drain on absorbent paper. Repeat for remaining
dough. Store them in airtight containers and enjoy a couple with a hot cuppa or
tea !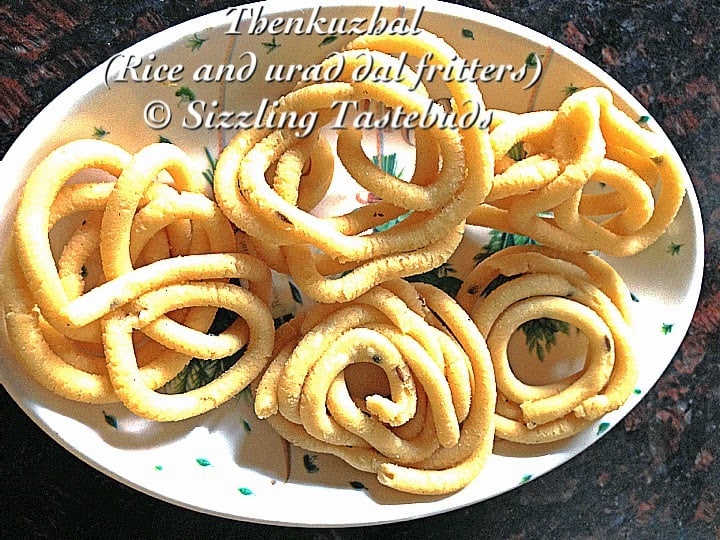 Pin