Everyone who's into cooking has a muse. Mine is my maternal grandmom (affectionately called Paati). Like most grandmoms she was a treasure trove of recipes, and more importantly tips and tricks to get the best dish out with the least time and resources.


Sadly, I didn't have the foresight to record all her recipes (and bhakshanams / snacks) that were generously doled out. But certain recipes like today's are meant more for memories than the food itself.


I have re-created various recipes of our heirloom kitchen like:
… and many more..
PIN FOR LATER


Well, why am I harping about these recipes today ?


Well, its #DownMemoryLane where we record recipes associated with fond memories.. So, this again is from my family's kitchen.
This is made mostly on those days where there is no thaan (veggie) that's left to add in the kozhambu / sambhar, but gives a peppery-spicy kick and tastes better as it ages. Paati used to make it the previous day and it tasted yummy the next day. I have a presented how to make it here, and made a small Thali (all satvik) .. just the way she would have loved it..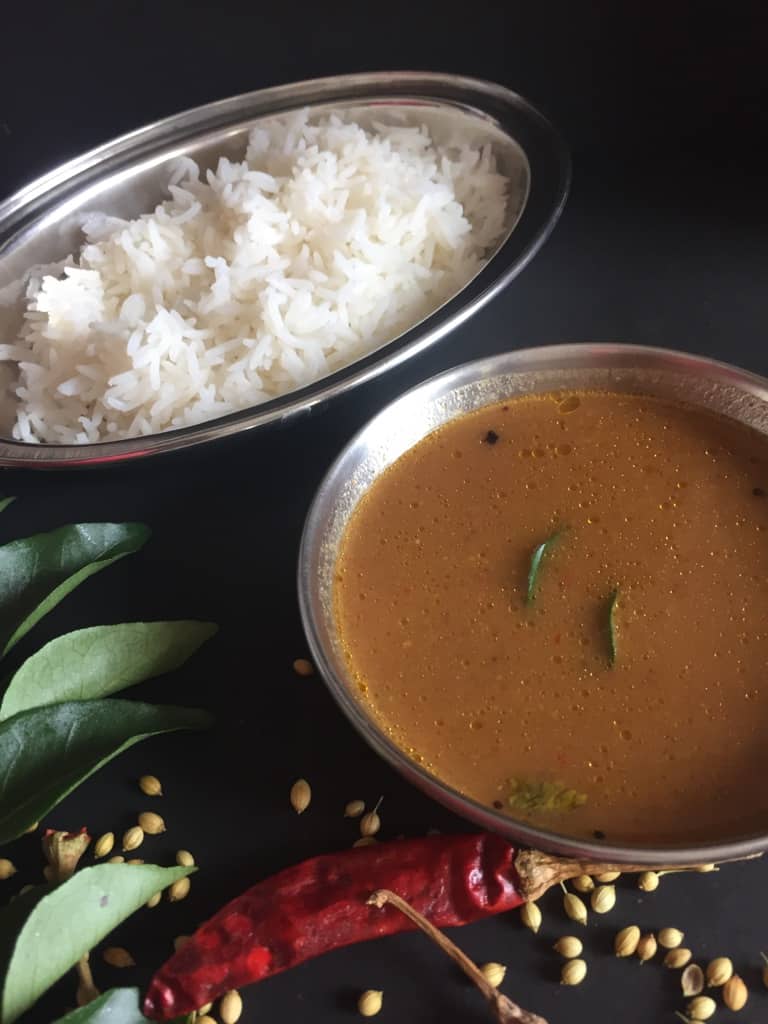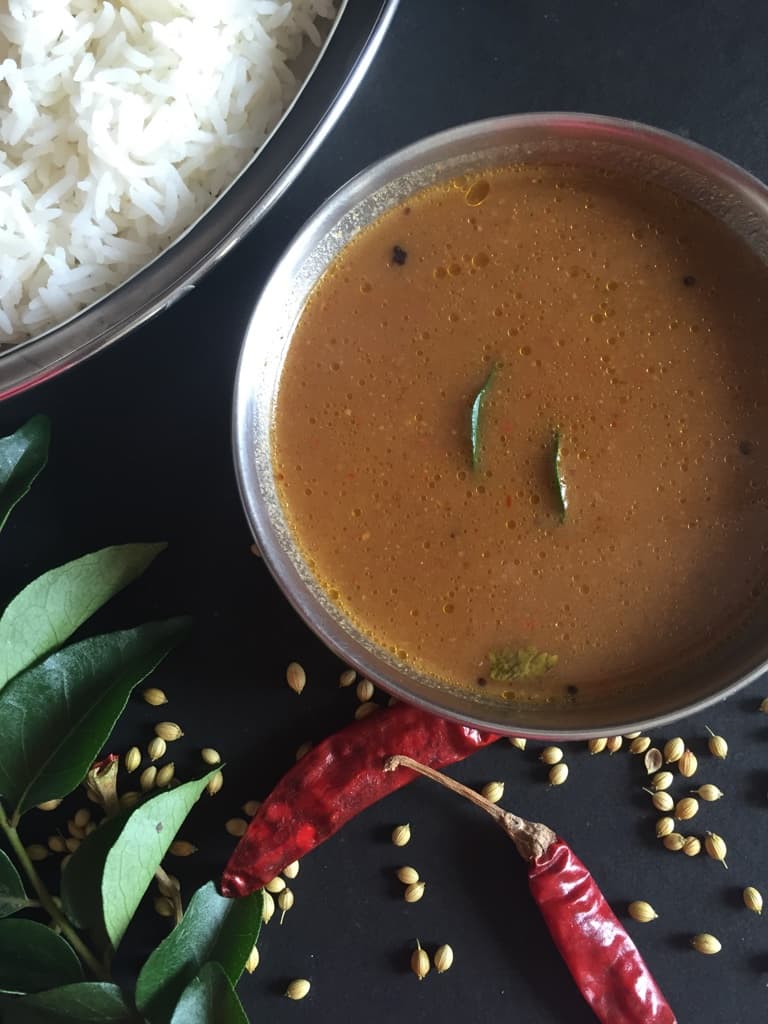 If you are a fan of Kuzhambus like my pati was, check out more varieties at the end of this post.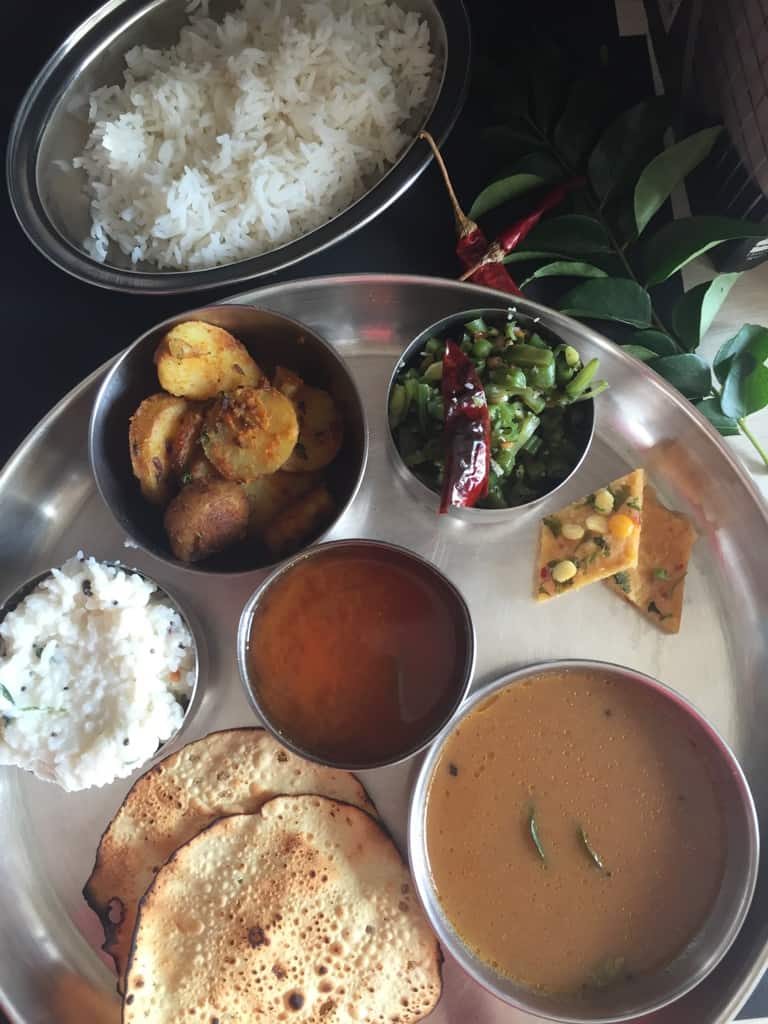 Prep time – 15 mins, Cook time – 15 mins ; Serves – 4
PIN THIS RECIPE HERE !!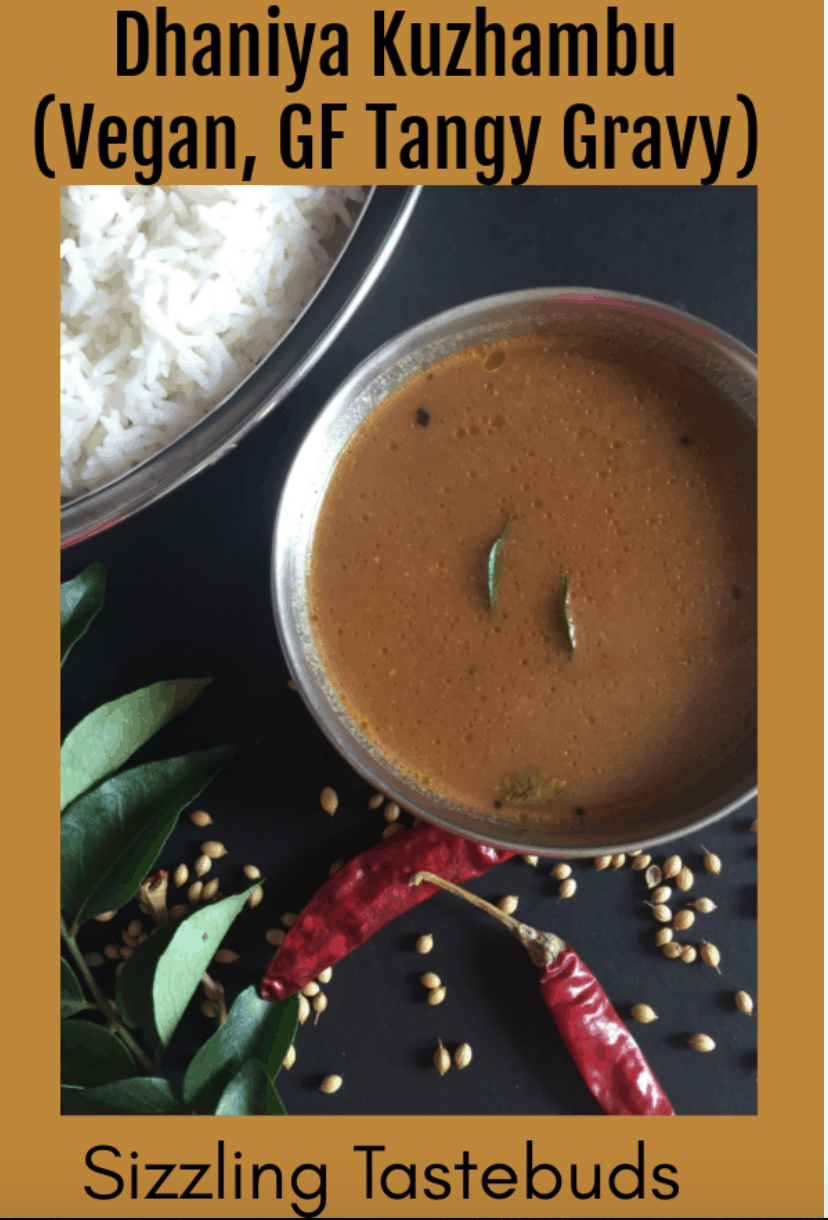 Ingredients:


For the spice powder (paste):
Dhaniya / Dry coriander seeds – 1.5 TBSP
Dry Red chillies – 4~5 nos
Urad dal – 1/2 T
Pepper Corns – 1/2 tsp (adjust spice)
Jeera/ Cumin – 1/2 tsp
Raw rice – 1/2 T


Other ingredients:
1 medium lemon sized Tamarind soaked in 1.5 cups of hot water and extract ready
Salt – to taste
Turmeric – 1/4 tsp
Hing – a generous pinch
Sesame / Gingelly oil – 3 TBSP


Tempering:
Sesame oil – 1/4 tsp
Mustard seeds – 1/4 tsp
Curry leaves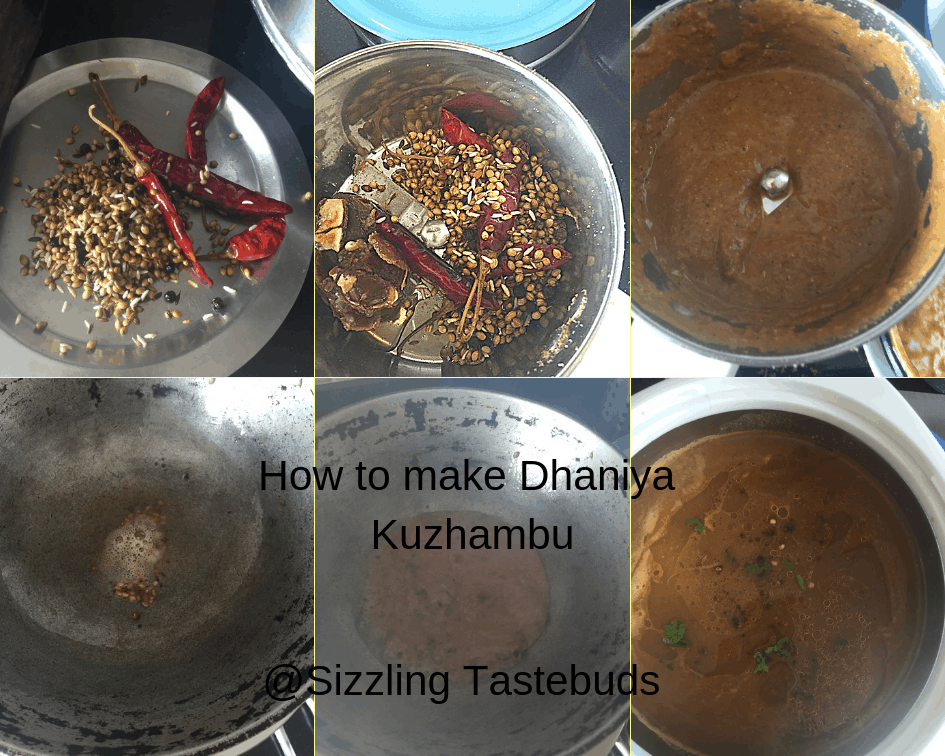 How to:
In a pan, dry roast all ingredients of the spice powder one by one, cool and grind to a slightly coarse powder. Add the softened tamarind to this powder and make to a smooth paste. Retain the tamarind water.
In a thick bottomed iron kadai (or any deep, thick pan), heat the sesame oil, add the paste and salt and the leftover tamarind water and let it simmer on a medium flame for 10~15 mins till the raw smell disappears, the kuzhambu thickens quite a bit and oil separates. It thickens further on sitting for 4-6 hours.
Now make the tempering with the ingredients, and pour to the kuzhambu.
Serve with hot rice and papad.


In this satvik mini (GF and Vegan meal too) , I have served this Kuzhambu with :
Avarekai Poriyal (flatbeans stir fry)
Chutta Kollu Appalam (roasted horsegram Papad)
Tomato Rasam
Steamed rice
Sepankuzhangu Roast (Arbi / Colocasia spicy saute)
steamed lentil cakes
Similar Kuzhambus (vegam ,GF & satvik (mostly) tangy spicy gravies) from my kitchen are: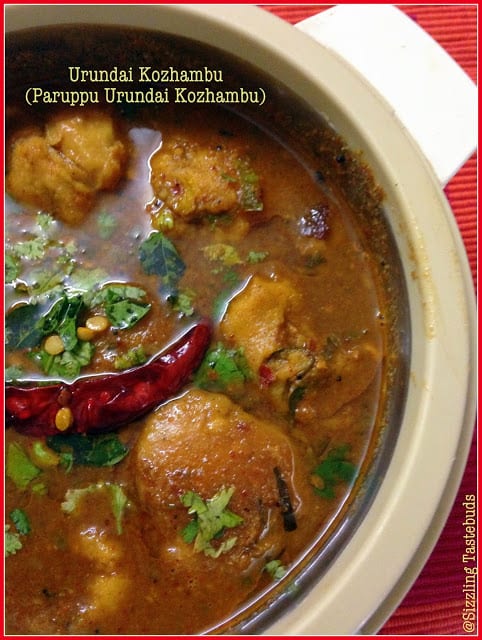 Vendhaya Kuzhambu (Methi seeds based gravy)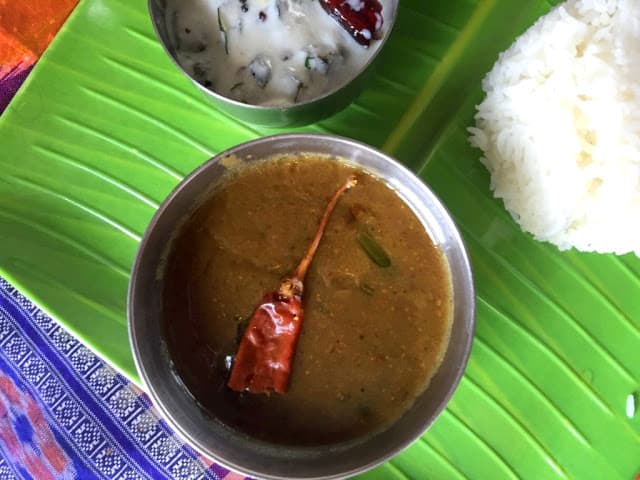 Chinna Vengaya Kara Kuzhambu (Pearl onion in Spicy tangy gravy- Chettinad style)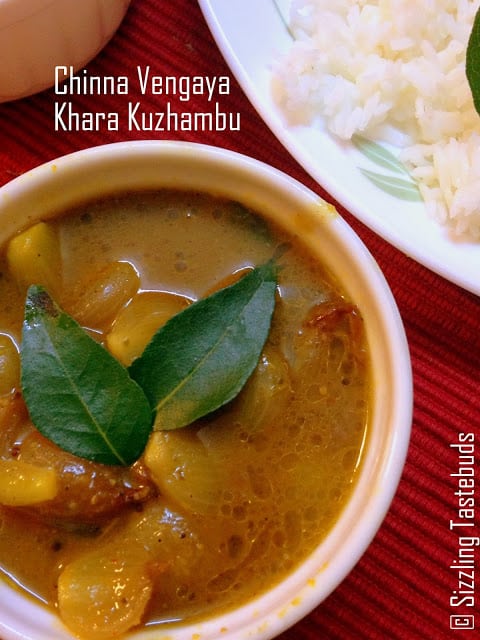 Manithakkali Kuzhambu (black night shade in tamarind gravy)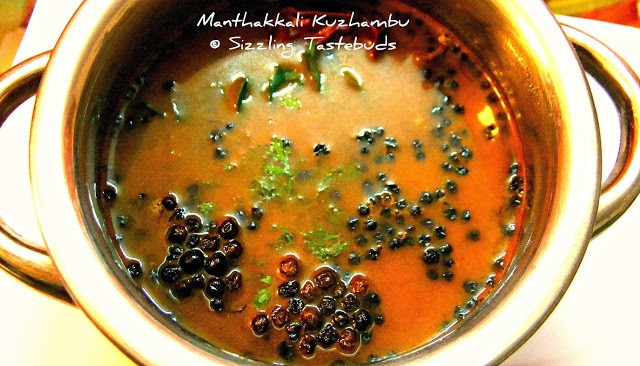 Karivepallai Milagu Kuzhambu (Curry leaves-black pepper in tangy spicy gravy)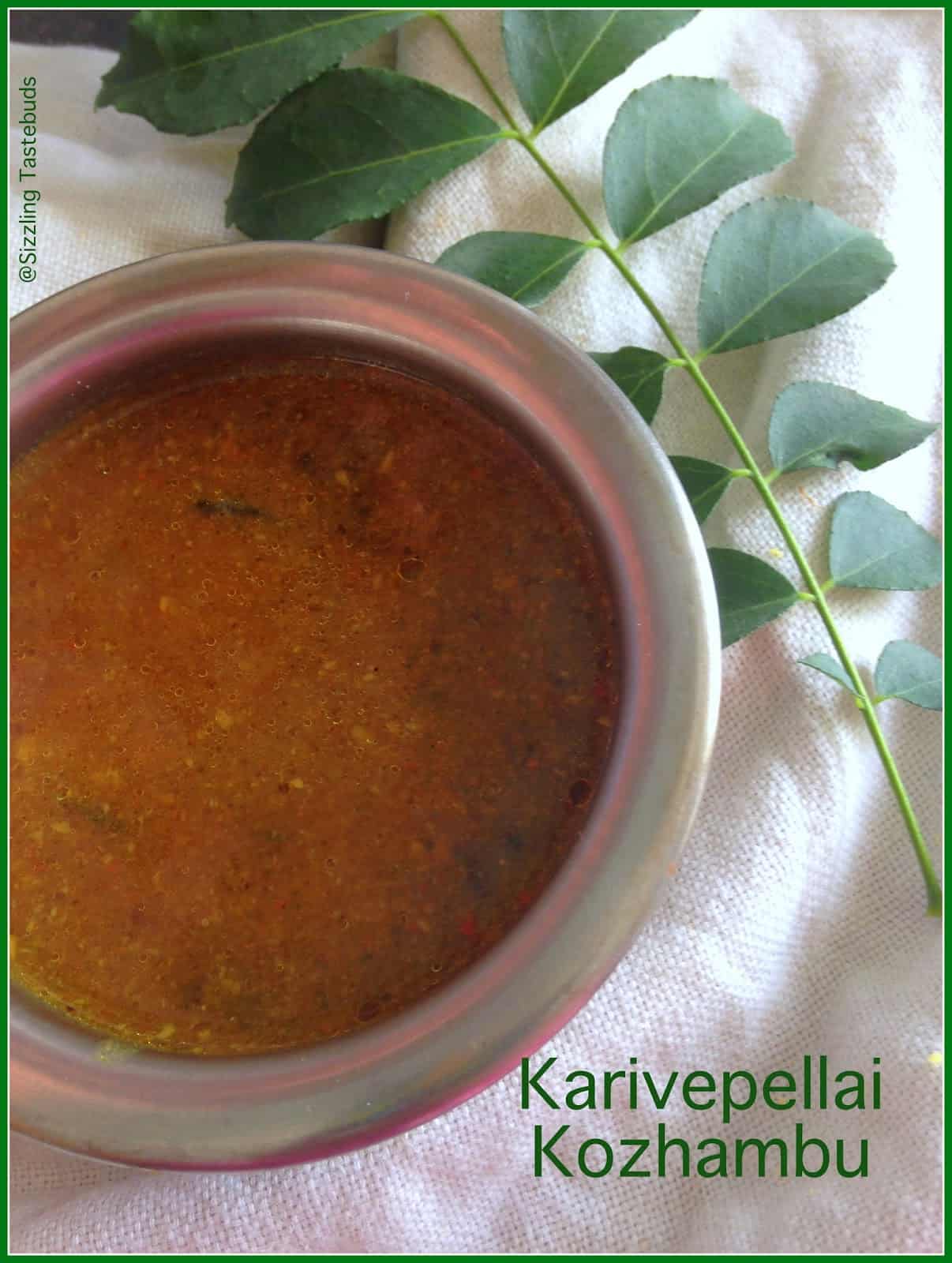 Sakkaravalli Puli Kuzhambu (Sweet potato in tangy gravy)