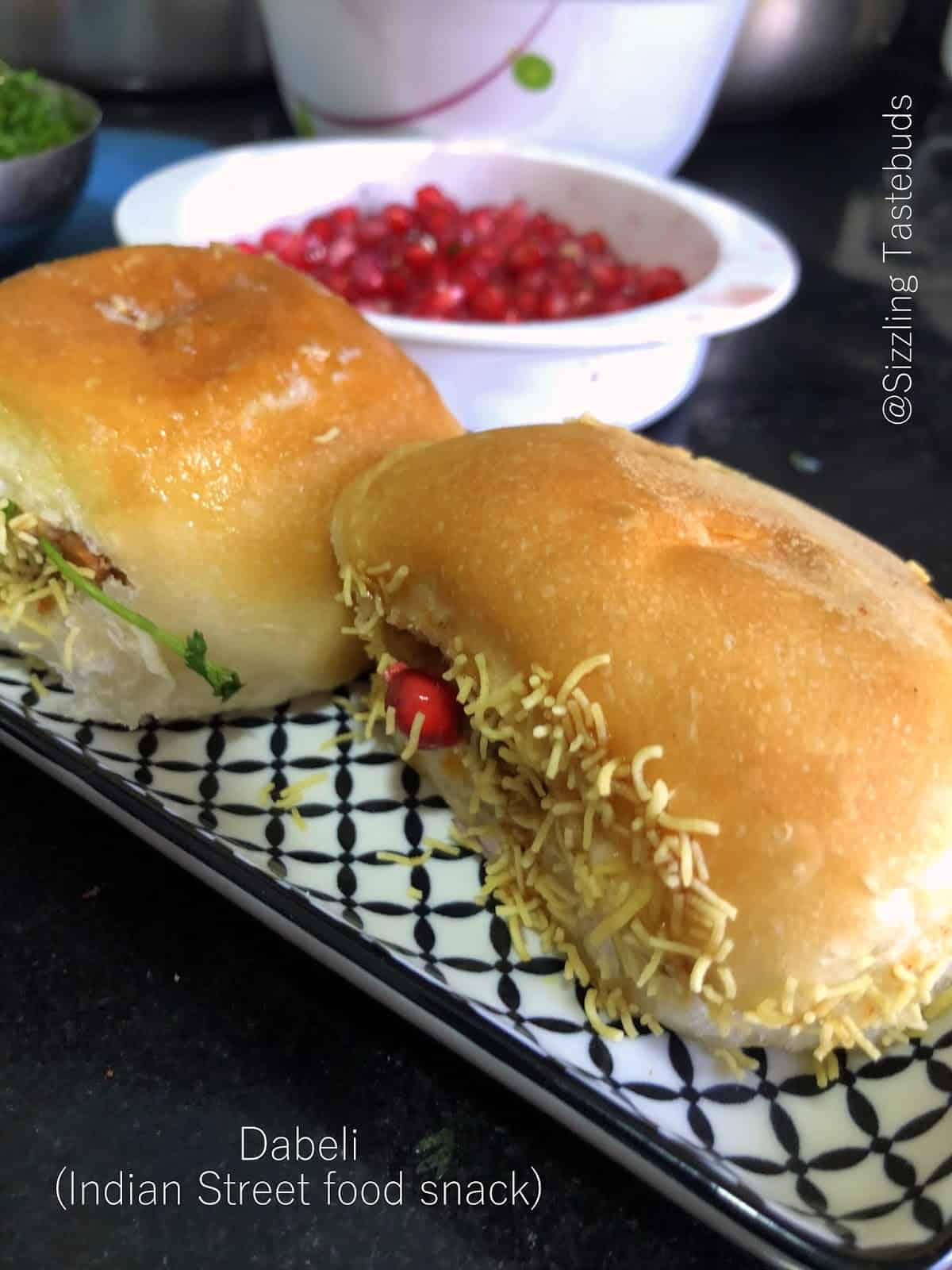 PinPin



Continuing with our love for street food, we have D for Dabeli today. Dahi bhalla was my first pick for this, and as the clicks were lost , I had to make something that my elder child would love. I was introduced to Dabeli when I came to Mumbai and remember picking up a couple on the way back home from the the vendor at the Mumbai local railway station.



Till dinner got made, this was a filling snack. Sometimes it used to be a wholesome dinner by itself along with a bowl of fruit / smoothie.



A lot of pantry essentials go into this and although it's a tad tedious on prep work, it's worth every minute of the wait. I have used store bought Pav-buns (dinner rolls) for this, but you could also use home made rolls. Don't skimp on the butter here (vegans can use vegan butter like Earth balance or homemade stuff).



A bite of Gujarat (Kutch actually, where it originated from) today with this scrumptious Dabeli . Tastes BEST when served piping hot. Dabeli in Gujarati means "Pressed", so am assuming that it means that the spicy potato masala dry curry is pressed between the layers of the pav (or dinner roll).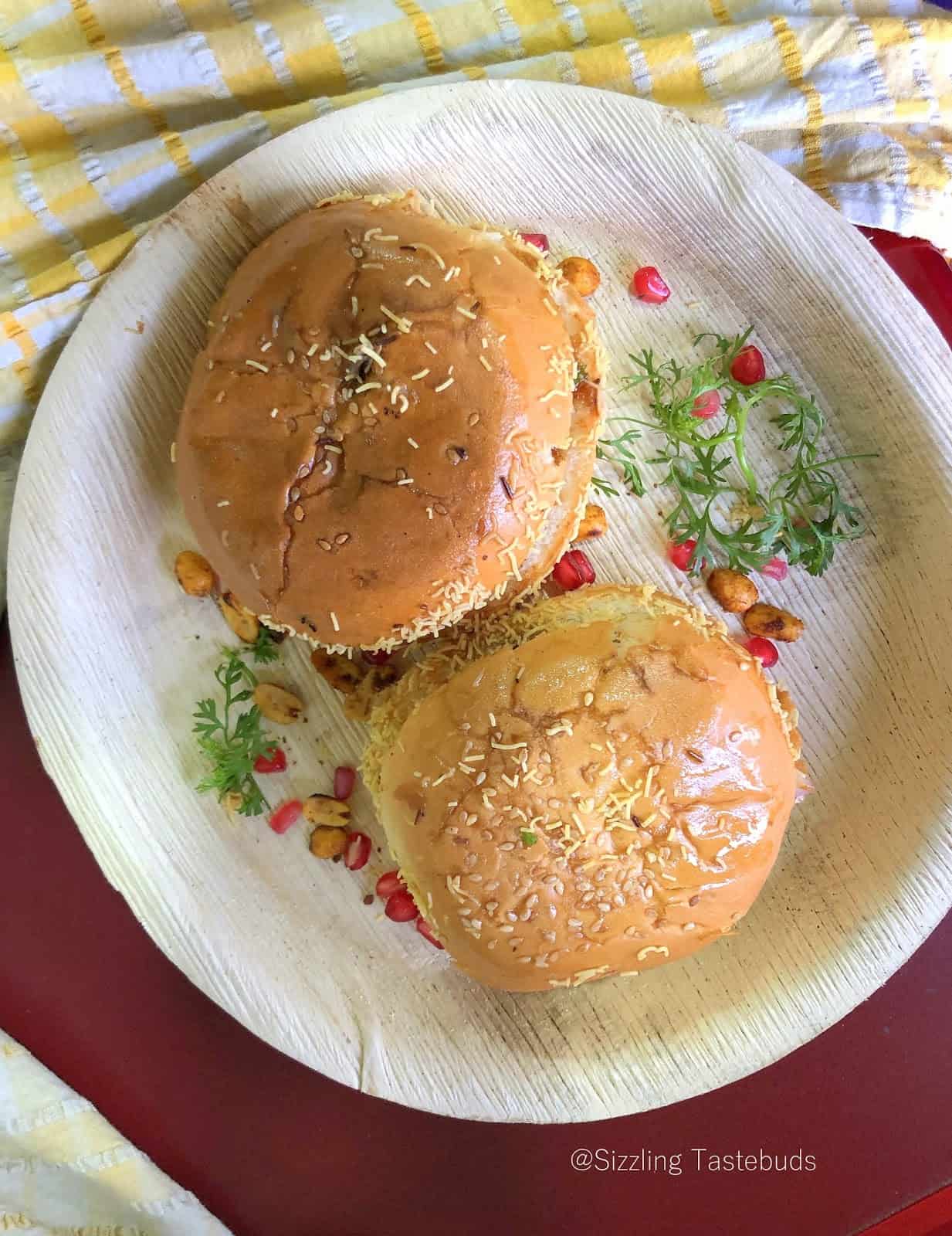 Pin




If you have been part of the A-Z Street food marathon, so far this April I have dished out:

A – Amiri Khaman from Gujarat

B – Badam Makha from Kolkata

C – Churros from Mexico

Notes:

1. The addition of the pomegranate pearls and roasted peanuts along with the fine sev takes this dish to another textural high, so be sure not to skimp them

2. The roasting of the stuffed pav with butter is totally optional, although its highly recommended. If you are vegan and / or cant find vegan butter, you may use any neutral il.

3. Serve this as soon as its made. For parties or potlucks, you may keep all elements ready beforehand, and only assemble quickly on a hot pan before serving.

4. This dish was very well appreciated by all at home, including mom (who doesn't really prefer street food), so I used burger buns too when I ran out of pav buns. Burger buns render themselves beautifully so this dish can be called a Desi Burger 🙂

5. If you want a Jain / satvik version of this, simply skip the onions and garlic chutney, and replace potatoes with mashed raw banana. The taste might differ, though.

6. Can be GF as well if the dinner rolls are made of GF flour, but I haven't tried it yet. Look forward to a GF version from my readers 🙂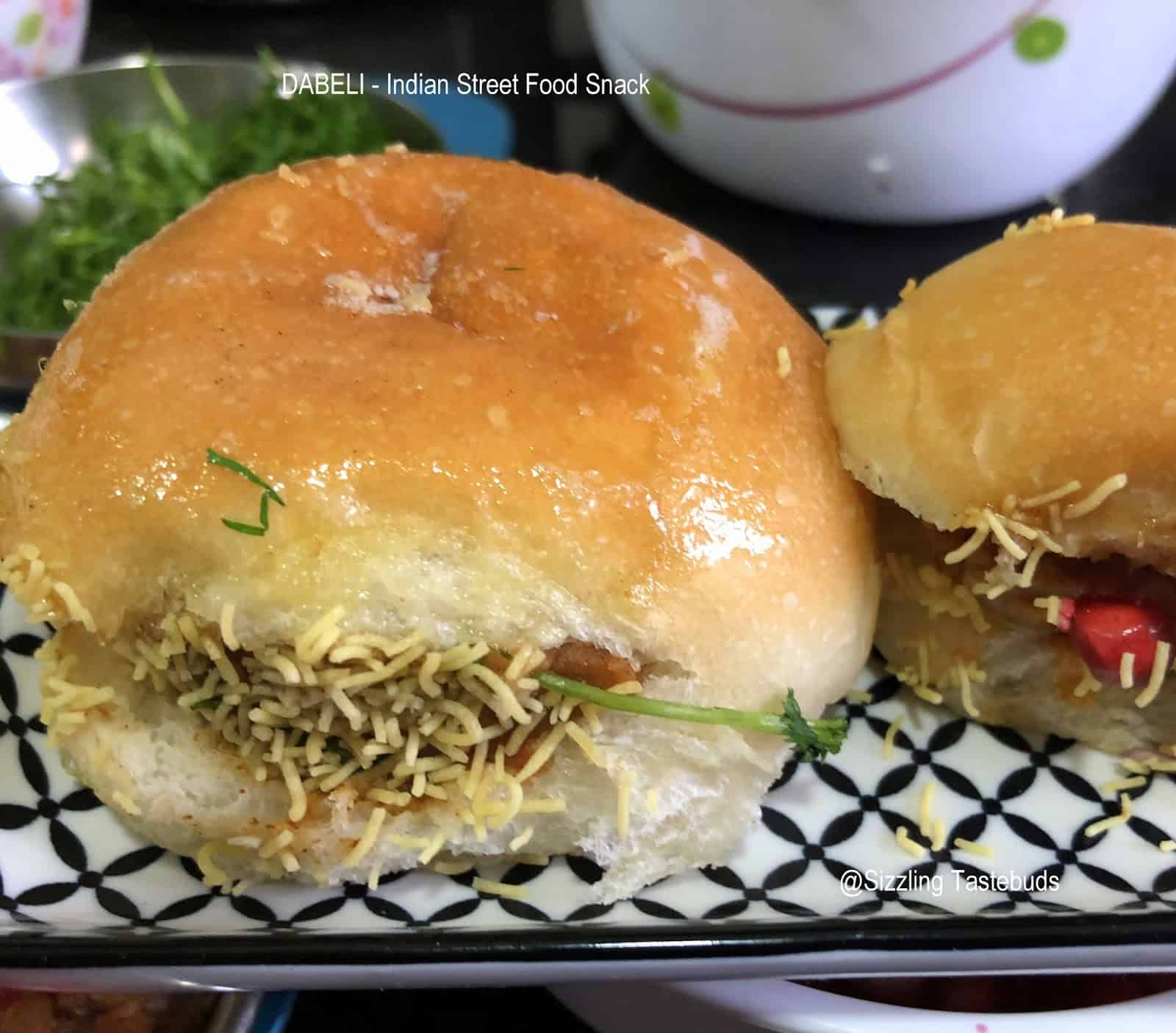 Pin
7. The potato filling can be stored upto 3-4 days under refrigeration. In fact, I recommend you make a double or triple of the following recipe, for its delicious and vanishes in no time 🙂



Prep time – 30 min, cook time – 20 Mins. Makes – 6 to 8 Dabeli

Cuisine – Gujarati ; course – snack



Adapted fully from Monica's recipe here.
I made the Dabeli masala, Garlic chutneys & Masala peanuts all from scratch.
These will feature as separate posts.
Ingredients:
Potatoes – 500 gm (about 4 large)

Oil – 3 tsp + 2 tsp Butter (mixed well)

Dabeli Masala – 4 TBSP

Salt – to taste

Roasted Masala Peanuts – 1/4 cup

Chopped Onions 1/4 cup

Chopped Coriander – 1/8 cup

Dates – Tamarind Chutney – 1/4 cup mixed with 2 TBSP water

Garlic Chutney – 1/4 cup (mixed with 2 TBSP water)

Pomegranate pearls – 1/4 cup

Pav / Slider buns – 6 to 8 nos.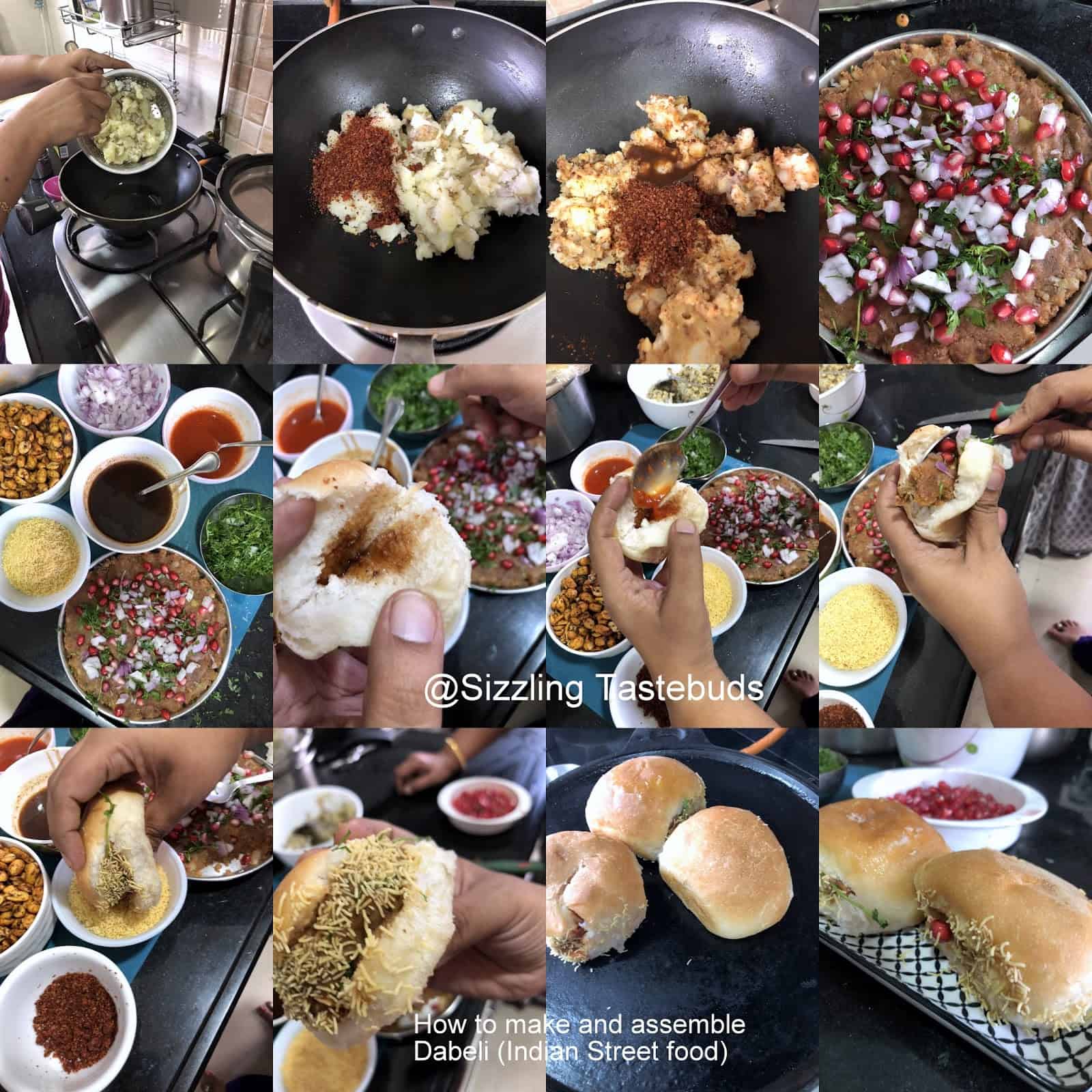 Pin
Prep:
Boil Potatoes (skin or otherwise) – mash them and keep aside. I mashed them with the skin intact
Make Garlic, & the date -tamarind chutneys and keep aside. Roast spices for Dabeli Masala, cool and powder. Keep it aside.
Make roasted spicy peanuts. Cool and keep aside.
Method (for the stuffing):
In a pan, heat half of the butter-oil mixture. Add the mashed potatoes, 3/4 of the Dabeli Masala and mix gently till the masala coats the potatoes. Add 1-1.5 TBSP of the date-tamarind paste and mix inside.
Stir till the mixture leaves the sides and is fully dry (without any residual moisture). Once slightly cool, transfer to a flat plate, level with the back of a spoon / flat ladle, sprinkle coriander, pomo pearls and onions. Keep aside.
Note – As the DAbeli masala and the tamarind-date paste had salt, I didn't add any extra salt. You may add as required.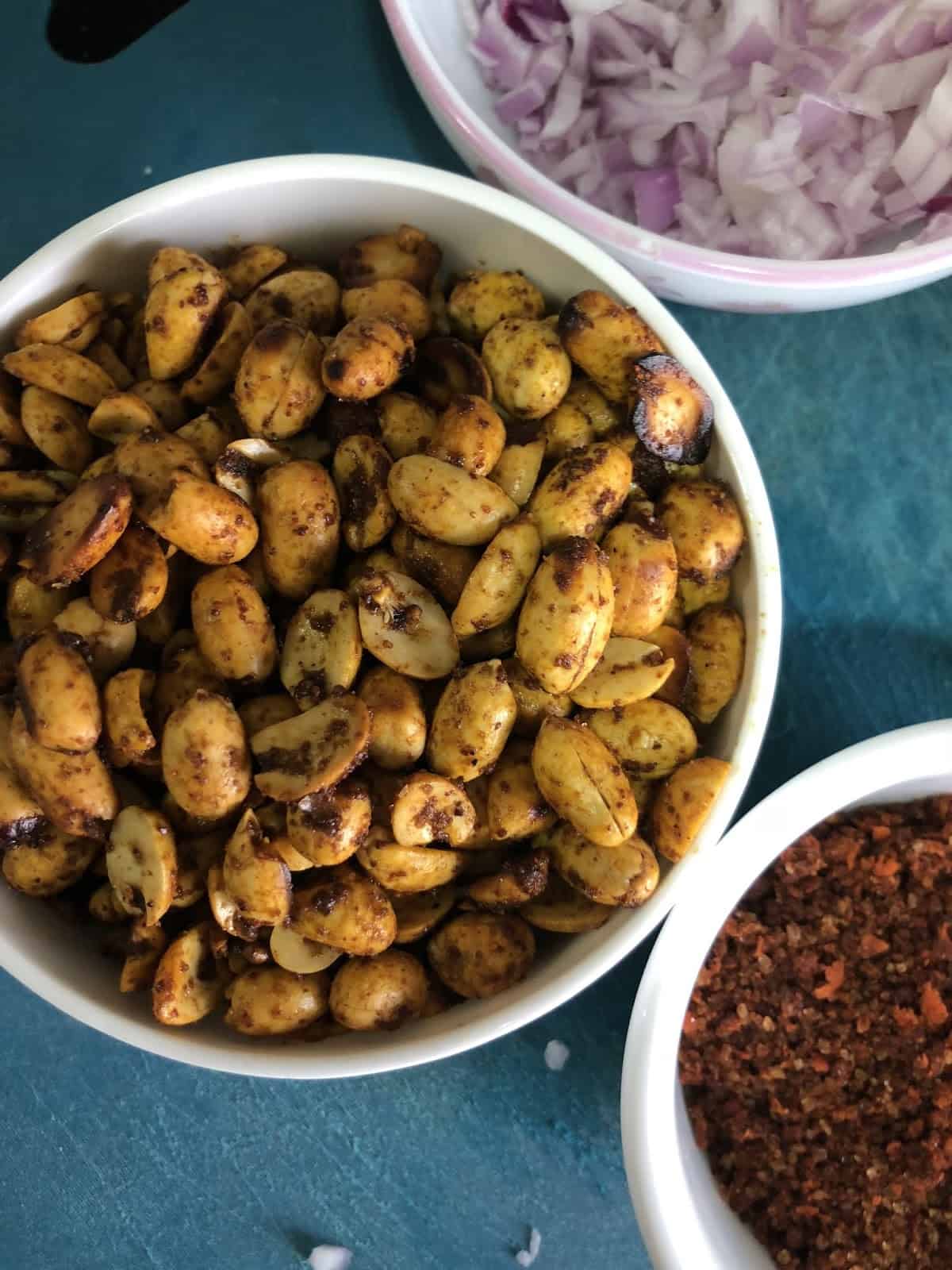 Pin
To assemble:
Heat a tava / skillet on medium flame. Take a pav bun / slider bun. slit horizontally but not fully . Apply both the chutneys on the insides, Add a spoon of the above potato filling and push it slightly in, add a tsp of the roasted masala peanuts, and cover with another tsp of the spicy potato filling.
Roll the sides of the cut bun in a flat plate filled with sev (fried gramflour vermicelli). Place on a greased tava, let it warm till slightly crispy.
Serve immediately. Repeat for each pav and enjoy 🙂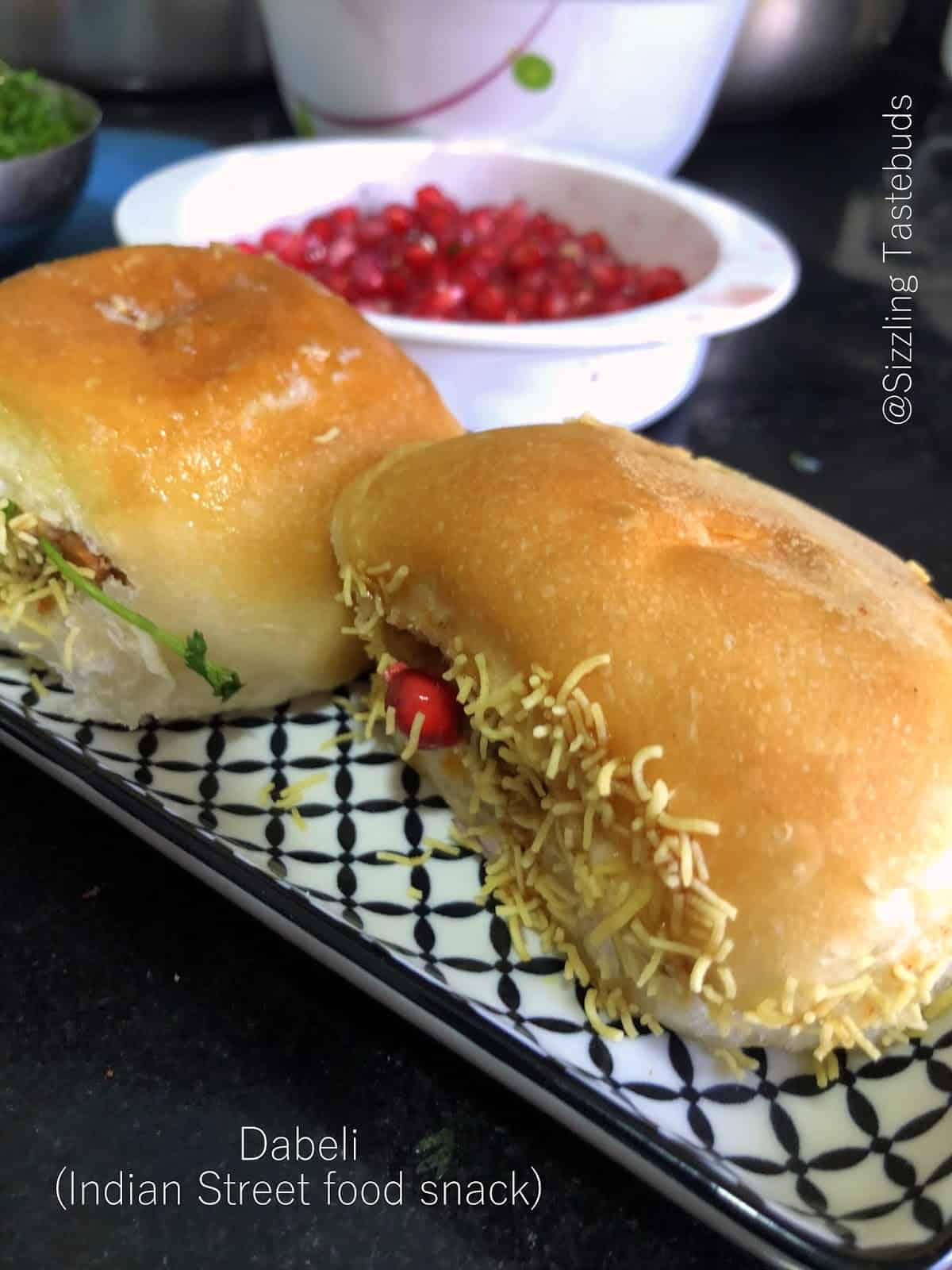 PinPin
Pin
Check out the Blogging Marathon page for the other Blogging Marathoners doing BM# 87