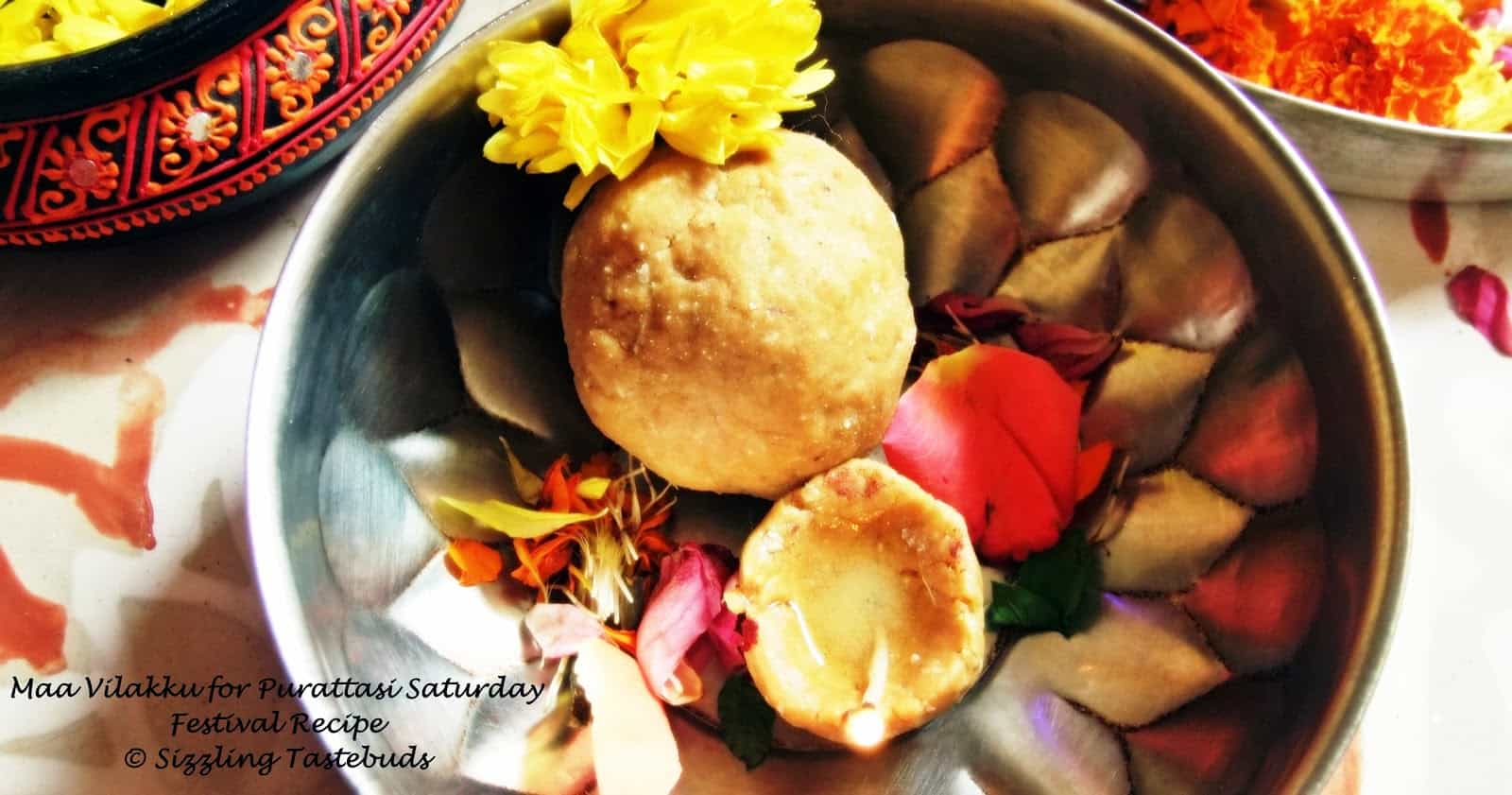 PinPin

Today's post is not so much a recipe, as its a recollection of Maa Vilakku Pooja for Purattasi Saturdays. In Srivaishnava community, during the month of Purattasi (Mid August/Mid September) on a Saturday, a lamp made of rice flour with added jaggery, Cashew, Ghee is lit. Normally, this is done on any one of the odd-numbered Saturdays(1st / 3rd / 5th) of Purattasi Tamil month.Many of the Tamilians [irrespective of the Sect & sub-sects] offer Maavilakku to the GOD of their choice; Amman, Perumal, Murugan ; in temples or at their homes. In Shaivites custom, they offer this on the 1st Aadi and 1st Thai Vellikizhamai [Kataka/Karkatam and Makara months' first Friday]. I remember my paati (grandmom) making this on a saturday, and its gooey concoction of aroma filled dish used to arouse our palates to no end. Of course, I cant imagine to use the same amount of ghee that she used to use (or even the same amount of fresh coconut). So mom n me devised this simple to make, yet ethnic Maa Vilakku dish to light the lamp. Also, the smell of the burnt wick (after the lamp dies out in the flour mix) may not be appetising to all. So we made a small roundel which had the lamp, and offered along with the bigger one (which is considered as a symbol of Malaiyappan (Lord of the hills – Srinivasa Perumal or Balaji).

Like I said earlier, this is not really a recipe, but a note for posterity to preserve some of the family tradition. So, let's get on how to make this.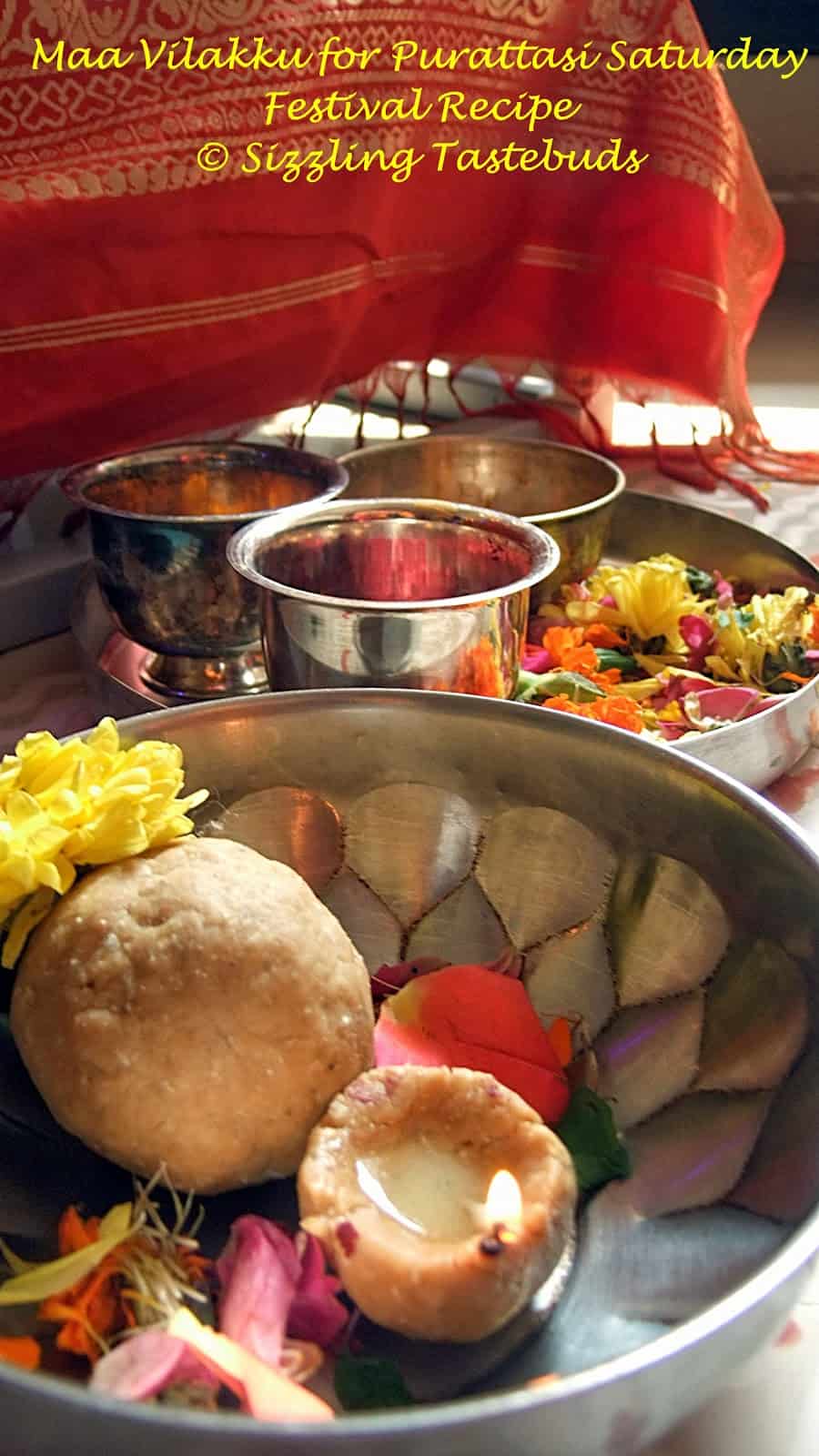 Pin
You will need:
Rice flour – 1 cup
Jaggery – 1 cup
Grated coconut – 1/2 cup
Grated nutmeg – a pinch
Elaichi / cardamom powder – 1/2 tsp
Pachai Karpooram / edible camphor – teeny weeny pinch
Ghee – 3 TBSP
Method:
1) Grate Jaggery finely or pound into very small pieces.
2) Mix rice flour, jaggery and coconut well for about 8 – 10 minutes till they finely incorporate into each other. You may need to extend this for 5 more minutes depending on how coarse the rice flour is. Do remember to sieve the rice flour before use.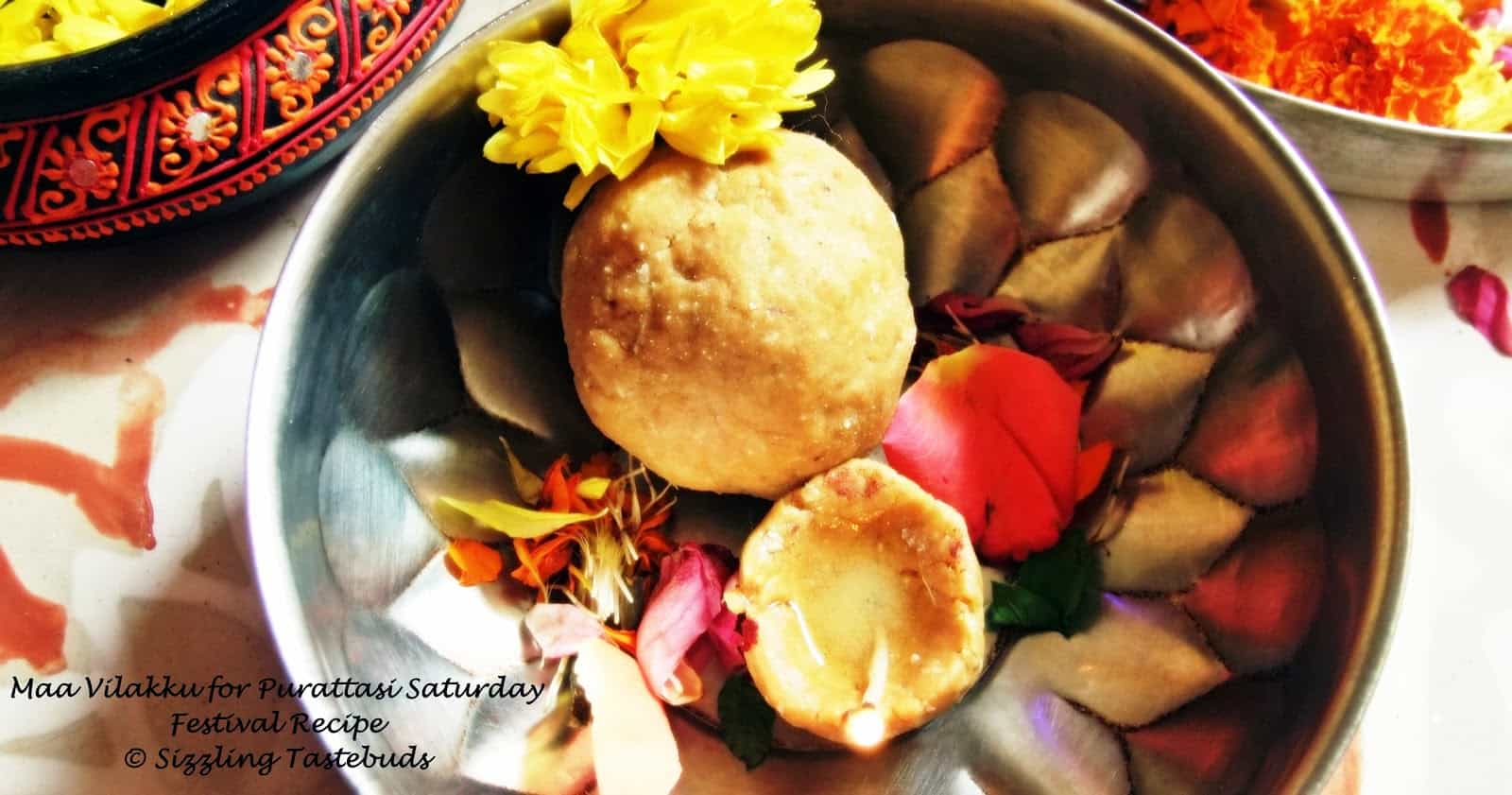 PinPin3) One the jaggery melts with all the kneading, add the ghee, cardamom powder, nutmeg, edible camphor and mix lightly till you get to make a roundel without adding any water. Make a big roundel for distributing as prashad (naivedyam) and a smaller one to light the lamp in 
4) Make a dent with your thumb on the smaller roundel and place a ghee soaked wick in the  dent. Add a tsp of ghee and light the lamp and complete the pooja. Once the lamp dies down, distribute the roundels as bits of prasadam.