Rice is the staple grain of almost
entire Karnataka region, especially those blessed with the river belts of
Cauvery and its tributaries. Naturally, Dosa, Idliand its different yummy
cousins – Paddu, Puttu etc make their presence in everyday
cuisine. Today's dish – Davangere Benne Dose – has its origins
in Davangere – a town in North West Karnataka, and simply translated it means
Butter Crepes from Davanagere. But for those who have relished this delicacy on
street carts or Darshinis (small eateries) in and around Bangalore, the experience
is nothing short of blissful.
Copious amounts of white, unsalted butter go into
making these and the wood fired stoves and the iron skillets seem to add to the taste : The results are not just lipsmacking, but adds quite a lot to
the waistline too. It wouldnt be an exaggeration to say that one with a normal
appetite cant eat more than 1-2 of these dosas as they are quite filling, and yes fatty too ;-)) But whats life without a little indulgence once in a while, right ?
The speciality is to use fresh butter,
and liberally too. We make this very occasionally at home, and even then the
amount of butter is very less. Nevertheless, there is no compromise in taste.
These dosas come in 3 forms – Benne khali dosa, Benne open dosa, Benne
masala dosa basically depending on whether the potato stuffing is inside or
outside the dosa. For all those Dosa lovers out there, this is a must try. I
promise you would be hooked, even if you used very little ghee
– This makes the dish enticing in both flavour and fragrance…
Off this goes to
Alphabet "D" under the Mega Marathon.
I have slightly
adapted the recipes from here and here and giving what worked for me at my
place. These are generally thicker than the usual variety. But my family somehow
liked them thinner, unless I am making Set Dosas. So, here's the recipe..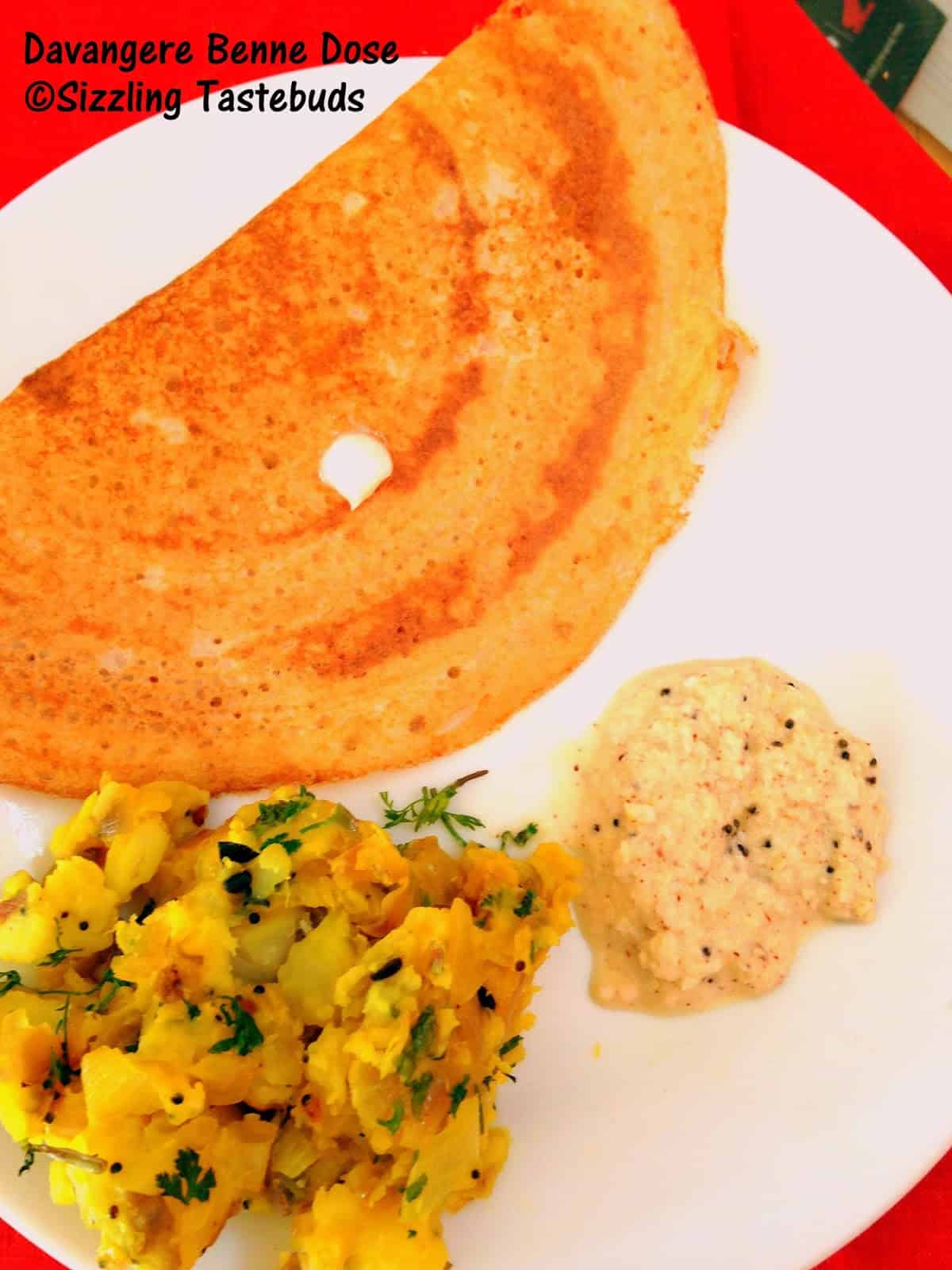 PinPin

Prep time : 30 mins (excluding soaking,
grinding and fermenting time) |

Makes : Approx : 20- 25 dosas

Soaking time : 4 hours | Grinding time
: 30 mins | Fermenting time : 8 – 10 hours or even overnight

Serving suggestions: Coconut Chutney,
Potato Curry

Ingredients:

(A) For Dosa –
Regular raw rice – 2 cups
Idli rice- 1 cup
Poha / flattened rice – 1/4 cup
Urad dal (split black gram) – 1/2 cup
Murmura / puffed rice – 1/2 cup
Fenugreek seeds – 1/2 tsp
Salt – to taste
To add to the batter:
Maida – 2 TBSP
Soda – 1/2 tsp (optional) – I didnt add
To make the dosa:
White unsalted butter (I melted 4 TBSP
butter with 3 tsp cooking oil and used it)
(B) For the Spicy potato mixture –
refer the Masala dosa filling mixture given here
(C) For the coconut Chutney:
Coconut – 1/2 cup (grated)
Green chillies – 2 nos
Salt – to taste
Fried gram / pottu kadalai / chutney
dal – 1 handful
Tempering : Oil (1 tsp), Mustard seeds,
curry leaves
Optional add-ons to chutney : garlic, ginger, mint or coriander leaves,jaggery,tamarind paste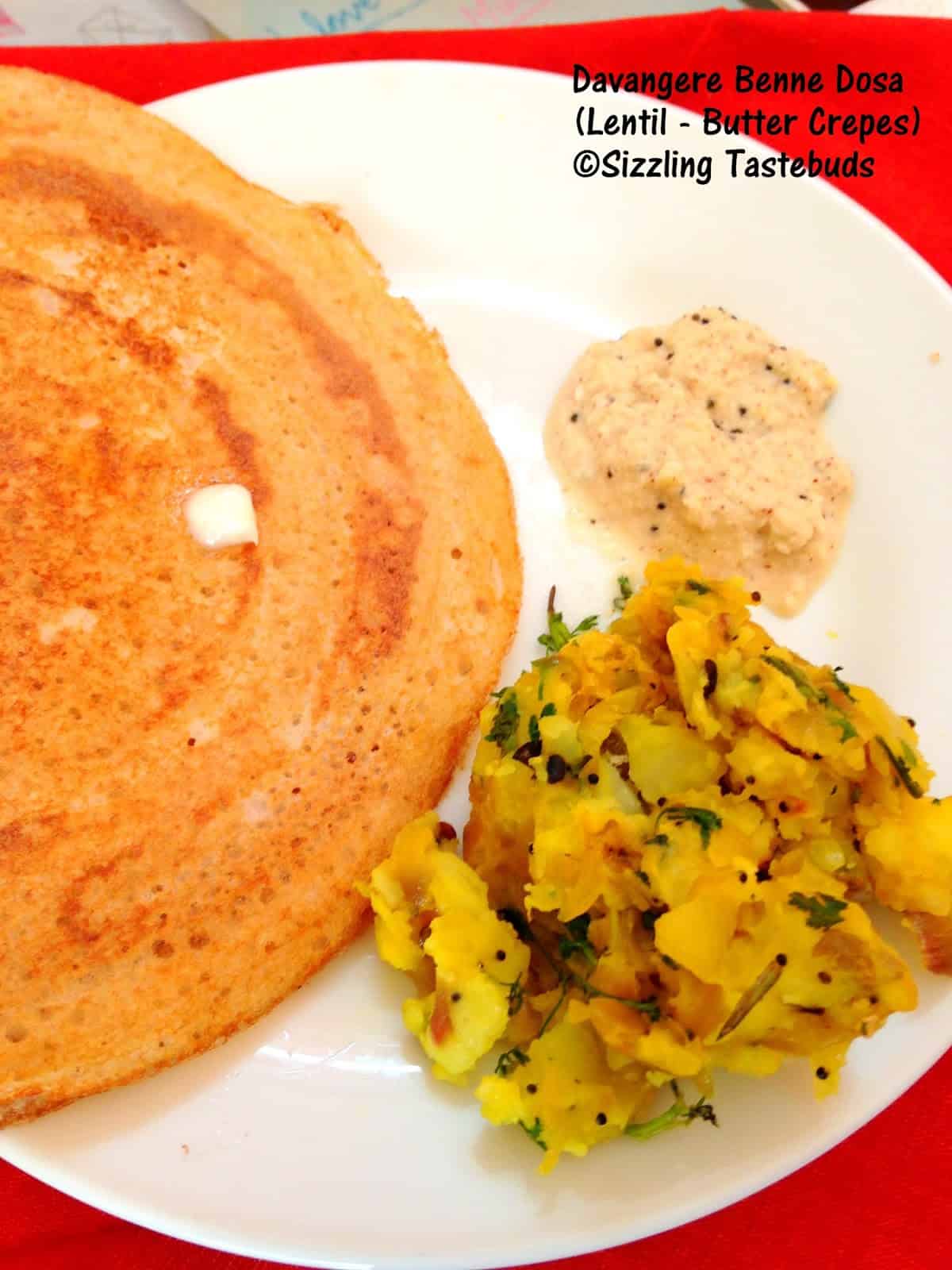 Pin

Method:

For the Dosa:

1) Soak all the ingredients except salt
for 4- 6 hours. Grind well to a smooth paste. Add salt, mix well and Ferment
overnight

2) 1/2 hour before making the dosa,
beat the batter well. Add the maida and soda if using and beat again.

3) Heat the tava (skillet) till medium
hot. Apply a layer of the butter-oil mixture and wipe with a paper towel.

4) Now add a ladleful of batter and
spread to a thickish dosa from the inside out. Drizzle liberal amounts of
oil-butter around the edges. Cook till one side gets browned but not burnt
(approx 1-2 mins). Flip over and cook again for 30secs – 1 min.

5) To serve, drop a dollop of white
unsalted butter and serve with potato curry and Coconut Chutney on the side.

For the coconut chutney – grind all the
ingredients to a smooth paste. Add salt and mix.

Prepare tempering with mustard seeds
and curry leaves. Pour onto chutney and serve with hot dosas.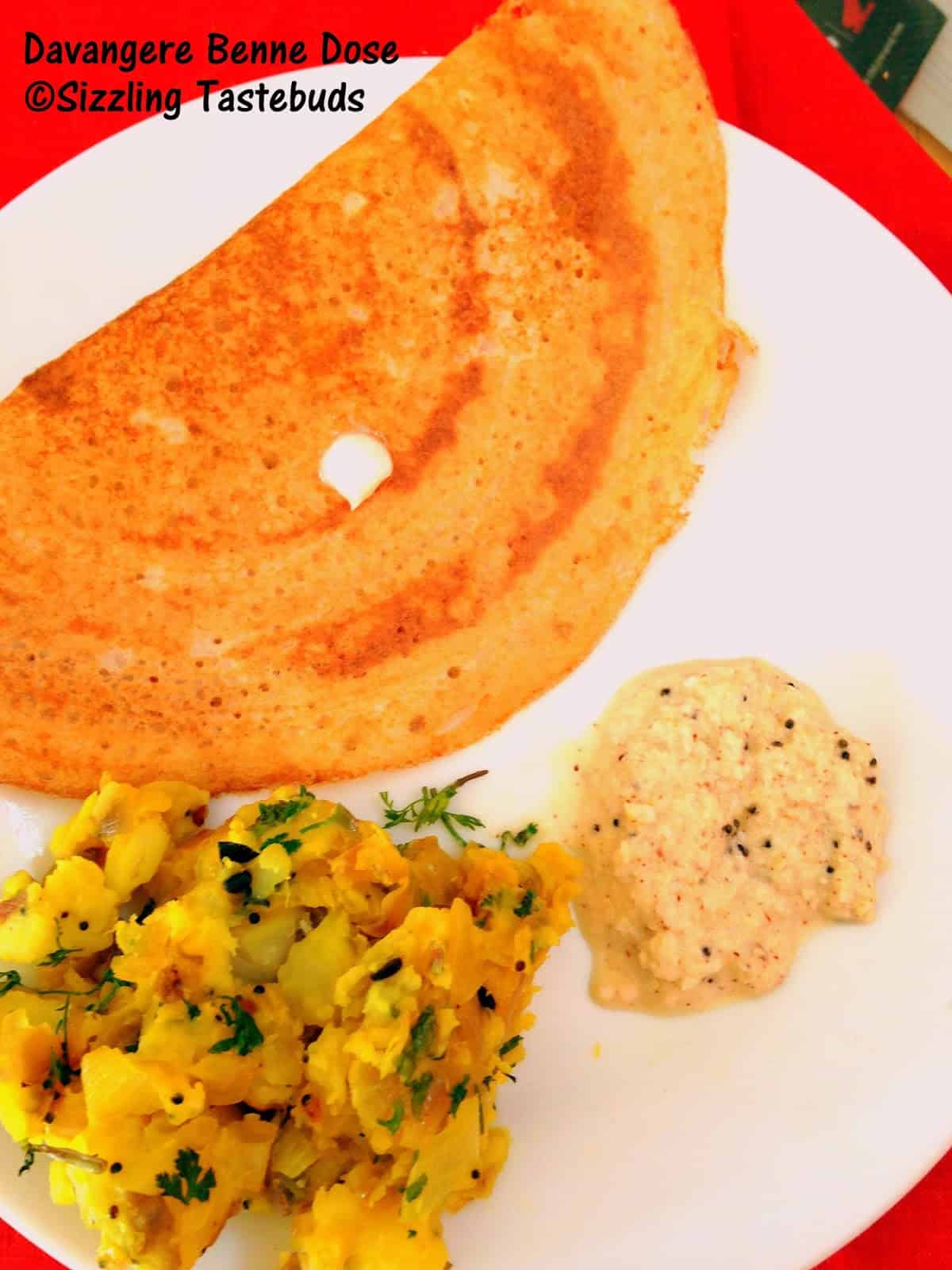 PinPin

Pin
Logo courtesy : Preeti
Check out the Blogging Marathon page for the other Blogging Marathoners doing BM# 32