Ellaogarai is a classic Tamilian dish . Ogarai means flavoured / tempered
rice.. Puli (tamarind) + ogarai = Puliyogarai (tamarind flavoured rice). Similarly Ellu (sesame) + ogarai = Ellogarai (sesame seeds flavoured rice)..
All these tempered rice are served at South Indian Tamil Temples as prasad and
also made at home during festivals and occasions. I credit my grandmom (Pati)
completely for having introduced us to these delicacies..
When I saw this recipe at Sapana's blog (with whom I am paired for
this BM), it brought back memories of that wonderful dish. I have tweaked
Sapana's recipe based on how it is made at our home. Sapana's blog is a
wonderful collection of recipes, and I was especially hooked on to her desserts
and north indian section, esp the Punjabi / Delhi cuisine. Sending this to BM # 41 under bookmarked recipes (paired blogger recipes)
Prep time : 10 mins | Cook time : 20 mins | Serves : 2
Recipe Type : South Indian, Main Course / Festival recipes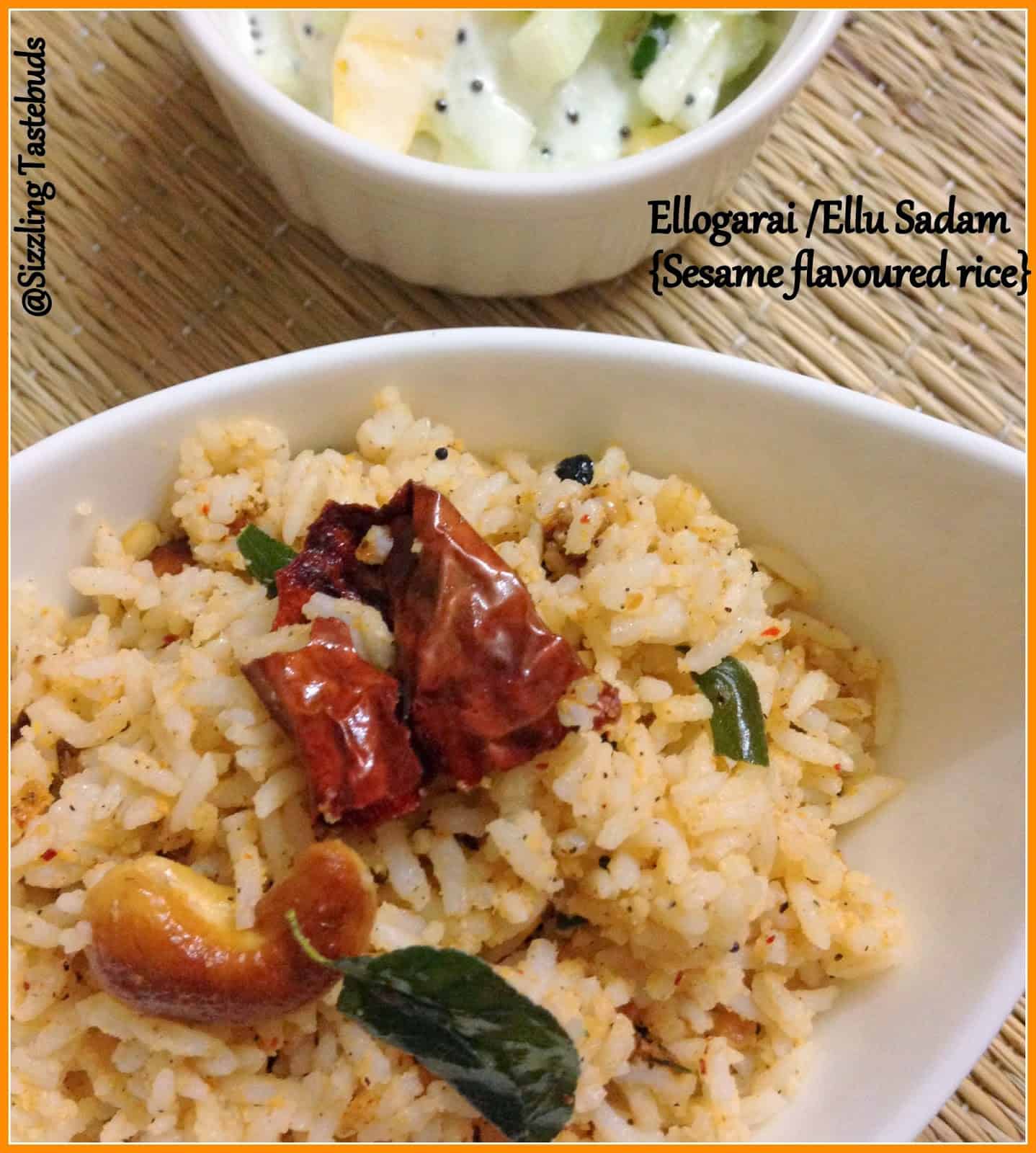 Pin

(You may make this with pre-cooked and cooled rice, but as I was
making it for Naivedyam / offering to God, I made the rice from scratch –
either way make sure the rice is fluffed up with separate grains)

Ingredients:
Rice – 1 cup
Salt – to taste
Oil – 3 TBSP (pref Sesame Oil as it gives authentic taste) 
Spice Powder:
Til / Sesame seeds (white) – 3 TBSP
Black Sesame seeds – 1 TBSP (optional)
Hing / Asafoetida – a generous pinch (1/4 tsp)
Urad Dal / Split black gram – 3 tsp
Dry copra grated – 2 TBSP
Channa Dal – 1 tsp
Dry red chillies – 3 (adjust spice)
Oil – 1 TBSP 
Tempering:
Mustard seeds – 1/2 tsp
Urad dal – 1/2 tsp
Cashewnuts – few
Broken red chillies – 1 or 2 
Curry leaves – few 
Method:
Cook rice, fluff it nicely and spread in a large flat plate.
Drizzle 1 TBSP oil into it and leave aside.
In a dry pan roast the sesame seeds till it splutters (take care
not to burn it). Transfer to a plate and cool. Similarly dry roast the copra
(dry coconut) for 10 secs and transfer to another plate.
Add 1 TBSP oil, and roast the Urad Dal, Channa Dal, Red chillies
one by one. Cool in a plate.
Grind the dals and chillies first to a coarse powder. Now add
sesame seeds and copra and hing and blitz it just once in a spice grinder (dont
over do it as the sesame and copra would leave behind oil) 
 In a non stick pan, add oil for tempering. Splutter mustard seeds,
urad dal curry leaves, broken red chillies and cashewnuts. Once the cashew and urad dal turn golden
brown, add the ground spice mixture and salt on a low flame. After two minutes,
turn off the heat and add the cooked rice and toss well.
 Serve immediately or with fried papads. I served it with Pineapple Cucumber Raita for a sumptuous Sunday Brunch.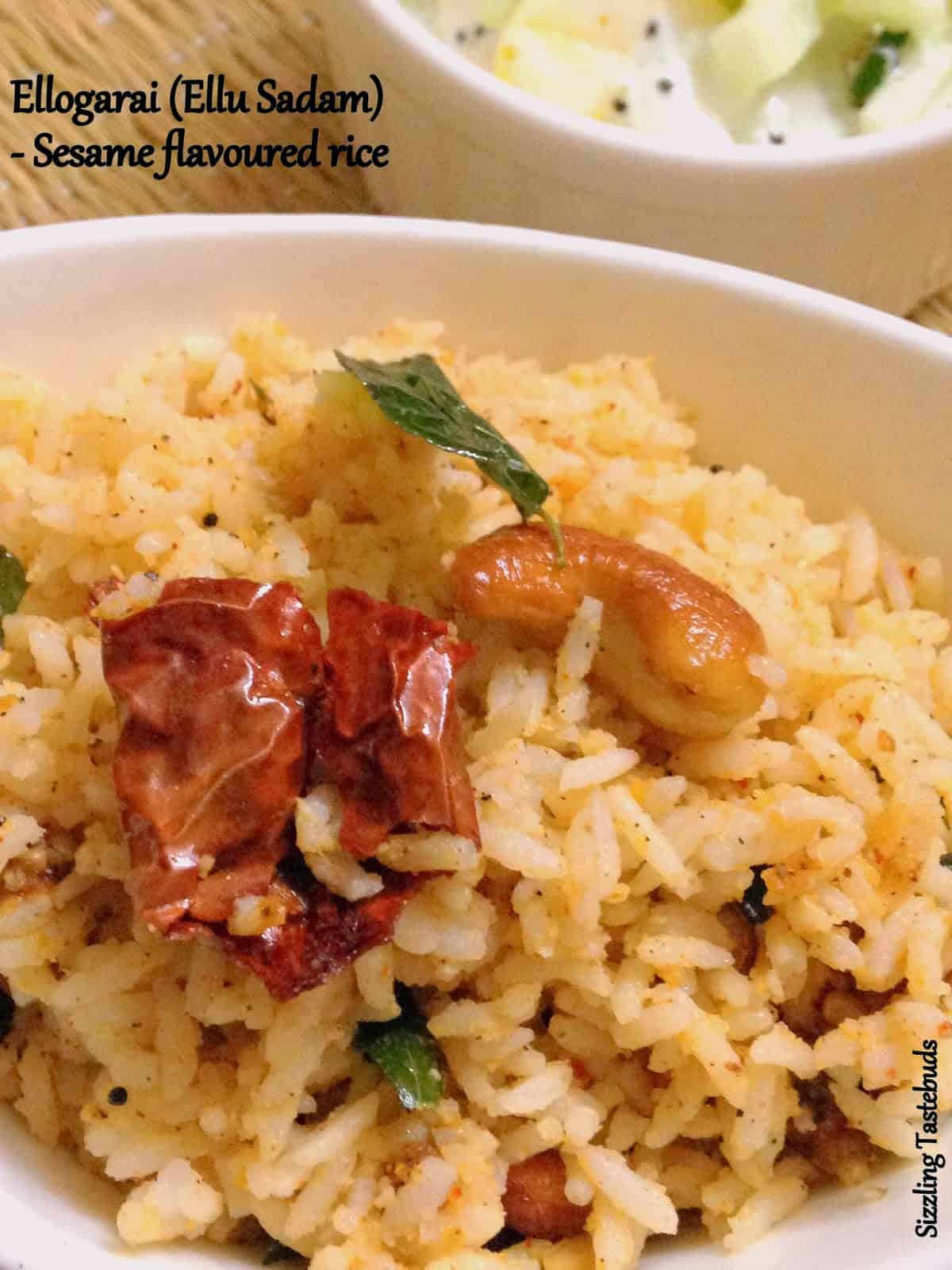 Pin