The Sharad Navaratri (or Autumnal holy 9 days of the Hindu Calendar) begins tomorrow, on October 1st . Happy Dusshera / Navratri to all my readers…
Devi (or the Goddess) is worshipped in 9 forms in North India as Maa Shailputri, Maa Brahmacharini, Maa Chandraghanta, Maa Kushmanda, Maa Katyayani, Maa Kalratri, Maa Siddhidatri, Maa Skandmata, Maa Mahagauri .
Whereas in the South, the Goddess is worshipped as Durga,Kali,Amba or Jagadamba, Annapoornadevi, Sarvamangala, Bhairavi,Chandika or Chandi, Lalitha, Bhavani,Mookambika or Tara on the 9 days respectively.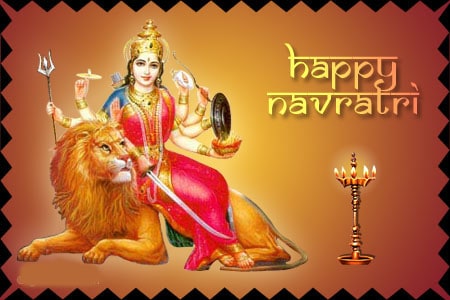 The final day is called Vijayadashami or Bijoyadashami or Dusherra (depending on where one stays) which marks the culminating day of the 9 day festival and a festive grand lunch follows the elaborate pooja that's performed on this day. Its also a very very auspicious day in Hindu system to start new ventures like Vidyarambham (first initiation into learning), or buy a new home or car etc.
For more ideas on mini thalis, click here, here,here & here
Golu or dolls in 3-5-7-9 steps are neatly arranged in South Indian homes, often with a theme to go with, and there is a social – cultural event happening inviting ladies for Haldi Kumkum to each others' places in the evening times.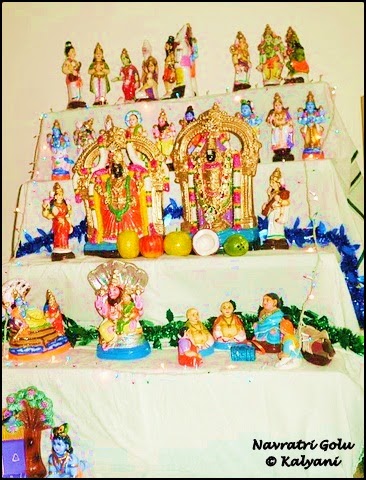 Navratri is also known for the conquer of good over evil and is celebrated as Dusshera. Its the time when Lord Ram returned to Ayodhya after vanquishing the demon Ravan. An effigy of the demon is burnt on the last day to symbolise the same
Durga Puja (or Pujo as its called), is a major festival in Kolkata, West Bengal and eastern parts of India. Elaborate pandals like the ones below are erected and the Goddess is worshipped with pomp and grandeur. Pandal hopping is considered a must-do during this season.
In Gujarat, Dandiya / Garbha is a social must-do where women and men deck up in their finery and dance thru the night as a form of social & cultural mingling, coupled with mind blowing feasts to the eye and the palate 🙂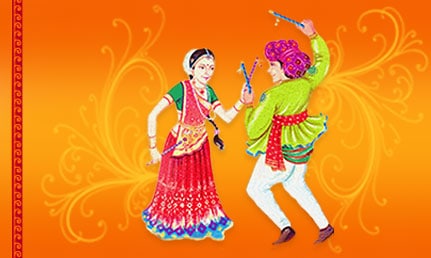 Many people fast religiously, and although as a family we don't fast, we abstain from using certain tamasic causing ingredients in our cooking like onion, garlic, brinjal, cabbage etc). Most North Indian families prohibit cooking of even potatoes,sodium based salt , Wholewheat atta, and stick to what they believe in – like cooking with more starch based ingredients like Sabudana (tapoica pearls), sweet potato, rajgira flour (amaranth flour), sama or vrat ke chawal.
Whatever the form, whatever the God /Goddess being worshipped or whatever belief one follows wrt food and local practices, these 9 days of Navaratri (Nava = 9, rathri = night) are sacred for Hindus across the world.
Some of the offerings (Naivedyam) that can be prepared for Navratri are….Happy festive season :))
9 varieties Sundals (steamed based lentil snack – vegan & gluten free). These sundals can also be made with steamed legumes topped with Sundal Podi
(from top left top row to bottom right last row, links as follows):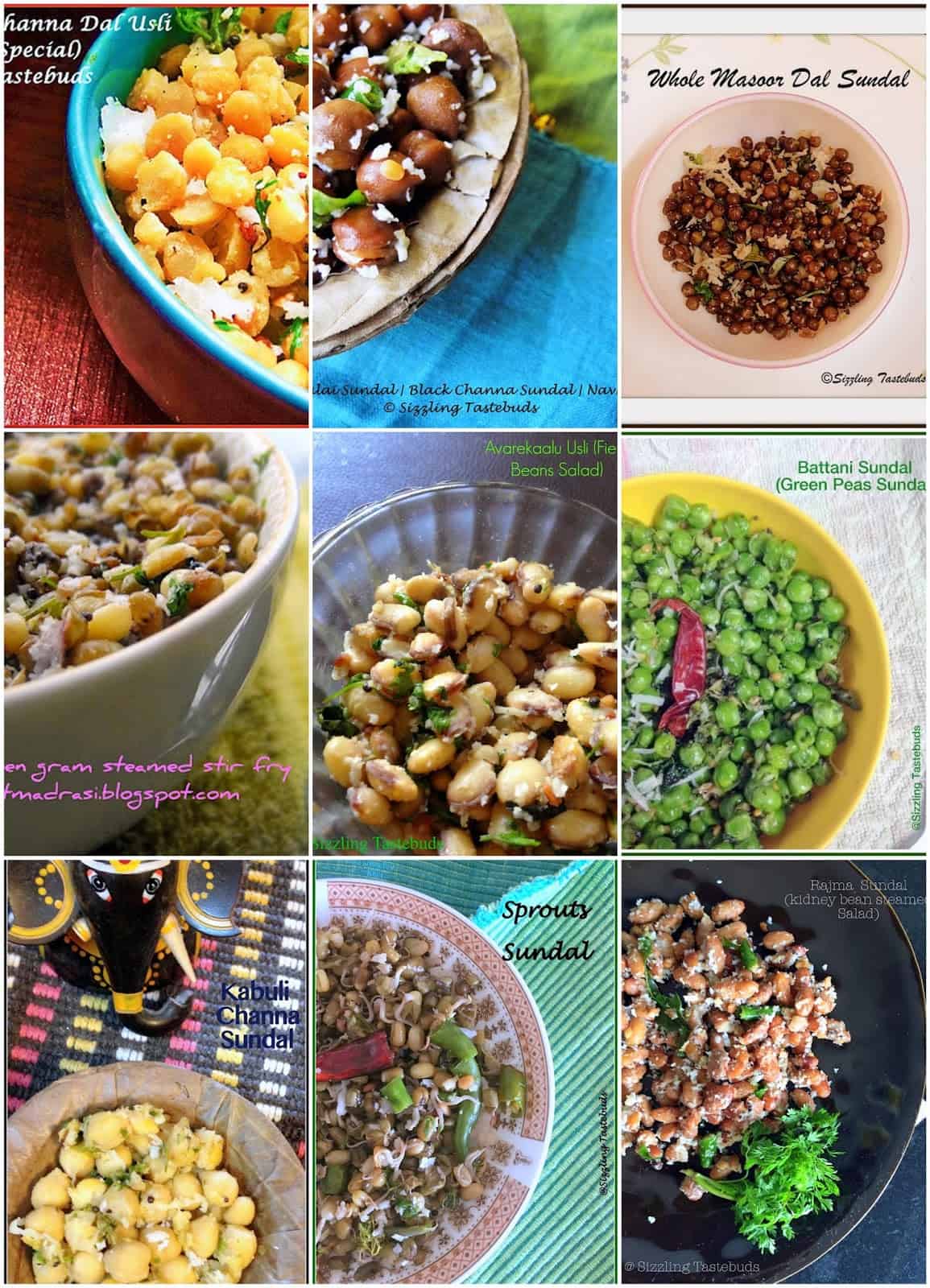 9 varieties of Kheer / Payasam & milk based sweets for Offering
again, in order from top left (1st row onwards), recipes are: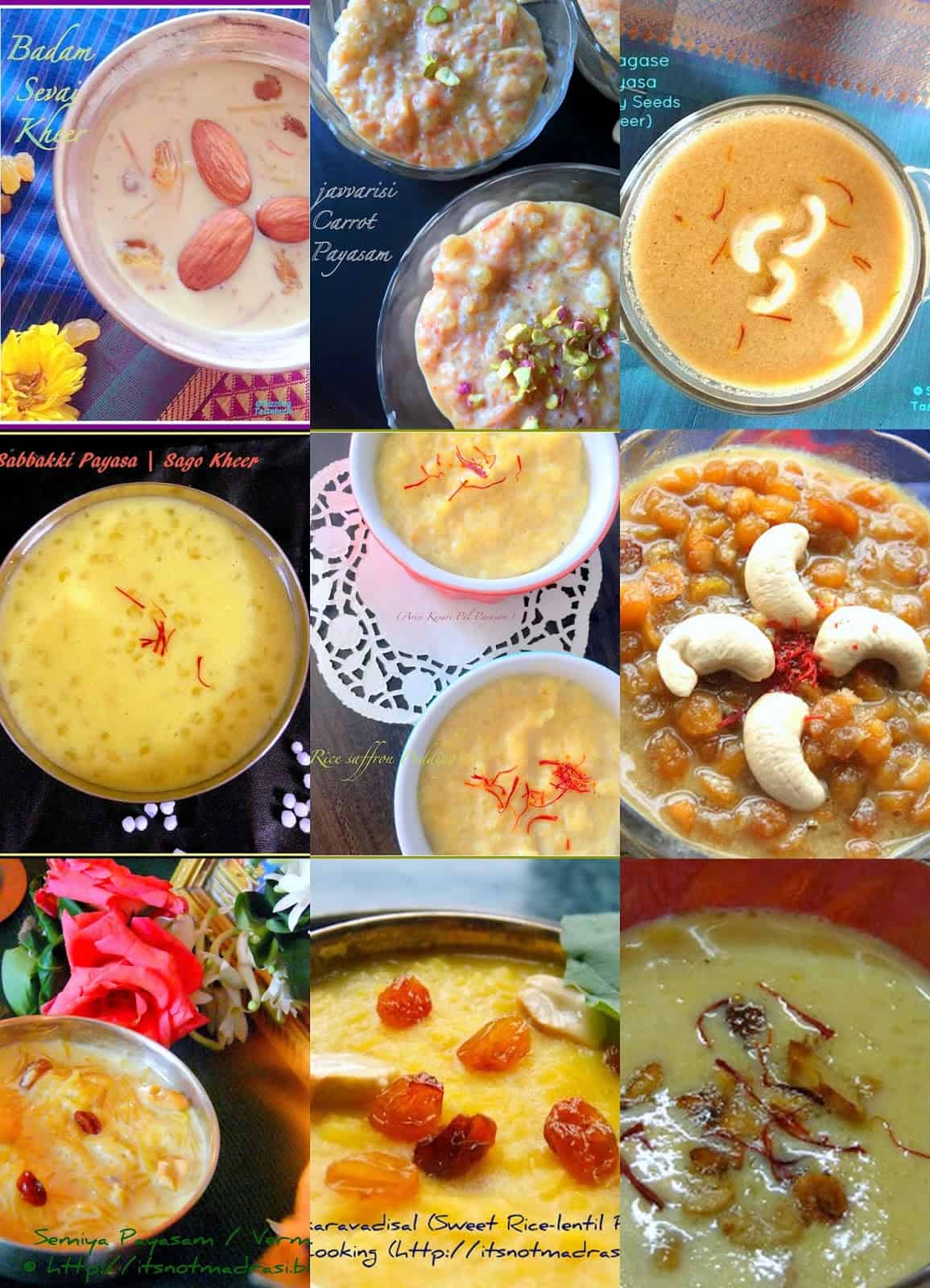 9 Flavoured Rice varieties (without any onion – garlic or tamasic ingredients)