What is Gabbye Upkari / Gabbe Upkari?
Upkarri refers to a stir fry, mostly sans onion-garlic. Gabbya Upkari or Gabbe Upkari is a Konkani style stir fry made with Banana Stem. Served with steamed rice + a local curry
Konkani cuisine and it's beauty…
The vibrancy of Indian Cuisine is celebratory. Every 50-75 kms or so, the cuisine and the eating patterns changes, and that is mostly dependant on the locally sourced ingredients. Even among the Konkan coast, the common denominators are coconut and rice (of course apart from sea food), but the dishes along the Konkan coast – kerala, Mangalore, Goa , Maharashtra – are so similar yet different.
Konkani cuisine uses all these star ingredients – rice, coconut ,banana & jackfruit in abundance and are known to have a variety of dishes using veg peels (think Kalingana Polo or watermelon dosa) and is a cuisine which is known for 100% zero wastage food preps. This Upkari is a typical stir fry made with a multitude of vegetables, all lending their own unique taste. Needless to say, Coconut oil tempering is a highlight in all these Upkari.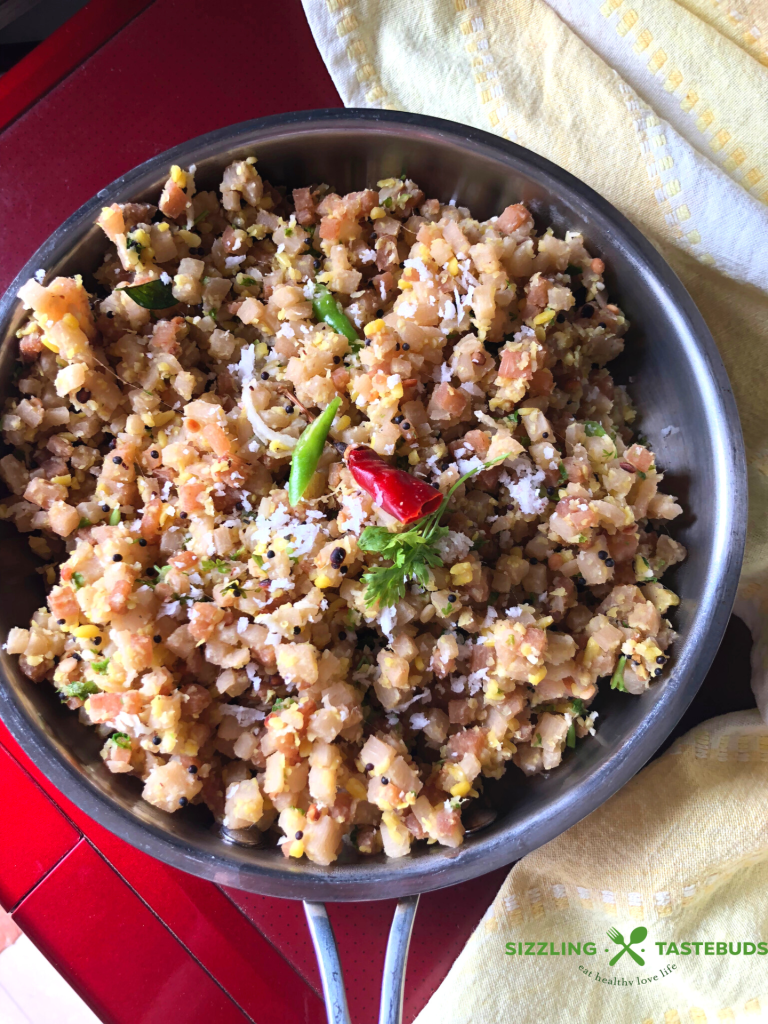 My guide for Konkani cuisine !
My initiation to Konkani (esp GSB cuisine) came through this wonderful cookbook I have been referring to for ages – The Konkani Saraswat Cookbook by Asha Philar (Image below) . It offers such a wonderful insight into their cooking, along with home remedies using locally available ingredients!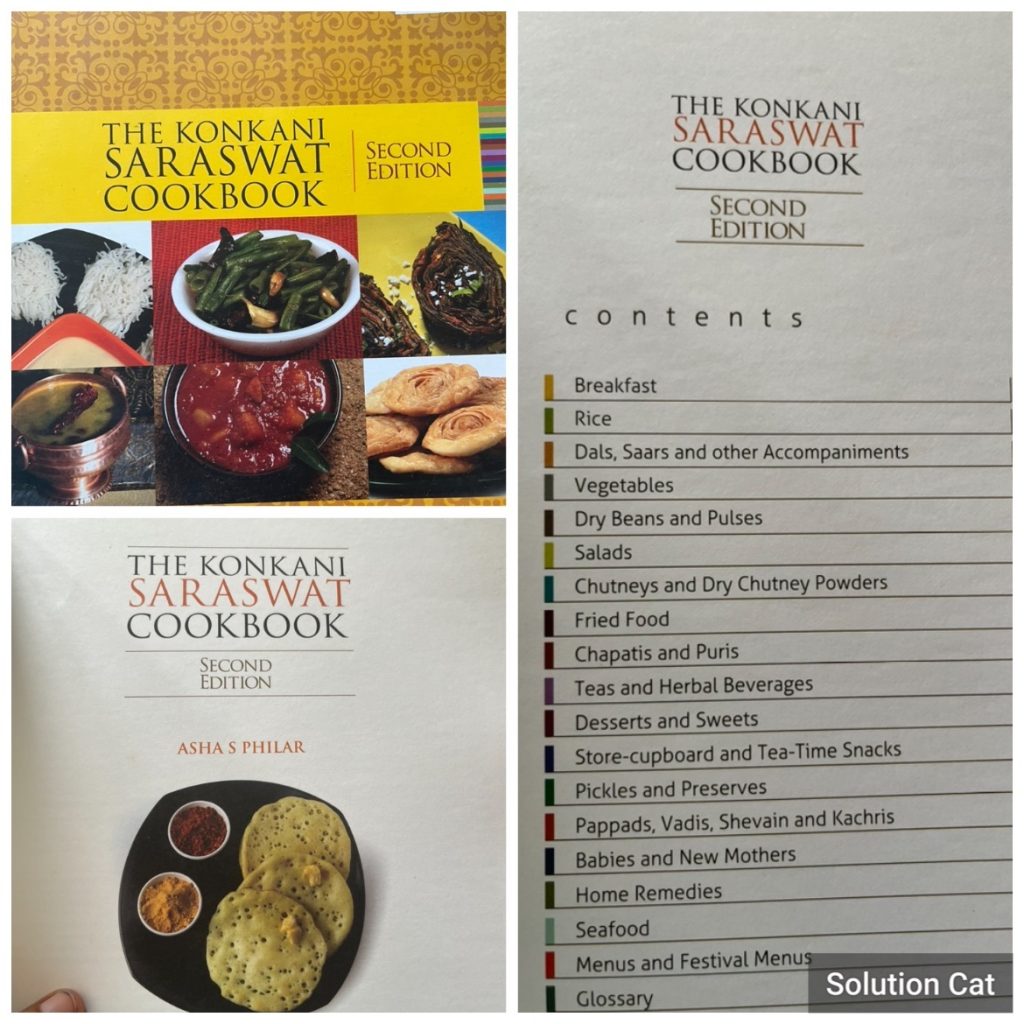 Benefits of Gabbye / Gabbe / Banana Stem
Banana stem (called Vazhai Thandu in Tamil, BaLe Dhindu in Kannada) is a versatile source of fibre and offers much succour as a medicinal food to many ailments including helping maintain low sugar levels for diabetics.Keeping in the simple deliciousness profile of Konkani Food, this Upkari celebrates the banana stem in all its glory – allowing the flavours to shine through
Other Dishes we make using Banana Stem / Banana Pith
Vazhai Thandu Mor kootu | Banana Stem in Spiced Yoghurt Gravy
Vazhai Thandu Mor Kootu is a spiced curry made with yoghurt and tender banana stem. This is usually served with Sambhar and steamed rice.
Check out this recipe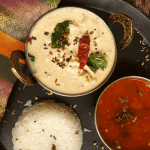 Vazhai Thandu Usli
Vazhai Thandu Usli or Banana Stem dry Curry is a healthy vegan, GF dish made with Chopped Banana pith and lentils. Served as an accompaniment to Rasam or Sambhar.
Check out this recipe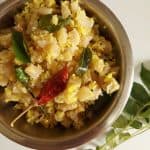 FAQs to make Gabbya Upkari
What can this Upkari be served with? Steamed Rice + Dalitoy (Konkani dal) / Kolombo (Konkani style sambhar)
What other veggies can be used in place of Gabbya (or Banana stem)? Colocasia leaves is a speciality, while the other native veggies including jackfruit, beans, shawl (long yard beans) are also favoured.
Is Coconut used in this? Grated / Ground Coconut is a highlight to this Upkari, and all upkaris (and Konkani dishes in general).
Liked this recipe? SIGN UP FOR THE Sizzling Tastebuds Newsletter (No Spam, Promise!) for fresh, healthy and tasty recipes right into your inbox . Please consider leaving a star ???? rating on this recipe for us to get you the best recipes out there.   FOLLOW Sizzling Tastebuds ON Facebook, Twitter, Pinterest AND  Instsgram for fresh content, latest recipes and much more!
Prep time – 15 mins, Cook time – 15 mins, Serves – 4
1 Banana Pith (Gabbya / Gabbe, de-stemmed)
1/4 cup Coconut
1 tsp cumin seeds (jeera)
2 green chillies
1 tsp salt
2 tsp coconut oil
1 tsp Mustard seeds
1 sprig curry leaves
2 red chillies, broken
PIN FOR LATER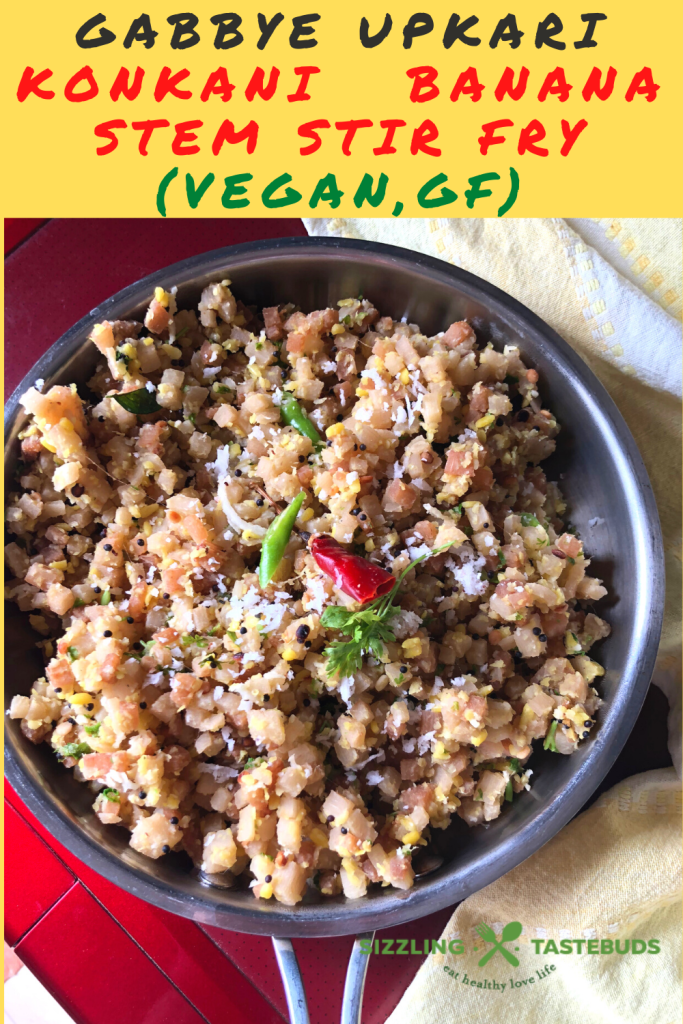 How to make Gabbye Upkari
De stem the gabbye, cut into really tiny cubes, and soak in buttermilk mixed water (add 2 tsp curd to 500 ml water and mix well)
Meanwhile grind the coconut with the chillies and cumin to a coarse paste without adding more than 1 tsp water.
Steam the veggies (pressure cook in a colander for 2 whistles). Drain
The veggies need to be cooked through yet have a bite to them.
In a non stick pan, add the oil, splutter the mustard seeds, broken red chillies and curry leaves
Add the cooked banana pith and the ground paste and saute for 3-4 till mixture turns dry.
Garnish with 1 tsp of fresh or frozen grated coconut and serve with any Konkani curry + steamed rice for a satisfying meal
NUTRITION
Calories: 65kcal Carbohydrates: 3g Protein: 1g Fat: 6g Saturated Fat: 5g Polyunsaturated Fat: 0.2g Monounsaturated Fat: 1g Sodium: 659mg Potassium: 50mg Fiber: 2g Sugar: 1g Vitamin A: 92IU Vitamin C: 13mg Calcium: 11mg Iron: 1mg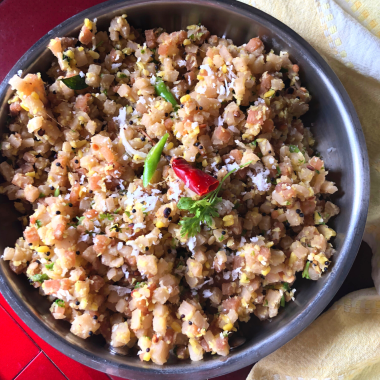 Gabbya Upkari (Konkani style Banana stem stir fry)
Gabbye Upkari or Gabbe Upkari is a Konkani style stir fry made with Banana Stem.Served with steamed rice + curry, it is a vegan + Gluten Free Curry and contains no onion or garlic too!  
Ingredients
1

Banana Stem

Gabbya / Gabbe, de-stemmed – approx 600 g

1/4

cup

Grated coconut

fresh or frozen

1

tsp

Cumin seeds

jeera

2

Green Chillies

1

tsp

salt

2

tsp

Coconut oil

1

tsp

Mustard Seeds

1

sprig

Curry Leaves

2

Dry Red Chillies

broken
Instructions
De stem the gabbya, cut into really tiny cubes, and soak in buttermilk mixed water (add 2 tsp curd to 500 ml water and mix well)

Meanwhile grind the coconut with the chillies and cumin to a coarse paste without adding more than 1 tsp water.

Steam the veggies (pressure cook in a colander for 2 whistles). Drain

The veggies need to be cooked through yet have a bite to them.

In a non stick pan, add the oil, splutter the mustard seeds, broken red chillies and curry leaves

Add the cooked banana pith and the ground paste and saute for 3-4 till mixture turns dry.

Garnish with 1 tsp of fresh or frozen grated coconut and serve with any Konkani curry + steamed rice for a satisfying meal
Nutrition
Calories:
65
kcal
Carbohydrates:
3
g
Protein:
1
g
Fat:
6
g
Saturated Fat:
5
g
Polyunsaturated Fat:
0.2
g
Monounsaturated Fat:
1
g
Sodium:
659
mg
Potassium:
50
mg
Fiber:
2
g
Sugar:
1
g
Vitamin A:
92
IU
Vitamin C:
13
mg
Calcium:
11
mg
Iron:
1
mg