After last week's fried delights featured in the currently ongoing September's Mega BM – Cooking Carnival – hereby abbr. as CC, I start with Indian Sweets / Mithai for this week. It's surely the festive season  – Ganpati / Ganesh festival starts today, to be followed by Navratri and Diwali shortly, so these are a few of the Mithais we make at home.
Wishing one and all a very Happy Ganesh Chaturthi and a prosperous year ahead..
Ladoo or Barfi (Fudge) are the first two preferences with the sweet loving folks at home, with Payasam / Kheer a distant third. But the elder kid likes Moong dal Halwa / Carrot Halwa when made in season.
Me and the husband exchanged wedding wows today, what seems many years ago 😀 ; so it seemed like a great reason to celebrate our anniversary with this sweet :)) 
Today I present a low fat version of Damrot a.k.a Kashi Halwa made in most Kannada (or South Karnataka) weddings usually on the previous evening of the main wedding (the previous evening is called Januvaasam in Kannada or Varapooje in Kannada). 
Jaanuvasam is like a welcome party for the bridegroom's family, and the engagement is fortified further through vedic hymns in front of close relatives of the bride's and groom's families. Although the weddings of late are crunched due to time constraints or due to inter caste marriages, most traditional families still follow the tradition.
I have seen this being served for breakfast along with Idli , Vada on the main day of Kannada weddings too.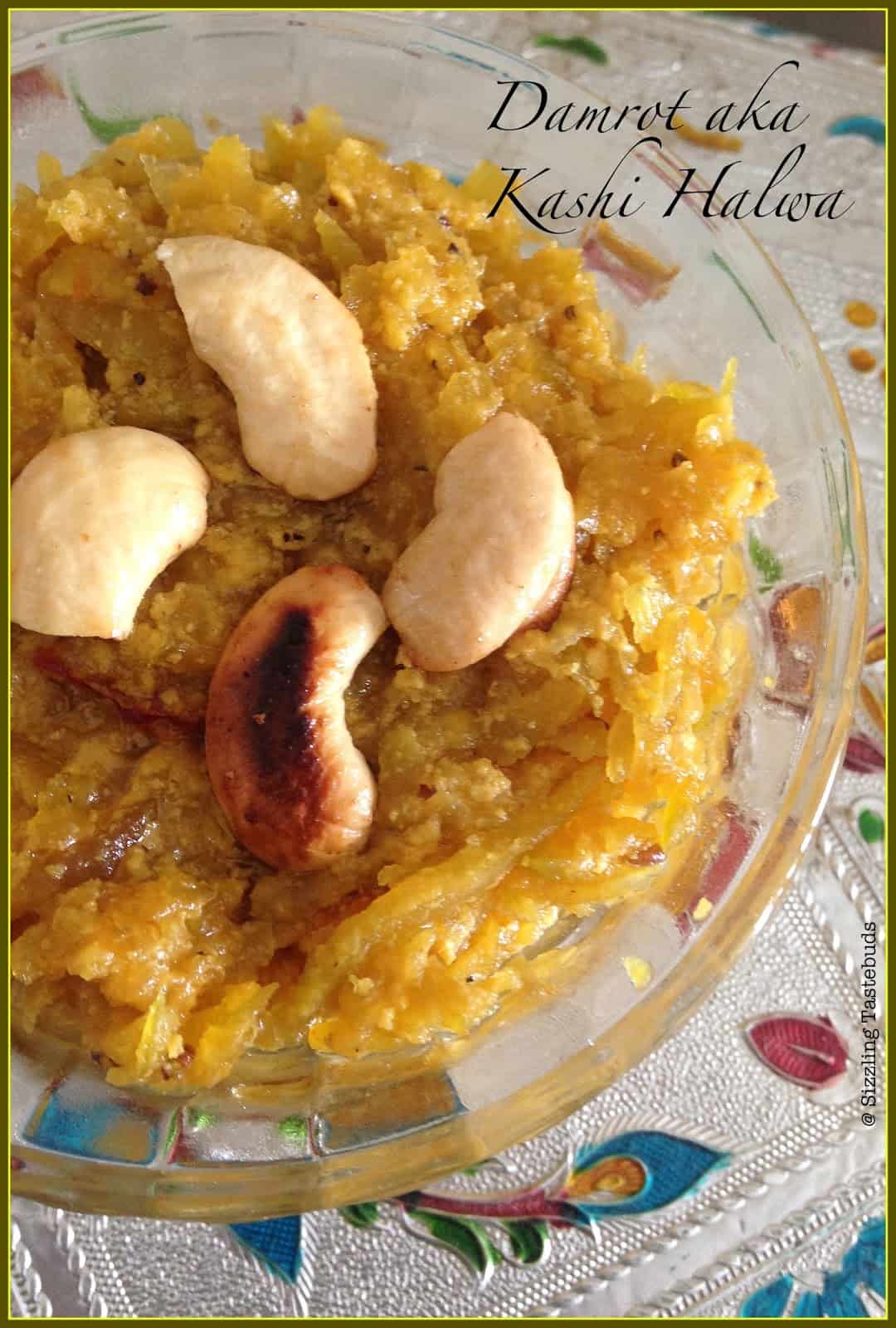 Pin

This dish Damrot is made with ash gourd aka Winter melon as a star ingredient (Vella pusanikai in Tamil / Boodhu KumbaLakaayi in Kannada, Safed Bhopla in Hindi or राख भोपळा in Marathi).

The original version of this dish has ghee oozing from its sides, and is literally a melt-in-the mouth experience, I have toned down both the sugar and the ghee in this version to my family's liking. 

Without much prep time, it can be prepared in under 30 mins (that time changes with the quantity prepared). Damrot is usually served along Idli / Vada as a breakfast or as a evening snack along with Potato Bondas (gram flour and potato deep fried snack), Coconut chutney and piping hot filter coffee !!  Ah.. bliss :))) 

As I write this post, it surely takes me to those lovely weddings in Bangalore during my childhood where we eagerly awaited a delicious spread, fun and frolic and most importantly bunking school and enjoying the day with cousins / friends 🙂

Lets see how to make this low fat version. See notes at the end of this post for more details…  

Low Fat  Damrot / Kashi Halwa- an Indian sweet /mithai 

Gluten Free Semi solid Pudding made with Wintermelon / White Pumpkin.  

Prep time : 15 mins ; Cook time : 15-20 mins ; Serves : 4-6

Ingredients:
Winter melon / Pusanikai / Boodhu KumbaLakaayi  – about 500 gms (grated 3 cups)
Full Cream Milk – 1 cup
Sugar – 240 gms
Ghee – 6 TBSP
Cardamom powder – 1/2 tsp
Nuts (raisin / cashwe) if using  – 1 tsp
Saffron – a few strands
Method:
Peel the winter melon and grate into 3 cups (without squeezing the water). 
In a pan, heat 1 tsp of ghee and fry any nuts if using.
In the same pan, add the grated melon and saute for 5-8 mins on a medium flame till the water evaporates and the melon is half cooked, do not add any additional water.
Now add the milk and half of the ghee and let the grated melon cook fully in the milk. Keep the flame on low-medium continuosuly watching it, lest it burns.
When the ghee begins and leave the sides, add powdered sugar , saffron if using and the rest of the ghee.
On a very low flame, keep stirring it till comes to a lumpy mass and ghee starts leaving the sides.
Switch off, add the cardamom powder and mix well. Add in the fried nuts.
Serve hot or warm. 
Notes:
Use the grated melon along with the water – do not squeeze it
Dont leave the pan unattended – it will scorch quite quickly
As this veggie is bland, a little more sugar is required than Gajar Halwa or Doodhi Halwa to make it tasty.
you can replace half the quantity of ghee with unsweetened Mawa or Khoya (dried milk solid)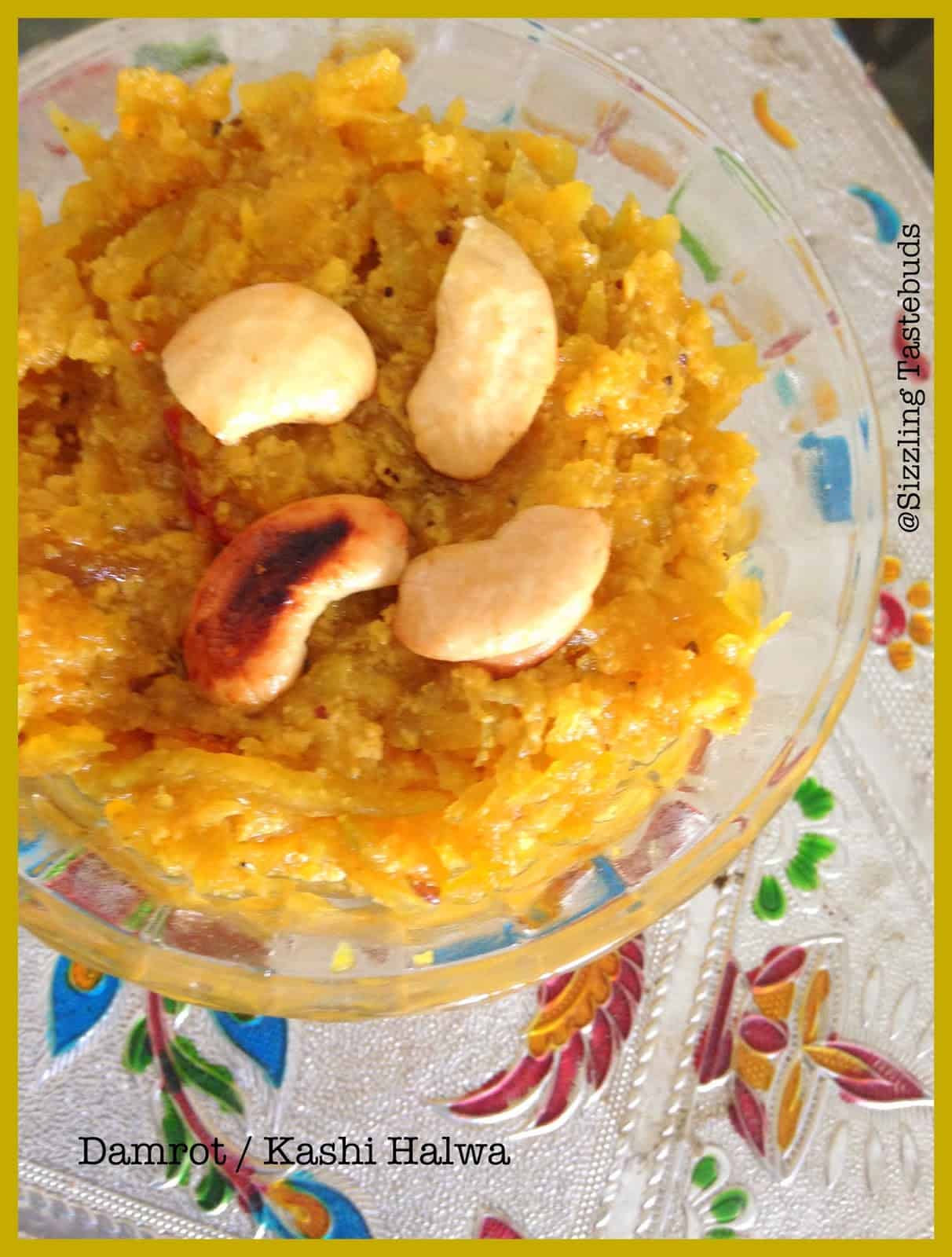 Pin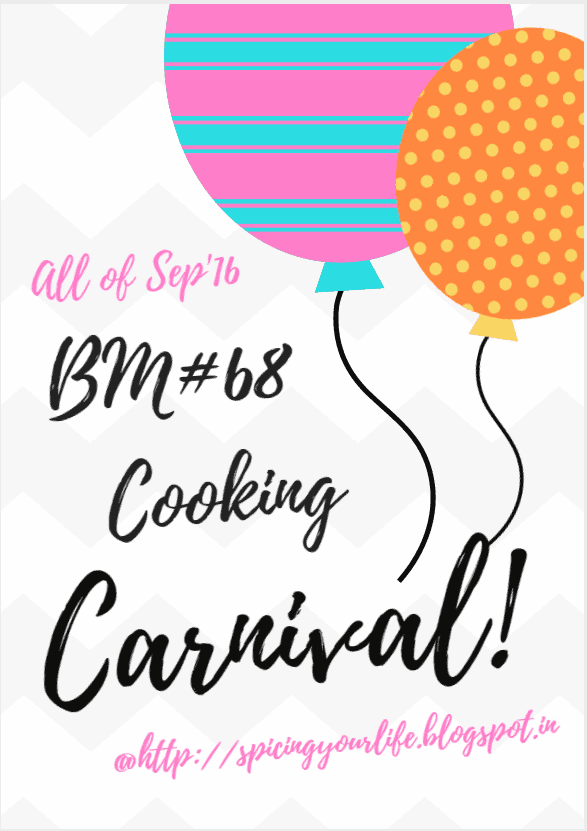 Pin
Check out the Blogging Marathon page for the other Blogging Marathoners doing BM# 68