Brazilian Coffee Shots
Brazil = football. Perhaps their map also endorses that 🙂 Notwithstanding that they didn't win the recently held World Football cup 2014, I know of many friends who were heartbroken to know their favourite team
didn't make it to the top.
Brazil also being a tropical country, is best known for its coffee, banana and exotic cocktails. Wiki tells me that The national beverage is coffee and cachaça is Brazil's native liquor. Cachaça is distilled from sugar cane and is the main ingredient in the national cocktail, Caipirinha.
So, today's dish has two of their top produce – coffee and banana – in an exotic party shot type dessert… And what's more, my elder girl helped me choose it, make it, style it, and even took pics.. (She asked me to mention this specifically that today's dish is 100% her effort ). A huge kiss to my lil chef in the making.. 🙂 🙂
This post was first published in 2014, where the lil chef is no more little. Although she has more interest now (2021) in eating than cooking, am happy that the foodie genes are intact. She in fact LOVES the South Indian Filter Coffee but I haven't tasted ANY Coffee drink … like … ever (yeah, you can roll your eyes).
I like coffee however in this decadent 2-min Coffee Mug Cake. Another interesting "coffee" is this Qatari Kahwa which is actually like black tea :p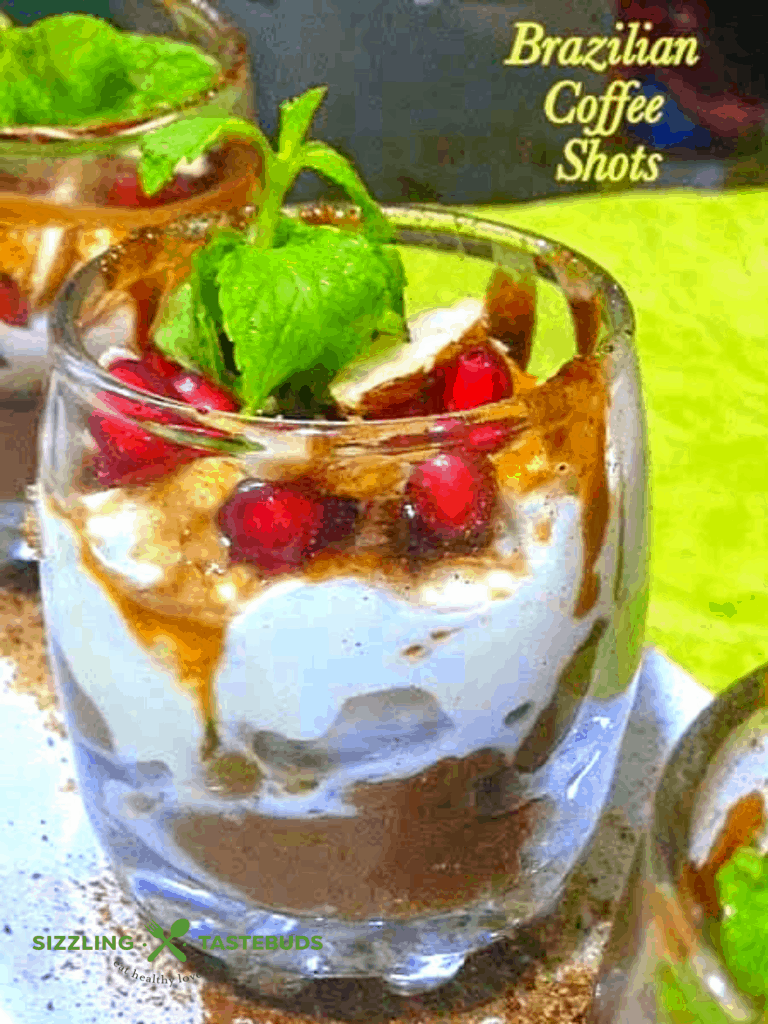 Did you know the following things about Brazil?
 The word "Brazil" comes from brazilwood, a tree that once grew plentifully along the Brazilian coast
The land now called Brazil was claimed for the Portuguese Empire on 22 April 1500, with the arrival of the Portuguese fleet commanded by Pedro Álvares Cabral. (that perhaps explains the Portugese influence on some Brazilian dishes)
Brazilian cuisine varies greatly by region, reflecting the country's varying mix of indigenous and immigrant populations. This has created a national cuisine marked by the preservation of regional differences.Examples are Feijoada, considered the country's national dish and regional foods- vatapá, moqueca, polenta and acaraj (Source:Wiki)
What does this Brazilian Coffee Shot primarily comprise of?
Coffee – Obviously, use the best quality Ground Coffee you have on hand (better still a Brazilian blend)
Bananas – Use Ripe ones (not the totally BLACKENED ones you would use for, say a Banana Bread, but adequately RIPE)
Hung Curd (or sub with Whipped Cream)
Cinnamon – for that oomph!
These Brazilian Coffee shots have a hint of banana and cinnamon in them. You can serve them cold or
even make ahead for a party. I (Read we) love cinnamon and coffee flavor, but you can choose to skip the cinnamon and it would still taste great !!
PIN ME NOW!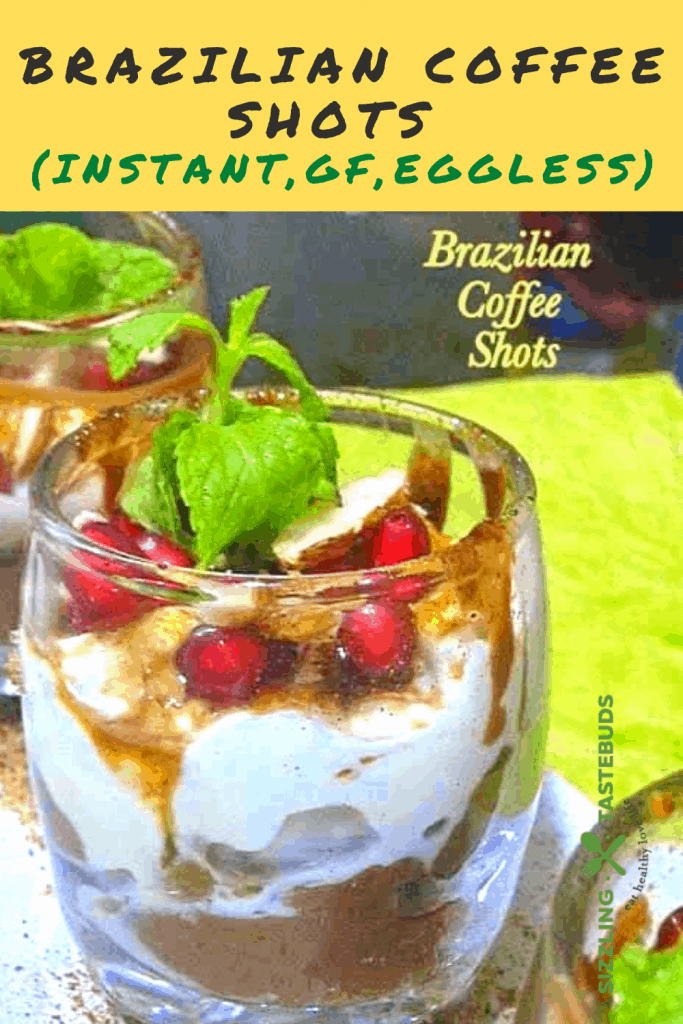 Other ZERO COOK Desserts / Sweets you may like on the blog:
Coming to the recipe, let's get to making Brazilian Coffee shot
Cuisine – South American (Brazilian) ; Course – Dessert
Difficulty level – Easy
Prep 10 mins | Cook time : Nil | Serves : 2
Serving Suggestions : Chilled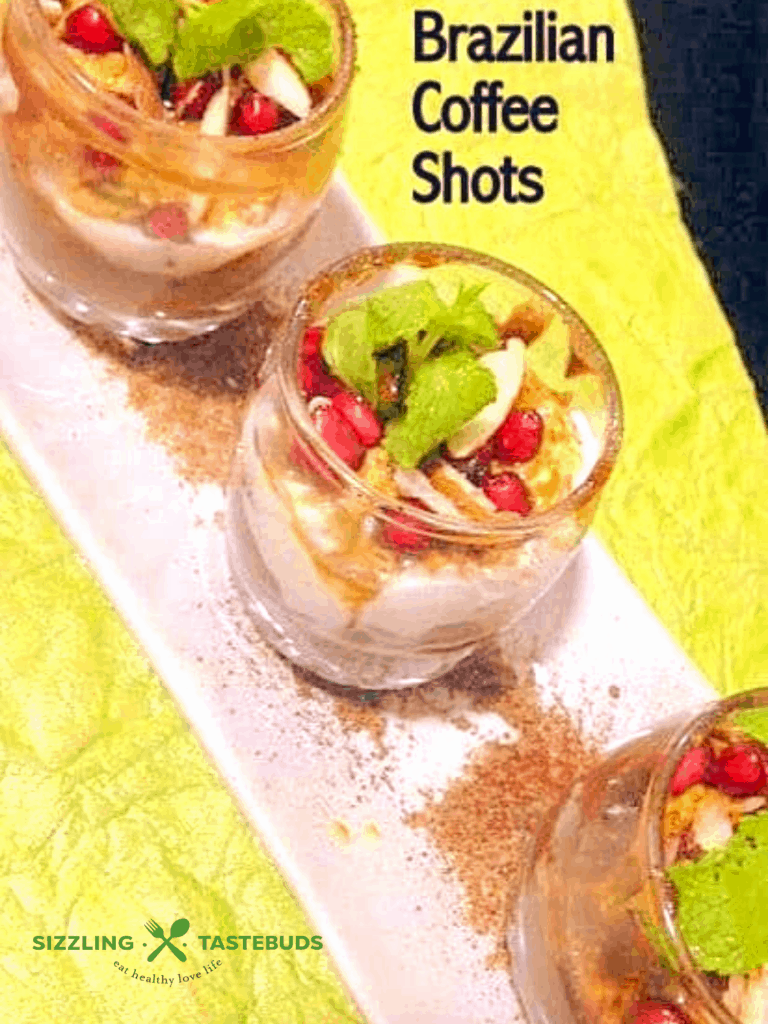 Ingredients to make Brazilian Coffee shots:
4 Ripe Bananas ( I used Elaichi variety)
2 TBSP Instant Coffee Powder
4 TBSP Hung yoghurt
3 TBSP Brown Sugar
1/2 tsp Cinnamon Powder
4 Almonds (Silvered-or use flakes)
2 tsp pomegranate pearls – garnish
1 tsp mint leaves (chopped) – garnish
Method to make Brazilian Coffee shots:
Peel and chop bananas roughly. Add instant coffee powder and blend till smooth
Chill glasses. And fill half glasses with this banana coffee mixture.
Spoon thick yoghurt (whisk it lightly with cinnamon) over this.
Top with almond flakes / slivers and pomegranate pearls and / or mint leaves
Chill and Serve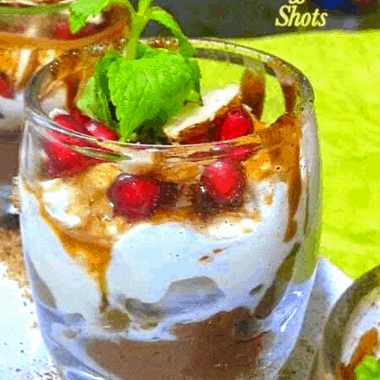 Brazilian Coffee Shots
A Zero Cook Instant dessert with Brazilian Coffee flavours. Served best chilled for party or as a summer treat
Ingredients
4

Bananas

Ripe- I used Elaichi variety

2

TBSP

Instant Coffee Powder

4

TBSP

Hung yoghurt

3

TBSP

Brown Sugar

½

tsp

Cinnamon powder

4

Almonds

Silvered-or use flakes

2

tsp

pomegranate pearls – garnish

1

tsp

mint leaves

chopped – garnish
Instructions
Peel and chop bananas roughly. Add instant coffee powder and blend till smooth

Chill glasses. And fill half glasses with this banana coffee mixture.

Spoon thick yoghurt (whisk it lightly with cinnamon) over this.

Top with almond flakes / slivers and pomegranate pearls and / or mint leaves

Chill and Serve