Fruit and Yogurt bark – Need we say more ?  A healthy Zero-Cook, Zero-oil dessert that is totally delish and customisable  
Fruit and Yogurt Bark -Why and how ?
As edible gifts go, this takes the cake, and the the cherry too. Plus it is
Kid friendly
Gut friendly
Zero Oil !
Gluten free
Easy as pie and quick (well, almost!)
Totally customisable
Colourful and attractive especially for edible gifting, or even to kids , and most importantly
ZERO Cook (No Fire Cooking, anyone ?:p))
Can be vegan too (look for notes in the recipe below)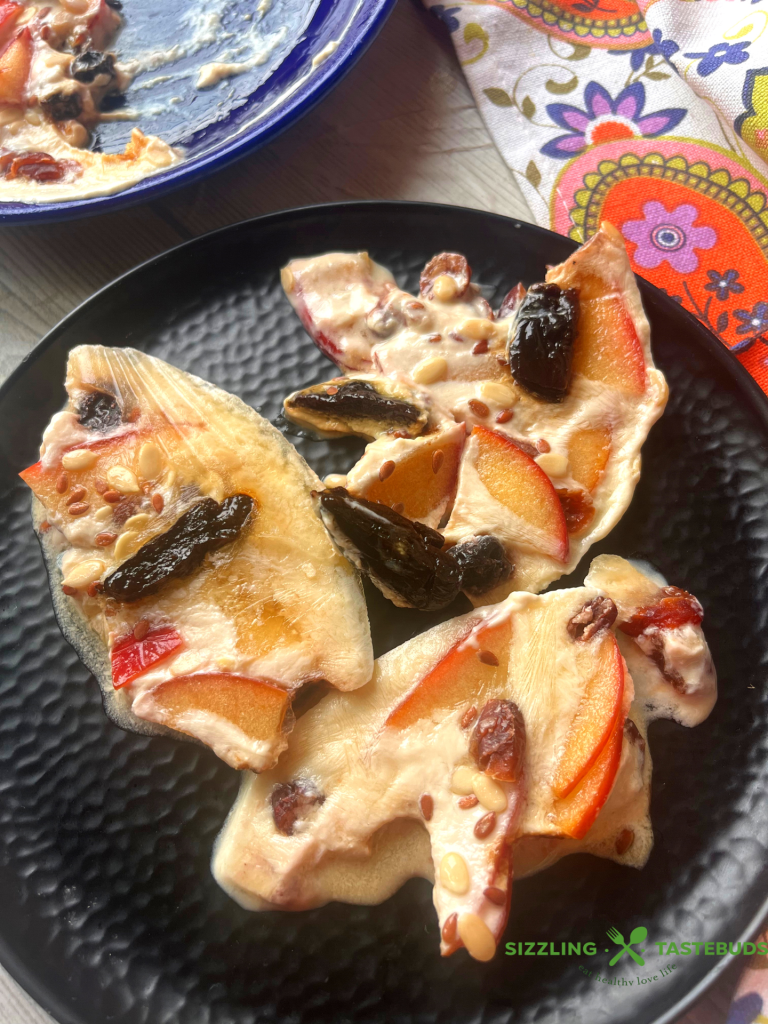 The only wait time(s) are :
a. To make Hung curd
b. Waiting for the bark to freeze.
But if you have thick greek yoghurt, you can simply skip that 1st part too.
Tips and tricks to make the BEST Fruit and Yogurt Bark
How to make this Fruity Yoghurt Bark Vegan?
Use Coconut yogurt or any plant based yoghurt you have, strain (make hung curd with it) and use. Skip the honey (and replace it with stevia, agave), or simply skip the honey at all.
How can Fruity Yoghurt Bark be customisable ?
Add sprinkles – make it more colourful. Add freeze dried fruits (strawberries / bananas / figs etc) Add nuts, berries of your choice (skip nuts for nut allergy) or simply sprinkle granola or a handful of roasted seeds
Add a tsp of cacao powder to make a chocolatey take on this. Add few tsp of any fresh fruit puree (or use vanilla yoghurt) to make a fruit twist on this !
Let us know in the comments below how you would customise this !
Prep time – 10 mins (if you have hung curd / greek curd on hand) else 4 hours
Zero Cook – NIL ; Freezing time – 8 hours ; Makes – 4 servings
PIN FOR LATER
Ingredients to make Fruity Yogurt Bark
1/2 cup Hung Curd (sub with store bought Greek yogurt or even flavoured thick yogurt)
1 tsp honey (sub with maple syrup / Agave for a Vegan version)
1/4 tsp Vanilla Extract (opt.)
1/4 cup Mixed nuts (skip for Nut allergy)
1 TBSP mixed seeds (roasted)
1/4 cup fruits (Fresh or store-bought freeze dried ones)
Liked this recipe? SIGN UP FOR THE Sizzling Tastebuds Newsletter (No Spam, Promise!) for fresh, healthy and tasty recipes right into your inbox. Please consider leaving a star 🌟 rating on this recipe to encourage us . Do FOLLOW Sizzling Tastebuds ON Facebook, Twitter, Pinterest AND  Instagram for fresh content, latest recipes and much more!
How to make Fruity Yogurt Bark
In a bowl, Whisk the yogurt with the honey (or maple syrup / stevia whatever you are using)
Tip in the vanilla extract and mix gently
Carefully fold in half of the dried nuts and fruits,
Transfer to a tray lined with parchment paper
Spread evenly making the bark neither too thick or thin using a spatula or a flat spoon
Top with remaining seeds / nuts / fruits
Freeze for 8 hours or overnight
Cut into required shapes and use immediately
Alternatively, keep the pieces frozen and pop them whenever you feel peckish for a quick, healthy snack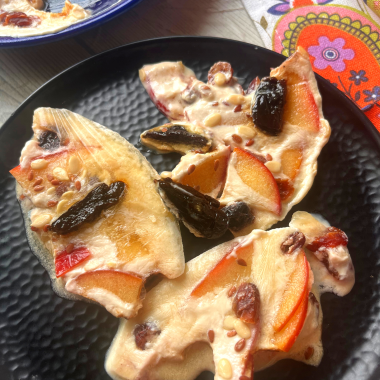 Easy Fruit + Yogurt Bark
Fruit and Yogurt bark – Need we say more ? A healthy Zero-Cook, Zero-oil dessert that is totally delish and customisable
Equipment
1 Knife

1 Flat Tray

1 Whisk

1 Bowl

1 Spatula
Ingredients
1/2

cup

Hung Curd

sub with store bought Greek yogurt or even flavoured thick yogurt

1

tsp

Honey

sub with maple syrup / Agave for a Vegan version

1/4

tsp

Vanilla Extract

1/4

cup

Mixed nuts

skip for Nut allergy

1

TBSP

mixed seeds

roasted

1/4

cup

Fruits

Cut, Fresh or store-bought freeze dried ones
Instructions
In a bowl, Whisk the yogurt with the honey (or maple syrup / stevia whatever you are using)

Tip in the vanilla extract and mix gently

Carefully fold in half of the dried nuts and fruits,

Transfer to a tray lined with parchment paper

Spread evenly making the bark neither too thick or thin using a spatula or a flat spoon

Top with remaining seeds / nuts / fruits

Freeze for 8 hours or overnight

With a sharp knife, Cut into required shapes and use immediately

Alternatively, keep the pieces frozen and pop them whenever you feel peckish for a quick, healthy snack
Video