While on my mini-research into plant based protein sources, found that Nuts are a great source of proteins and provide macronutrients as well. I had bookmarked Harini's Mixed dry fruit n Nut barfi. Didn't change a thing and loved it 🙂
Thank you Harini for a quick and delicious recipe. And Harini says this is for those unexpected guests, but this low fat and sugar and mess free sweet nibble is a great idea for snack box or even as a post-sport snack for active kids. Roasted Gram / Putaani / Potukadalai / Hurigadale is also high in B12 and excellent for regulating menstrual cycles.
As for diabetics and adults alike, a bit of moderation is necessary for its quite high on calories and could detract any diet if you are on to lose extra weight.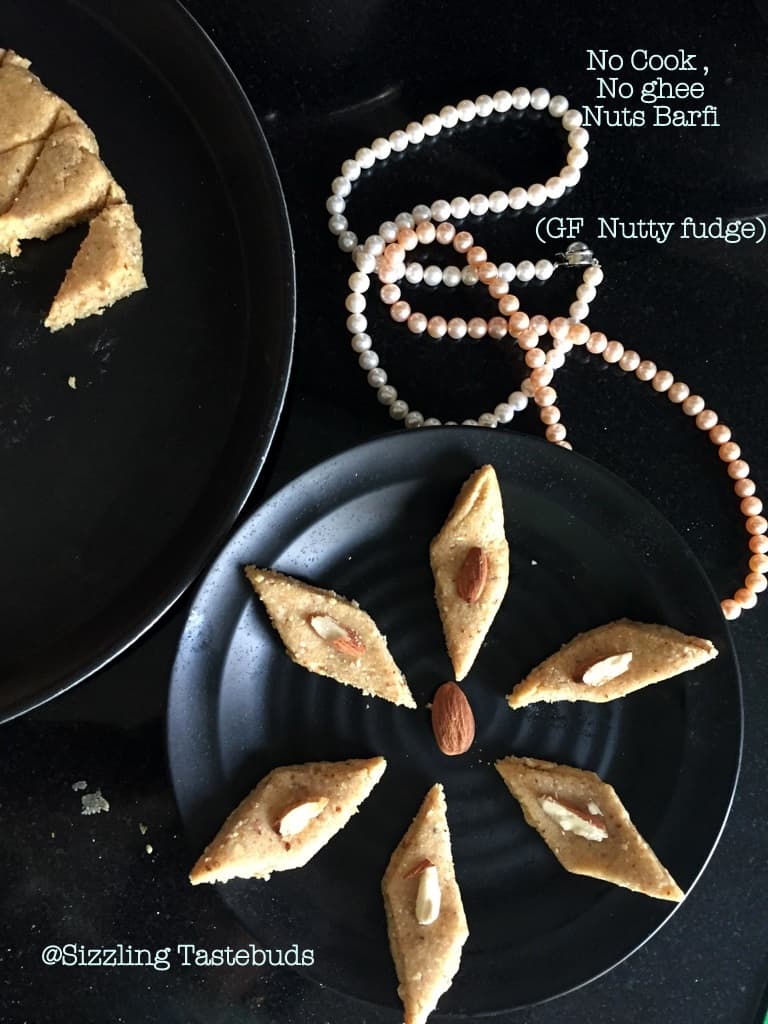 Pin



So, do make it this Diwali or Dusherra and treat your family n friends with a healthy quick to make Sweet Nibble.


Similar Barfis / Fudge (Indian sweets):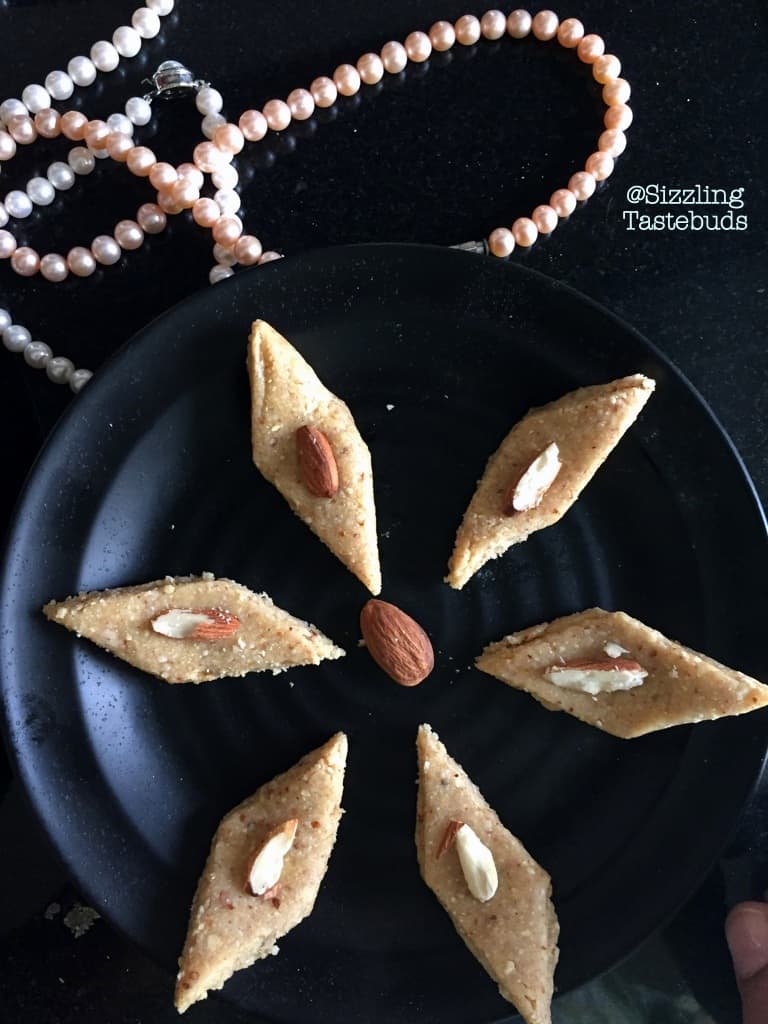 Pin

Prep time – 15 mins, Cook time : Nil : Setting Time – 15 mins

Protein source : Nuts



Makes – 20-22 mini Barfis


You would need :
Almonds – 1/4 cup
Cashews – 1/4 cup
Walnuts – 1/4 cup
Roasted Gram /Pottukadalai /Hurigadale – 1/4 cup
Milk Powder – 3/4 cup (I used Nestle brand)
Powdered Sugar – 3/4 cup (original recipe said 1 cup, but we did fine with 3/4 cup)
Milk – 2 or 3 TBSP (or as needed) – I used 2 tsp
Vanilla essence – 2 or 3 drops (optional but recommended)
Ghee- 1 tsp (just for greasing)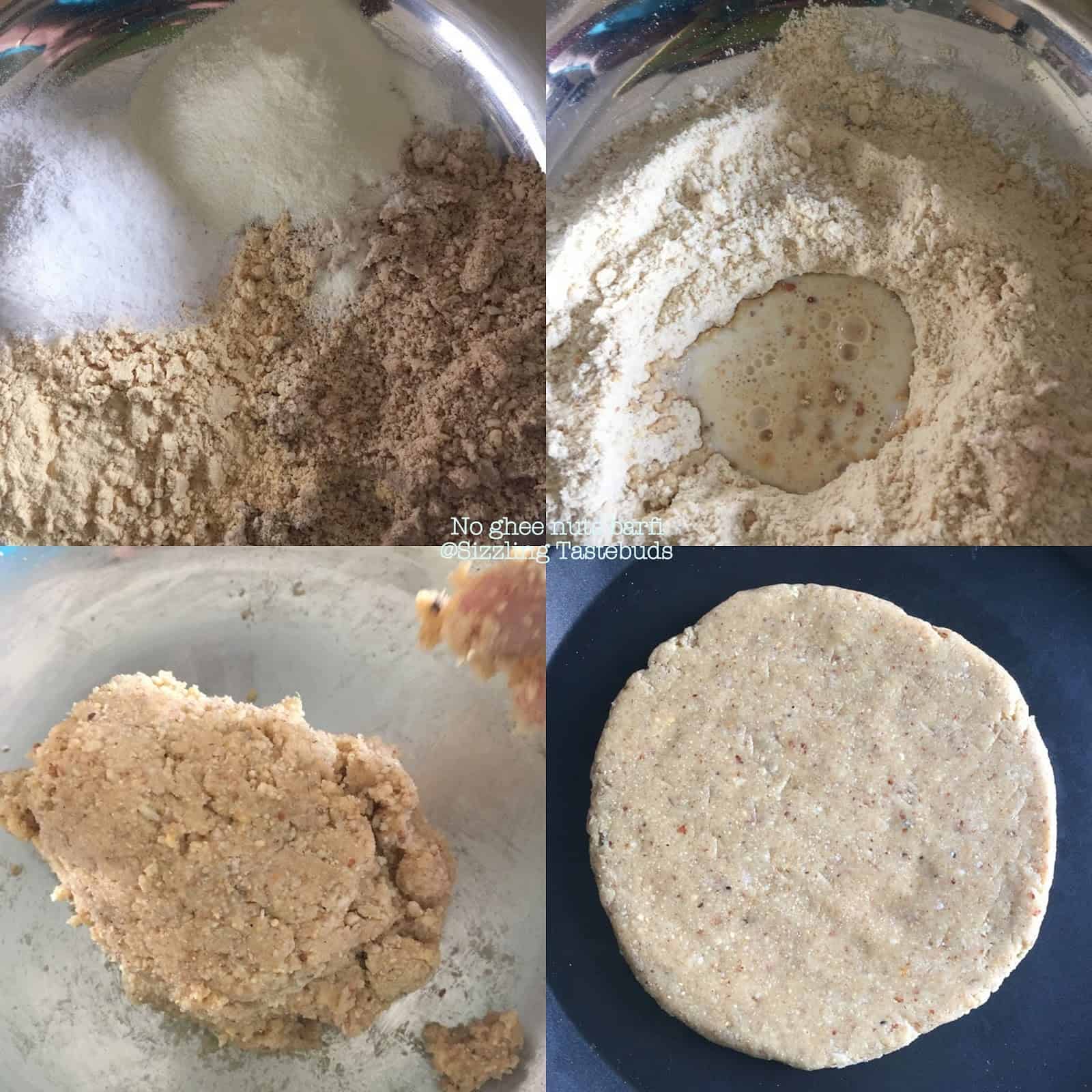 Pin

How to:
Dry Roast all nuts on low flame for 10-15 seconds or until warm. Cool, powder. I went a little ahead and got a slightly wet mixture (which is 3 steps short of nut butter)
While still warm, add the powdered sugar, milk powder , cardamom powder, vanilla and milk (if using) and sightly knead to a soft dough.
Pat on a greased plate / parchment paper.
Refrigerate for 15 – 20 mins and then cut into barfis.
If you don't add milk, this will keep for 4-5 days on the counter itself (weather permitting).
But I prefer to refrigerate it.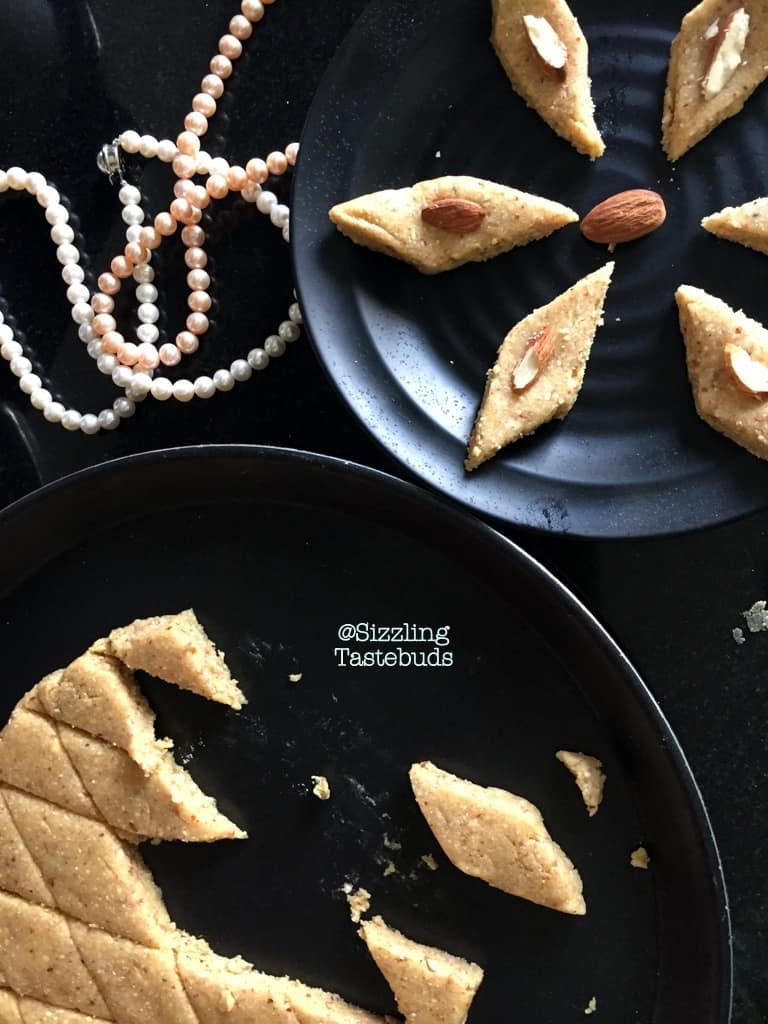 Pin
Pin
Check out the Blogging Marathon page for the other Blogging Marathoners doing BM# 80