Picture this : Every South Indian movie or clip representing a
typical TamBram household will have a Hindu newspaper, Filter coffee in a
davara (a stainless steel tumbler with a flattish cup) and M S Subbalakshmi
singing Suprabhatam (morning prayers)… Its that ubiquitous by its presence. Also called Kumbakonam Digree Coffee (Kumbakonam is a prominent town in Tamilnadu), this is one beverage which is a sure shot wake up call for any Tam Brahm householder.
I am sure every South Indian family  – especially those in
Tamilnadu and Karnataka – have their own version of making Filter Coffee.
Strong , rich, with and without chicory, milky, frothy – the versions are
endless. Each family will also have a coffee bean / coffee powder supplier who
would be with the family for ages – supplying the same grade (and variety) of
coffee for ages to come. Today's post on How to make Filter Coffee is on
popular demand by my friends not from the South, and yet who love and rather
crave for South Indian Filter Coffee. I have included tips and little tricks
that would be helpful for first time makers and a revision perhaps for everyday coffee makers :-))
Filter Coffee is best served fresh after any breakfast– Idli/ Vada/ Dosa/ Pongal/ Poha/ Sevai/ Uttapamsor even as a refreshing drink in the evening.
In fact, even before FDI and retail in India opened up to the
numerous Cafe Coffee Days and Baristas,  coffee was a special treat,
either available traditionally only in homes or at some restaurants. The history of coffee goes
at least as far back as the thirteenth century with a number of myths
surrounding its first use. 
The original native population of coffee could have come from Ethiopia, Sudan
or Kenya, and it was cultivated by Arabs from the 14th century. Wikpedia tells
me that Drip brewing, or filtered
coffee, is a method which involves pouring water over roasted, ground coffee beans
contained in a filter, creating the beverage called coffee.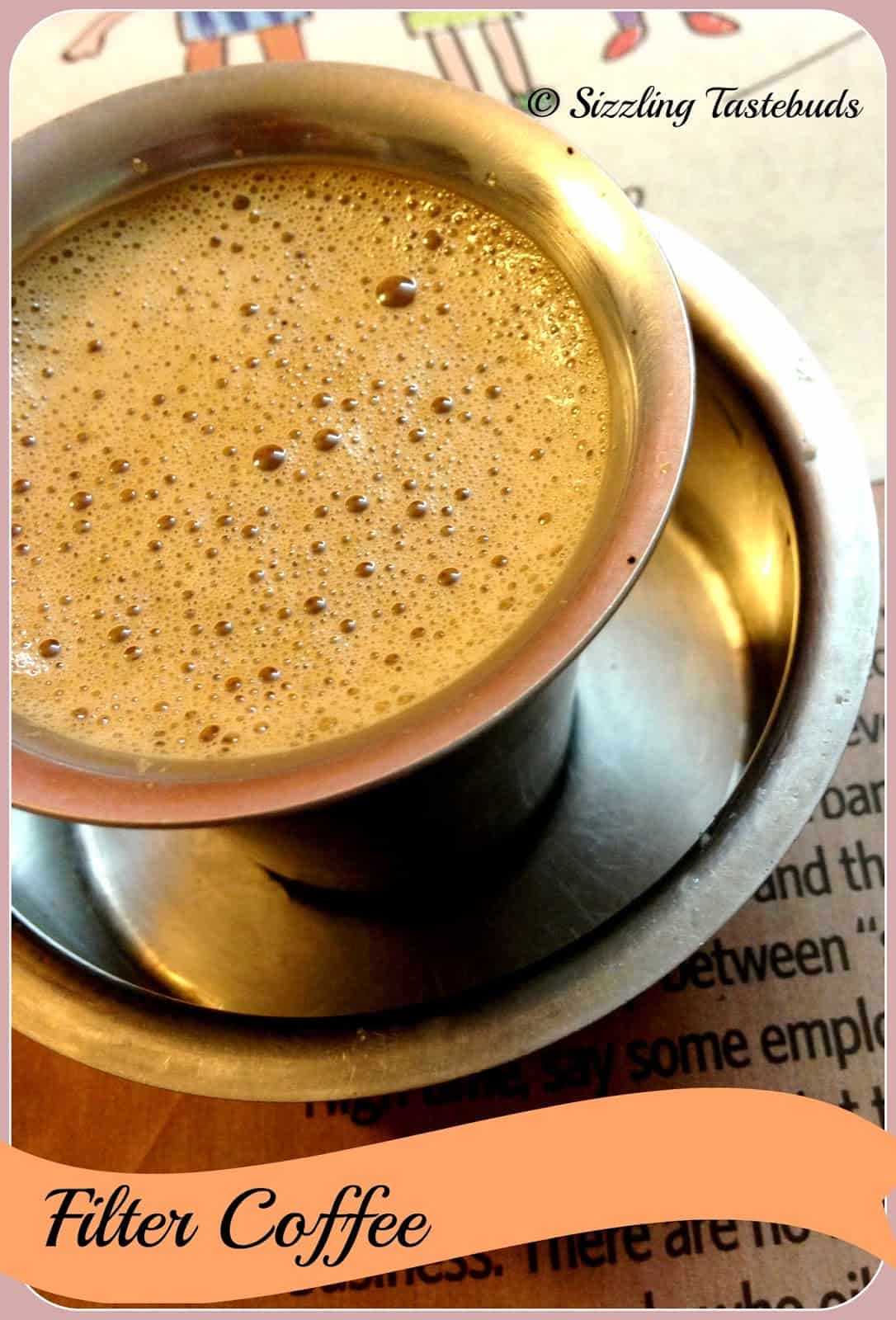 Pin

Water seeps through the ground coffee, absorbing its oils and essences, solely
under gravity, then passes through the bottom of the filter. The used coffee
grounds are retained in the filter with the liquid falling (dripping) into a
collecting vessel such as a carafe or pot.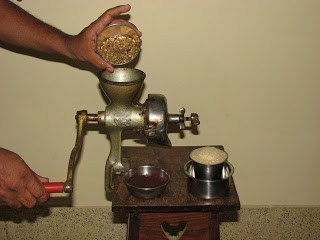 Pin

However, in traditional South Indian homes, coffee beans were procured from the growers
themselves, based on their richness were classified into Robusta, Plantation A,
Plantation B and the like. These beans were roasted and ground by hand at homes in a cast iron coffee mill (like this picture on the right. pic courtesy :Chitra Amma's Kitchen). 




Without these machines now, we have the Stainless steel filter (something like
a percolator, but with a sieve like partition between the two parts). So, lets
get to make Filter Coffee as it makes its way to BM # 32 under Alphabet
F. 

Tips:

1) Invest in a Coffee
Making Filter – pref the stainless steel version

2) Store the coffee
powder in an airtight container, and preferably in the refrigerator to ensure
the aroma is locked

3) Use freshly boiled
milk (tetrapack milk cartons dont make good Filter Coffee) always to make a cup

4) If there is
decoction left over, store it in the refriegerator without adding milk

5) If you want to re-heat previously
made coffee, boil a pot of water and place the coffee mug in it to provide
indirect heating

6) You may use brown sugar or palm
sugar in place of white crystalline sugar to make this coffee. however the
taste would vary.

Prep time : 5- 8 mins + Milk boiling
time

Ingredients for coffee decoction
: 

Freshly ground Filter coffee Powder
(Nescafe / Bru / Instant Coffee Mixes dont work)

Sugar – to taste

Water

Freshly boiled milk – to taste

Method (To make moderately strong
Coffee) :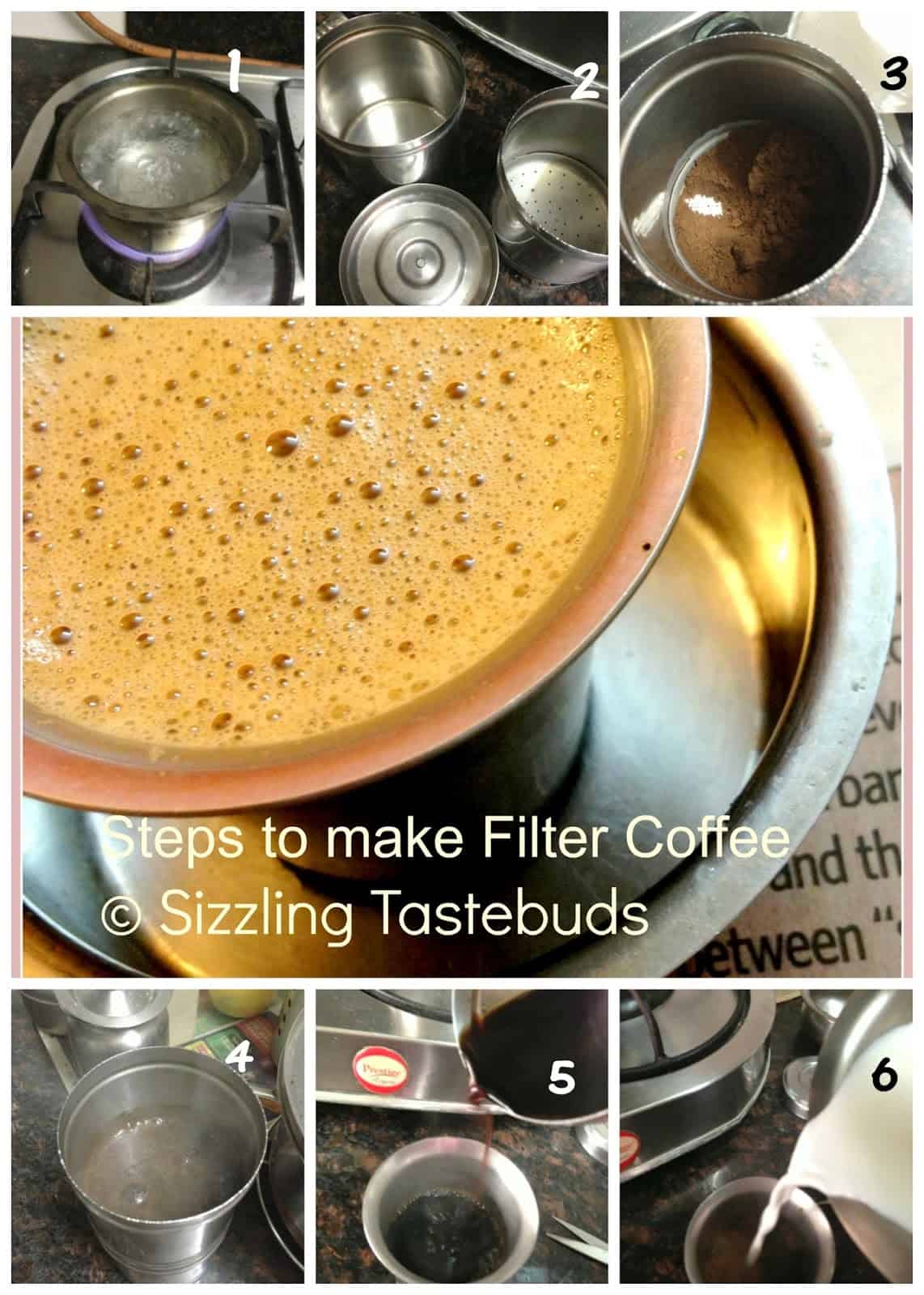 Pin
Bring the water to a rolling boil.
Ensure the Coffee Filter is washed and clean. Keep the upper container (with
the sieve portion) near a naked flame for 1-2 secs to ensure its dry and all
impurities are drained out
Depending on the size of the filter,
add 5-7 tea spoons of filter coffee into the upper container. Place the upper
container on the lower cup.. Pour the boiling water till almost the top (the
water should be rolling boil till you pour)
Tap once or twice gently on the top
container and place the lid
After 8-10 mins (depending on the
coffee powder and water used), the decocotion is percolated to the lower
container.
(see pics above)
To make the coffee (measurement for 1
serving) 
In a normal steel or silver tumbler,
add 1 tsp of sugar. Add 1/4 cup of the decoction, and immediately add the
frothy boiling milk. Mix this liquid with another cup up and down a couple of
times till the decoction and milk mix well and you get a frothy top.
Serve immediately.
Notes – If making in large quantities,
the proportion of decoction to milk (for strong coffee) is 1/3 : 2/3. Depending
on the taste and strength of the coffee powder and personal preferences, adjust
the strength of the Filter Coffee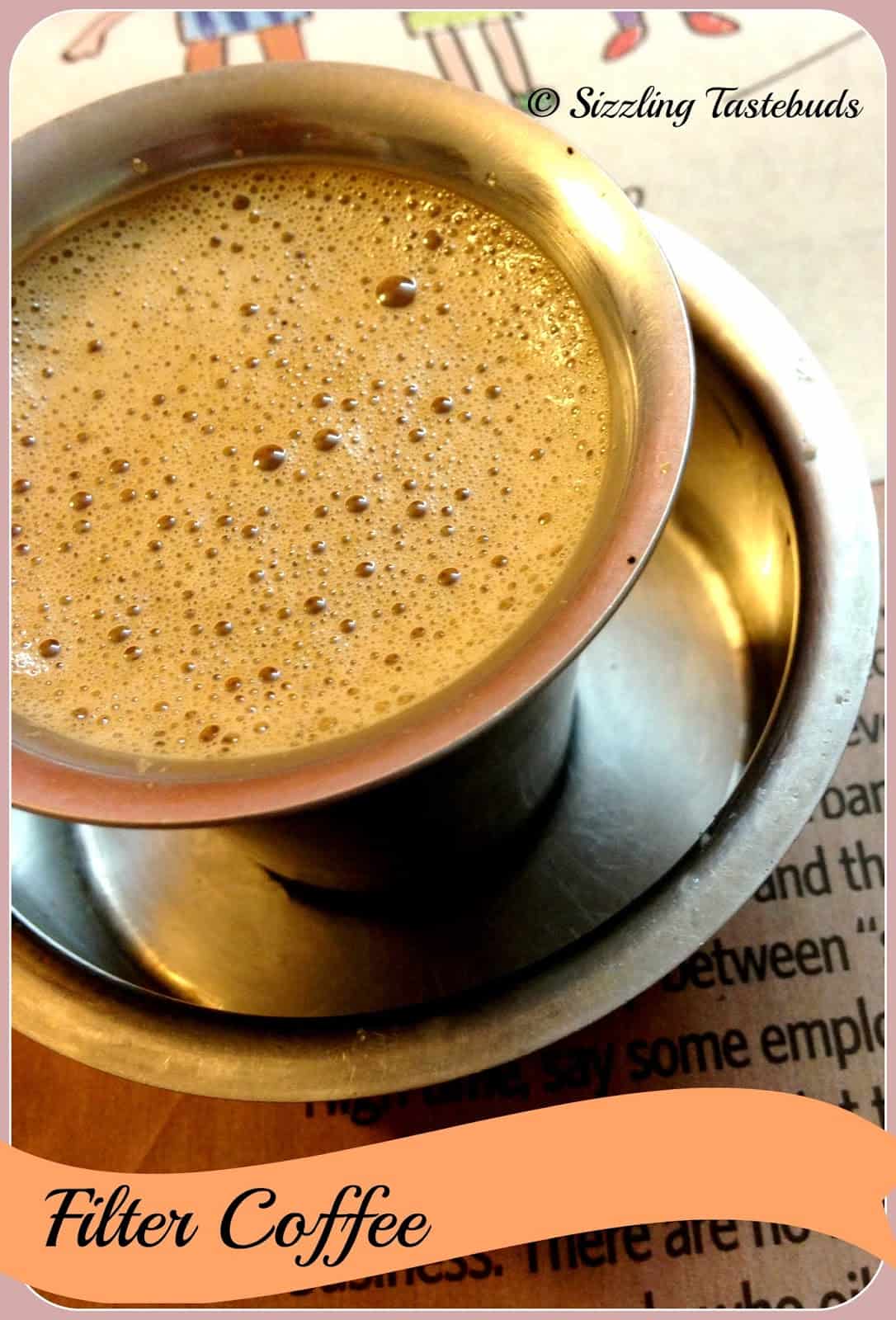 Pin

Pin
Logo courtesy : Preeti
Check out the Blogging Marathon page for the other Blogging Marathoners doing BM# 32