Avalakki BisibeleBhath, and an emotion !
Call it comfort food, call it quintessential South Karnataka food, Bisibele Bhath (sorry please don't call it Sambhar Saadam) rules the roost and belly for most people from Karnataka.
Hailing from Bangalore (but living in another city now), I often have cravings for simple but delicious dishes from Karnataka like:
– Mysore special Kempakki Dosa (a.k.a Rajamudi Akki dosa)
– Davangere Benne Dosey (Davanegere special Crispy golden butter dosa)
– upahara Darshini Sambhar (for serious Sambhar afficionados only :p)
– Menthye Bataani Bhaath (one pot dish with fresh fenugreek leaves)
– Avarekaalu Uppittu (seasonal fresh field beans upma)
– Maddur vade (a crispy vada made with rice flour, semolina and seasoning)
– Aromatic melt in the mouth Bonda Soup
– Bangalore Special Masala Poori Chaat (no explanation required!)
– Mandakki Oggarane (tempered puffed rice snack from North Karnataka)
You get the drift, right? Well, bisibelebhath tops the list and we make it often. But not as often as this avalakki bisibele Bhath. I have fond memories of my co-worker (at my first job ever) carrying this often in her lunch box, and she would promptly swap this for my curd rice.
Simple lives without whatsapp or even mobile phones. When people actually communicated with each other, everyday, every single minute. Face to face !
Ahem! I digress.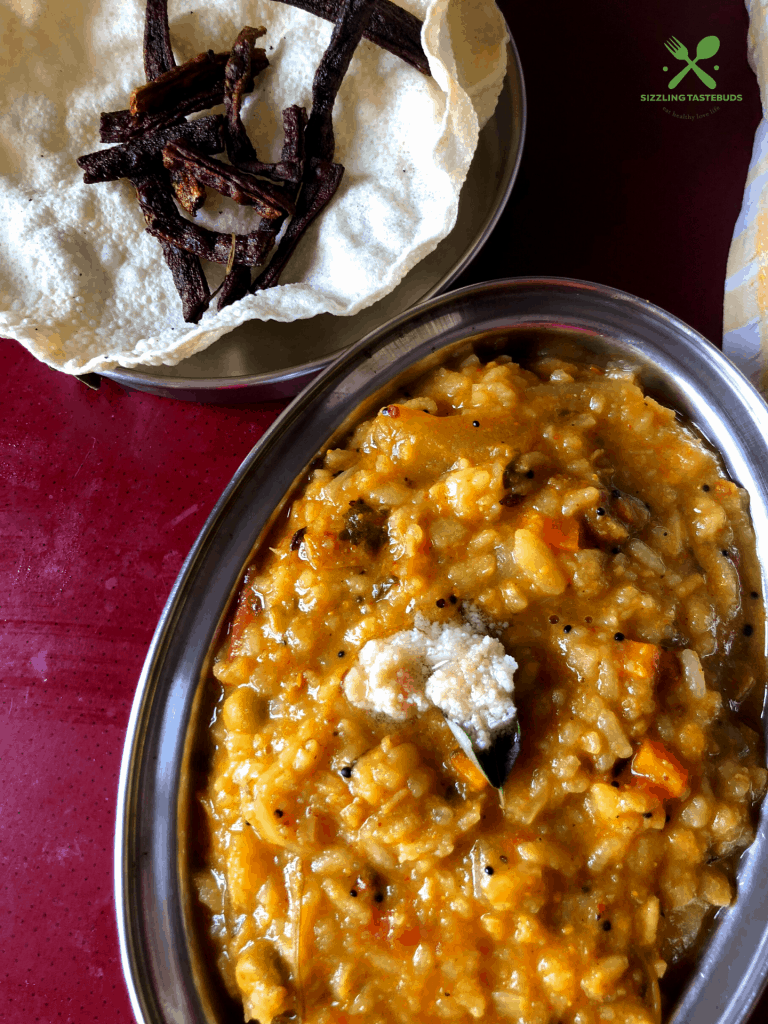 What is the main ingredient in this Avalakki Bisibelebhath?
Avalakki or flattened rice or beaten rice (aka poha) is a regular ingredient in Karnataka breakfast – from Set Dosa to Poha Idli (Avalakki Idli) to this bisibele Bhath.
Unlike the original bisibelebhath recipe which has a quick pressure cooker version, we prefer to make each component of this dish individually and bring it together to simmer for a few mins before the final tadka and ta-da! Comfort food beckons!
Let's get to making this yummilicious avalakki bisibele bhath
Prep time -15 mins, cook time -20 mins, Serves – 4
What you need:
1/2 cup split pigeon pea (toor dal)
1.5 cups flattened rice (thick variety poha)
2 Tbsp oil (split use)
1.5 Tsp salt
1 tsp thick tamarind paste
2 cups mixed vegetables (I used carrot, beans , peas, ash gourd)
1/2 tsp turmeric
For the spice mixture of bisibele bhath powder
3 TBSP Bengal Gram (Channa Dal)
2 tsp Split black gram (Urad Dal)
2 Tbsp coriander seeds(dhaniya)
1 tsp cumin seeds (jeera)
1/4 tsp fenugreek seeds(methi)
4 red chillies
2 kashmiri red chillies
1 clove
1 inch cardamom
1 Kapok bud (marathi moggu)
2 Tbsp dry coconut
Tempering
1 tsp mustard seeds
1 sprig curry leaves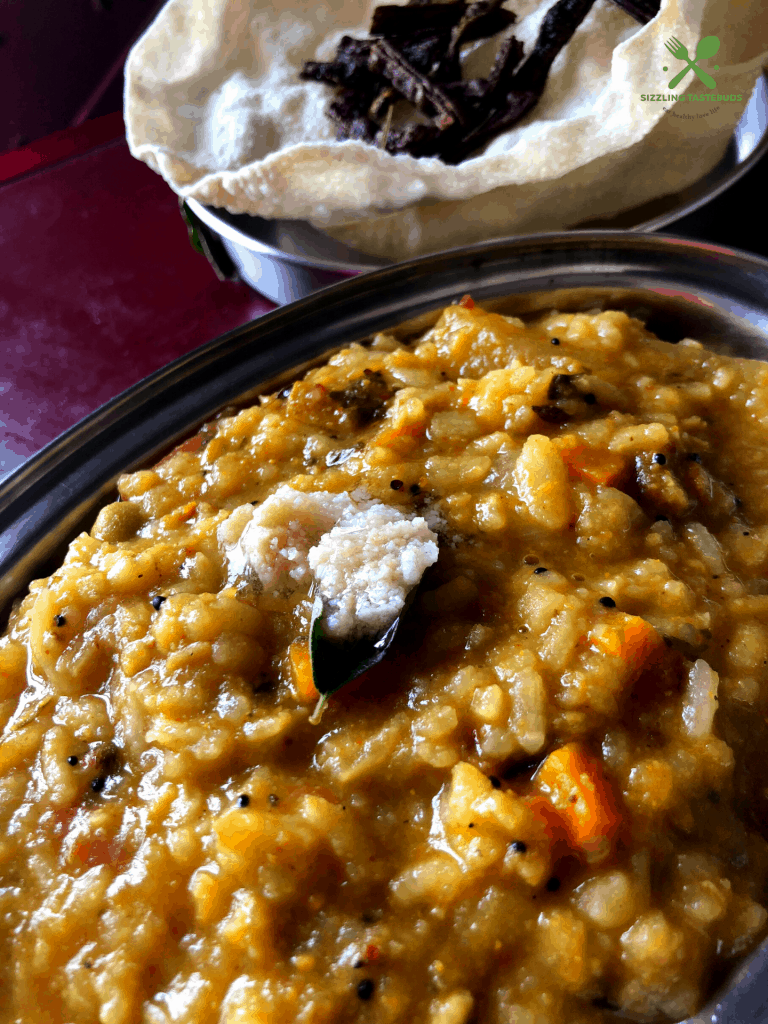 How to make avalakki bisi bele bhath
Wash and soak toor dal for 15 mins, meanwhile wash and chop all veggies into equal sized portions. Similarly wash and soak the poha for 2 mins, drain in a colander , cover and reserve.
In a pan, add 1 tsp oil.roast the ingredients for the spice mix in the order given, switch off the stove and then add dry coconut. Cool the mixture throughly and blitz into powder.
In a very thick bottomed pan or a pressure cooker pan, add 2 cups of water and the turmeric. Once it comes to a rolling boil, add the soaked toor dal and let it cook to 3/4 (takes about 15 mins).
Now add the tamarind paste and veggies, cover and cook till Veggies are done 80%.
Add salt, freshly ground bisibele bhath powder and mix it through. Keep stirring it regularly with a long ladke as dal tends to burn at the bottom. Add 1 tsp of oil at this stage and mix it throughly.
The dal will be 90%_95% cooked now. Add the soaked poha and keep mixing it , adding 1/4 cup of hot water additionally if required . The poha cooks very quickly and you need to keep mixing the pan to avoid it getting burnt . Do a taste check now and adjust if needed.
After 5 mins, switch off (the bisi bele bhath thickens after a while)
Prepare tempering with remaining oil. Splutter mustard seeds and curry leaves and add to the bhath
Yummy avalakki bisibele bhath is ready.
Serve hot with a dollop of ghee, some fryums / papad on the side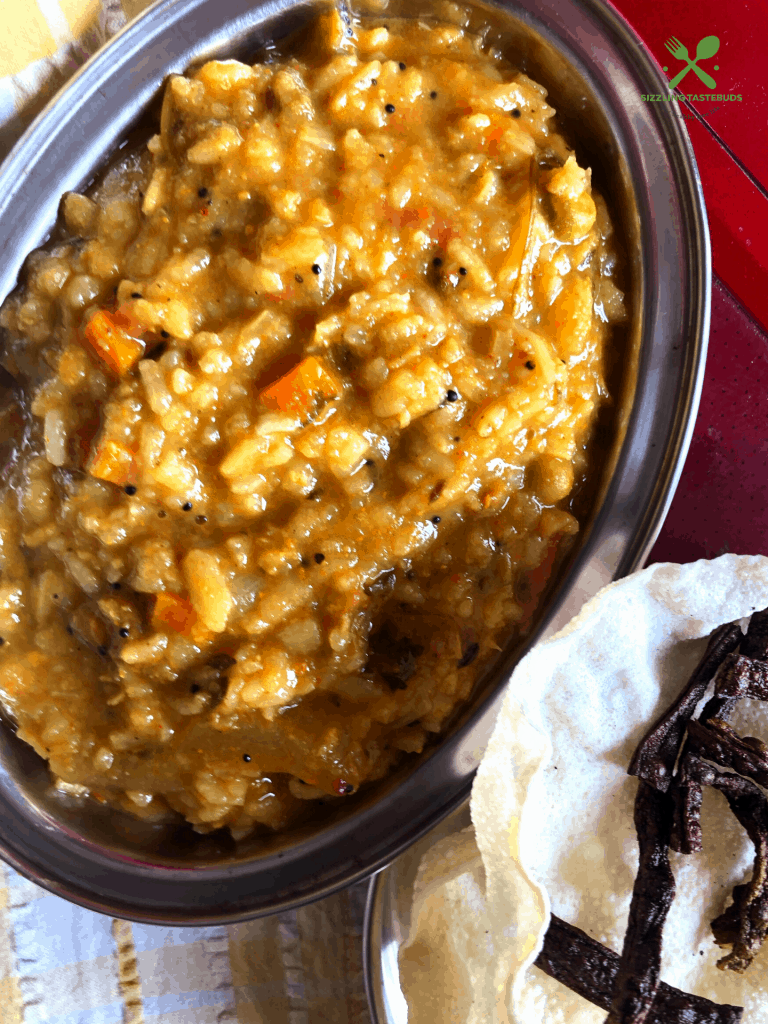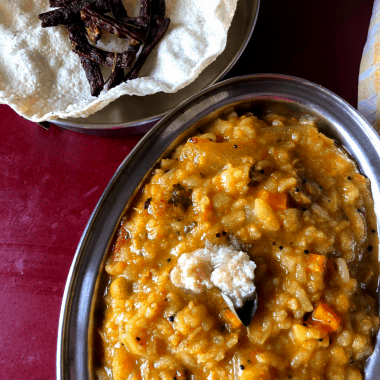 Avalakki Bisibelebhath
A Karnataka special One Pot Meal made with Lentils, veggies and flattened rice spiced with an aromatic powder.
Equipment
Bowl

Cutting Board

Knife

Thick Bottomed Pan
Ingredients
½

cup

split pigeon pea

toor dal

1.5

cups

Flattened Rice

thick variety poha

2

Tbsp

Oil

split use

1.5

Tsp

salt

1

tsp

thick tamarind paste

2

cups

Mixed vegetables

I used carrot, beans , peas, ash gourd

⅕

tsp

Turmeric
For the spice mixture of bisibele bhath powder 
3

TBSP

Bengal Gram

Channa dal

2

tsp

split black gram

Urad Dal

2

Tbsp

Coriander seeds

dhaniya

1

tsp

Cumin seeds

jeera

¼

tsp

fenugreek seeds

methi

4

Dry Red Chillies

2

kashmiri red chillies

1

clove

1

inch

Cardamom

1

kapok bud

marathi moggu

2

Tbsp

Dry Coconut
Tempering
1

tsp

Mustard Seeds

1

sprig

curry leaves
Instructions
Wash and soak toor dal for 15 mins, meanwhile wash and chop all veggies into equal sized portions. Similarly wash and soak the poha for 2 mins, drain in a colander , cover and reserve.

In a pan, add 1 tsp oil.roast the ingredients for the spice mix in the order given, switch off the stove and then add dry coconut. Cool the mixture throughly and blitz into powder.

In a very thick bottomed pan or a pressure cooker pan, add 2 cups of water and the turmeric. Once it comes to a rolling boil, add the soaked toor dal and let  it cook to 3/4 (takes about 15 mins).

Now add the tamarind paste and veggies, cover and cook till Veggies are done 80%.

Add salt, freshly ground bisibele bhath powder and mix it through. Keep stirring it regularly with a long ladke as dal tends to burn at the bottom. Add 1 tsp of oil at this stage and mix it throughly.

The dal will be 90%_95% cooked now. Add the soaked poha and keep mixing it , adding 1/4 cup of hot water additionally if required .  The poha cooks very quickly and you need to keep mixing the pan to avoid it getting burnt . Do a taste check now and adjust if needed.

After 5 mins, switch off (the bisi bele bhath thickens after a while)

Prepare tempering with remaining oil. Splutter mustard seeds and curry leaves and add to the bhath

Yummy avalakki bisibele bhath is ready

Serve hot with a dollop of ghee, some fryums / papad on the side