Today, we move to a Main course from Rajasthan adapted from Sanjeev Kapoor's Video. Panchkuti Dal Khichdi and Dahi wale Aloo . To most familiar with Khichdi, its a great comfort food, and this combo was well received by the husband, who's a fan of all Khichdis. 


Its also proteinicious with many lentils going into this, and a side dish gravy which is also protein rich – a great option for those living alone or in hostel / dorms (which allow cooking) or even those lazy Sunday brunch or a weekday / weekend brunch or dinner alternative. 


Whatever your reason, do make this one pot meal once and savour it. Am sure you would love it 🙂 As always, don't skimp on Ghee for your khichdi. 


I have made the entire meal satvik (onion and garlic free), but you may add garlic if you wish.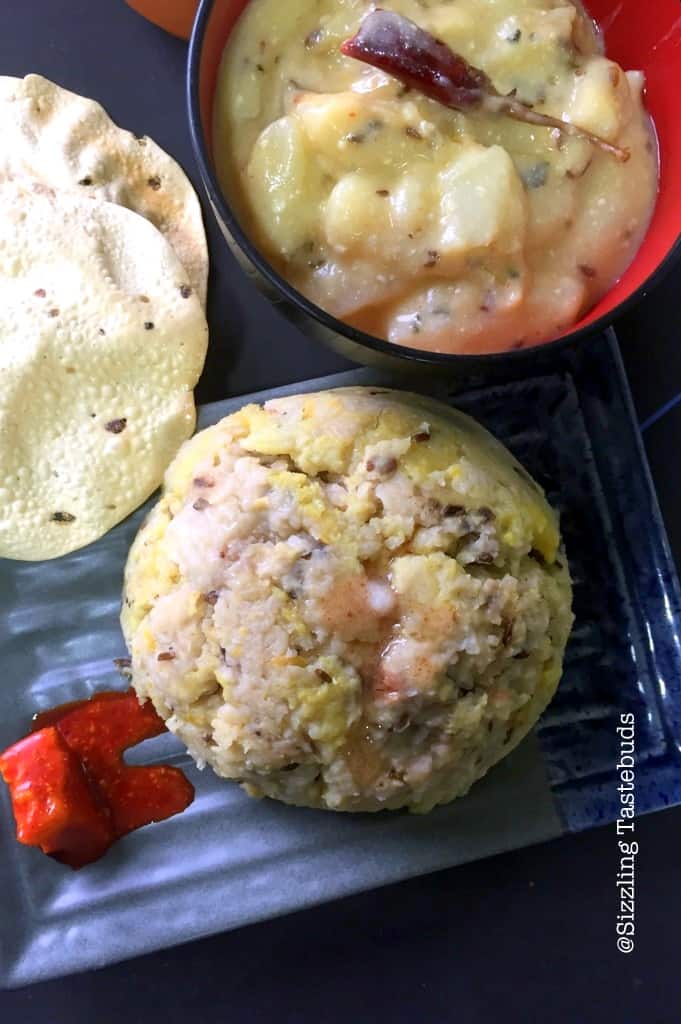 Pin

More Khichdi and One Pot Meal options:

Fada Nu Khichdi (Broken wheat Khichdi)

Menthye Bataani Bhaath (Fenugreek leaves and peas rice)

Veg Au Gratin (Low fat version)

Achaari Pulav (pickle flavoured rice)

Dindigul Thalapakatti Veg Biryani



Prep time :10 mins, Cooking time : 15 mins (slightly more if you are not using Pressure cooker) ; Serves : 2

Protein sources : Mixed lentils



You would Need:
Raw rice (I used short grained, you may also use Basmati) – 1 cup
Mixed lentils – Masoor, Toor, Moong, Split green (with the skin), Channa – all 3 TBSP each
ghee – 1 tsp + 1 tsp
turmeric – 1/8 tsp
whole spice – Cloves, cardamom, bay leaf – 1 or 2 each
Salt – to taste
Whole peppercorn – 10 to 12
Cumin /jeera seeds – 1/2 TBSP
Asafoetida – 1/8 tsp (skip for GF version)
slit green chillies – 2 nos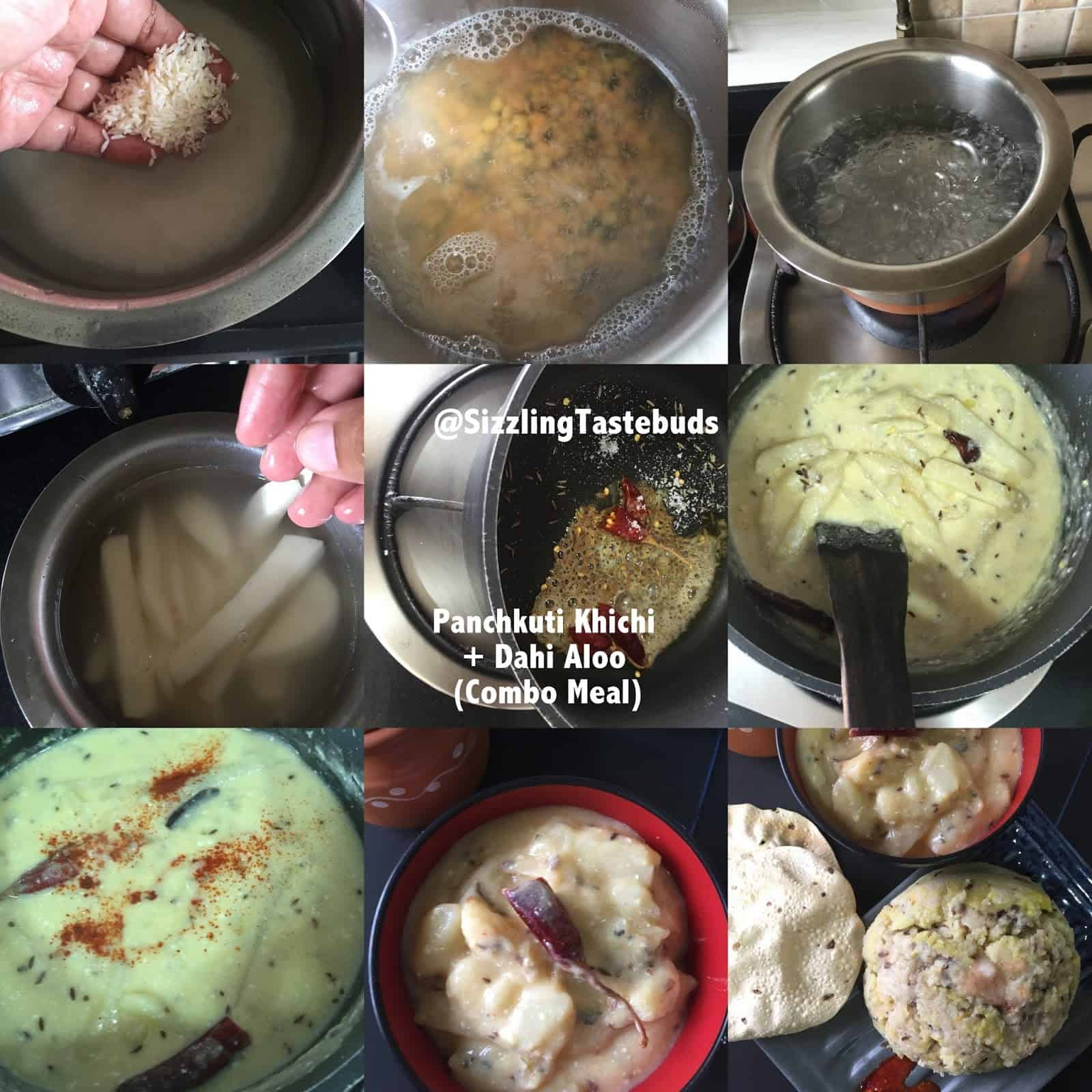 Pin



How to make
Wash and Soak the rice and lentils separately for 10 mins. 
Heat the ghee (1 tsp) in a pan, saute the spices, add the turmeric, cumin and hing / asafoetida.
Now add the washed and drained dal and rice and saute for 2 mins.
Add 3 cups of hot water and salt, and cook covered till soft.
Saute the green chillies in the remaining ghee and add to the Khichdi.
Cook for 2-3 mins more and serve hot with Papads , Cucumber Pickleand Dahi Wale Aloo 🙂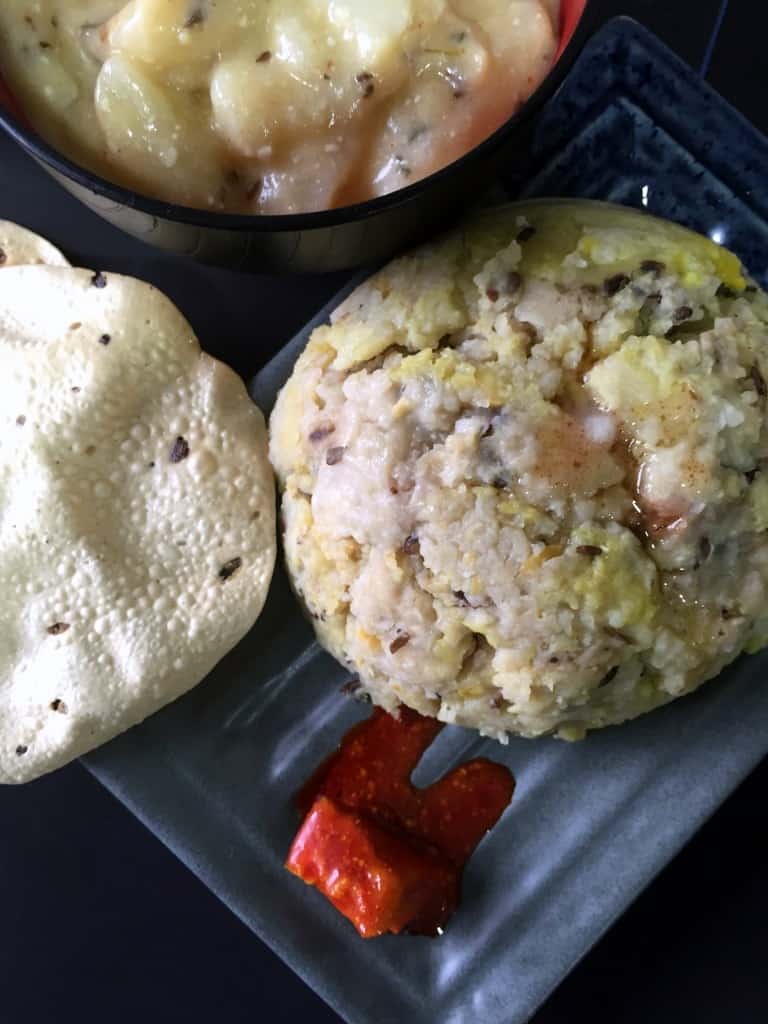 Pin


Dahi Wale Aloo: a GF side dish to serve with the Khichdi – Goes well with Parathas too.
Prep time : 15 mins, Cook time : 10 mins, Serves : 2
Protein sources : Besan (Gramflour) and Yoghurt 


What you need:
Boiled Potatoes – 2 nos
yoghurt – 1/4 cup
Besan /  Gram flour – 2 tsp
Salt – to taste
Oil – 1 tsp
Cumin seeds – 1/2 tsp
Broken red chillies – 2 nos.


Method:
In a pan, add oil, splutter cumin seeds, add potatoes, and red chillies. Saute for 2 mins. Whisk the curd well and add the gram flour. 
Add this mixture to the sautéed potatoes. Let it cook on low- medium heat for 4-5 mins till oil leaves the top. Now add salt.  
Serve hot with Panchkuti Khichdi, Mango pickle and roasted papad
Pin
Check out the Blogging Marathon page for the other Blogging Marathoners doing BM# 80