Talking about one's hometown, and what it means to a food blogger
is all at once personal, intimate and nostalgic. That was the state – Karnataka
– where I hail from.
Davangere Benne dose, Shavige Idli, Bisibele Bhath, Vangibhath, Obbattu Ugadi Meal, Set Dosa, Akki Rotti, RagiMudde, Yennegai-Jolada Rotti … all my favourites ! What's your fav from that state?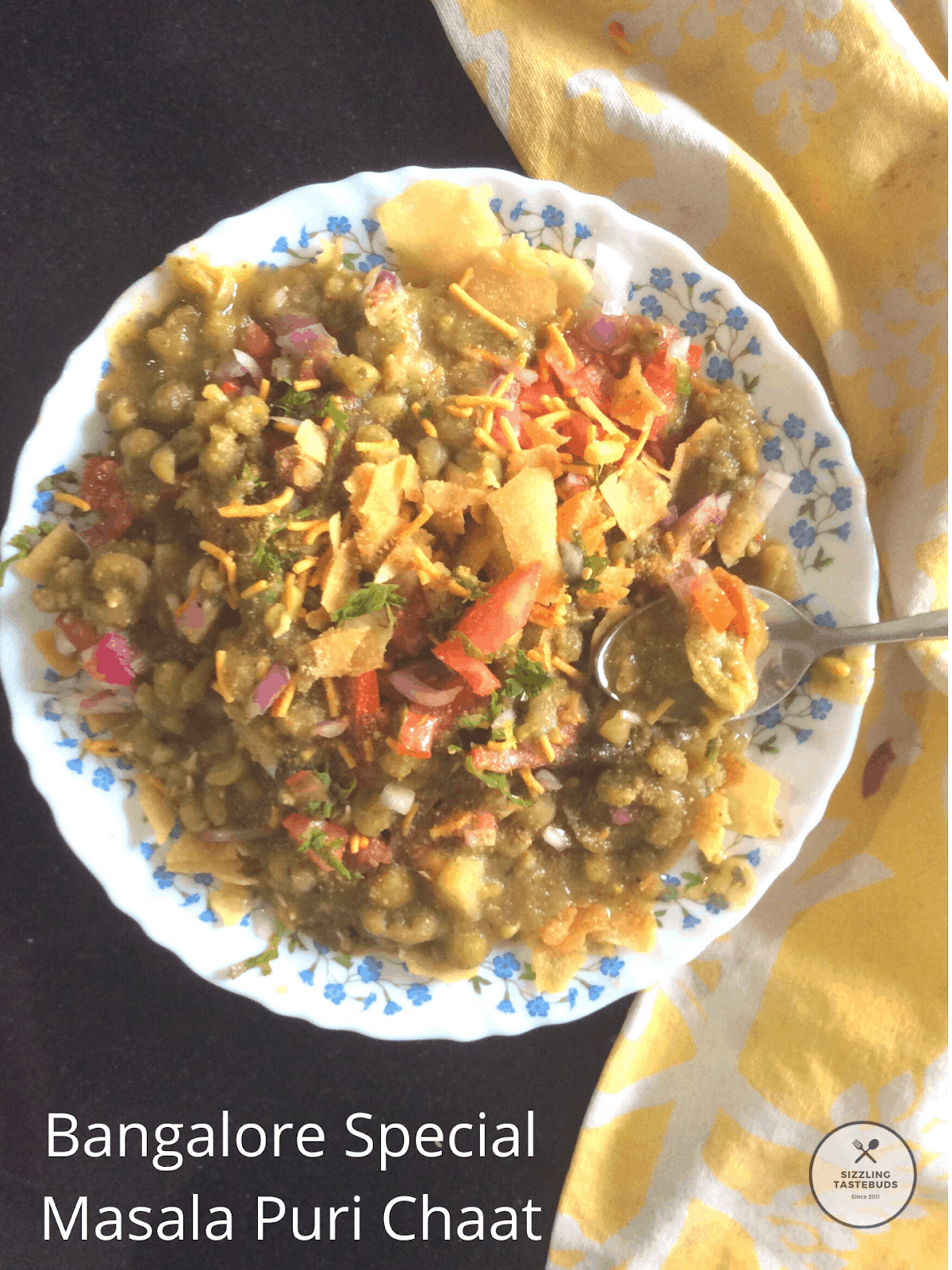 Pin



Although we cook Karnataka food almost everyday (our cuisine
is mostly South indian with Tamilnadu and
Karnataka cuisine), choosing a dish close to my heart proved to be
a humongous task ! Till of course, this Chaat (or street food) came as an epiphany. Pani Puri,Bhel Puri, Pav Bhaji, Dahi Puri, Samosa might be available in every part of
India and abroad, but for those from Karnataka and especially, Bangalore Masala
Puri has a special place. I love this Chaat to bits as much as the other Bangalore speciality – Tomato Slice Chaat

Unlike other chaats, the process is tedious. But it can be made
with everyday materials. Just a little planning and you have a winner on hand.

———————————————————-

Soaking time – 8 hours+ ,

prep time- 30 mins

Cooking time
: 20 mins ;

Serves : 4 – 6 generously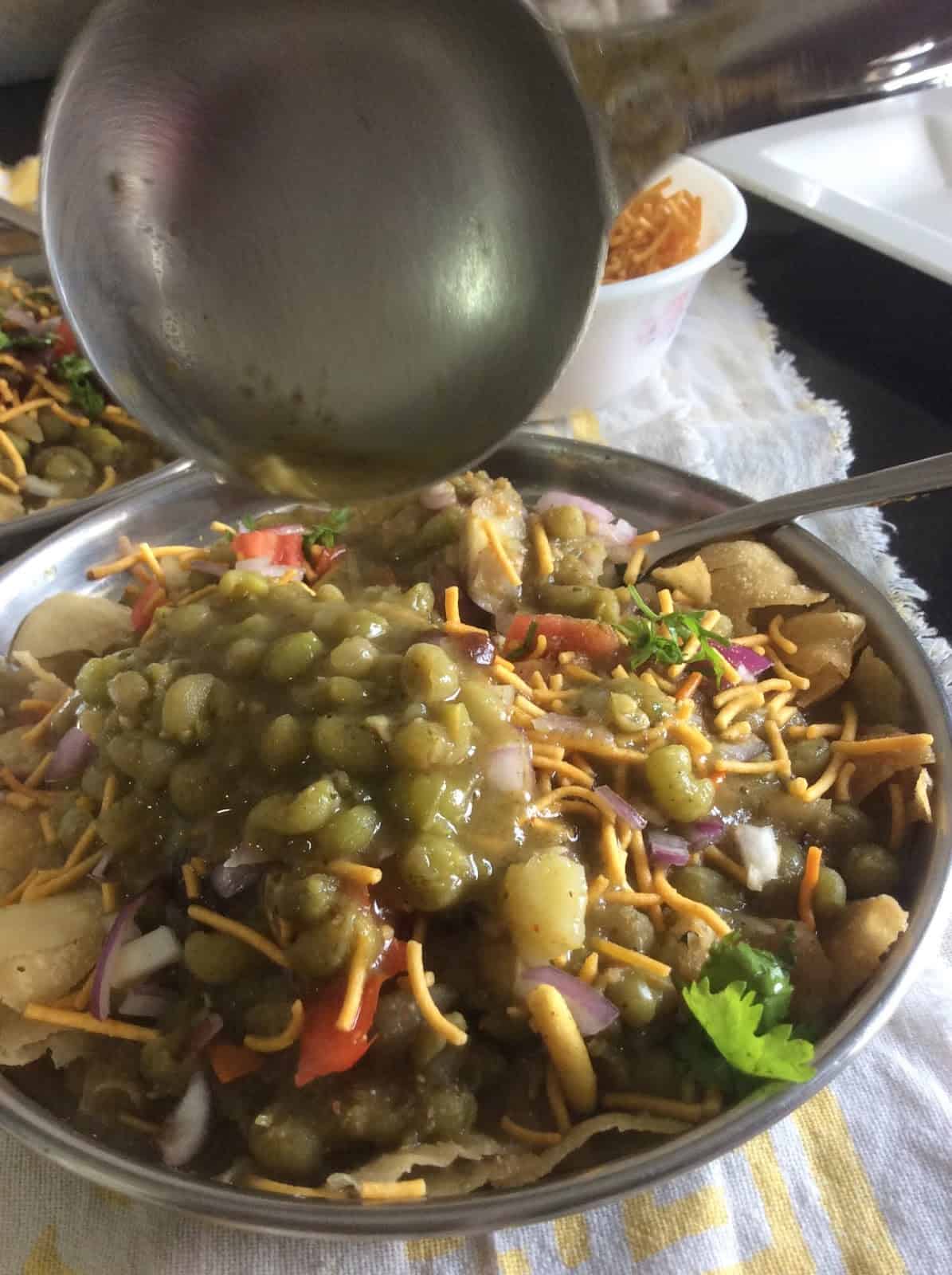 Pin

INGREDIENTS

(A) To Pressure Cook:
1 Cup dry green peas
3 medium potatoes
1 bay leaf
3 cloves
1/2 inch ginger
Salt to taste
(B) To saute for Masala Paste / Gravy:
1 Inch Stick Cinnamon
2 Pinch Nut Meg
2 Cardamom
2-3 Cloves
Small Piece Marati Moggu
Onions – 2 medium
Tomatoes – 1 large
Green chillies – 3 to 4 (adjust spice)
Mint leaves – 2 handfuls
Coriander leaves – 2 handfuls
(C) Dry spice powders:
1/2 Tsp Turmeric and Chat Masala
Garam Masala – 1 TBSP
Coriander powder – 1 TBSP
1 tsp Cumin
1/4 tsp Carrom seeds Powder
1 Tbsp Chili Powder
PIN FOR LATER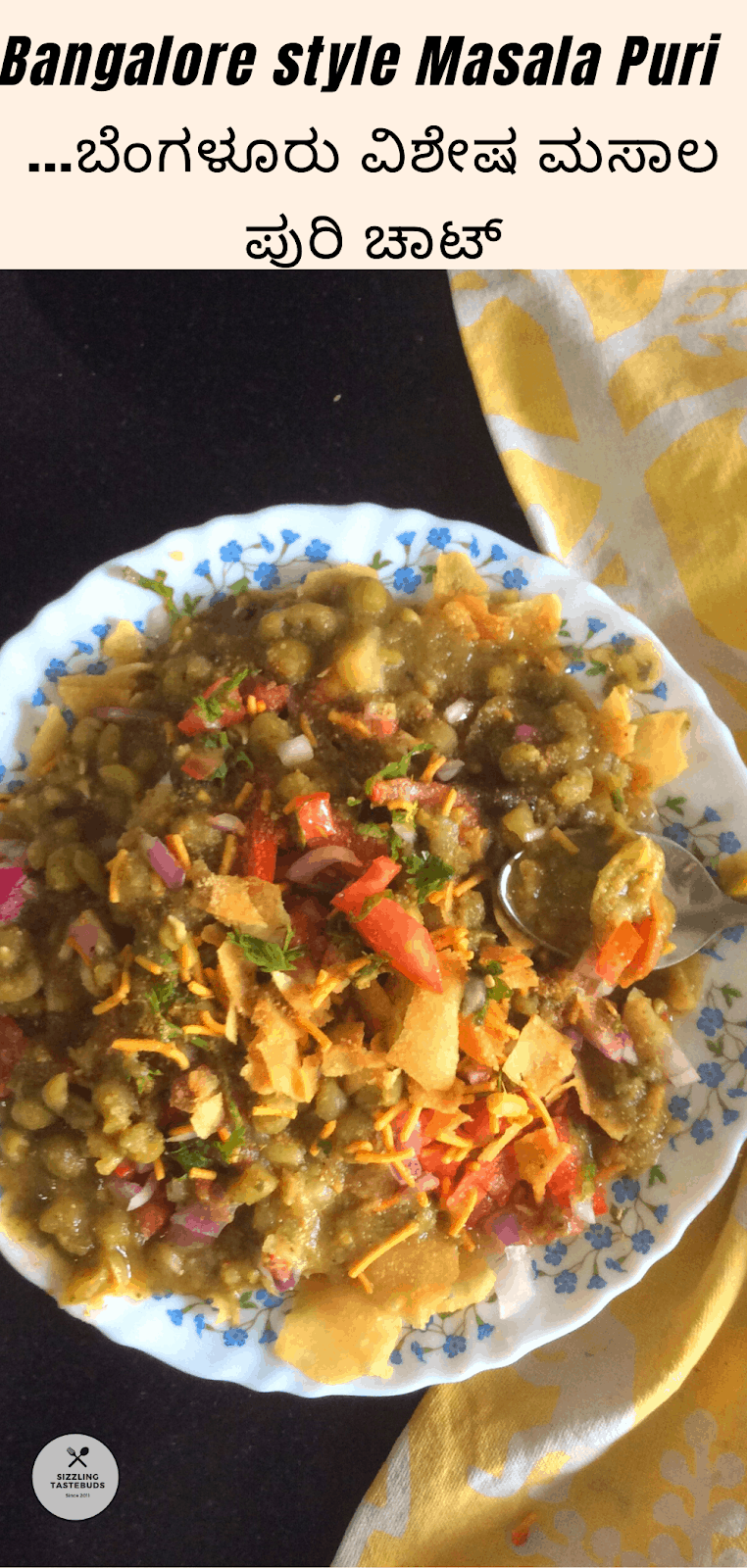 Pin
(D) Toppings:
Store bought or homemade pani Puri / golgappa ( you can also use home baked whole wheat papdi – check out the video here)
1 Boiled Potato (Crumbled) – optional
Tamarind+Dates Chutney (Meetha Chutney)
Mint Coriander Chutney (optional)
2 Large Onions (Finely
Chopped)
2 Tomatoes (seeded and
chopped into small cubes)
Store bought Mixture or sev
Masala Gravy (method in the video below)
METHOD
Check out the youtube video here – if you are visiting our channel for the first time, don't forget to subscribe and click the bell icon for updates