25. A magical number in any milestone driven event – be it
marriage or life , an organisation or a mega occasion like the Blogging Marathon – the silver anniversary holds promise of a wonderful journey and
wishes for a sweeter sojourn in the years to come. And similarly, Blogging
Marathon – a brain child of Srivalli celebrates
its 25th edition this month. Ably supported by a dedicated team of bloggers,
Srivalli and her team have embarked upon sweet success, and each one of us wish
her many more milestones to come. This week for BM, I have chosen the
theme "Cooking from a Cookbook" ; Of course,cookbook here means
the printed word or any online reference.
In this world of blog hopping, I have
bookmarked hundreds of recipes, and am glad I could try out a few for this
edition. Will kick off with a yummy, honest-to goodness soft and fluffy Set Dosa from Sailu's Kitchen which was perhaps one of the earliest
bookmarked recipes. I already have a recipe for Set Dosa here. So why another one, do you ask
? Well, Set Dosa happens to be one of my favourite recipes 🙂 Set Dosa is
usually served in pairs or even in threes (a set, you see) with Chutney and /
or Sagu (mixed vegtable gravy). And this version from Sailu promised to be an
authentic Andhra version. And boy, was it yummy ! I followed the recipe to the
T, and ended up with super fluffy Set Dosa served with Shallots & Tomato
Chutney (recipe soon!)
So, lets get cracking and see how to
make this yummy breakfast. You could also make it for the evening tiffin /
snack or even for dinner. Unlike other Dosas (pancakes), this is
super fluffy and can be made with minimum oil too.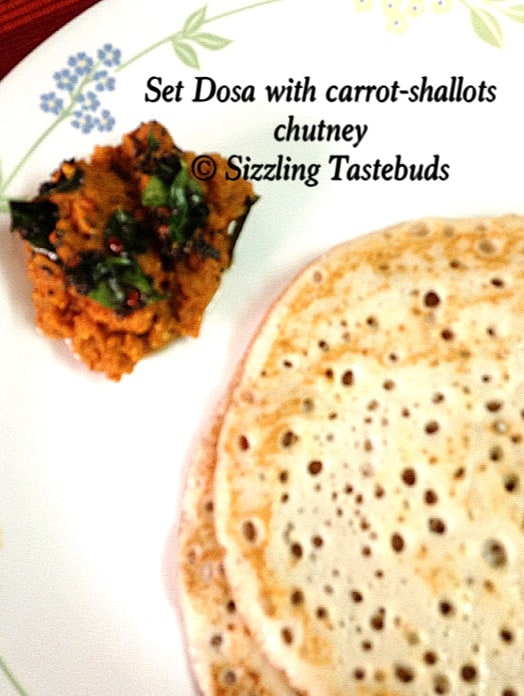 Pin
Prep time: Soaking – 6 to 8 hours;
grinding – 45 mins to an hour ; Fermentation : 10 to 12 hours or overnight
Difficulty level : Medium
Serving suggestions : Any Chutney or Kurma
Ingredients:
Raw Rice – 2 cups
Parboiled rice – 1 cup
Urad dal / Split black gram – 3.4 cup
Poha / rice flakes – 3/4 cup
Methi Seeds / fenugreek seeds – 1 1/2
tsp
Pinch of sugar – 1/2 tsp (optional)
Salt – to taste
Oil – to make the dosa
Method:
Wash and soak both the types of rice,
Urad Dal and Methi in adequate water for 4-6 hours. Separately soak poha
/ flattened rice for 1- 2 hours
Grind all the ingredient adding enough
water to a pouring consistency. Mix salt and let it ferment for 10-12 hours or
overnight
The next morning, about 1 hour before
preparing the dosa, mix the batter well. Add a pinch of sugar and mix again
till the batter turns frothy.
Heat a tava (griddle) till medium hot.
Sizzle about 1/2 tsp of water before making every dosa and wipe the excess with
a kitchen towel / tissue. That way the heat is maintained evenly.
Take 1 – 2 ladles of batter and spread
to a thickish dosa. drizzle 1/2 tsp of oil, Cover and cook for 1 – 2 mins.
Once you see small holes (due to the
aeration) appearing on the surface, flip over and cook for just 10 – 20 seconds
(in the classical version of Set Dosa, its never cooked on both sides)
Repeat with remaining batter. Serve
hot with Any Chutney or Kurma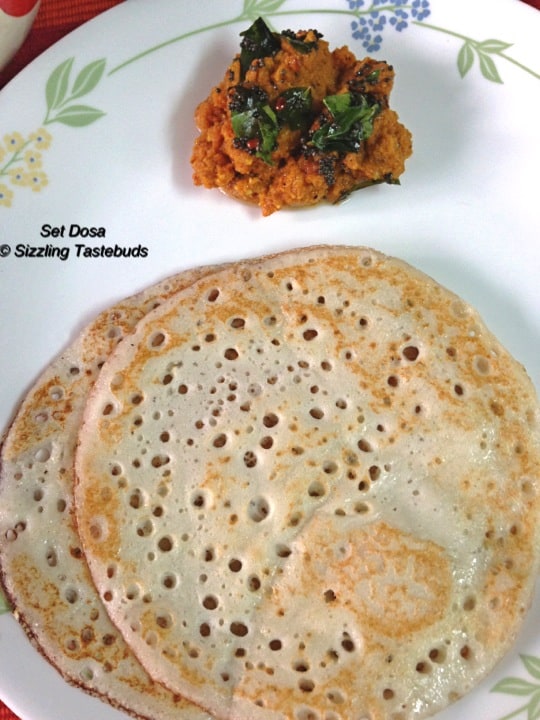 Pin
Linking it to Blogging Marathon # 25.
Check out other Marathoners here. Also to Susan's MLLA hosted by Lisa, , Traditional and Native Recipes by
Sara , Breakfast Club at Farmer's girl. Also Linking this to PJ's event Only Vegan, event by Pari