Mandakki Oggarane is another gem of a quick snack from North Western
Karnataka, and more specifically Davangers… This
dish is also known as Uggani or Burugula Upma.. Extremely tasty and easy to
make, it can sure beat those 5pm hunger pangs, while adding very little
calories. I was introduced to this in Hubli (another town in Karnataka), and
had forgotten all about it till I recently saw it featured on some blogs, and a
few foodie e-groups I have subscribed to. …
For the really adventurous, this is usually served with Stuffed Mirchi
Bajji – again called Davangere Mirchi (stuffed chillies deep fried) with a
fiery red chutney, but I chose to make just this snack for the kiddo and me
Will appeal to those who like their food real spicy, be sure to make
this at home, and I am sure you would make it often. It takes very little ingredients,
mostly available in the kitchen. Lets get to the recipe, which makes its way to
BM # 32 under Alphabet M. Mandakki is local lingo for puffed rice (or Murmura).
Hope you have enjoyed the BM journey so far, and virtually savoured the menu
dished out so far.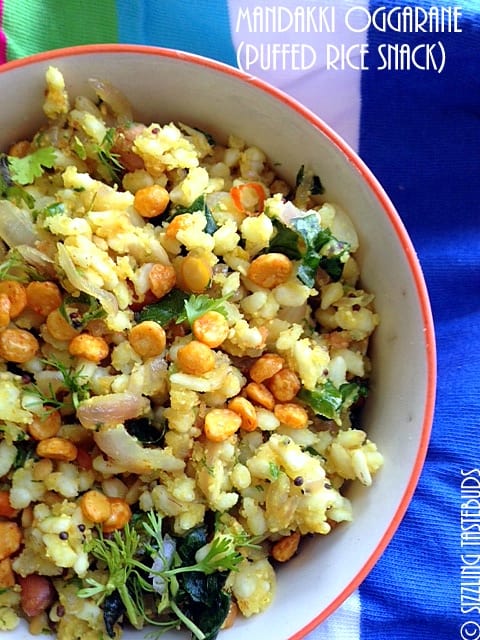 Pin

And here's also wishing all my readers from Kerala a very happy Onam and
a prosperous New Year.

Prep time : 10 mins | Cook time : 10 mins | Serves : 2

Ingredients:
Murumura / Pori / Puffed Rice – 2 cups
Oil – 2 TBSP
Dalia / Pottu Kadalai / Fried Gram or Chutney gram – 4 TBSP (powdered
fine)
Onions – 1 medium
Green chillies – 3 nos
Salt – to taste
Tempering : Mustard seeds, Curry leaves, coriander leaves
Turmeric – a generous pinch
Peanuts – 1 TBSP
Lemon juice- for garnish
Grated coconut – 2 TBSP
Method:
Soak murumura in lots of water for 5 mins. Drain and squeeze out water
thoroughly. In a non stick pan, heat the
oil. Splutter the mustard seeds, Urad dal, curry leaves, green chillies. Add
turmeric, onion and salt and peanuts.
Once the onions turn translucent, add the powdered Fried gram and sauté well.
Now add the squeezed out puffed rice, and toss once or twice
Switch off flame. Finish with coriander, lemon juice and grated coconut.
Serve immediately.