Kempakki Dosa. Kempakki in Kannada (South Indian Language) means Red Rice. Dosa refers to all South Indian Crepes.
Kempakki dosa a.k.a Red Rice Dosa brings back a lot of memories of Grandmom's kitchen. Growing up in grandma's kitchen, it was a childhood filled with aromas and textures. On any given day, Grandmom would assign us chores – from simple stirring the various gravies to grating to coconut to chopping veggies – we had to do it to learn it.  Grandmom's way of teaching us was like, love dipped discipline. The warmth of those aromas and the various magical dishes that came out of that ill-lit kitchen for family and friends 24 x7 never ceased to amaze us . 
When we came back from school, Dosa (lentil / GF crepes) used to await us most evenings for a quick snack. This Kempakki Dosa (Red Rice Dosa) was one of the finest ever that I have got to savour from her kitchen. Paired with a simple chutney or even a pickle, it was one of finest snacks one could savour.  If you love dosas like us, why not try this No-rice Kodo Millet dosa (Varagu Arisi Dosa)
Other Dosa varieties you would like on the blog !
Quinoa Dosa (No Rice Dosa)
No Rice Quinoa Dosa is a dosa or Indian Savory Crepe made with Quinoa served for breakfast or brunch. This is diabetic friendly (made without rice) , Gluten Free, and Vegan.
Check out this recipe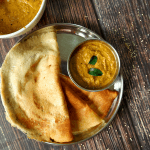 Kadamba Dosai | Instant Breakfast Dishes
Instant Multigrain, Gluten Free, vegan Indian Savory Pancake. Served for Breakfast or evening Tiffins.
Check out this recipe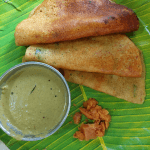 Farali Dosa | Rajgira Dosa | Amaranth Flour Crepes
An Instant Gluten Free Indian Crepe (Dosa) made with mixed flours. Served as breakfast / snack especially for Indian Fasting Days with peanut Chutney.
Check out this recipe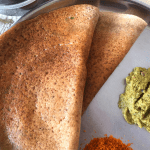 Flaxseed Molagapodi
Flaxseed Molagapodi or Flaxseed Spiced Lentil Powder is a spicy condiment made in South India. It is served with Idli, Dosa, uttapams or with steamed rice.  
Check out this recipe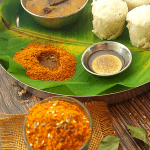 Upahara Darshini Style Sambhar
An unique and delicious Sambhar to serve with Idli / Vada / Dosa
Check out this recipe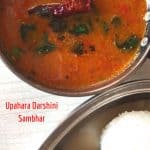 Let's get cracking.
Benefits of Red Rice / Rajamudi Rice over white rice
 High Fibre 
Wholegrain
Unpolished 
 Low GI
Suitable for Diabetics too (under medical / dietary supervision)
FAQs to make the perfect Kempakki Dosa
Can I sub the Red Rice with any other rice ? Yes, any wholegrain, short grained rice will give the texture. White Rice / Polished rice / Basamati Rice is not recommended.
Why is the Dosa not crispy? Follow the recipe (proportions) of Urad dal + Rice to get perfect results. Also keep the skillet medium – moderately hot to get crispy dosa.
My batter has not fermented – Can I still make the dosa? Fermentation of batter is highly recommended to absorb the nutrients better. Fermentation time might vary from region to region based on outside temperature. If the batter is still not fermented after 8-10 hours, see if it helps keeping it in an oven with the light on (and the heating turned off) 
Can I use whole Urad dal / Black Urad dal in place of white Polished dal? Most certainly yes, the higher the unpolished grains, the batter. 
For More Gluten Free & Vegan Dosa varieties, head here.
PIN FOR LATER
Prep time – 15 mins, Soak + Grind Time – 8 hours 
Fermentation time – 8 hours (or overnight)
Makes – 25 Crepes
What you need:
2 cups Red Rice (Aka Rajamudi Rice)
1/2 cup Flattened Rice (aka Poha/ Avalakki)
1 TBSP Fenugreek seeds (Methi Seeds)
1/2 cup Split Black Gram (Urad Dal)
How to:
Refer the video embedded below to know the detailed steps. If you are visiting the channel for the first time, take a moment to like, share and subscribe to the channel.  ❤️ Do leave any comments below and/or on the channel on how you liked it or what changes you would like to make for you / your family
Linking this to #SundayFundy – a fun collab with interesting themes every week. This week we have "Childhood Favourites" hosted by Stacy
Subscribe to my mailing list to get the new recipes straight in your mailbox.
Kempakki Dosa~Rajamudi Dosa~Red Rice Dosa
A crispy lentil crepe made with a special variety of Red rice, native to Karnataka (India)
Ingredients  
2

cups

Red Rice

Aka Rajamudi Rice

1/2

cup

Flattened Rice

aka Poha/ Avalakki

1

TBSP

Fenugreek seeds

Methi Seeds

1/2

cup

Split Black Gram

Urad Dal
Instructions 
Refer the video embedded below to know the detailed steps. If you are visiting the channel for the first time, take a moment to like, share and subscribe to the channel.  ❤️ Do leave any comments below or on the channel on how you liked it or what changes you would like to make for you / your family
Video