Blogging Marathon (aka BM) is back and this week am presenting Easy and Tasty Lunchbox recipes using Rice as the main ingredient. Being a South Indian, my personal choice of grains, esp for main course is Rice. Of course, there are umpteen varieties of rice that can be used – Ponni / Basmati / Tukda Basmati / Ambe Mor and many more varieties.
Today's dish can be made with justTindora(Ivy gourd / Gherkins / Kovakkai / Thondekayi), but I had some capsciums on hand.So used them along with some chopped carrots too.This is a easy breezy rice if you have the Spice Powder (also called Vangibhath powder – mainly in Karnataka region).
Check out the measurements to make Vangibhath powderhere. With this spice powder, you can literally breeze through rice based dishes by adding any seasonal veggies and making a new variety everytime 🙂 You can also use leftover rice for this, although I cook the rice freshly before making this.
Serve with any papad / fryums or Raitha/ Pachadifor a wholesome lunch option 🙂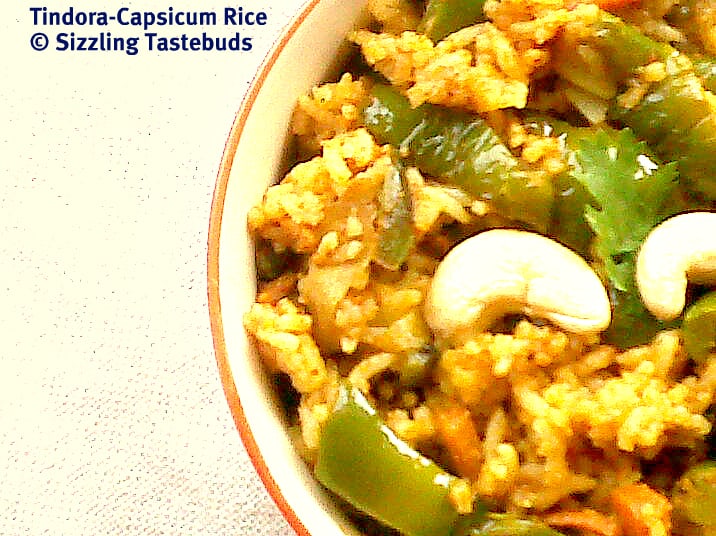 Pin

Sending this to:

Check out other Marathoners here

Prep time : 10 mins. Cooking time : 20 mins. Serves :2

Ingredients:
Rice – 1 cup (240 ml)
Veggies : Tindora & Capsicum – slit lengthwise
Onions – 1 no (optional – I did not use)
Oil – 4 TBSP
Salt – to taste
Turmeric powder – 1/2 tsp
Vangibhath powder – 2 TBSP + 1 tsp
Grated jaggery – 1 tsp
Lemon juice – 1 tsp
Tempering : Mustard seeds, Hing, curry leaves, cashewnuts (or peanuts)
Garnish – coriander leaves.
Method:
1) Cook rice with minimal water. Spread in a large plate, drizzle a pinch of turmeric and 1 TBSP oil and fluff it lightly.
2) In a pan, heat remaining oil. Prepare tempering. Once the nuts have browned, transfer the tempering to a plate. In the pan, now add the onions. Saute well. Add the veggies, salt and cook covered with minimal water till the Tindora cooks al dente.
3) Now add the vangibhath powder, jaggery and mix well. Add the cooked rice to this and lightly saute taking care not to break the grains.
4) Finish with coriander leaves, tempered ingredients and lemon juice.
5) Serve hot or warm with papad and Raitha 🙂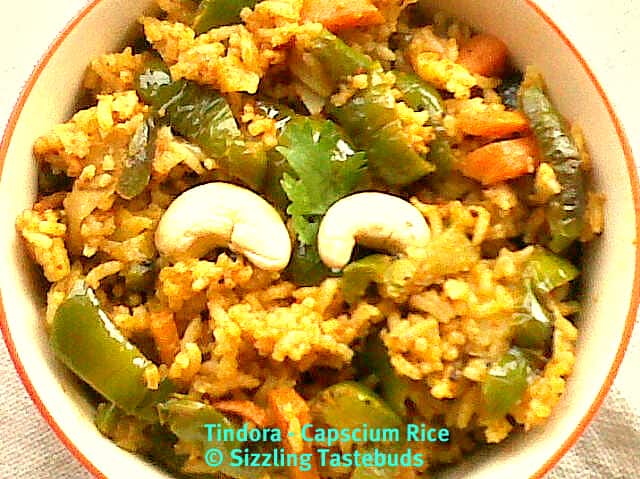 Pin