This journey of BM has been personally very satisfying with the theme of Winter Delights, and I hope you have enjoyed the journey with me too:) If you have missed any of the previous 6 days posts, here is a quick recap:
Day 1 : Avarekaalu Saaru / flatbeans Sambhar
Day 2:  Low Cal Paneer Makhanwala
Day 3 : Pepper Idli steamed in Banana leaves
Day 4 : Moong Dal Masala Buns & Oregano Soup sticks
Day 5 : Sugarfree Amla Mocktail
Day 6 : Choco Almond Rocks
Now, having lived soooo long in Bengalooru (Karnataka), there must have been ample times I would have travelled along with Bangalore – Mysore route : train or bus or car. Whatever the mode, one can't miss eating savoruing the deep fried delight  –Maddur Vade. I could compose an ode to this dish describing how the crunchy snack melts in your mouth and the flavours spread all over your mouth : but all that can wait till you savour one bite of this deep fried delight. Winter gives us enough leverage to do just that – Enjoy these yummy deep fried delights with a cup of hot kapi (as the vendors would call out @ Maddur , enroute to Mysore) " Vade-Kaapi", "Vade-Kaapi", "Garamaagaram Vadai"…. those sounds seem like music:till I gingerly ventured out to make these. This is generally served in leaf lined parcels (or newspaper bundles) along withGatti Chutney (extra thick coconut chutney ground with chillies and coriander). But of the 10 odd vadais I made, there were just 3 left for snaps (God bless my kiddo – she saved 'her' vadai for me to take clicks, and not unlike Sherlock she demanded her pound of flesh – extra playtime in the evening and also that these vadais to be photographed on her pattu paavadai (silk skirt) as background.Well,I couldnt back out on either:)) 
Adapted from Lakshmi'srecipe, under my mom's able direction, I made my first Maddur Vadai and was very pleased with myself. Look forward to making this often now. 
Sending this to: BM Day 7, Radhika's Winter Carnival, Priya's bookmarked recipes. Check my marathoners here.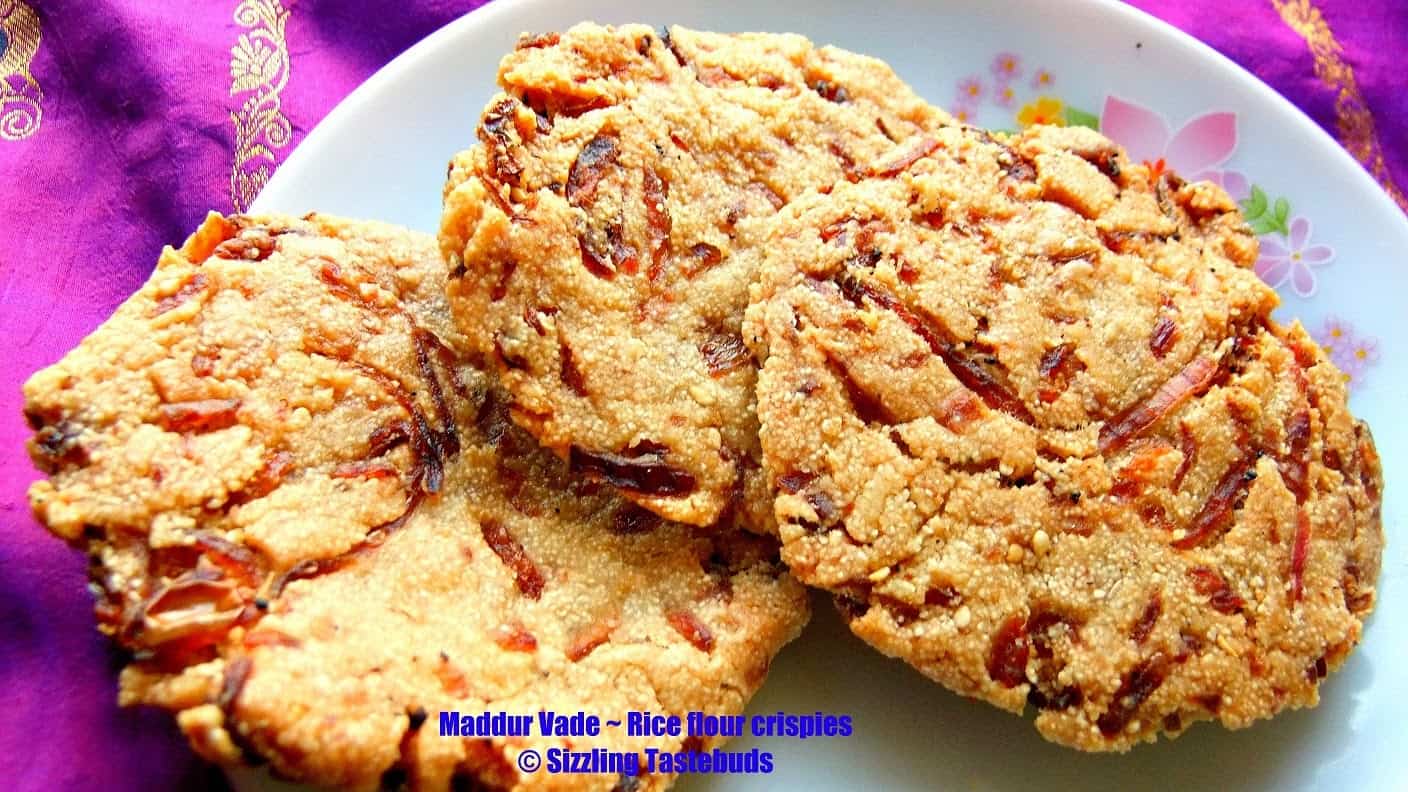 Pin
Prep time : 30 mins. Frying time : 15 mins. Makes : Approx 8 – 10 medium sized vadais
Recipe Source : here
Ingredients:
Maida / APF – 1 cup
Rice flour – 2 TBSP
Salt – to taste
Oil – to deep fry
Coriander & Curry leaves – 1/4 cup (freshly chopped)
Hot oil – 1/4 cup
Onions – very finely chopped – 1/2 cup
Chiroti Rava / Semolina / very fine sooji – 1/2 cup
Green chillies – 2 or 3 (suit your spice) – finely chopped
Method:
1) Sieve the flours with the salt twice over. Add the chopped onions, coriander leaves, curry leaves, semolina and mix well with your fingers. Now VERY VERY slowly add the hot oil (1/4 cup) and mix with a spatula. Do NOT attempt to use your fingers.
2) Rest for 10 – 15 mins (not more) till the onion and salt give the flour mixture some moisture.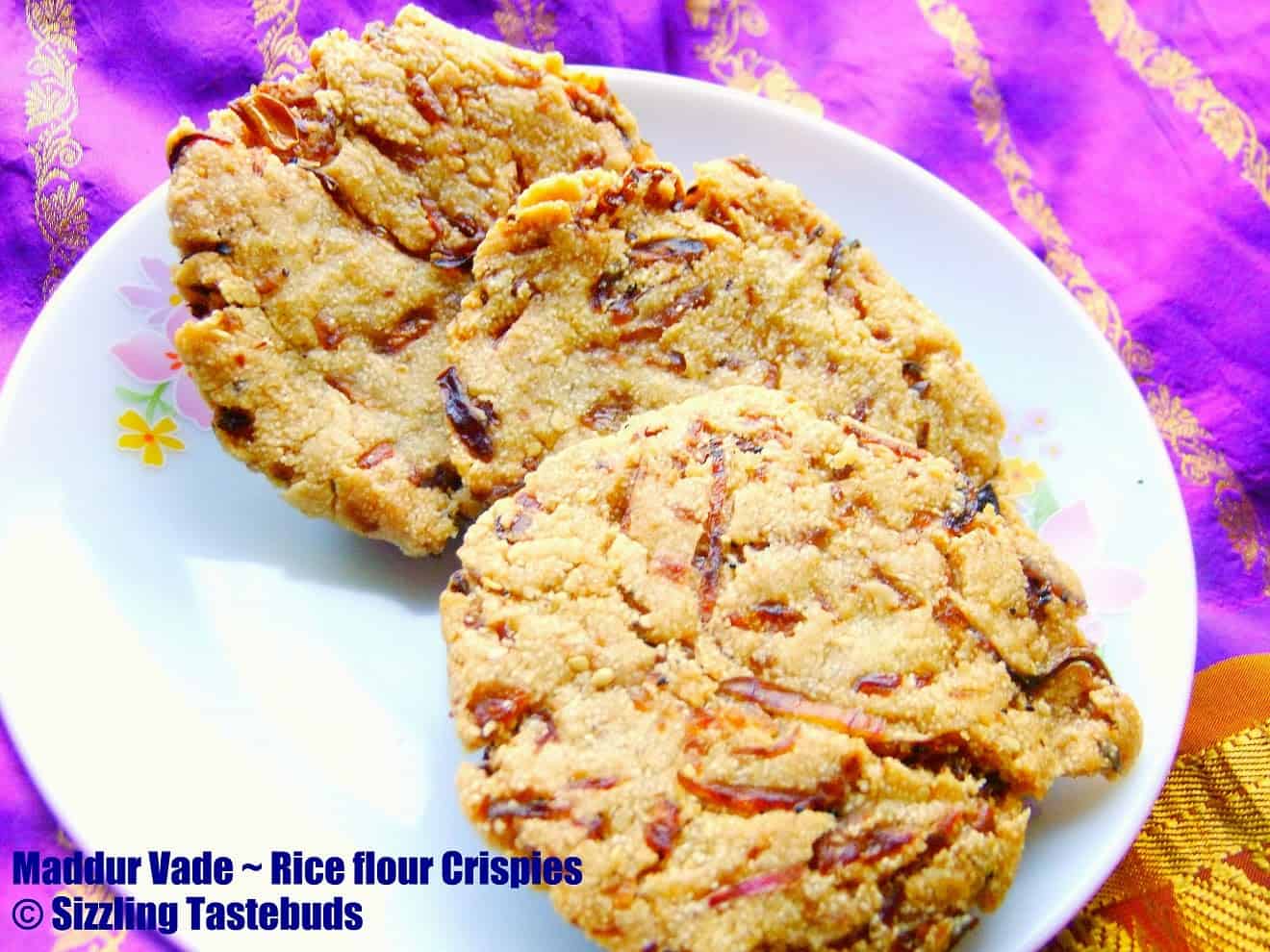 PinPin3) Sprinkle very little water at a time to make a soft pliable dough. Do not add more water than necessary (tip :adding some lukewarm water also helps, but reduce the quantity if using). 

4) Once the dough is done, divide into equal parts. cover and rest for 3 mins.

5) Meanwhile, grease a butter paper / baking sheet. Take one portion of the dough ball, slightly flatten it, while taking care not to flatten it completely. It needs to be a thickish dish. Repeat the same with all the discs.

6) Heat oil. Check if its ready by rolling a tiny roundel – if it jumps up and comes to the top while browning, the oil is ready. Keep the oil temp steady on medium and slide out the vadai from the butter paper and carefully ease it out to the hot oil. Splash oil on it immediately like you do for Poori (deep fried Indian bread). Once brown, flip over to the otehr side. Drain on paper towels. Do not attempt to fry more than 3 – 4 in a batch.

7) Serve hot with piping hot tea and your afternoon is magical.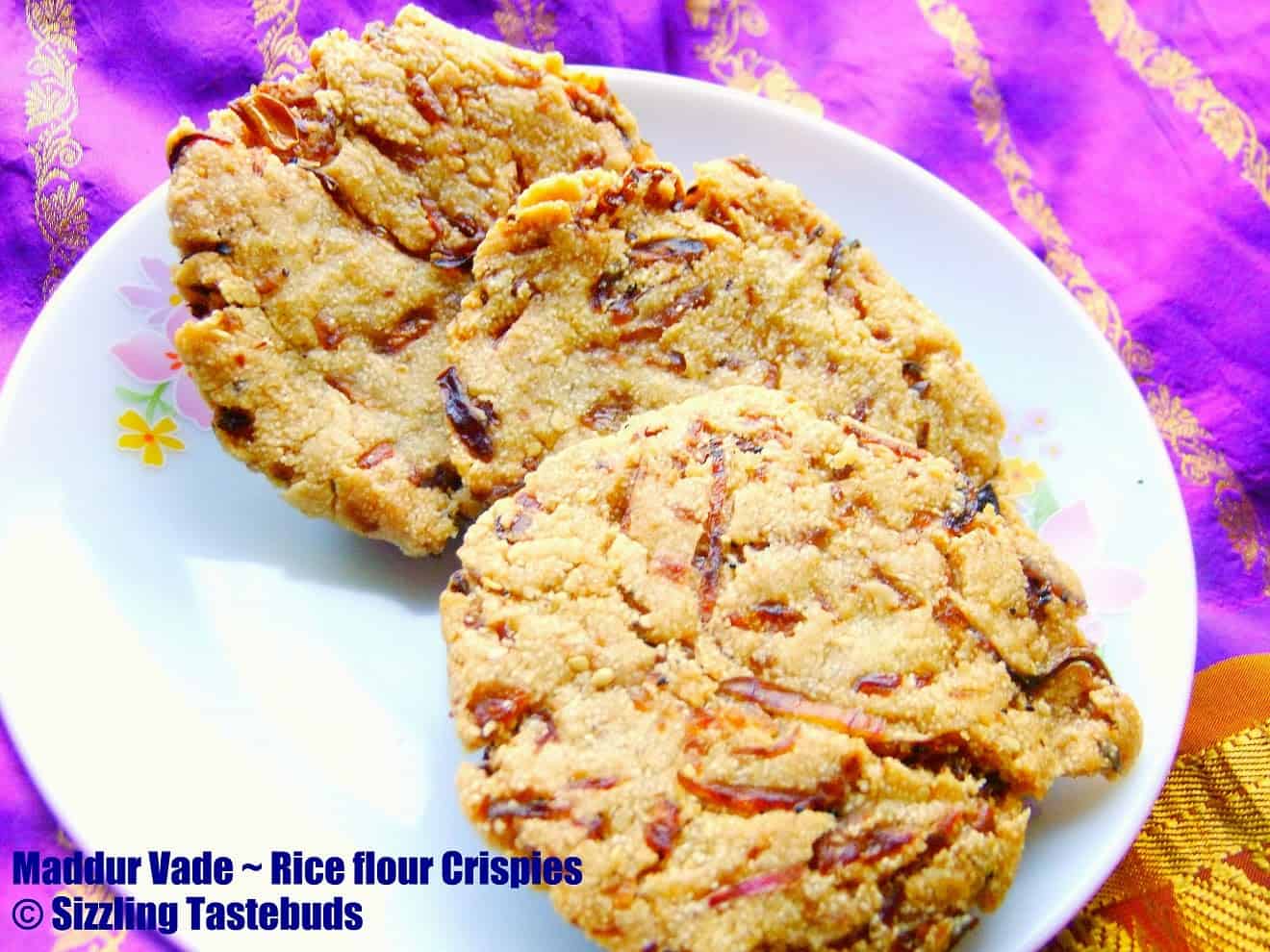 PinPin