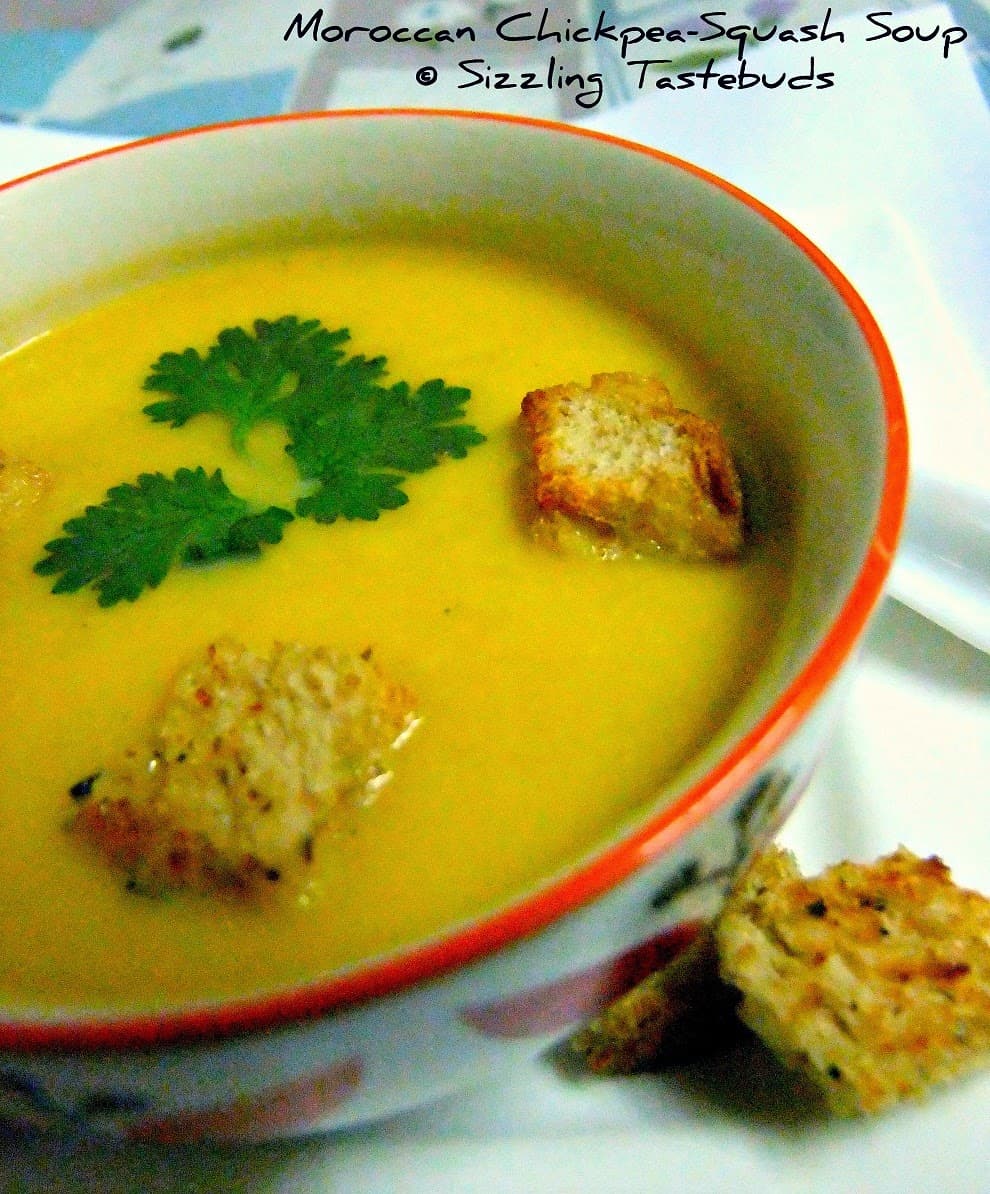 Pin

Paired with Swetha of Tasty Curry Leaf for Blog Hop Wednesdays for this fortnight, I was deluged in a huge spread of Soups and Salads at her blog, and finally I chose the Moroccan Spiced Chickpea-Spinach Soup, although I didnt add the spinach. This can be made as a thin soup or a thick broth. I made it a little thin, although the textures of chickpea and the butternut squash more than add to the thickness and volume. Do play around the ingredients as you wish for the garnish too. I simply added 1/2 a tsp of cream and topped it with homemade baked & herbed croutons for a very filling and light meal. The almond meal (about 2 tsp) also added to the nuttiness – a new texture that we liked a lot, and this soup was a total relief from all the rich foods & snacks consumed around Christmas. This goes off to Holiday Cooking under Blogging Marathon, Veena's Kids Delight – Colourful Palette,  Radhika's Winter Carnival and also to Blog Hop Wednesdays. Check out theBlogging Marathon page for the other Blogging Marathoners doing BM#11 and blog hoppers here

Prep time : 20 mins. Cooking time : 10 mins. Serves : 2

Ingredients:
Chickpea (Kabuli Chana) – 1/2 cup – soaked and boiled.
Almond Meal – 2 tsp (See notes for details)
Butternut Squash – 1/4 cup
Salt – to taste
Olive Oil – 1 TBSP
Onions – finely minced – 1/4 cup
Garlic – 1 to 2 pods
Apricots – 1 or 2
Lemon juice – 1/2 TBSP
White pepper powder – 1/2 tsp
Cream – 1/2 tsp (for topping)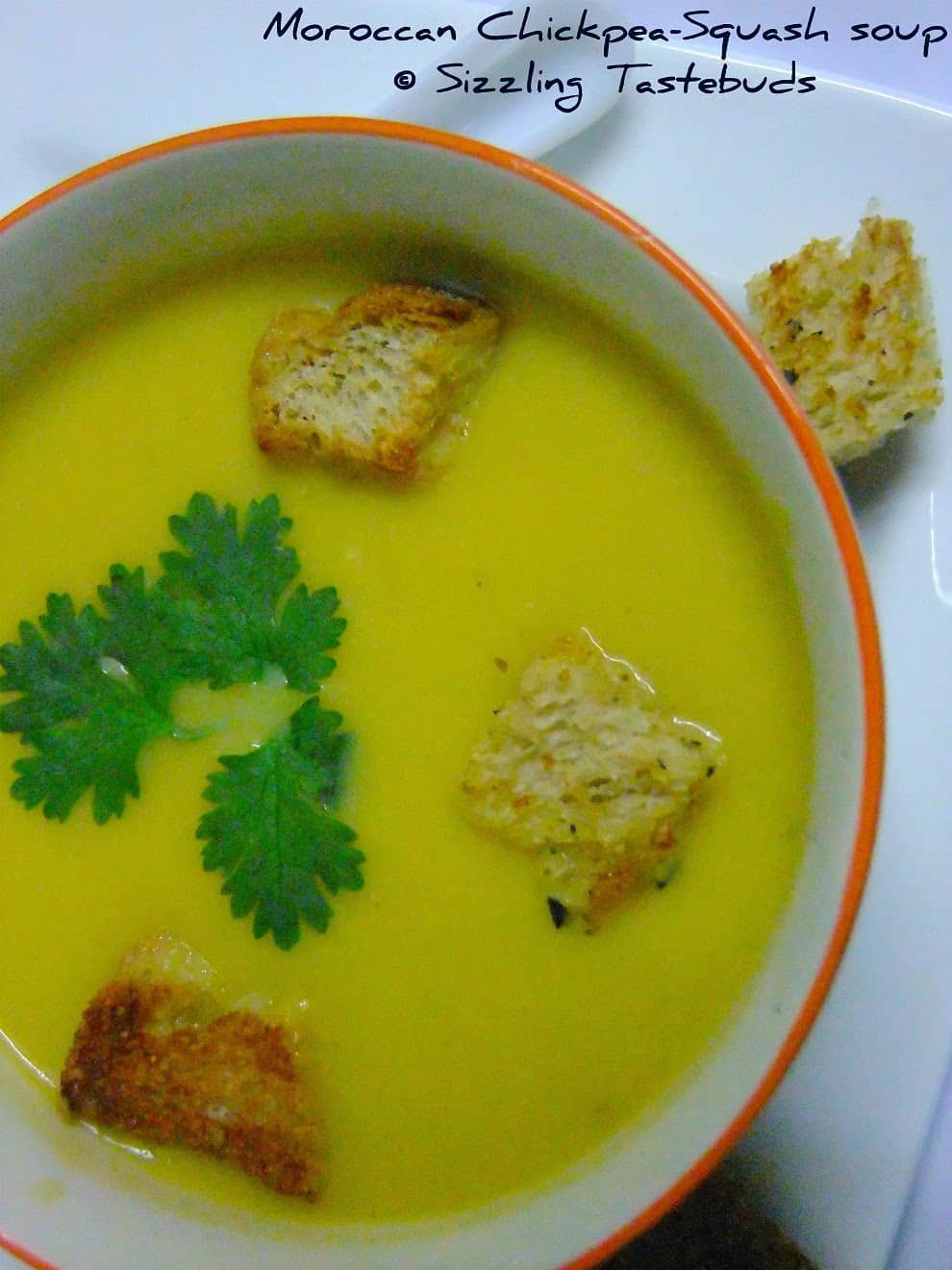 Pin
Notes for almond meal:
Soak almonds in warm water for 20 mins. Peel the skin off & wipe dry with soft kitchen towel. Air dry them for 10 mins, and pulse in a coffee grinder. You may make this is bulk and add them to soups or salads for a crunchy nutty taste
Method:
1) Blanch the squash in hot water for 8 minutes. Drain and grind it with 3/4 of the boiled chickpeas and half of the salt. Reserve.
2) Soak apricots in warm water for 2 mins. Mince finely and reserve.
3) In a soup pot, warm olive oil. Saute chopped onions and garlic. Now add the squash-chickpea puree, chopped apricots, remaining salt, a pinch of white pepper and bring to a simmer. 
4) Now lower the flame and add the almond meal (2 tsp) and turn off the stove.
5) Add the lemon juice and adjust salt and seasonings. Finish with cream, remaining chickpeas and serve immediately.
6) Serve warm with croutons or any homemade bread